7 Reasons You Should Wear Wool Socks For Hiking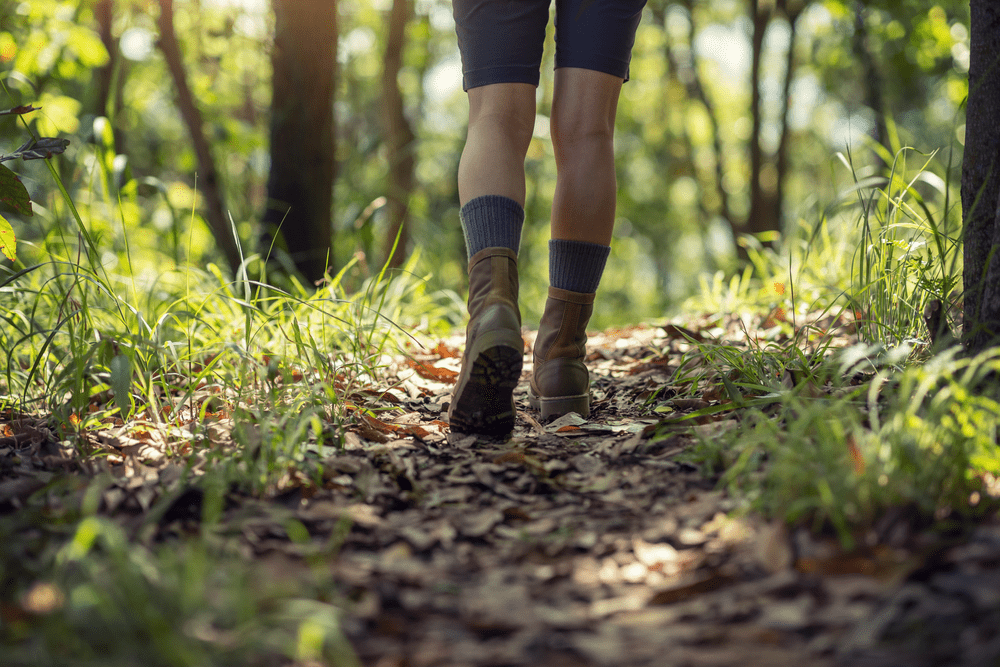 If you're planning on hiking one of the 73,301 mountains in America this year, you must outfit yourself with the right gear. One of the essential pieces of clothing to bring along is wool socks.
Although not cheap, wool socks are a game-changer for people who hike. They are made to keep your feet dry and warm for even your most rugged adventures.
We go over the top seven reasons wool socks will make you one happy camper on your next hike.
Why You Should Wear Wool Socks For Hiking
Keep Your Toes Toasty
Although you can wear wool socks in any weather, your toes will need extra protection when it's cold. Socks made from cotton will make your feet colder in the winter because they absorb water. Even if your wool socks get wet, they can keep your toes feeling warm.
If you are taking a hike in a hot climate, you'll still want to throw on a pair of wool socks. Slipping into the water in cotton socks on your hike would mean a very uncomfortable walk back home. Keeping your wool socks as part of your hiking gear is the safest bet.
Comfort
Some of the best camping gear you'll bring on your trips are the things that keep you comfy in the great outdoors. Your wool socks are no different.
Wool socks have more cushioning than you'd find in other kinds of socks. However, you'll be thankful to have this added padding when hiking the downhill sections of your trek.
Better Wicking
Nobody wants sweaty feet, but they are inevitable on long hikes on hot days. Wool wicks away the sweat that builds up as you hike. Wool can hold almost a third of its weight in water before your foot feels wet.
The wicking properties of wool socks help keep blisters at bay. Less moisture on your foot means less chance friction will cause foot discomfort.
Durability
You'll be shelling out a pretty penny for a quality pair of wool socks, but the cost is worth it. Your wool socks can last for years if you take care of them.
Antimicrobial
A massive bonus of wool is that it is naturally antimicrobial. This means your socks won't get as smelly as they should. You can wear them for several days in a row before they start to stink.
Low Maintenance
You don't need to wash your wool socks each time you use them. This feature makes wool socks an essential piece of outdoor gear for longer-duration trips.
Stylish
Although the style isn't the first thing on your mind when choosing your camping gear, wool is a classic look. Most wool hiking socks come in neutral colors with thick ridges. You'll feel like a true outdoor enthusiast when you slip them onto your feet.
What To Look For
If you are ready to buy a pair of wool hiking socks, you may get overwhelmed by all your choices. Once you know what you're looking for, finding the perfect pair of wool socks for your hike is simple.
Sock Height
Hiking socks come in various heights. You want to pick a height slightly taller than your hiking boots. If your socks are too low, they won't protect your heel and can give you blisters.
You can find no-show socks that are invisible when you wear them. These are not great for hiking and only good if you take a quick trail run or walk.
Ankle socks sit by the ankle bone and work well for hiking shoes that aren't tall.
Crew socks are the height most hiking socks come in. They extend a few inches past your ankle. This sock height keeps your feet completely covered to protect them.
Finally, knee-high socks go all the way to your knee. These are not as common and are usually used for climbing glaciers.
Sock Cushioning
You can also find different levels of cushioning in hiking socks. For example, you want to choose enough cushioning to keep your foot comfortable during your hike. Remember, the more the cushion, the warmer your socks will be.
Some very light hiking socks have no cushion. These are only good to use on sweltering days and for short hikes.
Light cushioning will help keep your foot comfortable but won't be too hot on summer hikes. Most of the cushion in these socks lies in the heel and ball of your foot. 
Medium cushioning provides more cushion on the heel and ball of your foot. Use these socks for colder hikes or longer backpacking trips.
Heavy cushioned socks are the warmest of the bunch and are ideal for very cold conditions and long, multi-day hikes.
Wool Sock Tips
Although it may not feel like it, your wool socks aren't indestructible. Soap, high heat, and friction can damage your wool socks.
You can't throw wool socks in the wash as wool sweaters. Instead, wash these socks by hand and hang them up to dry.
When choosing a pair of wool socks, find a pair that are not too tight. You also want to ensure the heel cup in the sock lines up with your natural heel.
Instead of buying socks in your shoe size, measure your foot. You may be surprised that you have been buying the wrong sock size all along!
Final Thoughts
There are few materials as versatile as wool to keep your feet warm and dry while hiking. Wool socks keep your feet dry and blister-free so you can spend time enjoying nature instead of worrying about your feet.
With the right hiking gear, you'll be on your way to enjoying the great outdoors.