Revel Gear Trail Hound Camping Light + Day Tripper Solar Pack Review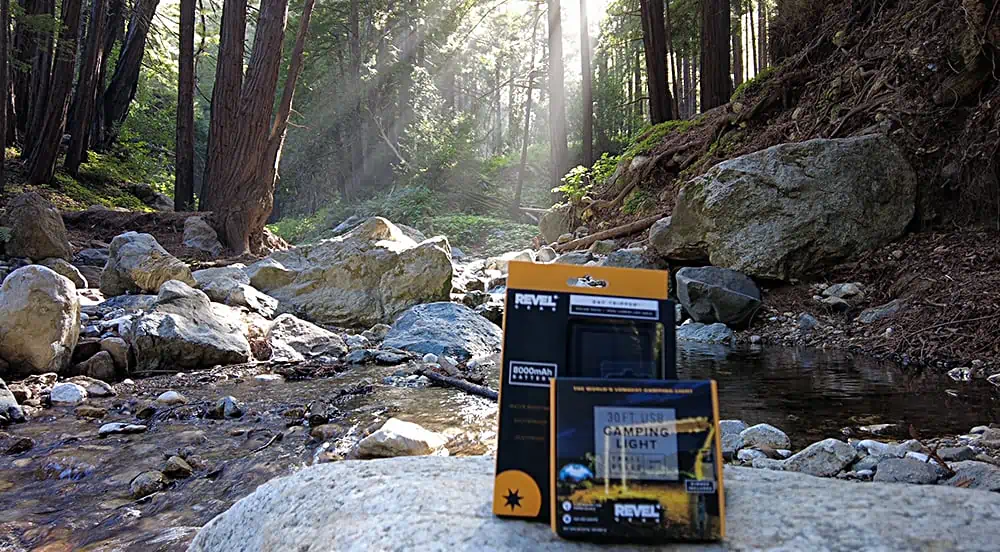 This post contains affiliate links where we may earn commissions from Amazon, REI, and other retailers at no additional cost to you. You can learn more about our affiliate policy here.
Small and lightweight camping light, paired with the solar pack for the perfect ambiance by the campfire.

We're big fans of camping lights whenever we venture out on a weekend camping getaway. So we took a camping light and solar pack sent to us by a company called Revel Gear.

Revel Gear sent us their Trail Hound 30ft Camping Light and Day Tripper Solar Pack for review. We took the products out with us when camping out in Big Sur to test their durability and performance.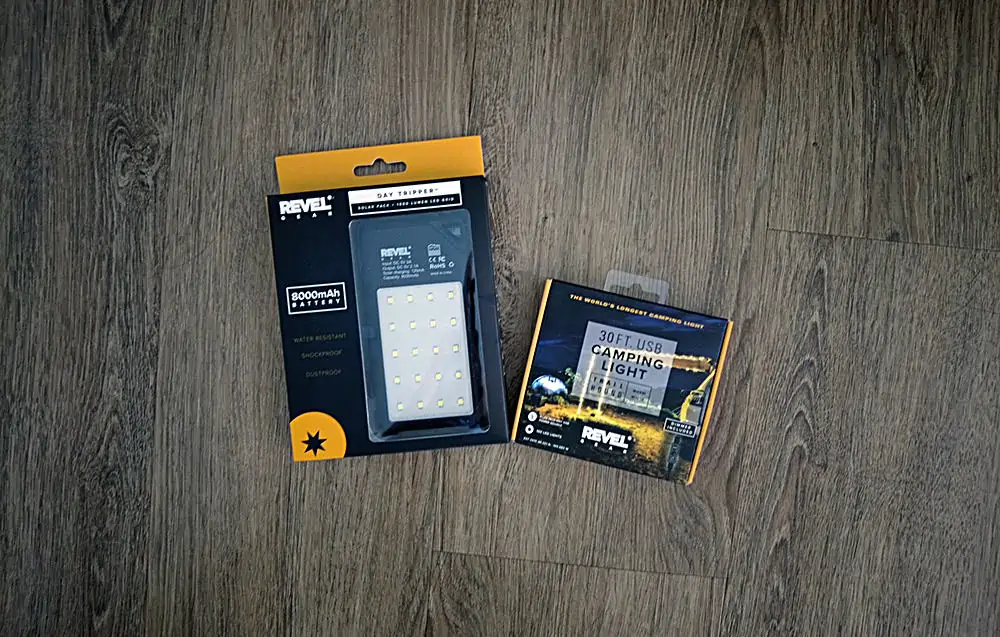 Revel Gear Trail Hound Camping Light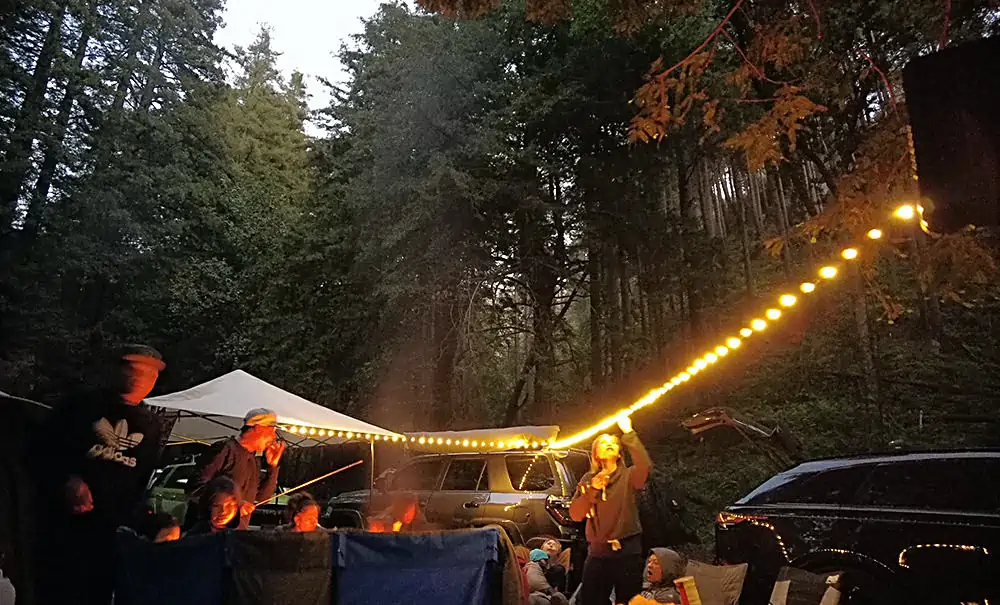 The Trail Hound Camping Light comes in many different color options: blue, green, multicolor, cool white (dimmable), and more. The color sent to us was the warm white (dimmable) model.

Upon opening the package, these lights aren't the typical camping lights that you'll see on the market. Instead, the lighting is constructed of three thinly braided copper wires, which makes us think of how durable these lights will last after multiple uses. The wire is thin but from our first field test.

We also love that we can twist the copper wire onto itself on a branch or tent hardware without needing additional fasteners, but we're not sure how many times we'll be able to do this without damaging the wire itself.

As thin as they are, we were pleased with the many different mode features.

Note: there are only two options with a dimmable feature, cool white and warm white.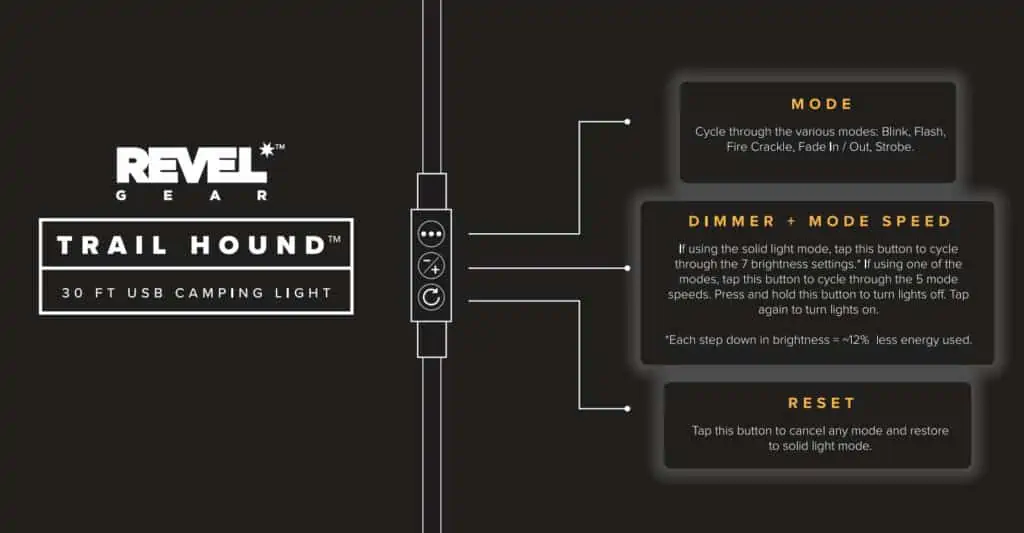 The 30ft long light provided more than enough lighting at the mid brightness when on solid light mode. They are extremely lightweight and can be thrown in your backpack without needing much space.
Key Features
30ft long with 100 high-efficiency LEDs
350 lumens
5V USB-powered can be used with any USB power source
Weighs only 1.6 oz
What We Liked
The Trail Hound camping light is long, and one string of lights provided more than enough lighting during our camping trip. We appreciated the ability to adjust the brightness to conserve power and the many different mode settings.
What We Didn't Like
Since these lights are constructed of copper wires, they will tangle, and certain parts will kink when unraveling. We're not sure how long these will last, but we've used them twice so far with no issues. Time will tell.
Revel Gear Day Tripper Solar Pack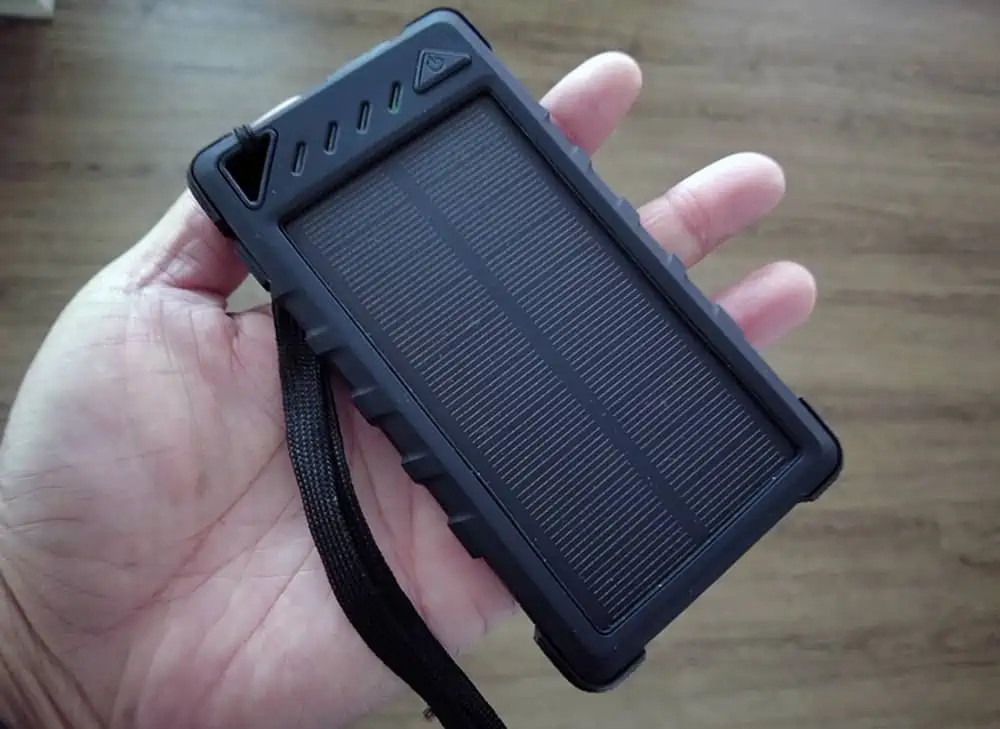 Also included in our shipment was the Day Tripper Solar Pack, this 8,000 mAh battery pack with a built-in solar cell complements the Trail Hound camping light well.

On the flip side of the solar panel, there's a convenient ultra-bright 1,000 lumen LED grid, which helped a lot in maneuvering inside tents at night.

Four blue LED indicators serve as a capacity check and will all illuminate when the battery pack is fully charged.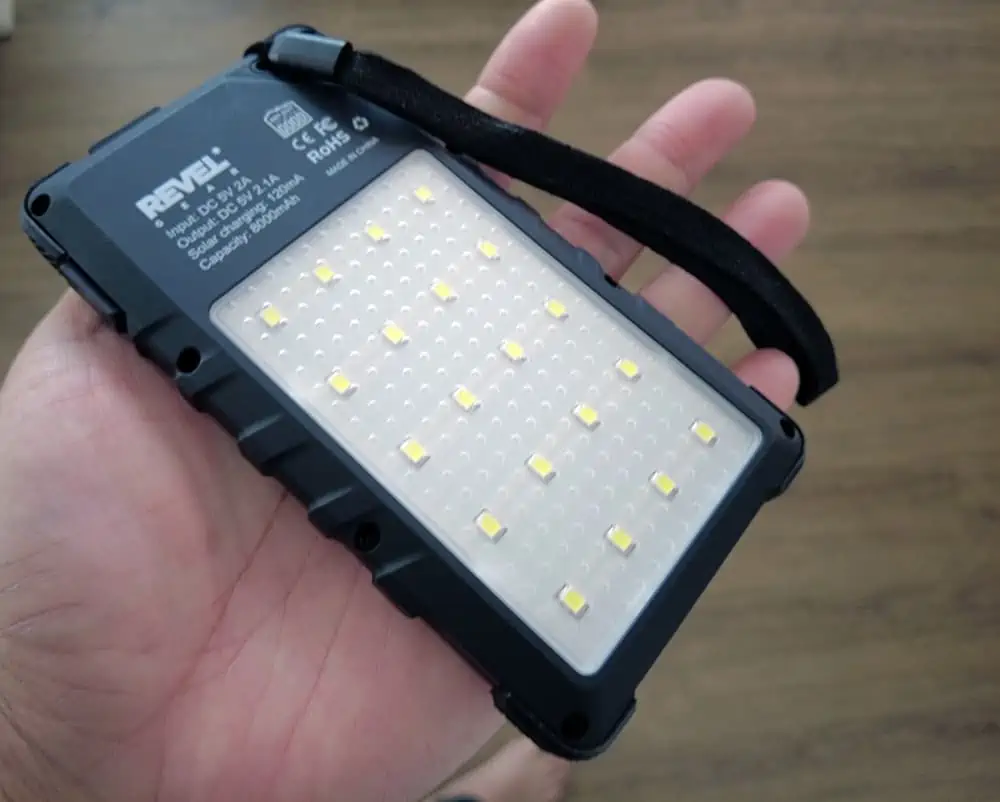 Key Features
8000mah battery capacity
Two USB outputs
One micro-USB input
120 mAh solar cell
Built-in 1,000 lumen LED flashlight, emergency strobe, and blacklight
Product Size: 3" x 5.5" x 0.75"
We charged the unit initially to an outlet using the pack's micro USB port and then took the light and battery pack to our Big Sur camping trip.

The battery pack provided roughly 8 hours of power to the camping light (brightness level set to medium). It provided nice warm lighting around our fireplace, and we had no issues with how the battery pack performed.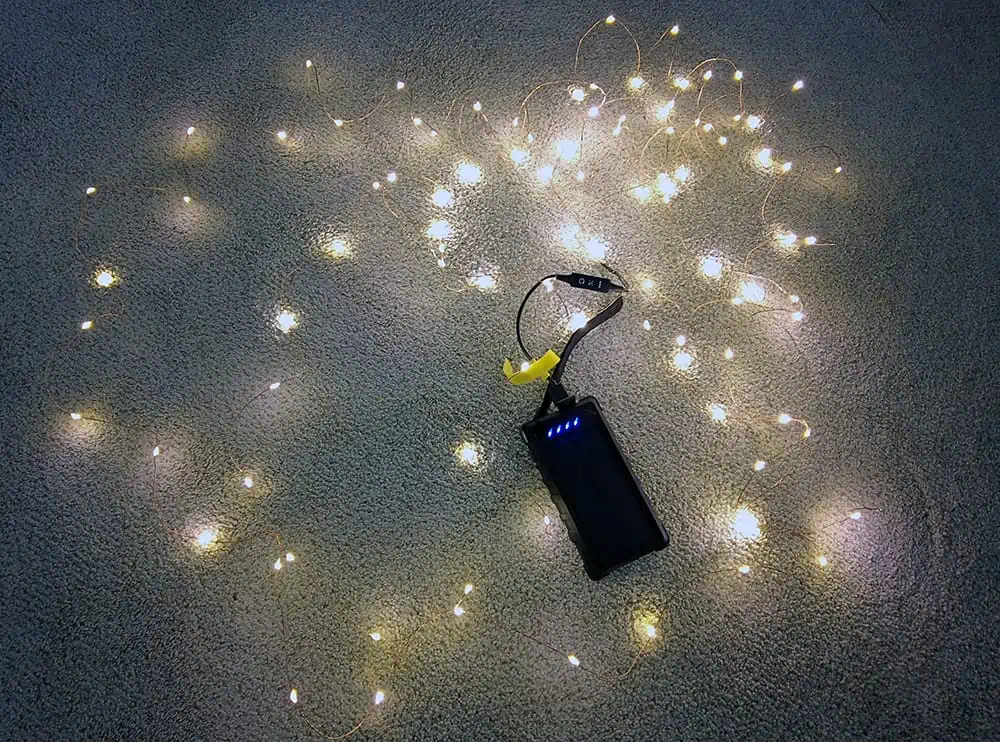 The blacklight feature was a little strange to us; it advertised to look out for scorpions at night. Not sure if we'll ever need to use this feature, but it can also be used if you need low light inside your tent to conserve power.

Everything was fine from our initial field test until we tried to charge the battery pack via solar.

We left the battery pack outside where it would get direct sunlight for about five days. We knew it was charging based on the green LED indicator, which tells us the battery is charging.

I took the battery pack inside and tapped the power button to see how much power was gained, and it only showed one blue indicator light out of four.

I was a little disappointed in the solar charging, given the days I left the unit outside in the sun. However, I quickly inserted the charging cable from the wall outlet to the unit, then immediately unplugged it from the charger. Now it shows three blue indicator LEDs.

As a consumer, we can see the anxiety of checking your power from solar charging for days only resulting in one blue LED.

What We Liked
It works as intended as a battery pack and charges phones fine. The LED grid is probably the best feature here; in our opinion, it's very bright and great to have in case of emergencies.
What We Didn't Like
We think it fell short in its solar charging capabilities, and after reading some reviews on the unit, many customers have the same sentiments.
Day Tripper Product Update 2022
To be fair, we do want to let you know that Revel has made performance upgrades to the Day Tripper Solar Pack. However, we don't know for sure if the unit sent to us was an older unit before the upgrades. You can view all the 2022 upgrades here.