Are Ugly Stik Fishing Rods Good?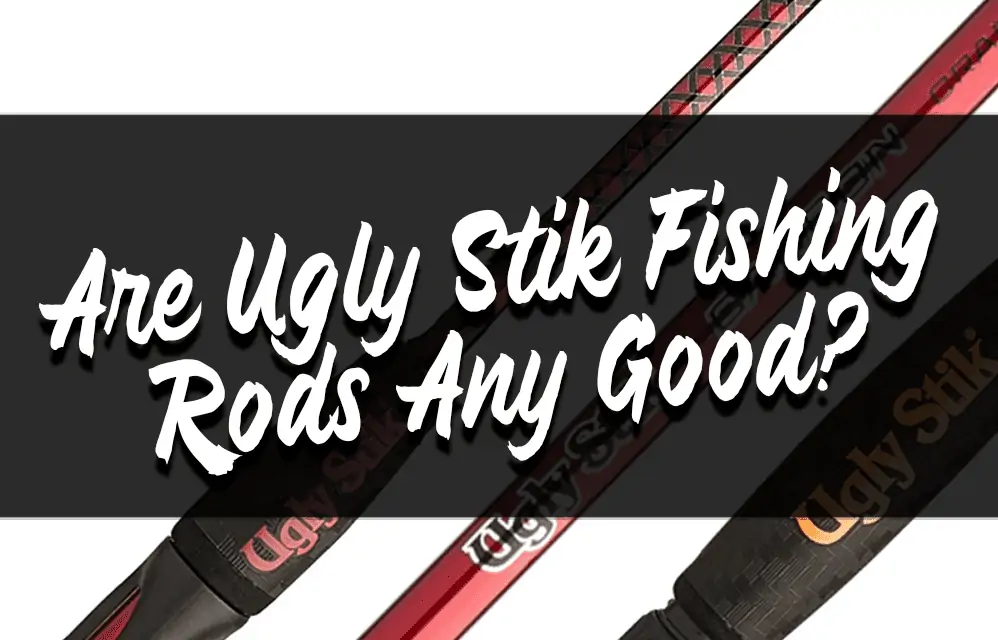 Are Ugly Stik fishing rods good? This is a question many anglers ask when considering their next rod purchase.
Ugly Stik has been around for decades, and it's one of the most popular brands among fishermen due to its affordability and reliability.
The truth is, in this industry, many of you (including me) are drawn to fishing gear and lures that are expensive.
I want to let you know that you don't need a $1000 rod to catch fish. Totally unnecessary, but they sure are nice.
I've owned a few Ugly Stik rods over the years.
I'll go in-depth on what makes Ugly Stik so great by examining cost vs. performance, the benefits of using these rods compared to others on the market, some of the top models available today, and more.
If you're curious about whether or not Ugly Stik rods are worth investing in, stick around.
As a child growing up in the 90s, I've seen a lot of fishing brands come and go.
Technological advances made things easier, better, and cheaper over the years in this industry.
I'm not saying anything groundbreaking here, but sometimes I feel proud of the brands that are still here after all these years.
Brands that aren't the lion's share of their particular products, but they're still fighting the good fight.
So you have to start wondering…
They must be around still for a reason.
And one of those brands I'm talking about is Ugly Stik.
Before I get into the history of the company, here's a commercial from 1995 that I vividly remember as a child:
Sweet commercial, right? lol
Man, I feel old. Anyways.
My Experience With Ugly Stik Fishing Rods
So why did I get Ugly Stik in the past?
Well, I was a beginner fisherman many years ago.
Back then, I was mainly using chopped live bait (bait and wait) or nightcrawlers.
I didn't have to continuously cast a lure, and I really didn't need the rod to be ultra-sensitive because I would normally stake my rod down and watch the tip bend whenever I was hooked on.
Also, I was very young and wanted a rod that was virtually indestructible, to some extent.
As I got older, I started improving my skills and started to use lures more confidently. I have since used other brands to have more control of the performance and action of the rods I was looking for.
But I still have Ugly Stik rods in my garage for my kids, and they work well.
Fast forward a few years, Ugly Stik has really upped its manufacturing process and making better rods for sensitivity.
History Of Ugly Stik Brand
Ugly Stik is a well-known and trusted brand of fishing rods that have been around since 1976.
The company was founded by Shakespeare, an American tackle manufacturer, and their goal was to create a rod that would be both durable and affordable.
Since then, Ugly Stik has become one of the most well-known brands of fishing rods in the world.
The Ugly Stik line of products includes spinning rods, casting rods, trolling rods, ice fishing rods, fly fishing combos, and more.
Earlier models were made of spiral fiberglass, parallel glass fibers, and polyester resin.
With the advancement of technology over the years and the demand for more sensitivity control, Ugly Stiks are now made with graphite or fiberglass blanks for strength and sensitivity while still being lightweight enough to handle largemouth bass or any type of fish you may encounter on your next outing.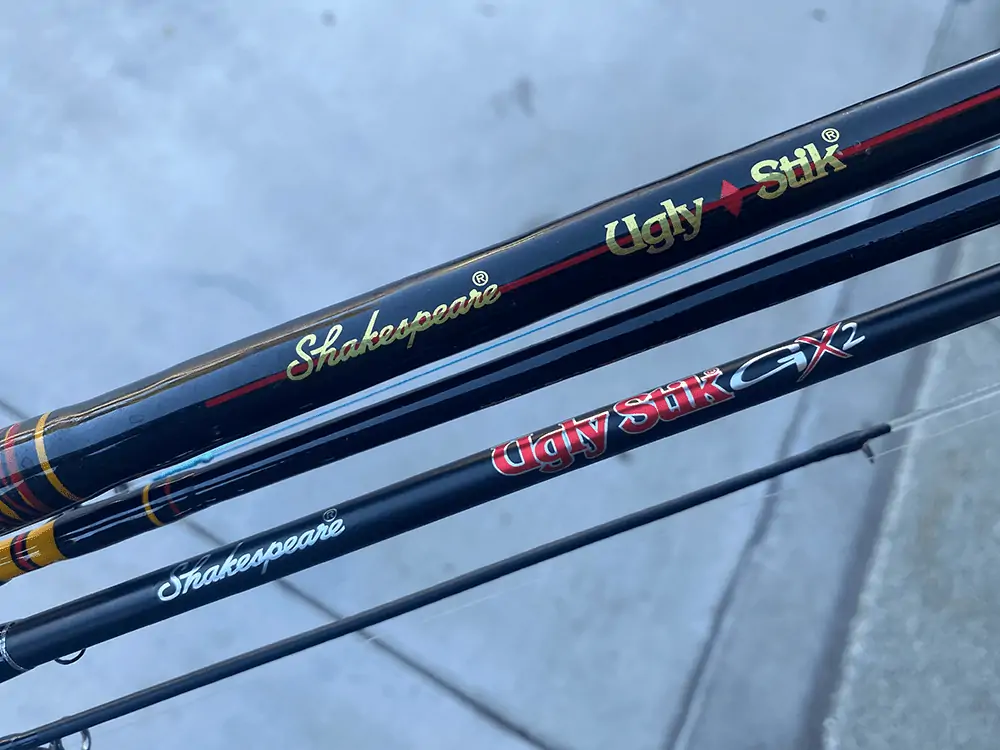 Cost vs. Performance
When it comes to fishing rods, cost and performance are two of the most important factors to consider. Ugly Stik is a well-known brand that offers quality rods at an affordable price.
They have been around for decades and have earned a reputation for being strong, durable, and sensitive.
Ugly Stik fishing rods offer anglers great value for their money when compared to higher-cost models.
The materials used in their construction are top-notch, and they provide plenty of strength while still remaining lightweight.
This makes them ideal for long days on the water as they won't tire you out quickly as heavier models can do.
The sensitivity of Ugly Stik rods these days is impressive, considering the price point they come in at.
You'll be able to feel even the slightest nibble from fish which helps you set your hook faster than ever before.
Plus, these rods feature graphite blanks which make them incredibly responsive, so you can easily detect any changes in current or pressure below the surface without having to guess what's going on down there.
Another benefit of using Ugly Stiks is that they're designed with durability in mind, so you don't have to worry about replacing them anytime soon due to wear and tear or accidental breakage while out on the water.
Plus, all models come with a limited 10-year warranty just in case anything does happen during normal use or storage conditions, so you know your investment will be protected no matter what happens down the line.
Yes, that's right. 10 whole years.
How many rod makers you know have that kind of confidence in the durability of their product?
And to be honest with you, if it breaks after 10 years, it's been a hell of a run.
Benefits of Ugly Stik Fishing Rods
Ugly Stik fishing rods are a popular choice among anglers of all levels.
They offer an excellent combination of affordability, durability, and performance that make them the perfect option for anyone looking to get into fishing or upgrade their existing gear.
One of the main benefits of Ugly Stik fishing rods is their lightweight design. This makes them easy to transport and use in any situation, from shoreline casting to deep-sea trolling.
The graphite construction also helps reduce fatigue during long days on the water, allowing you to stay out longer without feeling tired or sore.
Another great feature of Ugly Stik fishing rods is their corrosion resistance. The graphite construction ensures that your rod won't rust over time due to exposure to saltwater or other elements found in nature.
This means your rod will last much longer than traditional steel models, giving you more bang for your buck in terms of longevity and performance.
The ease of use associated with Ugly Stik fishing rods is another major benefit worth mentioning here as well.
Their ergonomic handles provide a comfortable grip, while their balanced weight distribution allows for smooth casts with minimal effort required from the user's end.
Finally, there are plenty of different models available when it comes to Ugly Stik Fishing Rods.
These range from ultralight spinning combos designed specifically for trout fishermen up through heavy-duty trolling rigs meant for larger species like tuna or marlin.
Therefore, no matter what type of fish you're after, there is sure to be something just right waiting within this brand's lineup.
The Ugly Stik fishing rods offer a variety of benefits that make them an ideal choice for anglers looking for durability, strength, and affordability.
Popular Models
The Ugly Stik range offers a variety of models for different types of fishing, from spinning to casting. Here are some of the most popular models from the Ugly Stik range:
The GX2 Spinning Rod is one of the most popular models in the Ugly Stik range. It features an ultra-lightweight design that makes it easy to handle and maneuver when out on the water.
The rod also has graphite construction for added strength and sensitivity, making it ideal for catching small fish such as trout or panfish. The GX2 also comes with stainless steel guides which help reduce line friction while casting or retrieving lures.
Another popular model from Ugly Stik is the Bigwater Casting Rod. This model features a medium power blank made from graphite composite material, which gives it great sensitivity when detecting bites or strikes on your lure or bait.
It also has stainless steel guides along its length, which help keep your line tangle free during casts and retrieves, allowing you to get more distance out of each cast without worrying about snags or tangles in your line.
Finally, there's the Tiger Elite Jigging Rod which is designed specifically for jigging techniques like vertical jigging or slow pitch jigging, where you need maximum control over your lure presentation at all times.
This rod features a lightweight yet powerful blank made from E-Glass material which provides excellent sensitivity so you can feel even light taps on your lure as soon as they happen! It also has titanium oxide guides along its length that provide superior corrosion resistance compared to traditional stainless steel guides.
Overall, these three models represent some of Ugly Stik's best offerings when it comes to fishing rods, offering exceptional value for money without compromising on quality or performance.
Popular models of Ugly Stik fishing rods have been praised for their durability and strength, making them a great choice for anglers looking for quality gear.
FAQs
Does Ugly Stik make good rods?
Yes, Ugly Stik does make good rods. Their products are designed to be durable and reliable, with a range of models suitable for different types of fishing.
They also offer a variety of features, such as comfortable grips, strong guides, and lightweight construction, that help anglers get the most out of their time on the water.
Also, Ugly Stik offers competitive prices and excellent customer service that makes them an attractive option for many fishermen. All in all, they provide quality rods at reasonable prices that can meet any fisherman's needs.
Are Ugly Stik rods unbreakable?
Ugly Stik rods are renowned for their durability and strength. They feature a combination of graphite and fiberglass construction, making them lightweight yet strong enough to handle even the toughest catches.
The rod's special E-Glass construction also makes it virtually unbreakable, ensuring that you can enjoy your fishing trips without worrying about breaking or damaging your rod. Ugly Stik rods have been trusted by anglers for decades, providing reliable performance in all conditions and terrains.
What is the most reliable fishing rod?
The most reliable fishing rod depends on the type of fish you are trying to catch and your own personal preferences.
For light tackle anglers, a medium-power spinning rod is often recommended as it offers good sensitivity and flexibility for casting lighter lures.
If you're looking for something more powerful, a fast-action baitcasting or trolling rod may be the best choice.
When selecting a fishing rod, make sure to consider factors such as length, power rating, material construction, and line weight capacity in order to find one that suits your needs perfectly.
Are Ugly Stiks good for fishing?
Yes, Ugly Stiks are good for fishing. They have been around since the 1970s and remain a popular choice among many anglers today.
Ugly Stiks are known for their durability and versatility, making them ideal for a variety of fishing techniques.
The rods come in various lengths and actions to suit different styles of fishing, from light spinning to heavy trolling.
Plus, they're relatively inexpensive compared to other brands on the market. All these factors make Ugly Stik an excellent choice when it comes to choosing your next rod for any type of fishing adventure.