What Time Of Year Do Bass Hit Topwater?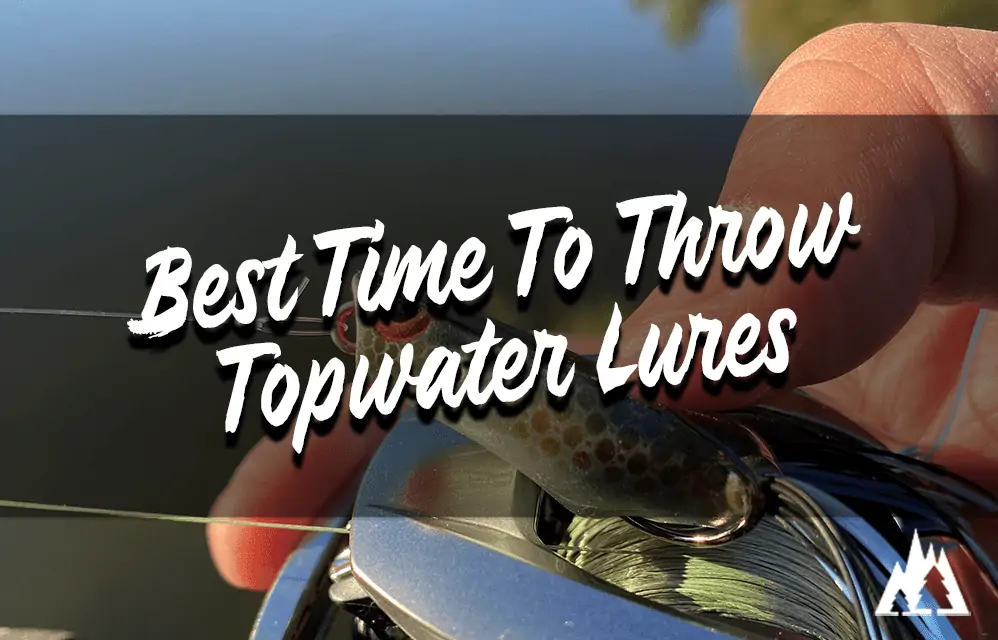 As a child, I remember watching the OG fishing shows with Bill Dance, Hank Parker, etc., on television.
It was my version of Saturday morning cartoons; the show's jingles were damn catchy.
My favorite episodes were always the ones where they were throwing topwater lures for bass.
Watching a bass annihilate a topwater as it launched itself completely out of the water was amazing.
Hands down, nothing beats the adrenaline rush of a topwater bite!
I went out and got a few poppers and started researching what time of year is best for topwater bass fishing.
For years, I was told the best time of year for topwater is the months of Spring and Late Fall.
Yes, that statement is true. Sorta.
I later learned that you could use topwater lures year-round as long as you fish at the right time of day and temperature.
Let me explain.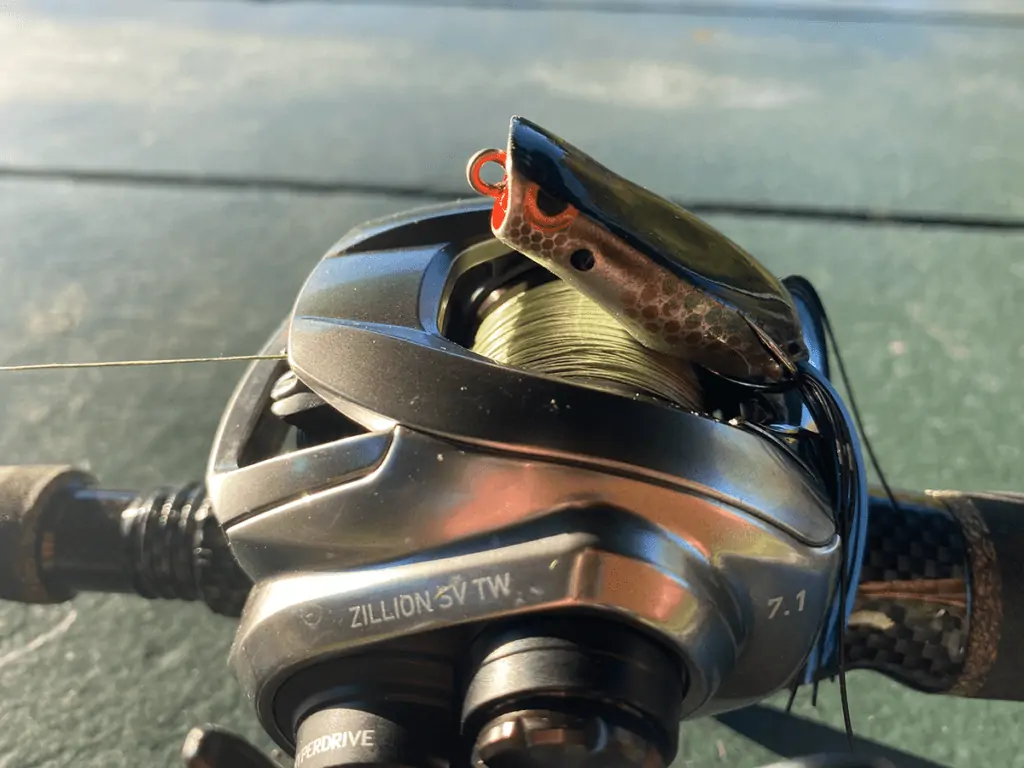 What Month Is Best For Topwater Bass Fishing?
You can fish topwater lures and catch bass any month if the temperature is between 50F – 90F at sunrise, sunset, or overcast days
Sure, your chances of getting more bites increase in Spring when bass are territorial and late Fall when they're feeding before winter.
But some of the best topwater action I've experienced is during the dog days of summer and even winter.
I'm not the only one who thinks this way: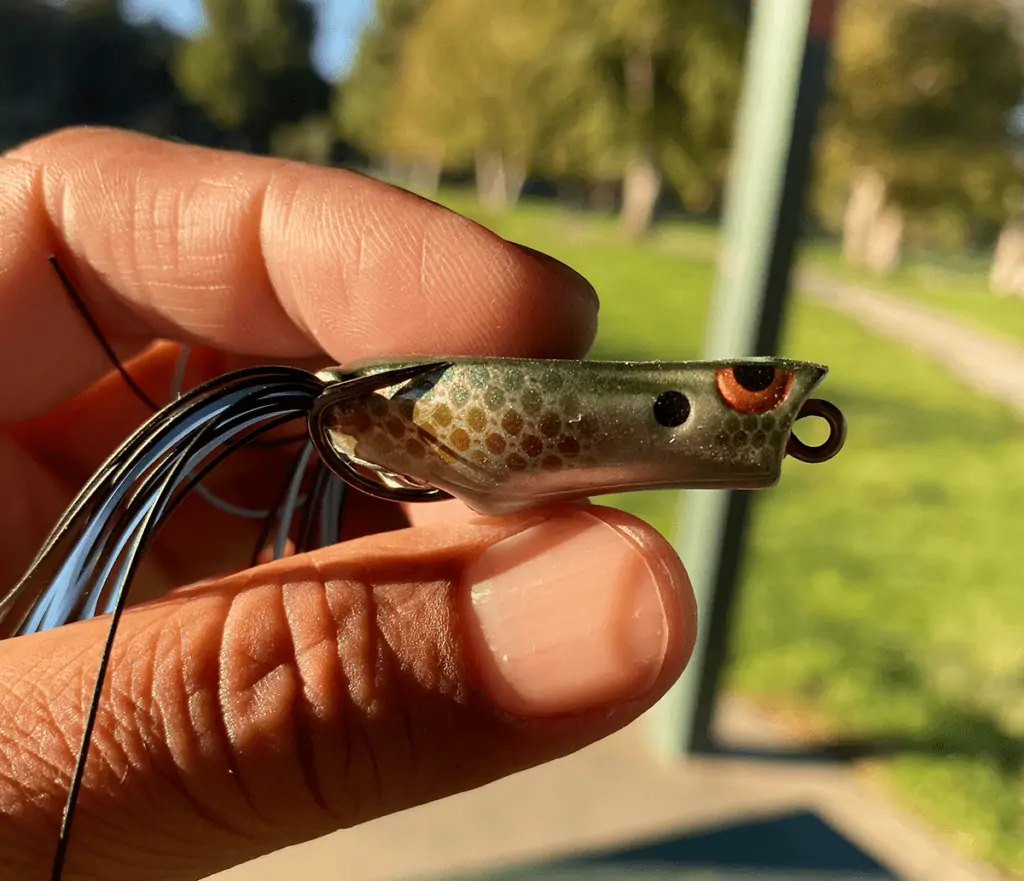 When Should I Start Throwing Topwater For Bass?
As I mentioned, I believe you can throw a topwater for bass any month of the year, but you should keep a few things in mind if you want to improve your chances of landing fish.
From experience, the best time of day to throw a topwater lure is:
1. Right when the sun rises and hits the water
2. At sunset, when it's just about to get dark
3. Low light, overcast days
Ideally, you want the water to be still and smooth as glass.
Fewer waves mean more erratic movement solely from your topwater lure, allowing the bass to focus on what's making all that noise for that reaction bite.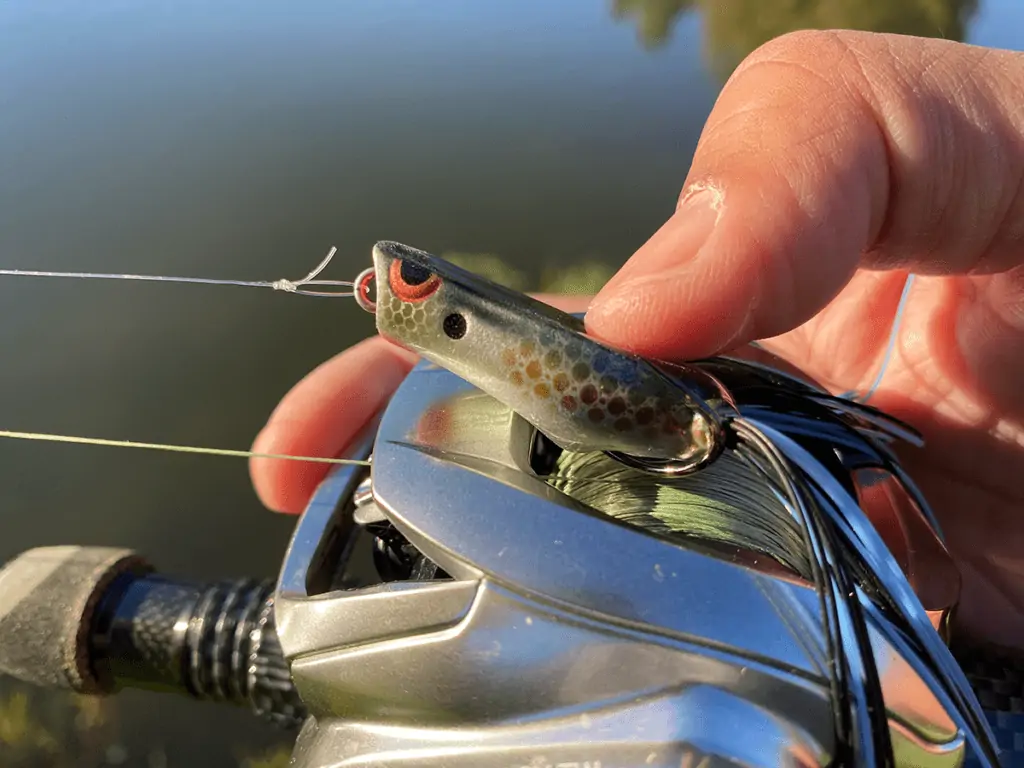 Varying Your Retrieve
Bass will behave differently one day after the next.
Some days they prefer the popping action and noise of the topwater lure, while other days, they prefer a more "walk the dog" presentation.
Test both approaches to see what's working that day.
But if I had to give you a general rule of thumb:
On hot days, use more quick twitch-popping action
On cold days, use a slower "walk the dog" presentation
Use these tips on what I believe are the most exciting and fun lures to use when it comes to bass fishing. Tight lines!