SunnyBag Explorer+ Review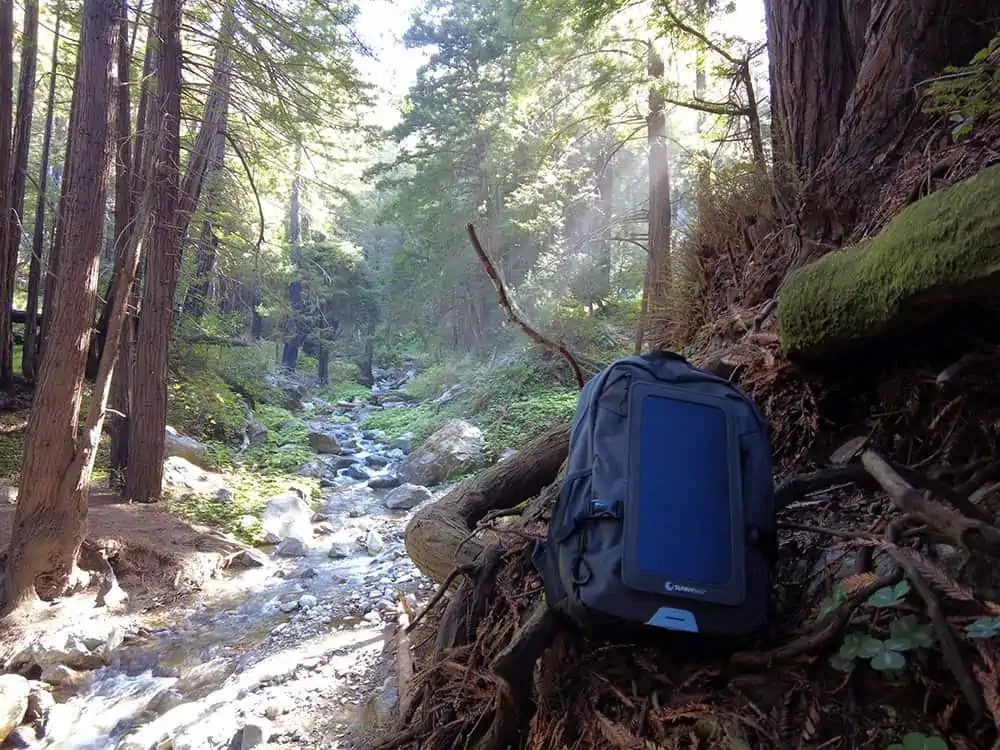 This post contains affiliate links where we may earn commissions from Amazon, REI, and other retailers at no additional cost to you. You can learn more about our affiliate policy here.
Beautifully designed solar backpack, perfect for day hikes, beach outings, and everyday use.
When we're out in nature, we normally want to disconnect from technology and enjoy what the outdoors offer. It's also wise, however, to keep your smartphone and other devices with you charged at all times for emergencies.
That's where solar backpacks shine, a way to charge your small devices when you need them most. There are many companies that develop solar backpacks, and Sunnybag is one of them. They were gracious enough to send us their Explorer+ solar backpack for field testing. We took the backpack to Big Sur with us over the weekend, and here are our thoughts.
What is the SunnyBag Explorer+?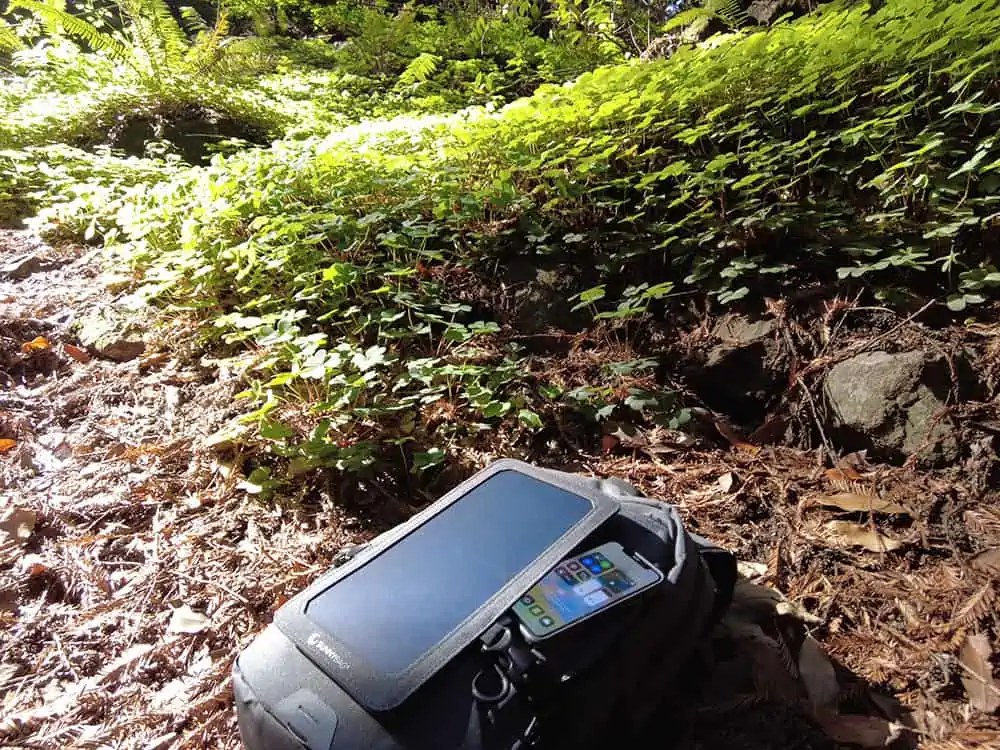 The Sunnybag Explorer+ solar backpack is perfect for those who need to power their devices on the go. It includes an integrated USB charge port that allows you to indirectly charge a battery pack or directly charge your small electronic devices.
At first glance, we were pleased with the backpack's design; the 600 D fabric felt durable yet lightweight.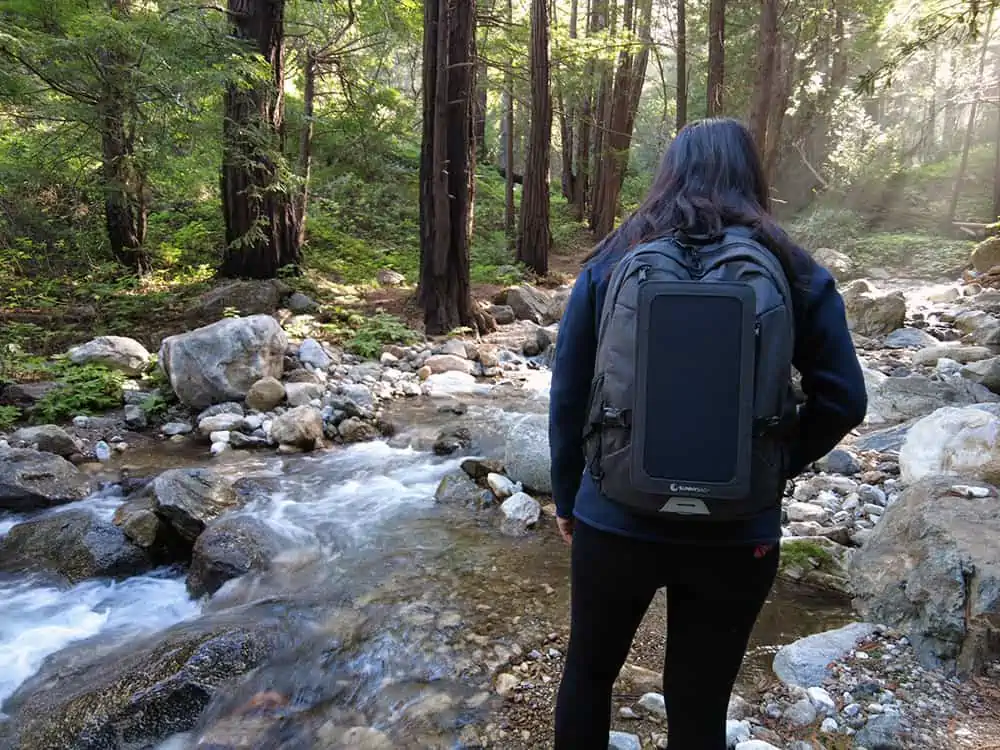 Comfort
The shoulder straps and backing are padded and were very comfortable during our hikes. A canal along the middle of the backing provides breathability and reduces sweat build-up.
If you're on a multi-day hike, this backpack won't be the right choice for your needs. One reason why is because it doesn't have a waist strap to help the load for longer hikes.
For short day hikes, however, this backpack fits the bill.
Size
With a 15-liter volume size, it's the perfect size to lug around all you need for a day hike. For example, two sleeve compartments can fit a 15″ laptop and a tablet inside the backpack. There are also smaller compartments to hold your pens and other EDC gear.
On the outside, there are two side compartments for your water bottles, A top compartment for sunglasses, and other things you need quick access to.
There's also a side compartment where you can store your device while charging during your hike.
It has room for your beach towel, sunscreen, snacks, and water bottle for beach use.
Solar Panel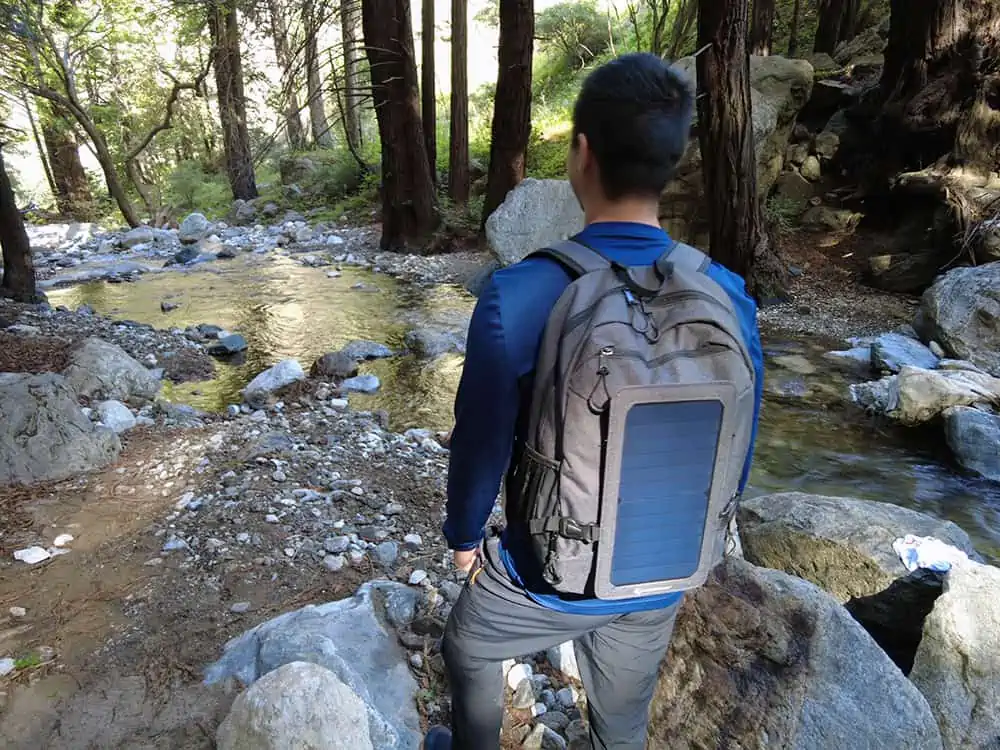 Here's where I think this backpack shines. Inside each backpack comes with a test certificate that tests the performance of the solar panel before it's approved to be released for sale. With the rugged 6-watt solar panel, you can fully charge your smartphone in about 2-3 hours, while other "larger" devices will take longer, as shown in the chart below: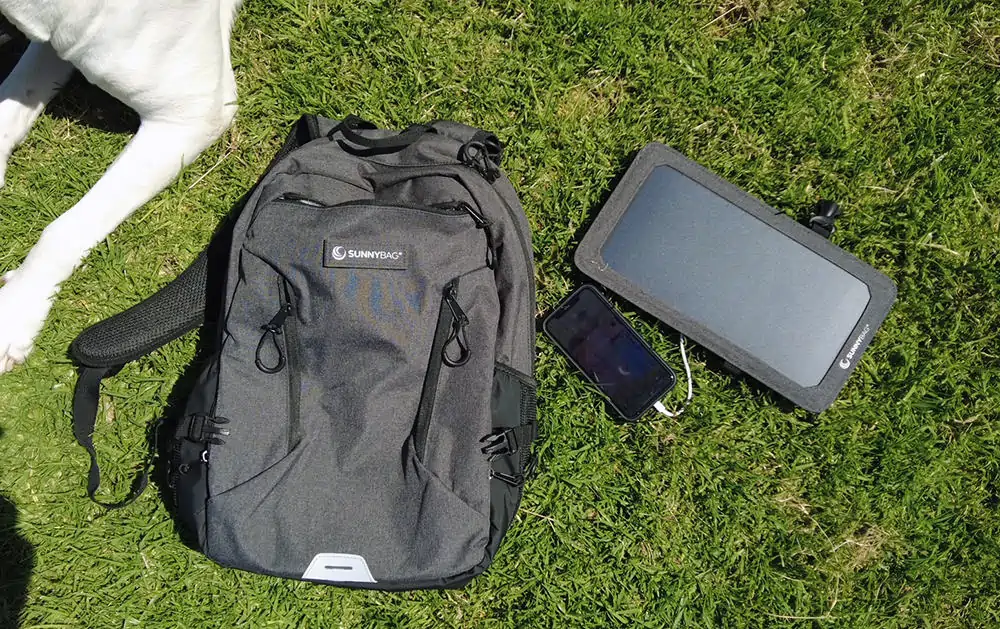 The detachable solar panel was tucked inside when we first received it. You attach the solar panel on the outside with two side buckles and a velcro strap. Even with the solar panel attached on the outside, the overall backpack still looked like a normal backpack which we appreciate.
Having a detachable solar panel allows you to leave your device charging in direct sunlight anywhere you want without the need for the backpack itself.
We plugged our lightning cable into the charger control, and it immediately charged our iPhone while hiking. We were pleased to notice that it still held the charge even in less sunny spots. However, in shady areas, it does seem to lose its charge as expected.
We were also able to charge our Ipad and our DJI pocket gimbal without issue.
Final Thoughts
When it comes to solar backpacks, there are a few things that you should look for in order to make sure you are getting the best possible product. First and foremost, you want to make sure that the backpack is large enough to accommodate your needs. If you plan on using it primarily for hiking or camping, then you will need a larger bag than if you plan on using it for everyday errands.
Additionally, you want to make sure that the backpack has a variety of pockets and compartments so that you can keep all of your gear organized and easily accessible. And finally, you want to make sure that the backpack is comfortable to wear, even when fully loaded.
There are a few things to consider when choosing a solar backpack. First, you'll need to decide how much power you need. If you just want to keep your phone charged, a small panel will suffice. But if you want to charge larger devices like laptops, you'll need a bigger panel.
Second, you'll need to choose the right size backpack for your needs. Solar backpacks come in a variety of sizes, so be sure to choose one that's big enough to hold all your gear.
Finally, you'll need to decide on a price range. Solar backpacks can range from relatively inexpensive to quite expensive, so it's important to find one that fits your budget.
Overall, we were please with the performance of the SunnyBag Explorer+ backpack. Like most (if not all) solar charging devices, we don't recommend this be your main source of charging your devices. However, if you're in dire need of charging your smartphone, this will do the trick. As mentioned, it's a great backpack for day use due to its size and lack of a waist strap.
The detachable solar panel is useful to hang on your car or tree in direct sunlight while you're out exploring. Although we didn't get their power bank to test, you can also indirectly charge one for night use. Check out SunnyBag's line of backpacks, chargers, and battery pack here.