Code Of Bell X-Pod (S) Sling Pack Review
An intuitive, modern sling pack for today's active and demanding lifestyle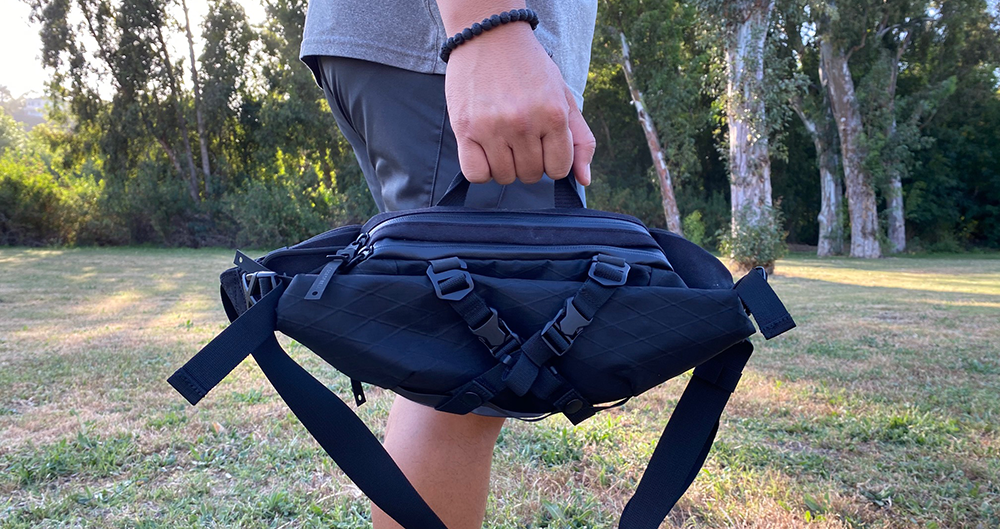 Code Of Bell X-Pod (S) Sling Pack
Quality -

9.5/10

Comfort -

9/10

Design -

9.1/10

Usability -

9.2/10
Key Features
Self-locking magnetic buckle for the shoulder strap
Can be worn cross-body style or around hip
Two independent compartments (front compartment is expandable)
Rear concealed zippered pocket x1(or rear panel)
Quick-access zippered pockets x2 (on R/L side padding)
Zippered mesh pockets x2 and slip pocket x1 (inside main compartment)
Rear pass-through sleeve to store shoulder strap when packing for trips Includes detachable chest stabilizer strap
Top grab handle grip
Detachable compression straps included
Multi-purpose attach points
Key hook strap x1
Shoulder strap clips x2
Pros
Made of durable, high-quality materials
Comfortable
Aesthetically pleasing
Cons
On the higher end in terms of pricepoint

Code of Bell (COFB) is a company based out of Los Angeles, CA.

They've been making waves ever since they launched their first successful Kickstarter campaign in November of 2017.

Their collection, which they coined Carrywear, is breaking the mold of how everyone is carrying everyday essentials with backpack alternatives, sling packs, and other efficient gear for people on the go.

They're continuing to push the envelope in other areas, launching another Kickstarter campaign scheduled to go live this month for work attire.

COFB sent us a sample of their X-Pod Sling Pack for an unbiased review.

Let's get into it.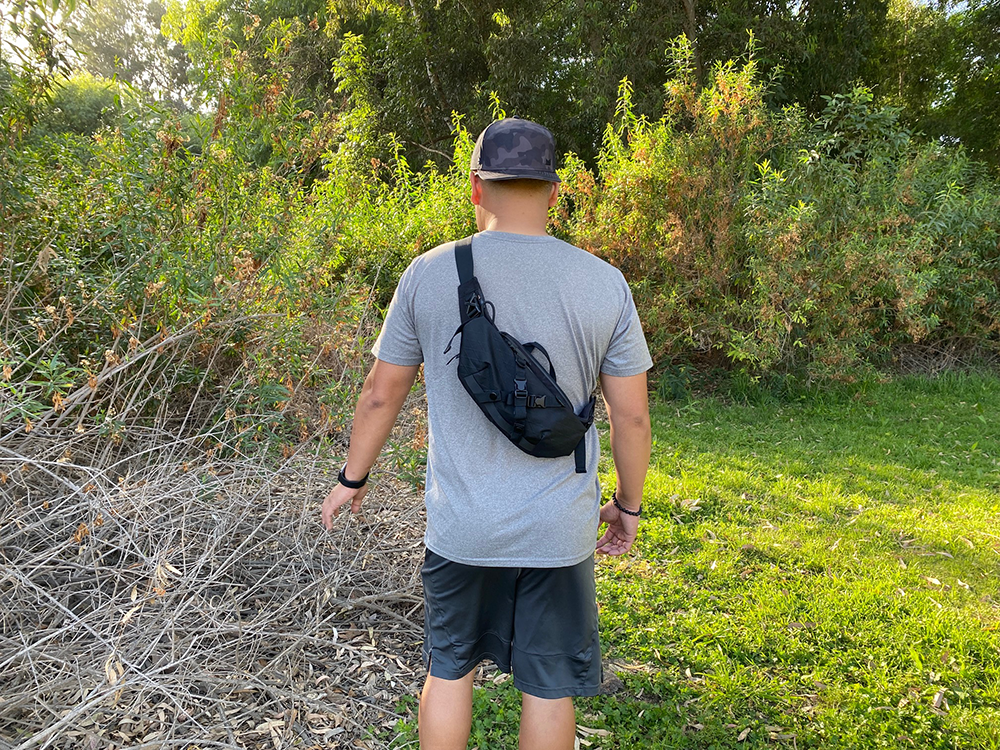 First Impressions
Our first impression when we first got our hands on the X-Pod (pronounced cross pod) Sling Pack was the quality and aesthetics.

This sling pack looks beautiful with enough tactical look and feel to it.

Modern, urban tactical is the best way we can describe it, it's great. You can take this sling pack to a coffee shop or hiking.

The sling game has leveled up with the aesthetics of the X-Pod.
Specifications
Dimension (inches / mm): 14 x 5 x 2 / 350 x 130 x 50 (when folded)
Dimension (inches / mm): 14 x 5 x 6 / 350 x 130 x 160 (when expanded)
Volume (litre): 2.3 (folded) / 7 (expanded)
Weight: 13.5 / 15.4 oz (w/ and w/o compression straps)
Yes, it does have a complex appearance at first glance with all the buckles, straps, and features.

But once you understand how the X-Pod sling pack works, you'll quickly realize how simple and intuitive it is for everyday use.

We're not going to go deep on the differences between a sling pack and a classic fanny pack, that's not what you're here for.

We do, however, want to point out why someone would want to use a sling pack in general.
You have a demanding lifestyle and you're always on the go where a traditional backpack may be overkill (If you don't have to carry a laptop with you but you need extra space for larger smartphones and other EDC tools).
You want better security and easier access to your stored items.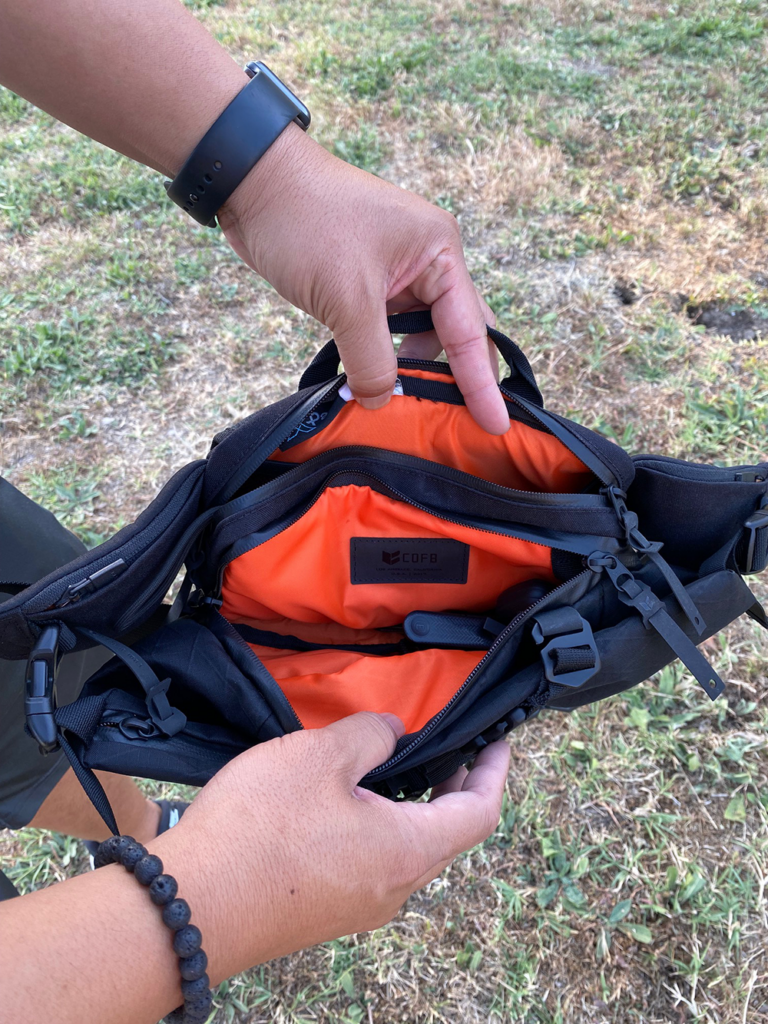 Inside the Pack
We've been using this sling for a few weeks now. Although it does have a complex appearance at first glance, we quickly realized how easy it was to use.

The sling has two main compartments, a more secured compartment on the backside, and two discreet strap pockets.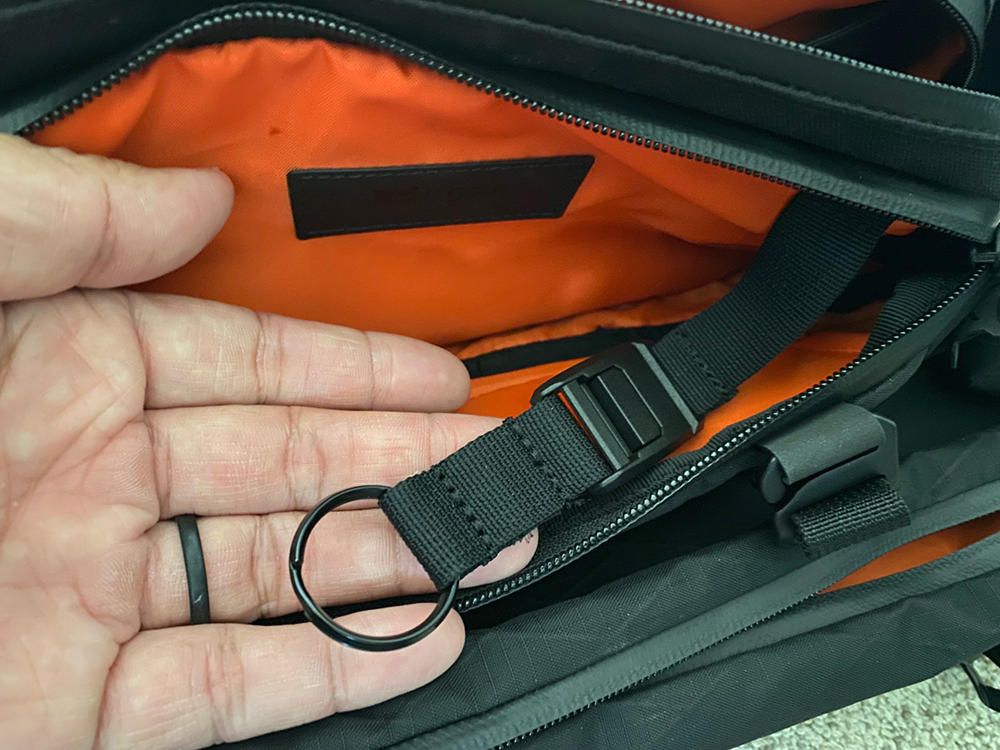 First Main Compartment
The first main compartment is the largest and can expand if you need to pack more stuff. There are two access points where you can pack your items. There are no organizational compartments in this compartment but it does have a tether strap with a magnetic buckle release for your keys.

We have to agree with others who have reviewed this sling. When this compartment is expanded it does look a little silly, but a great solution if you're in a pinch for space.

How much can it hold when it's not expanded?

We were able to add two 16.9 fl oz water bottles and were able to keep its compact size.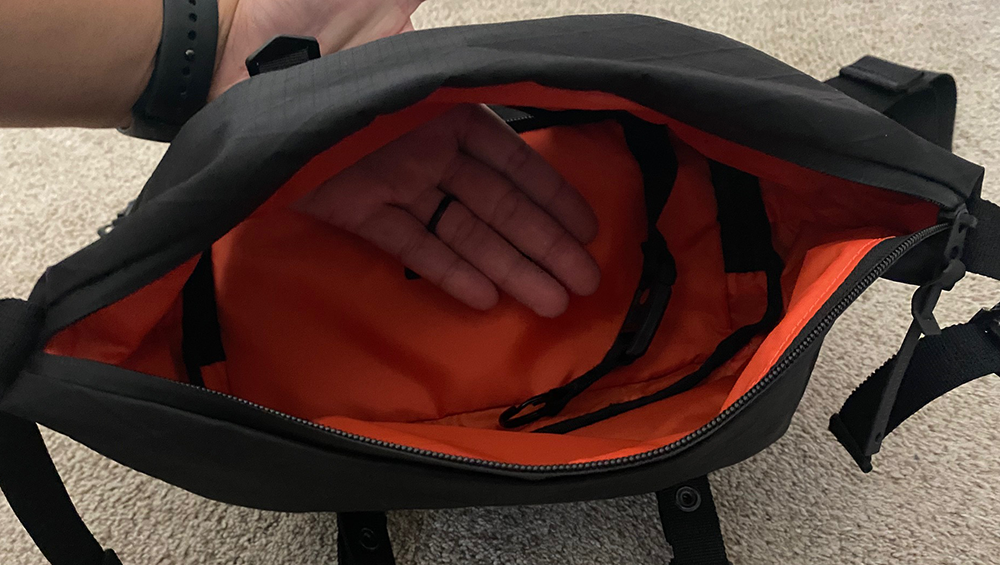 Second Main Compartment
The second main compartment along the backside contains more organizational features that are great to store all your EDC gear.

This compartment has:
Two equally size zippered mesh pockets
Large open-top mesh pouch
This compartment is where we packed most of our items, and we feel it's where many users will use it the most as well.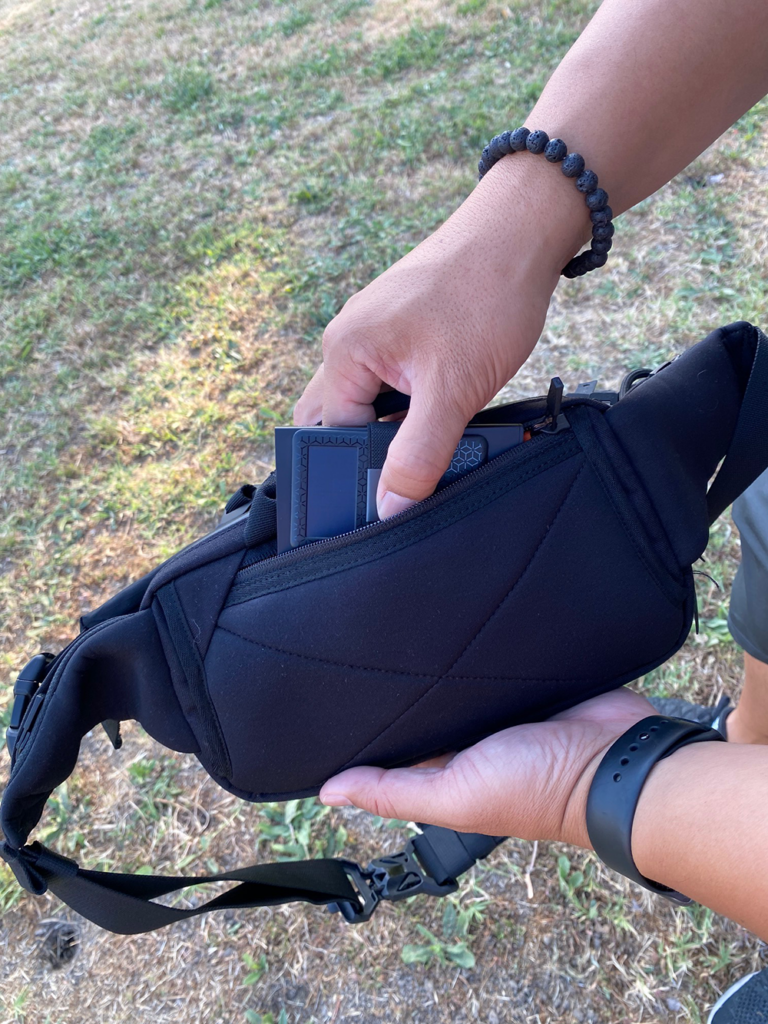 Hidden Storage
There's a discreet, somewhat hidden compartment on the backside of the sling that rests against your body when wearing the sling.

We really love this feature because it makes it difficult to pickpocket.

This is where we keep our more personal belongings like cash and our wallet.
Easy Access Small Storage On Straps
Last but not least, there are two small compartments and the base end of the straps where you can store smaller items like your earphones, etc.
Materials & Hardware
This is where the rubber meets the road, sort of speak. You'll quickly realize how the material used to manufacture this sling matches the cost.
Fabrics
For starters, the front side of the sling is made of durable, waterproof X-Pac fabric. The same material is used for sails on yachts.

Along the sides and near the base strap attachment are made of durable Cordura nylon.

The side where it touches your body is padded enough that makes it very comfortable to wear.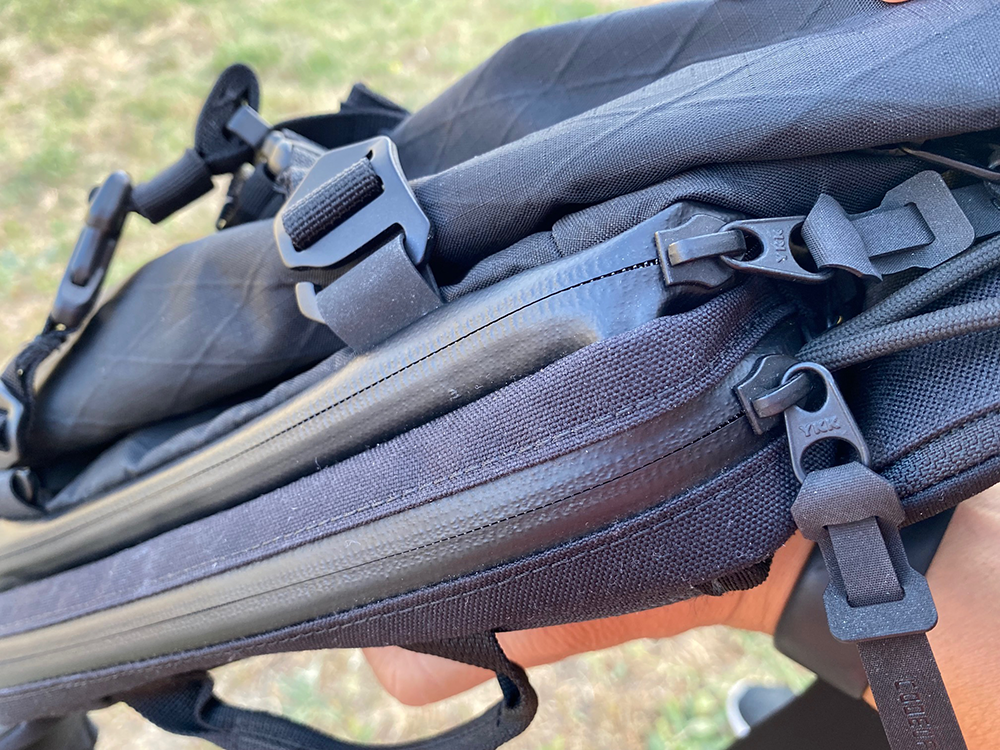 Zippers
Along with the quality fabric material used, COB didn't skip on the zipper hardware as well. All the zipper components of the sling are YKK zippers (A reputable and dependable Japanese zipper company). The two main compartments are also constructed with aquaguard lining for the zippers as well.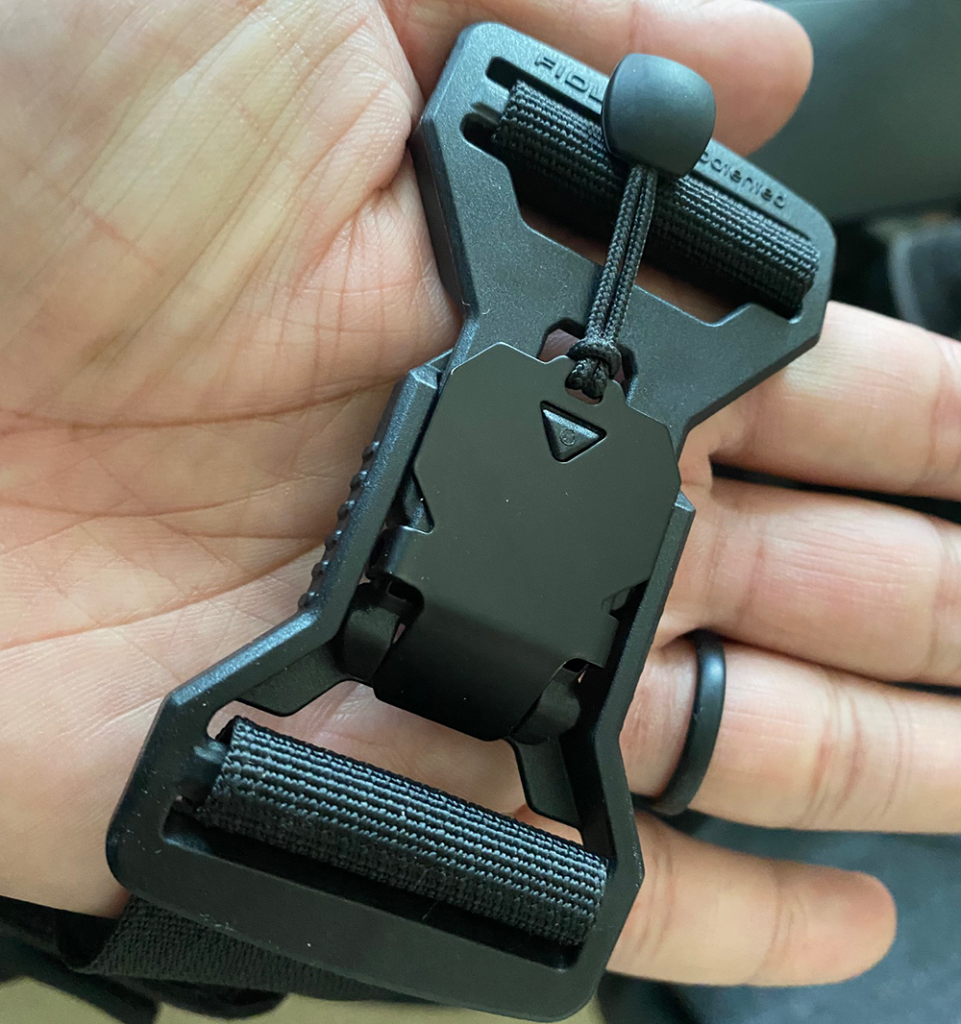 Buckles
The main strap is equipped with a self-securing Fidlock V-Buckle. Not only does this buckle look great, but this magnetic buckle also makes it harder to open as you apply more load to it.
Other secondary buckles used to collapse the second main compartment are constructed of high-density plastic.
What We Like
The X-Pod sling pack is a thing of beauty.

Aside from being aesthetically pleasing, it is very comfortable to wear. There's also an optional stabilizer strap that you can attach to the sling to prevent the sling from moving too much when you're on the move.

The bright orange nylon liner is a nice touch, giving you better visibility to see what's inside.
What We Don't Like
This pack is as good as it gets in terms of quality, and the price reflects that. With that said, we know this sling isn't for everyone.
If you're looking for an affordable sling pack, this item isn't your cup of tea.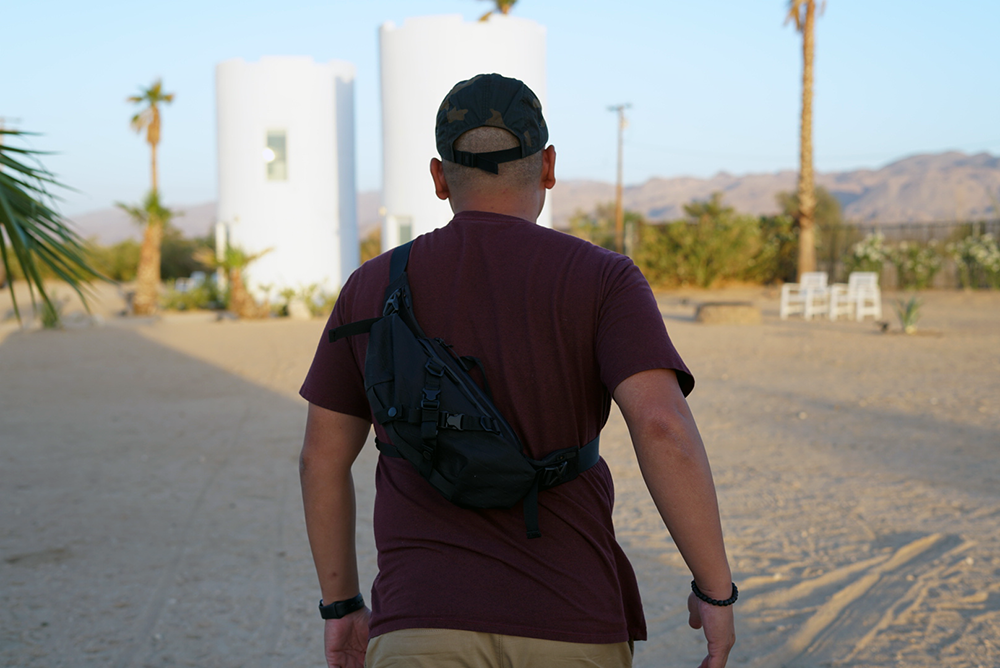 Final Thoughts
The X-Pod sling pack is a high-quality, well-thought-out sling that's perfect for everyday carry, commuting or travel. It's stylish, functional, and durable – everything you could ask for in a sling pack.

If you're looking for a top-quality sling pack and price isn't an issue, we highly recommend the X-Pod sling pack.