Best Hydration Pack For Mountain Biking – Top 29 MTB Packs Reviewed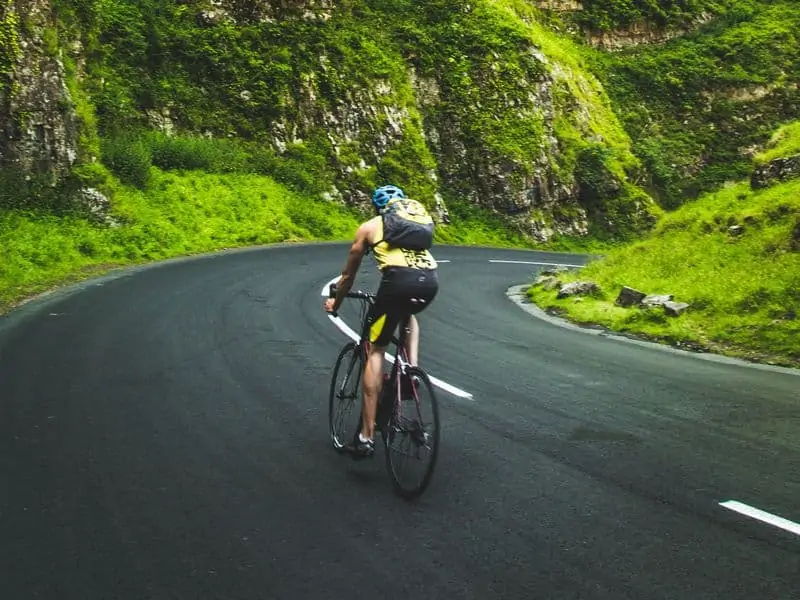 This post contains affiliate links where we may earn commissions from Amazon, REI, and other retailers at no additional cost to you. You can learn more about our affiliate policy here.
Looking for the best hydration pack for mountain biking? We did the hard work and research to bring you this list of the 29 best MTB packs. From best options for beginners to experts, we have something for everyone.
Scroll down to find your perfect pack.
What Are The Best Hydration Packs For Mountain Biking?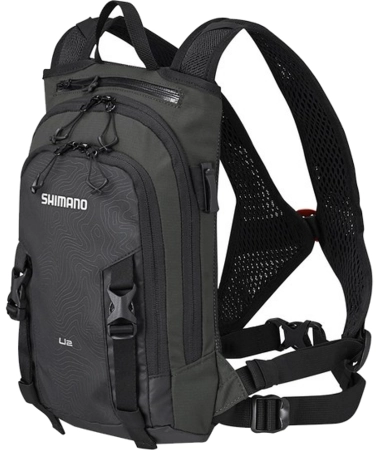 The Unzen is Shimano's answer to your next epic bikepacking adventure. It's got everything you need, with a system for multi-day biking and hiking adventures as well as space for everything else you care about when looking for the best hydration packs on the market.
Key Features
2,6,10, and 14L storage capacity options are available to tackle any adventure.
Convenient eyewear and helmet holder.
Three different harness systems for adaptation.
Light attachment loop for hands-free visibility.
Summary
Shimano is a well-known brand in the cycling world, and their Unzen 6L for mountain biking will not disappoint. This pack has everything you need when embarking on your next MTB adventure, from its convenient eyewear and helmet holder to its three different harness system options that can adapt to fit any rider's needs.
For those of us who are looking for more than just hydration or storage space but want additional features like light attachment loops or even sculpted air mesh panels, the Shimano Unzen 6L may be what you're looking for.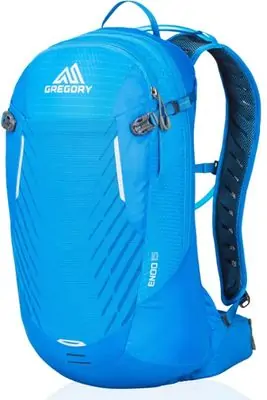 The Gregory Endo 15 H20 can truly keep up with you. Designed to carry everything, stay hydrated, and still be comfortable even when the trail conditions get tough.
Key Features
Rigid mesh sleeve to reduce bounce.
Ventilated back panel with moisture-wicking mesh for an incredible ride.
Drylock bite valve.
Summary
Designed specifically for mountain biking, the Gregory Endo 15 H20 will surely not disappoint. We can guarantee that both beginners and experts alike will be satisfied with this hydration pack.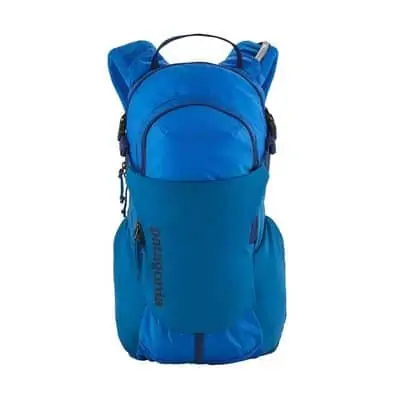 No hydration pack list is complete without the Patagonia Nine Trails 14L. This lightweight system provides you with everything that you might need when out on the trail, including a high-quality reservoir and comfortable straps in an aesthetically pleasing design to boot.
Key Features
Lightweight yet effective materials are used throughout for durability without weighing them down.
Comfortable mesh for the back keeps your focus on enjoying yourself instead of worrying
A high-quality reservoir is included inside, which prevents leaks or spills while providing easy access during bike rides.
Easily adjustable side compression straps so that whatever extra equipment or supplies you may have can be secured safely onto this mountain biking backpack.
Summary
The Patagonia Nine Trails may be the lightest hydration packs listed, but it doesn't skimp on quality. From its lightweight yet durable materials along with the adjustable compression straps, this pack will keep you hydrated for hours at a time without weighing your MTB experience down too much. Patagonia has proven itself as an expert in creating the best hydration packs for biking enthusiasts everywhere.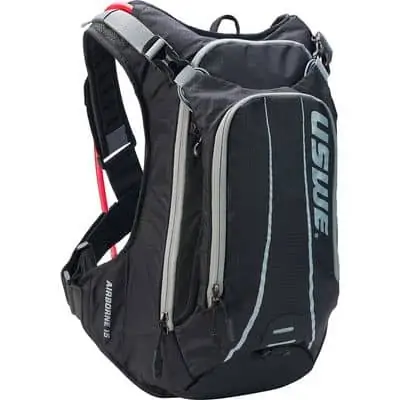 USWE Airborne is an excellent choice for those who want an affordable hydration system that still provides comfort, durability, and functionality. With its superior construction from end to end and the included accessories, which include a bladder with a drinking tube, all at one low price, this hydration pack is an excellent choice for beginner mountain bikers or casual riders.
Key Features
Water capacity: 15 liters.
Belt pockets to fit your needs and belongings.
Lightweight mesh side pockets keep cool when things heat up.
Durable yet lightweight materials used throughout this pack ensure comfort without weighing it down too much on MTBs.
Summary
USWE Airborne 15L combines comfort, durability, affordability – all at an affordable price. If you're looking for a low-budget hydration pack that still provides the same hydration benefits as more expensive hydration systems, then this is an excellent choice for you.
This hydration system also comes in different sizes, so whether you need a small hydration backpack or a large one, USWE has got your back.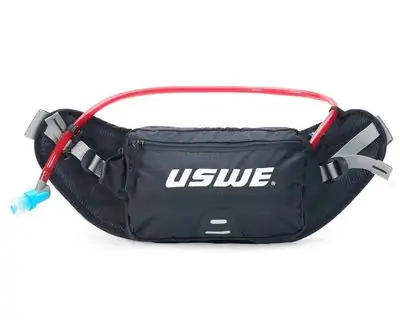 Whether you're a beginner or an expert, the USWE Zulo is for everyone.
This hydration hip pack has everything that you need and more when it comes to keeping hydrated on your MTB excursions: large water capacity, durable yet lightweight materials used throughout this product so as not to weigh your experience down too much, superior construction from end-to-end, allowing for durability without sacrificing comfort. Best of all? It's also incredibly affordable.
Key Features
Lightweight mesh straps allow cool airflow through them even during hot days out biking.
A large main compartment with side zipper access allows easy drinking while riding along trails instead of stopping completely.
High-quality bladder included inside hip pack with drinking tube.
Summary
The USWE Zulo hip pack is an excellent choice for the beginner or casual MTB rider because of its affordability, durability, functionality, comfort – it has everything that someone could need to take along with them on their mountain bike excursions without overcharging them to get these benefits.
6. Platypus Duthie AM 15 Backpack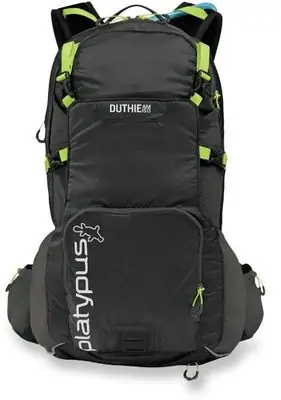 The Platypus Duthie is great for those of you who want convenience, high-quality materials used throughout this backpack to provide comfort without weighing down your MTB experience too much, and a large water supply capacity so that you can hydrate yourself during long bike rides (even shorter rides) with ease.
Key Features
The large main compartment in the center allows easy access to the water bladder inside while also providing room for other pieces of equipment or supplies. Hydrator tube included so that it's never difficult getting hydrated while biking down trails.
Side hydration bladder pockets allow for extra bladders so that you can have a backup if anything should happen to your first hydration pack or simply just provide more water at one time.
Summary
The Platypus Duthie AM is excellent for beginners and experts alike because of its many features, which include: high-quality materials used throughout this system not only providing comfort but also ensuring durability without weighing the MTB experience down too much as well as convenience with its center main compartment allowing easy access to bladder on-the-go.
Its price is affordable, making it even better value than most other hydration packs out there on the market today.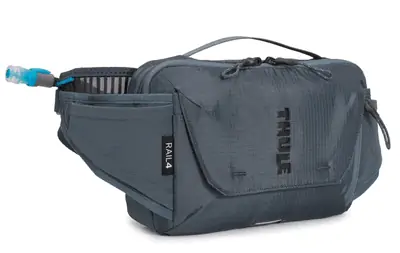 The hydration pocket in the Thule Rail hip pack is an excellent fit for a hydration bladder, but it also fits many other objects.
Thanks to the zipper closure, the front pouch has enough room to hold an extra layer of snacks and close securely.
This hip pack's main compartment opens wide, so you can easily see all of your belongings at once, eliminating any need to make multiple stops throughout the day.
Features
In a dedicated, soft-lined pocket, the phone may be accessed from the rear with one hand.
With enhanced stability and breathable materials, you can enjoy the trip in comfort while maintaining control.
Side jersey pockets provide easy access to snacks.
Organize tools and accessories in individual internal compartments.
Blinky light attachment loop.
Summary
Thule hydration packs are designed to be lightweight, comfortable, and functional. They come with a patented design that makes it easier for you to access all of your pack's contents without opening the bag or taking off any layers.
The Thule Rail hip pack is perfect for outdoor activities like biking, hiking, snow sports, running, skiing/boarding, etc., because it provides excellent ventilation on hot days.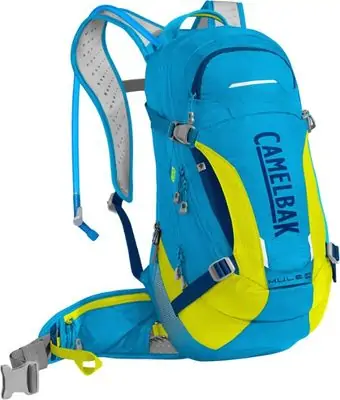 When considering the purchase of a backpack, it is important to consider its storage capabilities and what type of terrain it will be used for. The CamelBak M.U.L.E. LR 15L is an excellent choice for hiking or backpacking with great water-carrying capacity and several other features which make this pack so versatile.
Key Features
Sturdy harness system that can easily accommodate people of all sizes by being adjustable to fit most body types.
The straps for your shoulders are also padded with foam, providing increased comfort when carrying heavier loads over more extended periods.
Lightweight and durable at the same time.
Summary
The CamelBak Mule LR 15L has several benefits that make it a great choice when buying a backpack. Firstly, the 100-denier nylon material is durable and lightweight at the same time, which means that carrying heavier loads over long periods will be easier.
Secondly, the harness system is adjustable and can accommodate people of all sizes, ensuring that no one has to struggle with uncomfortable straps even in heavy-duty use.
Thirdly, the straps are padded to provide increased comfort in longer hikes and backpacking expeditions.
Lastly, this backpack is also affordable, well-designed, and versatile, making it an excellent buy for any backpackers out there.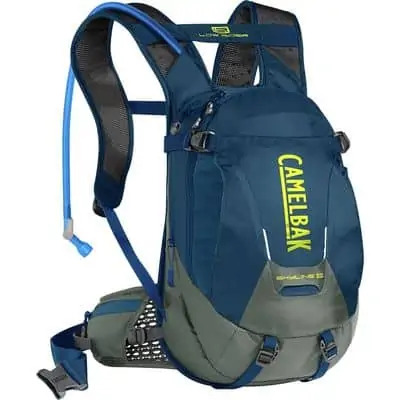 The CamelBak Skyline LR 10 is perfect for long hikes or bike rides. The bladder is designed to be detachable and refillable with ice, allowing you to stay hydrated all day long.
There are plenty of extra compartments for storing food, clothing, electronics, and anything else you might need on your journey. This model has everything you could need for an extended adventure into the great outdoors.
Key Features
water capacity of 3 liters
A Multifunctional, easily accessible front pocket provides storage for small items like keys or snacks
Contoured high airflow mesh harness with center load waist belt distributes weight evenly across hips, while stabilizer straps ensure the bag stays in place during heavy movement
Slim design decreases the likelihood of snagging on obstacles at critical moments.
Patented Big Bite Valve
Summary
CamelBak hydration packs are lightweight, durable, and made of high-quality materials. These are designed to keep you hydrated on hikes, biking, running, or other outdoor activities.
One of the best hydration packs is the CamelBak Mule LR 15L. The CamelBak Mule LR 15L is considered one of the best hydration packs for mountain biking because it is lightweight but doesn't cut corners on support and comfort.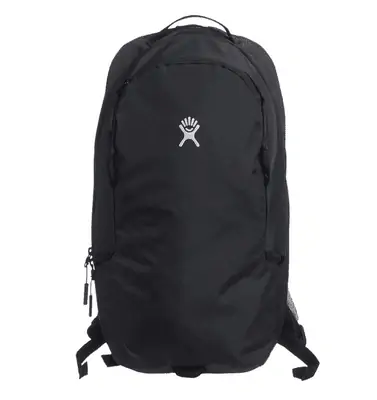 The Hydro Flask Down Shift 14 has a liquid capacity of 2 liters and is designed to transfer weight from the shoulders to the hips.
Key Features
The ColdFlow system includes an insulated reservoir, a neoprene sleeve with reflective lining, and an articulated back panel that keeps liquids cold for more than four hours.
It is lightweight and highly abrasion-resistant. It resists punctures, tears, and abrasions.
The articulated back panel allows air to flow between you and your pack, preventing body heat from transferring to the reservoir.
Summary
The Hydro Flask Down Shift 14 is perfect for runners, hikers, and mountain bike cyclists looking to get the weight off their shoulders.
This 14-liter storage capacity backpack transfers weight from your shoulders to your hips so you can have a more comfortable running experience while still carrying all of your essentials with you on the trail or road. The best part? It's lightweight and highly abrasion-resistant.
Whether it be punctures, tears, abrasions—the Hydro Flask Down Shift 14 will resist them all.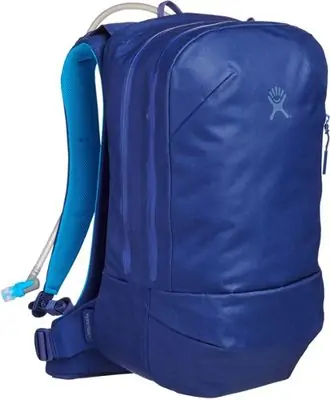 The Hydro Flask Journey Series 20L is an excellent option for anyone looking to stay hydrated during their next outdoor adventure. It features an ergonomic design, making it comfortable and easy to use while still providing users with the capacity to bring everything they need on the go.
Key Features
Adjustable straps provide the perfect fit every time
20 liter gear capacity and a 3 liter bladder reservoir
BPA-free materials are both durable against harmful elements and safe for reuse
Summary
If you're looking for something that can hold all your gear yet is compact enough not to take up too much space, this product should be on your list of options. The Hydro Flask Journey Series features a sleek design with all the necessary adjustments to ensure users are comfortable and flexible, making this one of our top sellers.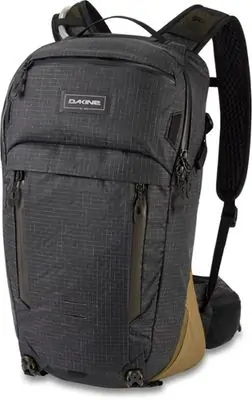 The DAKINE Seeker 18L is a simple, lightweight backpack designed to transport your water bottle and plenty of storage for other essentials. The straps feature mesh fabric for breathability, while the chest strap has an emergency whistle built-in. It's perfect if you're looking for something basic but dependable.
Key Features
3 liter liquid capacity
High-flow Blaster bite valve w/shut-off and magnetic hose clip
Breathable ergonomic straps
Emergency whistle integrated into the sternum strap
Summary
The DAKINE Seeker 18L is a great option for those looking to stay hydrated on their next outdoor adventure or even just around town; with the number of quick-access pockets and storage areas, you can keep all your items organized while still being hands-free.
It includes an easy access pocket and many additional ones that will help you fit in everything from water bottles and snacks to extra layers and first aid kits for your ride.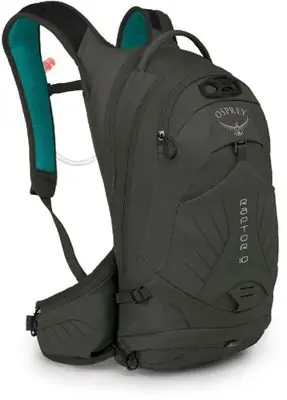 The Osprey Raptor 10 is the smaller version of the Osprey Raptor 14. It features an ergonomic design with a high-flow mesh back panel and straps to provide ventilation during hot weather hikes, runs, or mountain biking.
Key Features
Removable tool roll to keep all your tools organized and accessible
2.5l reservoir to keep you hydrated on long trips
External helmet lid lock does not waste any space inside your pack
Summary
If you need a hydration pack that can accommodate the rest of your gear and provides enough hydration for long trips, this is the hydration pack for you.
The Osprey Raptor 10 features an ergonomic design with ventilation in the back panel and shoulder straps to keep you cool on hot days. Plus, it's got a dedicated tool roll, so all your tools are organized and accessible when needed.
With its 2.5 liter reservoir, there will be no shortage of hydration while out on adventures. Those looking to up a size in gear capacity should look into the Osprey Raptor 14.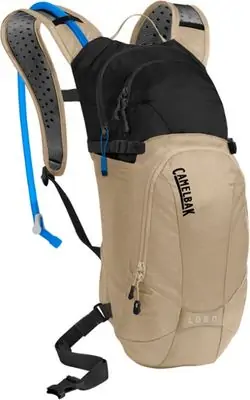 This hydration pack has a bladder size of 70 ounces and storage for gear at a capacity of six liters. The reservoir is BPA-free, making it extremely safe for its users. This hydration pack will keep you hydrated all day long.
Key Features
Lightweight and breathable
Magnetic tube strap Keeps your tube secure and easily accessible
Secure phone pocket
Summary
The CamelBak Lobo is the perfect hydration pack for anyone that likes to stay hydrated all day long and still have a place for their belongings. It has a large bladder size, easy-to-use design, and many other features that make it stand out from its competition.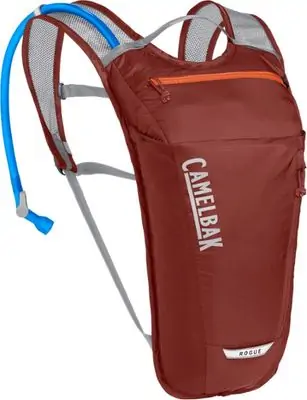 A must-have for any serious outdoor adventurer. The CamelBak Rogue is the go-to hydration backpack for anyone looking to get out there and explore. This hydration backpack has it all, with features specifically designed for everything from long days on the trail to fast-paced hikes up steep hillsides.
Key Features
There is no need to remove the reservoir to refill it.
A quick-release flap in the reservoir's lid makes it simple to open the filler cap
The bright, reflective materials provide increased visibility in low light.
Summary
The CamelBak Rogue helps make your adventures more enjoyable and exciting. It can be adjusted if you want to use it for a shorter or longer duration.
It has been designed with the outdoor adventurer in mind. You can refill the reservoir without taking it off because there is a quick-release flap on the lid. Suppose you are hiking through areas that don't have much visibility. In that case, you can rely on these brightly reflective materials because they will provide you with increased visibility in low lighting conditions.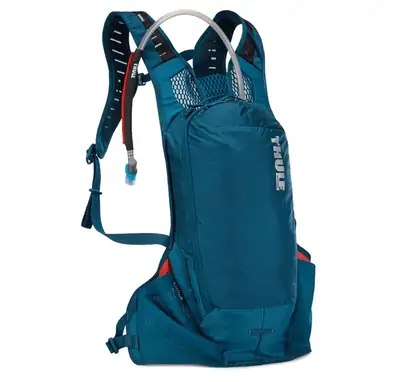 The Thule Vital is a great choice for those who need to stay on the go. It's durable and has an adjustable back suspension system that makes it comfortable at all times. The water bladder capacity holds up to 2.5 liters of fluid, which can last 2-5 hours of high-intensity rides, according to Thule.
Key Features
Great drinking tube design and functionality
Comfortable straps and hip belt ensure a secure fit.
Lightweight
Summary
The Vital 6L is specifically designed for mountain bikers and other outdoor adventures. Its lightweight, slim design makes it easy to carry on your back or wear around town. The most secure drinking hose connection system of its kind means you'll never have another leaky tube again while out enjoying some fresh air- no matter how long the day lasts.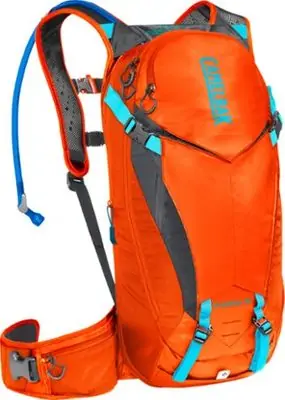 The K.U.D.U Protector 10 is a high-performance pack for day trips on the trail, but it also makes an excellent bike commuter bag with plenty of room so you don't have to stop to access them when you're riding or running errands around town.
It's made from rigid materials that will stand up against falls, scrapes, crashes, and other accidents while still lightweight enough to become burdensome during long treks in the backcountry.
Key Features
Faster flow rate equals longer journeys with the 3L CRUX Reservoir.
Full Back CE Level II Protector: This material absorbs the energy of a collision.
Zip Off Cargo Pack: The Cargo Pack can be carried without the Protector.
Removable Bike Tool Organizer Roll: Tuck away your CO2 cartridges, patch kits, and other supplies.
Integrated High Visibility Rain Cover: Helps protect your gear from the elements
Helmet and Armor Carry
Summary
The CamelBak K.U.D.U Protector 10 7 L is a backpack that can hold up to 3L of water and has all the features needed for any outdoor adventure, from hiking to biking or backpacking. There's an integrated rain cover stashed in one of the shoulder straps, so you'll never have to worry about getting wet if it starts raining while you're out exploring nature.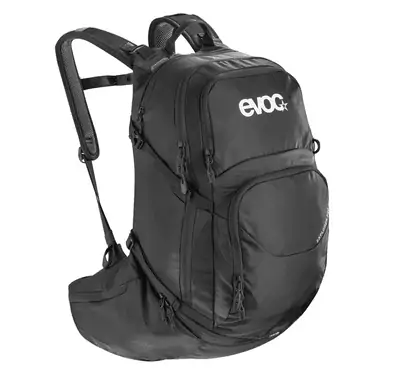 You are always on the go, and you don't want to stop because your bag is full. That's why Evoc created the Explorer Pro 26L Backpack.
This backpack has everything you need for overnight bike tours, all in one bag. It also gives maximum carrying comfort with its neutrally balanced load distribution and a large back ventilation system. If you're looking for a technical touring backpack that will keep up with your active lifestyle, this might be perfect for you.
Key Features
Durable, high-quality materials
Separate storage for helmet and tools
Ventilation system to keep back cool and dry
Compression straps to evenly distribute weight
Rain cover and helmet attachment system
This Evoc Explorer Pro 26L Backpack is perfect for short torsos. It has all of the necessary space for bike tours and upper-body ventilation to keep your back dry. The bag also has a helmet attachment system, compression straps, and a rain cover to keep you safe from bad weather. If you're looking for a hydration backpack that fits your needs, this is the one.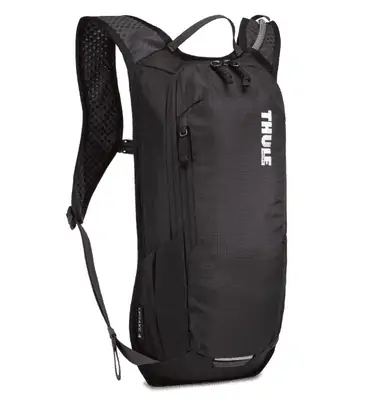 The Thule UpTake 4L has all the features that make hydration packs great: it's spacious, has a built-in hydropak reservoir and magnetic hose retainer.
The best feature? That would be the slide closure which makes filling and cleaning easy–and prevents spills both before and after your ride by keeping water from sloshing out of either end of the bladder while transporting it or when full. It also includes a pump, tools, nutrition, and extra layers in its four liters of cargo space to keep things organized on your adventures.
This is an excellent choice for cyclists who want to stay hydrated without breaking from their rides or runners who need hydration for longer distances.
Key Features
Organize your pump, tools, nutrition, and extra layers in the four liters of cargo space
Slide closure means easy filling and cleaning, as well as a locking bite valve that prevents leaks both before and after your ride
Keeps water from sloshing out of either end of the bladder while transporting it or when full
Includes a hydropak reservoir with slide closure for easy filling and cleaning as well as a locking bite valve to prevent spills; magnetic hose retainer is an excellent hands-free option (hose detaches without spilling)
Summary
The hydration pack has several great features, but its lack of a waist strap lets it down. It can be uncomfortable when the going gets tough, and you find it difficult to stabilize your pack on your back.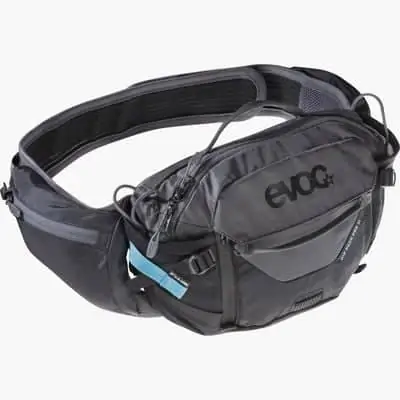 One of the best hydration packs for cyclists, but did you know they come in all shapes and sizes? For shorter rides, there is the EVOC Hip Pack Pro 3L. It's perfect if you want to be hydrated without feeling weighed down by your pack or restricting your movement.
The VENTI FLAP system keeps the sweat from getting trapped underneath the pack when riding uphill so that it doesn't feel too hot on top of a saddlebag-like contraption during descents either.
And since hydration packs range from 0.5 liters to over 100 liters, there is an option for every cyclist out there, no matter how long their ride will be.
Key Features
Airflow contact system which offers perfect back ventilation
E-tip magnetic clasp that is easy to use even with sweaty hands and the ENTIFLAP for uphill- and downhill mode adjustment.
Two bottle carriers on either side of your hips with extra safety fixation so you'll never have to hydrate in a hurry again.
Summary
The EVOC Hip Pack Pro 3L is a great option for fitness enthusiasts, hikers, and people who like to travel. The features make this hydration hip pack ideal for anyone looking for lightweight comfort on their next adventure, whether they're conquering trails high in the mountains or exploring a new city.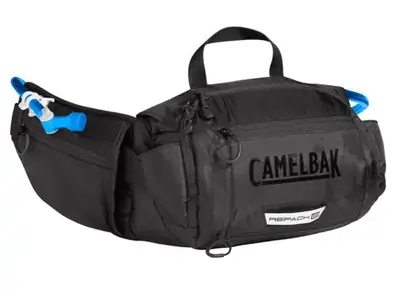 The CamelBak Repack LR is for those who need more than a bottle but less than a full backpack. It features load-bearing
Key Features
Hip belt with cargo pockets
Integrated carry pockets
Dual reservoir compression straps cinch the reservoir for stability and tight fit.
The Crux Reservoir has a faster flow rate
Summary
CamelBak hydration packs are a great way to carry your water and cargo comfortably on the trail. With a 1.5-liter reservoir, integrated pockets for carrying extra gear or food, and customizable fit options that keep you comfortable from morning until night, the best hydration packs will have you riding light and fast over any terrain—plus, they'll spare your back from being sweaty at the end of the day.
The Climbing specific features of this backpack are ideal for hard-charging riders who love to be out in nature and need their tools, repair kit, and hydration pack with them at all times.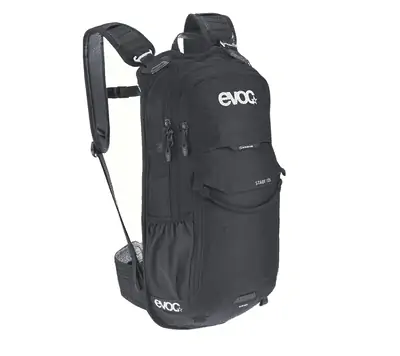 If you want to ride your bike with the least equipment possible, it is for you. It features perfect for riders on a budget or just starting in cycling culture who need something small but effective. The free-moving BRACE LINK allows its shoulder straps to adapt based on individual width, so no matter how many miles pass by before I get home from riding, they will always feel comfortable and supportive, making every ride better than expected.
Key Features
Free-moving BRACE LINK
Shoulder straps will always feel comfortable and supportive
3 liter capacity for water
Rain cover (integrated)
Summary
The Evoc Stage 12L backpack will keep you hydrated and comfortable while out on the trails. What sets this product apart from others? The free-moving BRACE LINK provides excellent support for your upper body, no matter how many miles pass by before you get home from riding. This pack also features an integrated rain cover to protect it when the weather turns wet. If you're looking for an affordable backpack with these features, take a closer look at the Evoc Stage 12L.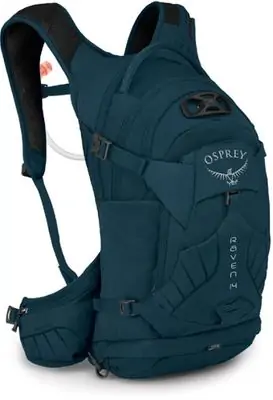 The Osprey Raven 14 for women features a lightweight sternum strap magnet, allowing easy access to the bite valve. The hydration reservoir is easy to fill and clean, with separate zippered pockets for your keys or snacks. Stretch mesh zippered hip belt pockets to securely store your items while out on the trail.
Key Features
Scratch-free reservoir pockets
Lid lock attachment for bike helmets
Blinker light attachment and reflective patches for safety
For Women
Summary
Osprey hydration packs are designed to be functional and comfortable for all-day adventures. The Osprey Raven 14 is no exception, with a scratch-free reservoir pocket that's easy to fill or clean. You'll also find the LidLock attachment for bike helmets on this model perfect if your biking adventure includes stopping along the way. Finally, there are reflective patches on both sides of the backpack, which will help you stay safe while hiking in low-light conditions.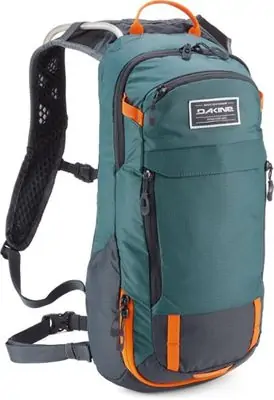 For those who need to carry things on their bike ride, this pack can handle the demands of cycling without compromising comfort. DAKINE has created the Syncline 12L with all the storage needed for a great ride.
The Syncline 12L also features our proven Air Flow back panel design, ensuring breathability while keeping you cool on hot summer days or cold winter mornings. This durable product will last longer than other packs in its class, made from sustainable materials, thanks to our choice of recycled poly outer material. Whether you need storage for essential items or snacks, tools or layers plus
Key Features
2L / 70oz Hydrapak reservoir capacity
Phaser bite valves
breathable Air Flow back panel and shoulder straps
Summary
DAKINE is a company that created the Syncline 12L bike pack. This backpack is designed to be worn on your back when cycling, and it has plenty of storage space for all your need carrying items like water, food, or tools. If you need storage for essential items or snacks, tools, or layers, plus DAKINE has airflow shoulder straps included.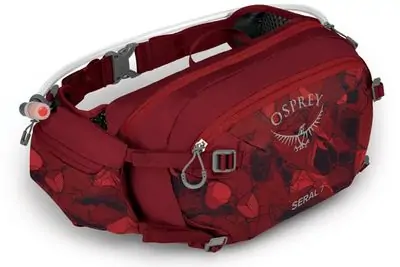 Osprey Seral waist packs are designed to carry essential gear while running or cycling. They allow for hands-free movement, and they stay in place during activities, so you don't have to stop every few minutes to adjust your bag. This Osprey model has a built-in rain cover at the bottom of the pocket to prevent contents inside from getting wet when it rains. The mesh pockets on either side can hold medium-sized water bottles without spilling them all over the ground if you stumble or trip up suddenly. Finally, this product is manufactured by one of America's top outdoor companies; therefore, its quality should be more than satisfactory even after years of regular use outdoors.
Key Features
Extra thick ridged foam with center air channel for better ventilation
The AirMesh fabric hip belt with zippered pockets gives support and breathability.
The ErgoPull waist strap closure system ensures a proper tight and secure fit.
The bladder's dedicated compartment keeps an included 1.5 L lumbar reservoir and compresses for transportation, while the hose magnet attaches to the bite valve for simple access while cycling.
Total Volume: 7L capacity
Summary
The Seral 7 lumbar reservoir is designed to keep you cool and refreshed with an off-the-back pack for all of your riding needs. It features a magnetic bite valve that attaches securely onto its hip belt, so there's never any need to search through bags or pockets when on the trail.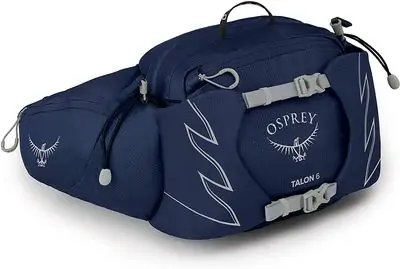 The Osprey Talon waist pack is a lightweight, compact carrier designed to accommodate the needs of hikers and backpackers looking for an efficient way to carry their water supply. This product's design allows users to pick up the pace on trails due to it being easily moved from front to back or side-to-side without having any extra equipment.
The mesh pockets allow you to stay organized while your hands remain accessible so you can focus on controlling yourself through challenging weather conditions or unexpected obstacles along the trail. In addition, this pack also has a high visibility interior liner which makes it easier for others in your group when they need help with items inside of the bag.
Key Features
Lumbar pack with two zippered panel access to the main compartment
Two 570 ml PackBottle BPA-free water bottles are included; each empty bottle weighs just 2 oz
Bottle sleeves with bungee retention straps are padded
Mesh pockets allow you to stay organized to keep your hands free
Summary
The Osprey Talon is a great pack for those who love to go on quick outdoor excursions and need just enough gear. The waist pack can carry up to 38.5 oz of water, which will provide plenty of fuel for longer trips.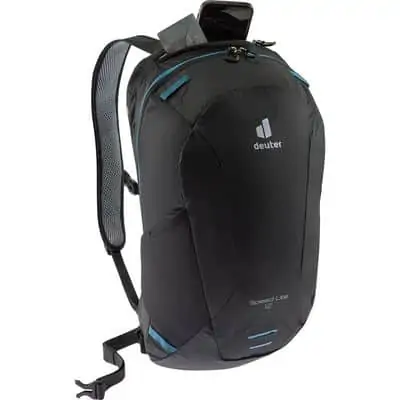 The Deuter Speed Lite 12L Daypack is a contender for the lightest, minimalist back system from Deuter. A padded back panel fully lined with ventilated 3D-Air Mesh provides carry comfort for light loads. Ergonomically shaped wide AirMesh shoulder straps make it more comfortable to carry heavy loads. Athletic V-cut shape gives you extensive freedom of movement.
The waistbelt can be taken off if not needed and has a sunglass loop on the shoulder strap and accessory loops that can be used for a gear or helmet holder attachment. A zippered pocket on top and easy finger pull loops on the zippers make it easy to open and close everything up nicely.
Stretch side water bottle pockets and elastic mesh side pockets make it easy to store things. A zippered pocket on the inside is excellent for valuables like your keys, credit card, or phone, while the main compartment provides enough space for a day trip of up to 12 liters worth of stuff.
Height and width are adjustable, so you can do this perfect fit no matter what height you are at. The Deuter Speed Lite 12L Daypack will help keep all your essentials close by when running errands in town or going on a day hike in nature.
Key Features
Lightweight backpack with ergonomic shoulder straps
V-shape gives extensive freedom of movement
Sunglasses loop on shoulder strap
Summary
The Deuter Speed Lite 12L Daypack is a light and minimalist day pack that will provide comfort for light loads. It's adjustable as well, so it can fit any height no matter what your size. If you need a lightweight day pack that packs in all the features but won't weigh you down, this one's worth looking into.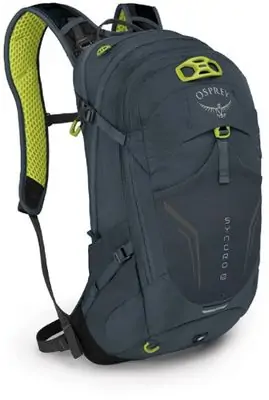 For the avid mountain biker who loves to ride through hot and humid conditions, there is no better pack than the Syncro 12. This top-tier piece of equipment features all sorts of bells and whistles that will make your day on two wheels more comfortable.
Key Features
A 3D tensioned AirSpeed back panel provides maximum ventilation
Contoured mesh panels keep you cool even in the sweltering heat
Shoulder straps curve into position when reaching for handlebars providing superior fitment during long rides with heavy gear like yourself
Fully adjustable hip belts let this durable bag be used by either men or women looking not only serious protection from things falling out
Conclusion
The Osprey Syncro 12 is the perfect size for a daypack, and it has enough space to carry all of your gear. The bag's ventilation system will keep you cool on hot days when biking or hiking, and there are plenty of pockets to keep your belongings organized. This pack also features an external water bladder that can hold up to 2.5 liters of emergency drinking water if you need more than what's available from natural sources.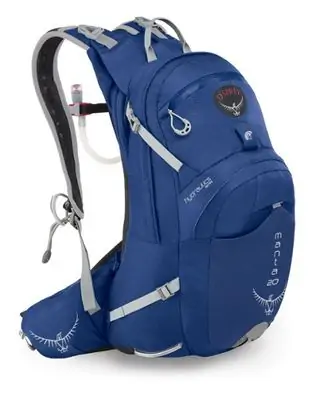 The Osprey Manta 20 hydration pack is the perfect companion for all your outdoor adventures. It combines great carrying comfort with an easy, functional design that lets you focus on what matters most – getting out there and having fun.
Key Features
The Osprey Hydraulics™ system was designed with an anatomically shaped plastic sheet that sandwiches between nylon fabric and the reservoir back. This design conforms to your body, resulting in a precise fit which you can be comfortable while wearing all day long
The rigid spine of this water-resistant pack features an easy-fill spout as well as sturdy handles on both sides – making it simple for anyone who has used one before or is just learning about these types of products altogether
It won't retain tastes/odors, so there are no worries about leaving behind germs either
Conclusion
With a Manta 20, you'll have enough space for all of your essentials and then some. The pack is ideal for activities like biking or trekking when staying hydrated throughout the day can be important. In terms of comfortability, the Osprey Hydraulics™ system provides an excellent fit that will make it easier than ever before to wear this bag around town.
What Are Hydration Packs For Mountain Biking?
Hydration packs are essential for mountain bikers who want to keep hydrated.
The main appeal of the hydration pack is the convenience they offer. Unlike other carriers like water bottles, there is no need to stop and refill them constantly. This makes it much easier for riders to stay focused on their ride or activity rather than continually checking if they need to take a break.
There are many different packs out there, so it can be hard to decide which one suits you best. These include backpacks with an integrated reservoir, handheld bottles, waist packs with a reservoir, and even pouches attached to your bike.
They are also great for hikers who want to carry water hands-free.
Are Hydrations Packs Worth It?
If you're a mountain biker, hydration packs are worth it. They offer riders the convenience of not having to constantly stop and refill bottles and comforting their backs with a great fit. Finding the best hydration packs can be hard to decide because there are so many on the market. These include backpacks with an integrated reservoir, handheld bottles, waist packs with a reservoir, and even pouches attached to your bike. You can also choose to bring your bladder or reservoir.
However, some riders find that having water on their backs is less than ideal, so they opt to stick with the traditional bottle in a holder design. This usually consists of two bottles attached by a bracket and mounted onto your bike's down tube.
If you go this route, make sure it has enough room for you to lean forward without hitting the bottles from being obstructed by your body when pedaling hard up hills. Another thing worth noting is how long it takes each type of pack to rehydrate itself after use since most people don't have time during a ride to wait around until they're ready again. The only way you'll know which one works best for you is to try them on for yourself and see which one suits you the most comfortable.
Some of the best hydration packs are also a great option for hikers if you're more of an adventure seeker than a mountain biker. Make sure these have enough room for everything else you might need, like food, extra layers, first aid supplies, and maybe a sleeping bag, too, depending upon where your adventures lead you.
A good fit means nothing when there isn't anything in the pack, so make sure yours has ample storage space before leaving home without any extras, just in case. You'll never know what you might need and when you'll need it, so make sure your pack can hold everything you feel like carrying with ease.
Final Thoughts
Hydration packs are an essential component of any mountain biker's gear, providing the opportunity to stay hydrated on long bike rides. Hydration packs can be purchased for a wide range of prices and have different features depending on your needs. The important thing is that you find one that fits well with how often you ride, what type of biking you do, the weather conditions in which you typically ride, and most importantly-how much water it holds.