9 Best Gifts For Skiers And Snowboarders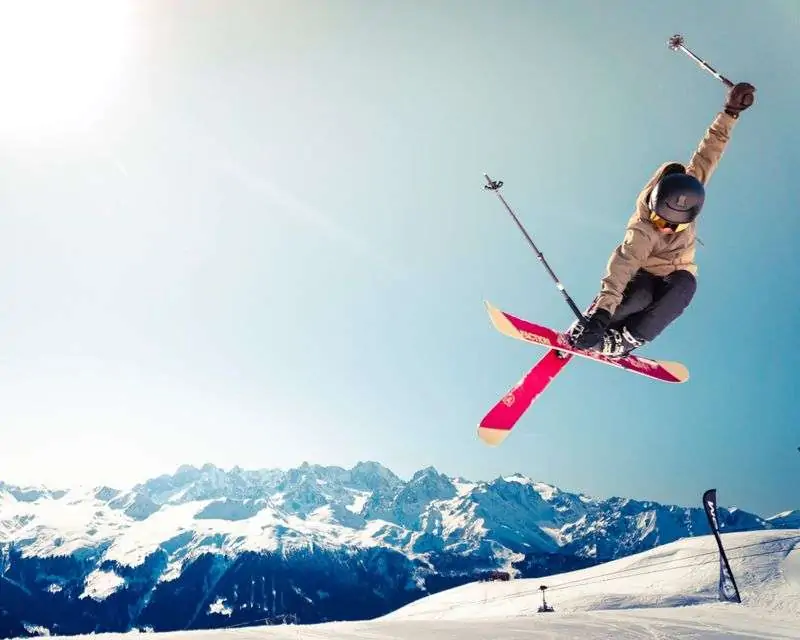 What gifts should you get for a skier and snowboarder? The best gifts are the ones that they will use and enjoy. This list of gifts is full of ideas, whether for your spouse, friend, or significant other.
Here are the nine best gifts for skiers and snowboarders, all guaranteed to be useful when out on a day on the slopes.
What Are The Best Gifts For Skiers and Snowboarders?
---
1. Smith Snow Goggles
An essential piece of gear that makes a great gift for skiers and snowboarders. They are among the top brands for high-quality gear for snow sports, with all sizes available from children to adults. With its wide variety of colors and types, there's something that everyone will love while shredding powder at a black diamond slope.
They come in classic ski style to more sporty styles for snowboarders. They have tons of options, so it's easy to find something that everyone in your family will love and make a great gift for skiing and snowboarding.
Smith Skyline ChromaPop Snow Goggles
These goggles are great gifts for skiers. They have engineered ventilation to help keep fog away with their triple-layer face foam, which helps reduce moisture build-up. The lenses on these also give you an ultimate field of view so that you can see clearly while you are on the slopes.
These ski and snowboard goggles are also great gifts for skiers because they have responsive fit technology, making them comfortable to wear while skiing or snowboarding without being too tight around your face.
Ski Socks
If you've ever skied or snowboarded, then you know the importance of having a good pair of ski socks.
The right socks can make all the difference while out in the snow. They add comfort and performance on the slopes. And because no one wants to buy their loved one a present that they won't use, this gear is definitely on the list of useful gift ideas.
Icebreaker Ski+ Medium OTC Socks
The Icebreaker Ski+ Medium OTC Socks are perfect gifts for skiers and snowboarders because they are made from lightweight merino wool fabric. They are perfect gifts because they wick away moisture, so your feet will stay dry and comfortable all day long. These durable, insulated socks come in a variety of cool colors to suit anyone's style- no matter what their preferred color is. A quality pair of socks can make or break a day on the slopes, so don't settle with giving your loved one any old pair- get them something great that will keep them warmer.
Ski Boots
If you have a family member or friend who skis, this is the perfect opportunity to find out about their favorite boots and get them a pair of new ones.
They're an investment in comfort and safety; they can be personalized with colors and designs; they don't take up much room when not worn.
Salomon S/PRO 100
These ski boots are the best gifts for skiers and snowboarders. They have the classic ski boot and will be comfortable to wear all day long without being too tight around your feet or ankles. With these ski boots, you can get tons of support when skiing down the slopes- making them great gifts for skiers who love downhill sports. Additionally, their soles are made from rubber which helps grip slippery surfaces while also providing traction in slushy conditions. These ski boots are high-quality plus cushioning feel like walking on pillows after a long day on the mountain.
Snowboard Boots
Snowboard boots are excellent snowboard equipment for beginners and experts alike. They come in an assortment of styles, colors, and price ranges that allows you to find one perfect snow boot for anyone on your holiday shopping list.
Adidas Response 3MC ADV Snowboard Boots
The snowboard boots from Adidas will provide you with top-notch performance and comfort as you ride the backcountry slopes. The Response ADV snowboard boot has a supportive feel paired with an easy step-in design for anyone looking to hit the slopes without worrying about their snowboarding gear.
Snow Helmet
Snow helmets are not a legal requirement in the United States. While skiers and snowboarders can get away with wearing nothing on their heads, they should know that snow is actually pretty hard when it falls from the sky at high speeds.
Smith Mission MIPS Snow Helmet
Smith is a trusted brand for skiers who are looking for high-quality winter gear. This helmet provides skiers with much-needed protection, and it has a MIPS liner to reduce the risk of head injuries in case of impact by reducing rotational forces on the brain. The quick adjustment system allows users can easily adjust this product without removing their gloves or losing focus on where they're headed next. There are also reflective elements so skiers will be seen more clearly when visibility gets low, which makes this snowboarder essential during dawn and dusk hours and at night time.
Gloves
There are many reasons why skiers and snowboarders need to invest in a great pair: warmth is just one among them. They also protect from cold weather damage like cracking skin on fingers or even frostbite, which can happen without protection when skiers are out in the elements for too long. They also are waterproof, keeping your hands nice and dry while shredding on the slopes.
Salomon XA Pro Glove
The Salomon winter gloves have an adjustable cuff that can be pulled tight to keep snow from creeping into skiers' hands or loosened when skiers need more freedom of movement. The palms on these gloves also provide skiers with excellent grip while they're zipping down slopes, making this gear perfect for ski safety as well as comfortability during their ride. Gloves like these help give skiers peace of mind all day long- whether it's sunny or cloudy, cold or warm outside.
Beanie
Beanies are an essential part of cold-weather sports. They are not only fashionable, but they also serve an important purpose. They keep the head warm and toasty during cold temperatures or snow conditions.
REI Co-op Logo Beanie
The REI Co-op Logo Beanie is a great beanie to have when you need it. It's made with 50% wool/50% acrylic yarn. The perfect gift for any ski and snowboard junkie shredding through the steep mountain slopes of a black diamond.
Action Camera
Action cameras are rapidly becoming the gift of choice for skiers and snowboarders. With all the accessories on the market, there's one to please every skier and snowboarder in your life.
GoPro HERO9 Black Camera
With the HERO camera, skiers and snowboarders can capture all their action in full HD 1080p video with pro-quality photos up to 12MP.
This gift is designed for anyone who loves skiing or snowboarding at any level. The GoPro will easily attach to helmets, handlebars, ski poles – anything you want it attached to. You'll feel like a professional filming your favorite runs when using this high-quality gift option from GoPro.
Ski Jacket
A ski jacket is a must-have gift for someone who loves the sport and wants to stay warm and dry during their time on the mountain.
The base layer of skiing consists of two layers, so any good ski jacket will be made of at least two pieces: an inner shell that wicks moisture away from your body while keeping you warm with insulation (usually down or synthetic), and an outer layer that protects against wind and rain without sacrificing breathability.
This means it's important to find one that fits well to maintain warmth; having cold air between different parts of your outfit can make staying outside miserable even when it isn't snowing.
SOG Parashears Tool
This tool is a gift that will be an asset. The tool has a serrated blade, and a half-serrated saw for wire cutting purposes. The textured, slip-resistant rubber grip is designed to keep hold of anything it comes in contact with, so there are no unexpected slips or falls while working on projects.
SOG Parashears Tool also includes a sheath/belt loop carry system, stainless steel construction, and a limited lifetime warranty covering any material defects or quality issues caused by SOG knives & tools during everyday use. This gift idea can give you all you need to fix most materials around your home, but it isn't responsible for damages done because of accidents occurring from mishandling this gift item.
What To Get a Skier Who Has Everything?
Frequently, people are left in the dark when it comes to what to get a skier who has everything for Christmas or other special occasions. It can be difficult because they have all of their ski gear and equipment already. So here are some ideas that you might want to consider when shopping for them this holiday season.
Gift Ideas:
A ski jacket with an insulated hoodie lining
Skiing pants
A GoPro Camera for capturing memories on the mountain
An avalanche beacon in case something goes wrong while skiing or snowboarding
Snow goggles with interchangeable lenses to see in various conditions (snowfall, foggy, cloudy)
Ski poles that come apart so they can easily be stowed in a backpack
A season pass for skiing or snowboarding at their favorite mountain.
Socks and underwear that are specifically meant to be worn when skiing/snowboarding
An insulated water bottle with a straw
What Every Snowboarder Needs?
Snowboarding is a winter sport that takes the thrill of skiing and cranks up the difficulty. With snowboarding, your feet can't touch the ground unless you're landing from a jump or crossing a slope. The best way to think about it is if you're surfing down an icy wave, carving into it with your board to maintain control. Proper equipment is vital for this activity-but not just any equipment will do. Here is some gear that every snowboarder should have.
A backpack.
2. A helmet for protection from falls and crashes.
3. Snowboarding gloves to avoid getting your hands cold or injured.
4. An extra pair of socks, in case one gets wet or lost during a ride.
5. Riding boots that match the binding system on your board (usually alpine-style) so you can attach them securely when riding down hills at high speeds. This is important because it helps ensure rider safety by preventing accidents caused by loose bindings coming off while going fast enough to cause injury if they fall off with no foot support holding them in place below the board.
To protect yourself against weather effects, most snowboarders wear waterproof gear such as pants and jackets made out of breathable materials like Gore-Tex.
Snowboard goggles or sunglasses can help keep wind and snow out of your eyes when you're riding, protecting them from potential damage.
To avoid looking like a novice rider, remember to wear gloves on both hands to match up perfectly when holding the board for tricks. Some riders opt for mittens or fingerless versions with leather palms because it allows them more dexterity in their fingers during maneuvers. Even some very advanced riders only use one hand while using the other to attach things such as cameras, wallets, and keys; these items may be stored in pockets located inside their jacket.
Final Thoughts
We hope that these ideas will help you in your quest to find the perfect gifts for skiers and snowboarders this holiday season. Like camping and hiking gear, there are some items you just can't skimp out on. With a little careful planning, you should be able to avoid buying any duplicate items or things they already have while still giving them something they'll love.