GoFSR (Freespirit Recreation) ReadyLight Gen 2 Camping Light – One Year Review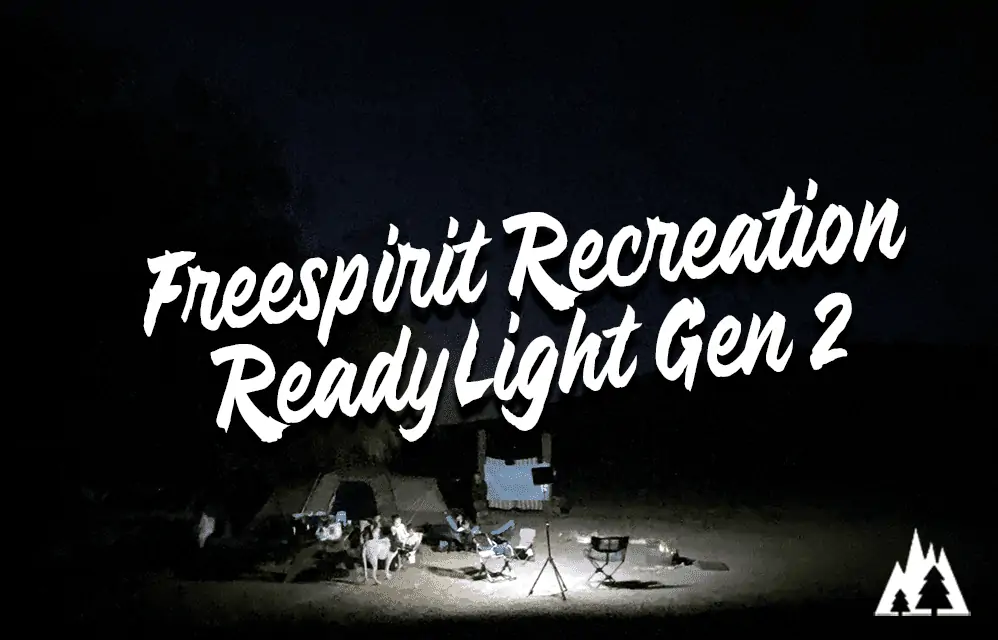 If you plan on spending a few nights in the backcountry, having a light source is one of the most important camping gear on your trip.
A year ago, we decided to take the plunge and purchase the Readylight Gen 2 camping light from a company called Freespirit Recreation (GoFSR).
GoFSR is an outdoor gear company founded in Bend, Oregon, in 2014. They make some quality camping and offroad gear for all of us adventure junkies.
With quality comes a steep price tag, and there are many options to choose from in terms of illumination.
So why did we decide to get one?
Aside from the standard flashlights, lanterns, and headlamps for camping, we were looking for something that is:
A powerful stationery, hands-free lighting system for basecamp
A lighting system that can be charged via solar in case of emergencies
After weeks of research and reading the reviews from previous owners, we found that the Readylight Gen 2 features checked all the boxes for us.
After a year, we took the ReadyLight with us on numerous camping trips from Big Sur, Anza-Borrego, Big Bear, Etc.
Here's our review after one year.
Specifications
Main Light
Battery type: Lithium-Ion
Battery capacity: 7.4V 7800mAH
DC Power: 12V CLA charger
AC/DC charge time: 6 hours
Solar charge time: up to 24 hours
Run time: 15 hours / 30 hours
Maximum Power: 15W
Brightness settings: 5W / 2.5W
Lumens: 350lm / 175lm
Charging temperature, celsius: 0 – 50
Discharge temperature, celsius: -20 – 50
External USA power supply: 5V 1A
Podlights
Battery type: Lithium-Ion
Battery capacity: 3.7V 1800mAH
Wattage, single unit: 1W
Wattage, all 4 units: 4W
Lumens, single unit: 80lm
Lumens, all 4 units: 320lm
Run time, single unit: 8 hours
Charge time: 8 hours
Working temperature, Celsius: -20 – 60
Total Light Specifications
Lumens: 500lm
Rendering Index: Ra80
CCT: 6500K
Service life: 20,000 hours
Working humidity: less than or equal to 95%
Shell material: Flame-retardant ABS
Ingress protection: IP63
Features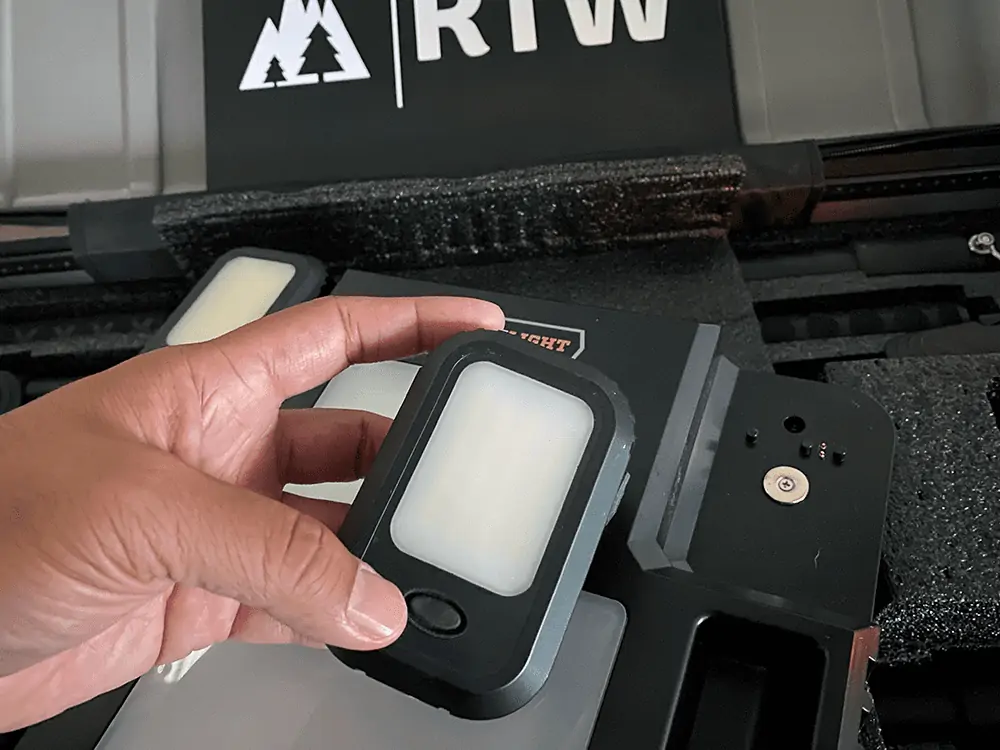 The first thing we love about this lighting system is its versatility. This camp light system can be used for many occasions, such as:
Camping
Working on your offroad vehicle in your garage
Emergency roadside work on your vehicle
Backyard barbeques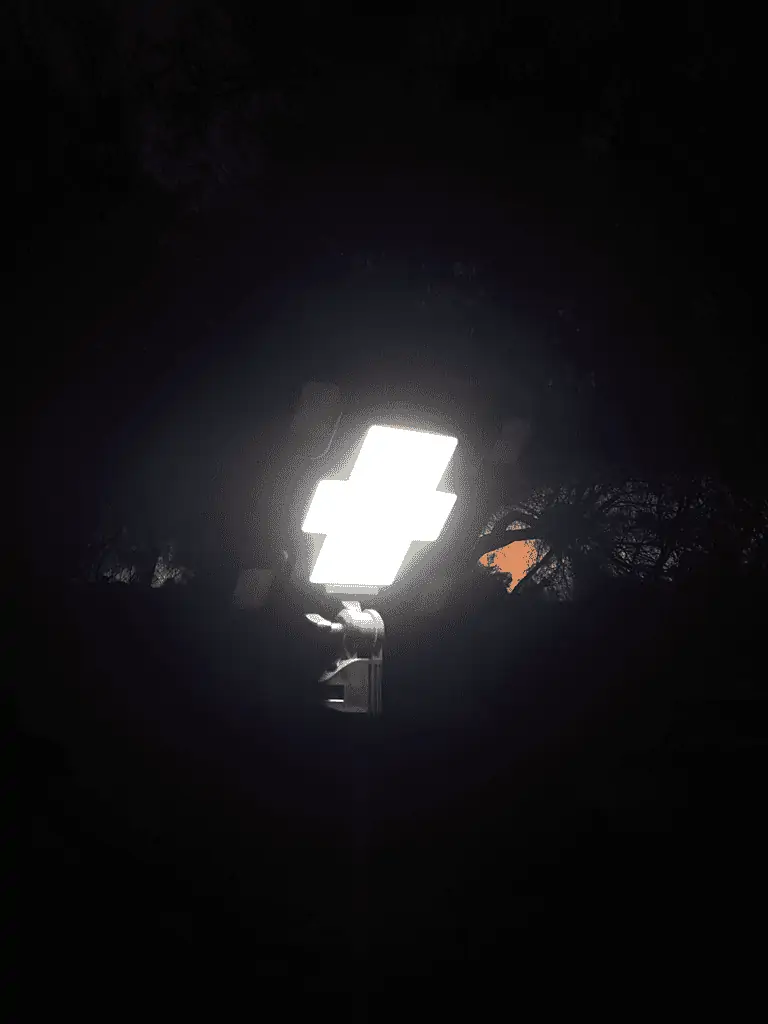 The main light can be turned on without the 4 pods operating. This will give you a nice, bright, and direct light for tasks that require precision, such as changing a tire on the side of the road.
The 4 pods can be turned on individually without the main light being on. This is perfect when you need a little light to see around your campsite without disturbing others with a bright light.
From our experience, the main light source provides more than enough light to power our base camp at night. It has 3 settings:
High and Low Brightness
Red strobe
With all light sources on, this thing is crazy bright. We usually like to keep it at the lowest brightness setting.
Aside from the main light, you also have 4 well-designed, detachable pods at each corner that can be used as a flashlight and lantern.
The pods are attached by a strong magnet and have 5 settings to choose from:
High and low brightness
Amber light
Flashlight
Strobe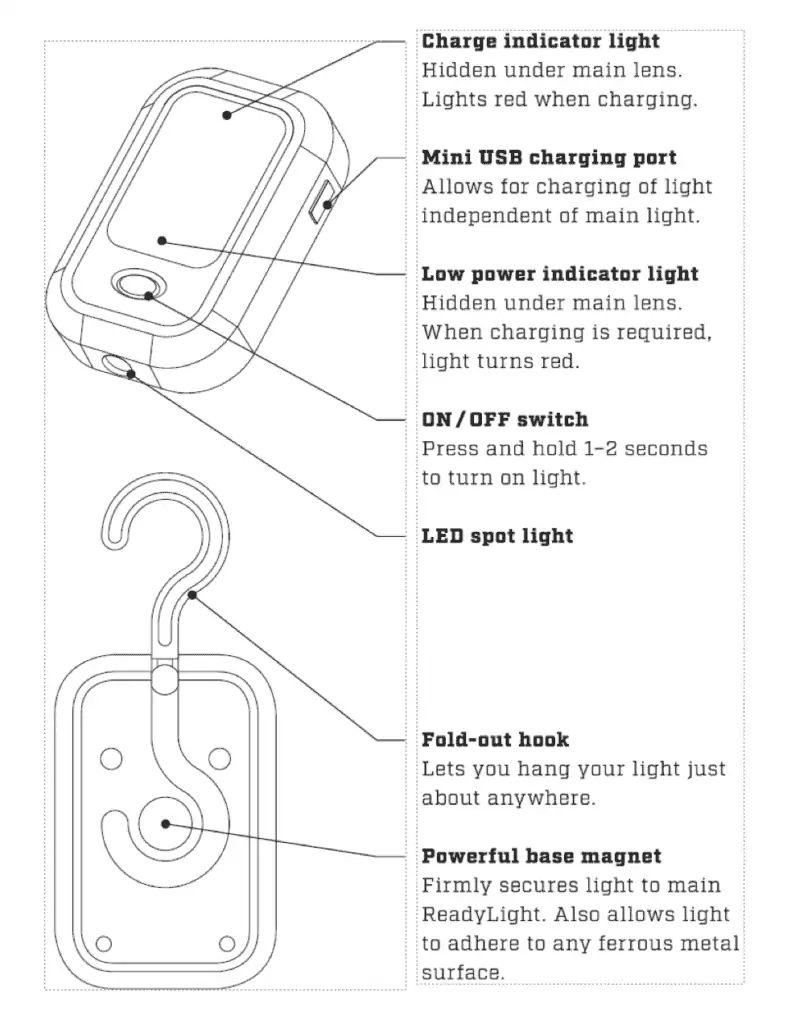 Never once did we fear these pods would come off during our tests.
The purpose of amber lighting is to reduce the number of bugs attracted to the light. This is based on studies done in the rainforest showing amber light can attract as many as 60% fewer bugs.
From our tests, it appears to help. We don't notice as many bugs circling the light when amber lighting is on as we did before.
It's also great to have on when you don't necessarily need bright lighting to save on battery. You can also individually charge a podlight on its own via a micro USB port.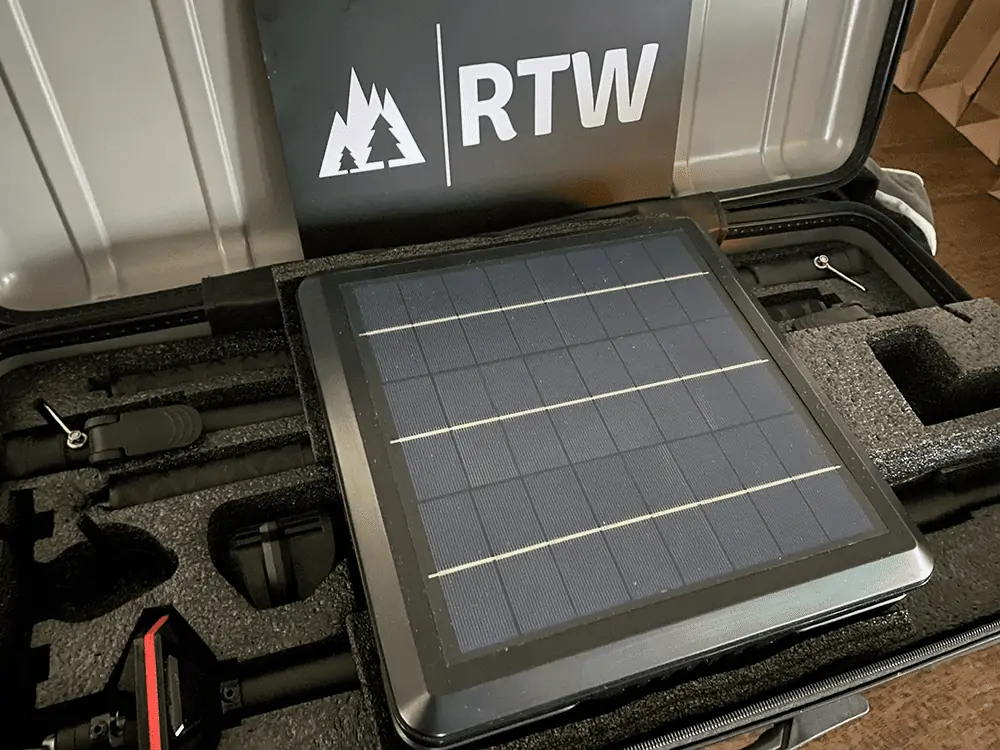 One last key feature we appreciate is the ability to charge the system via solar. It takes some time for a full charge, but we've never drained the power completely before when in use. During the day, we just let it charge as much as possible from the sun for the following night.
For those long camping trips where you're out of range from town, this is a great insurance policy to have. If you run the power all the way down, it only takes around 6 hours to charge it up again via AC/DC power. It also comes with a cigarette lighter charger for your car.
Durability
Everything about this light screams quality and innovation.
The base stand and three legs are robust, yet they are not too heavy to be a burden while camping. The bottom of each leg has a metal ring, so you can stake them down for added stability.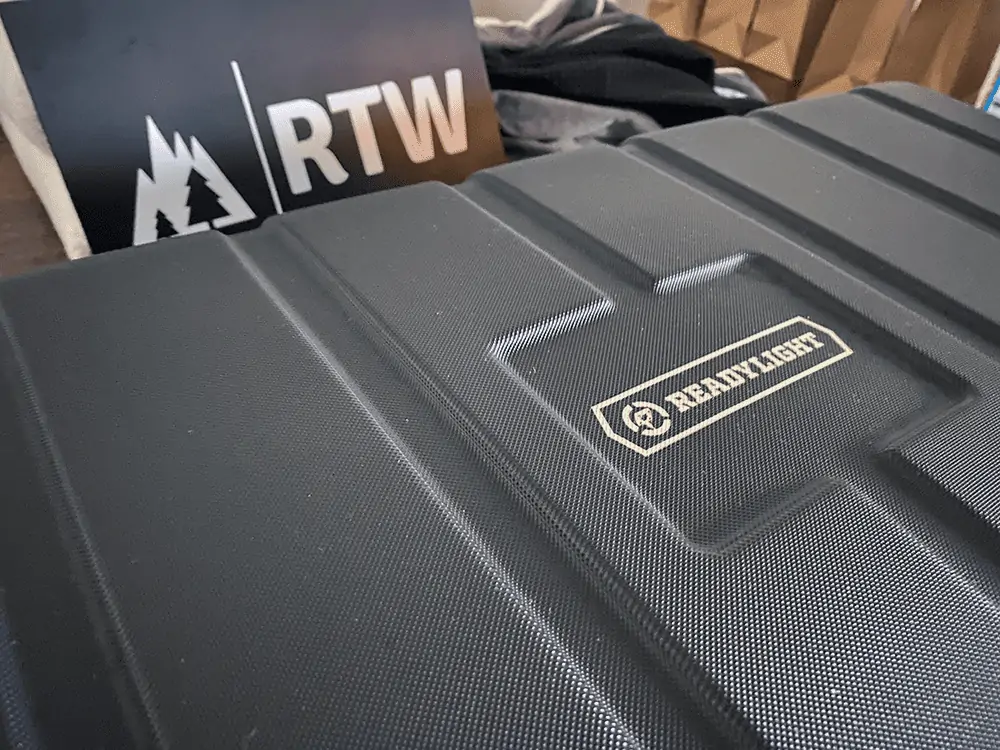 The included hard shell case with foam inserts makes transporting this system incredibly easy. It's always the first thing we unpack, and the setup takes less than a minute.
We've banged this up a little, with some tiny scratches here and there, but it has been working flawlessly for us.
Ease of Use
Operating the ReadyLight was easy. The main light and the pods have only one button that controls the on/off and additional light modes.
The charging process, however, took us a few uses to finally get down what needs to be done to charge via a wall outlet and solar properly. Aside from the buttons, there's a manual switch inside the rubber flap that you'll need to turn ON to operate the light system.
While charging, that switch needs to remain in the ON position to charge the unit. We initially thought it had to be in the OFF position and noticed it wasn't charging for us. So when charging, you'll notice red blinking lights on the main light and pods.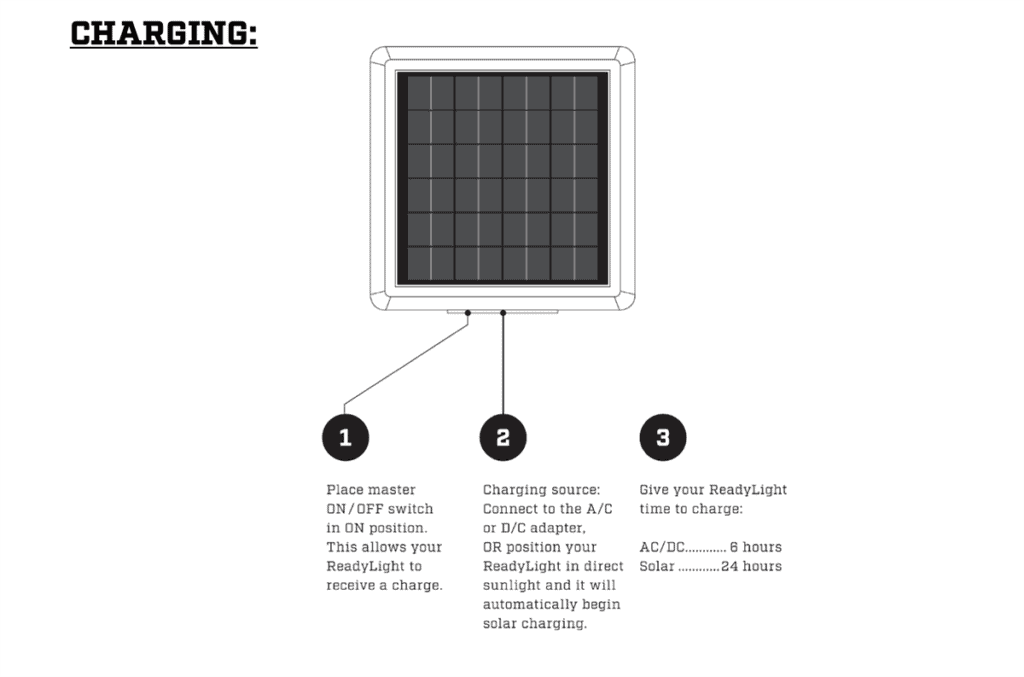 Performance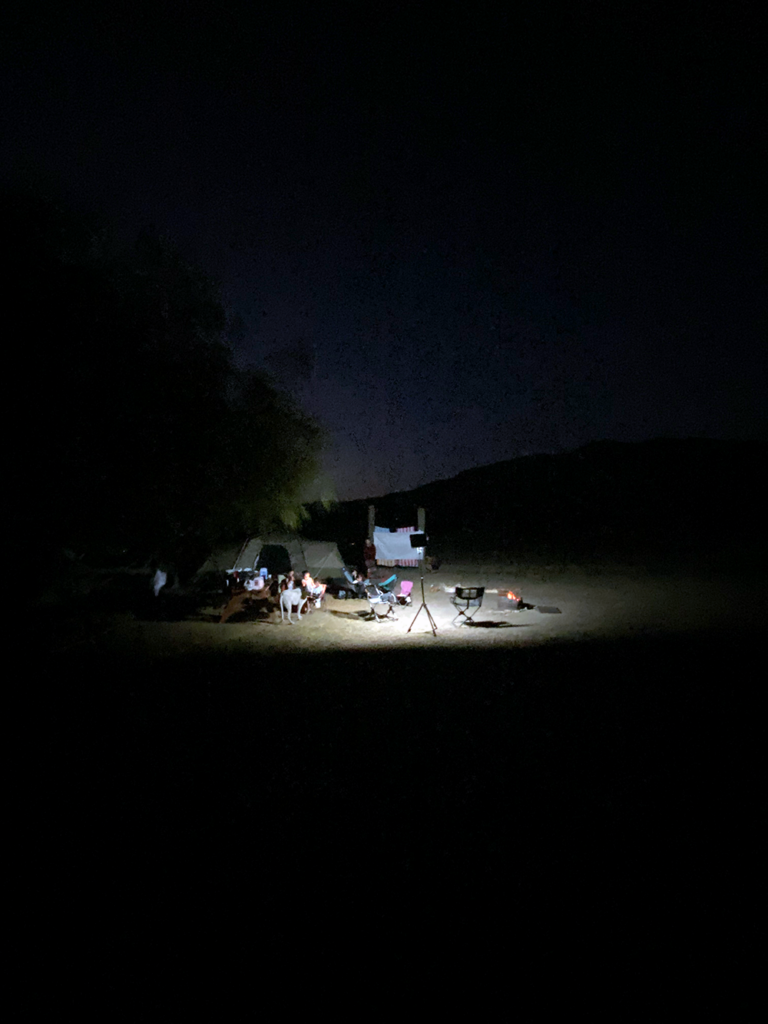 After using this camping light system for a full year, we can honestly say it was worth every penny. It provides the main light source for your campsite, and you can also use the podlights as a flashlight and lantern.
And when you need a quick charge on your phone, you can use the unit to charge via a USB port.
We've used it in other settings as well, such as:
Backyard cookouts
Tailgating
Power outages
FAQs
What's the difference between the ReadyLight Gen 2 vs Gen 1?
The Gen 2 has the same technical specs as the Gen 1 but has a few more features and a newer storage option. This includes:
Telescoping base to adjust the height of lighting unit
Telescoping legs for stability on uneven ground
Amber lighting option on podlights
Hard shell storage case with foam insert
Final Thoughts
The Readylight Gen 2 is a great camp light system with great value. We love its versatility, build quality and solar charging capability.
For the price, we think it's a great investment for anyone who enjoys spending time outdoors.
Is it for everyone? No
If you're backpacking, the ReadyLight is far too large to be lugging with you, so a flashlight, portable lantern, or headlamp would make more sense.
This light is worth it for those like us who like to disperse camp with friends and family.
Even if you don't camp regularly, this light is so versatile you can use it for other purposes than camping trips.
You wouldn't think anyone could innovate something as general as lighting for overlanders and campers.
But the people over at Freespirit Recreation managed to do just that with the ReadyLight.
Features -

9.5/10

Durability -

9.4/10

Ease Of Use -

9/10

Performance -

9.5/10
Summary
The Gen2 features a telescoping base so you can make it higher or lower, wider or slimmer to fit any space. The main light comes with 4 detachable white and amber-colored podlights. Gen2 also comes with a compact, hard shell carrying case with foam inserts to keep the ReadyLight safe and secure when stored.
Pros
Versatile
Easy To Transport
Solar charging capabilities
All in one light system (flashlight, lantern, central lighting for camp)