Is A 4Runner Good For Camping?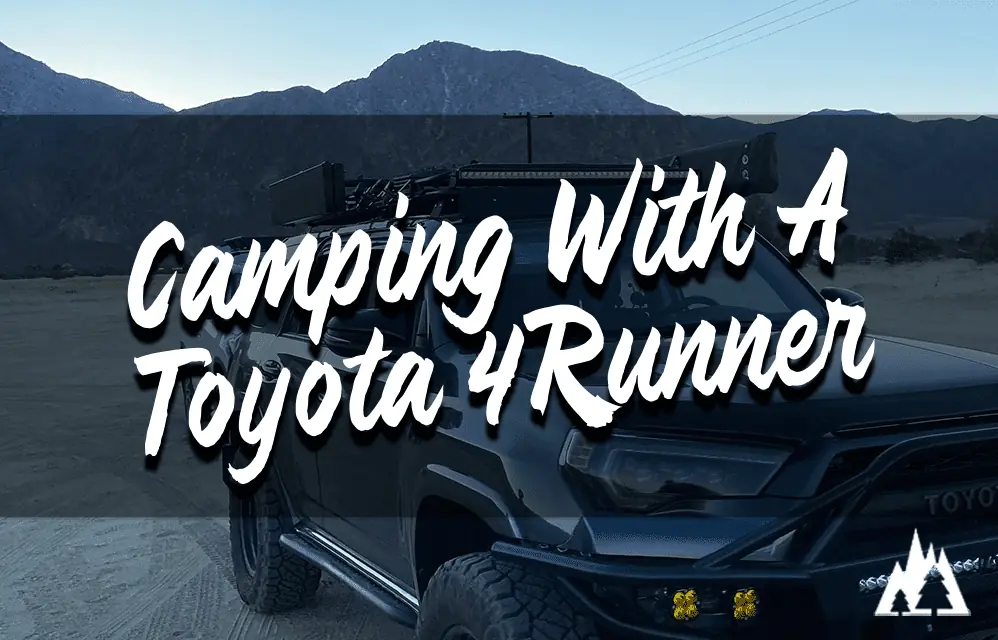 Is a 4Runner good for camping? Yes, the Toyota 4Runner is a reliable off-road, midsize SUV with power, performance, and towing capacity. Like most off-road vehicles, you can take a stock Toyota 4Runner camping right off the dealer's lot.
But if your route to the site is more technical, you'll want to get a few mods and accessories.
I've taken my 4Runner camping many times over the last 3 years (we got it at the end of 2019).
I've done many mods and gotten a lot of accessories, mainly to enhance my off-road performance and manage my camping gear.
We don't use it for car camping, but many people have done so without issues.
I'll break down the mods and accessories I've purchased over the years below.
Let's begin.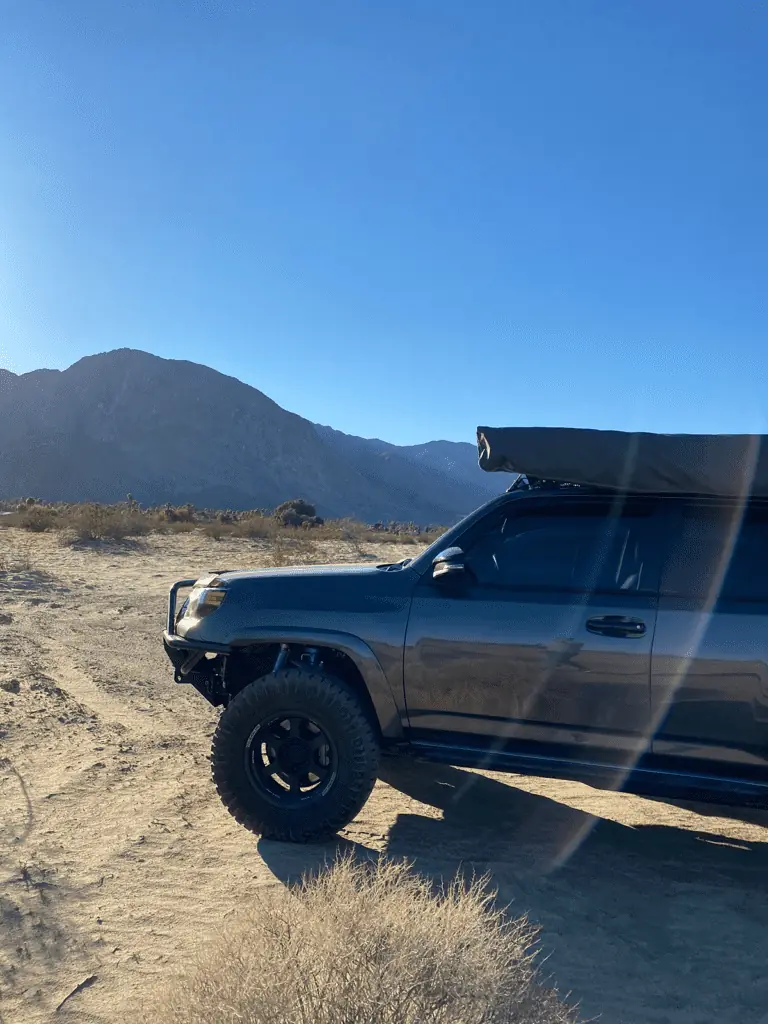 What I've Done To My 4Runner To Make It The Ultimate Camping Rig
As mentioned, the Toyota 4Runner is fully capable factory stock from the dealer to go camping in most dedicated campgrounds.
My decision to mod my vehicle stems from a few things:
Space: As a family of 5 and a dog in the back, I needed to get something to help load all our gear.
Performance: I wanted to maintain my car's power as I add more weight from my mods.
Durable: I wanted to ensure the car's frame doesn't get "too" damaged when I'm off-roading.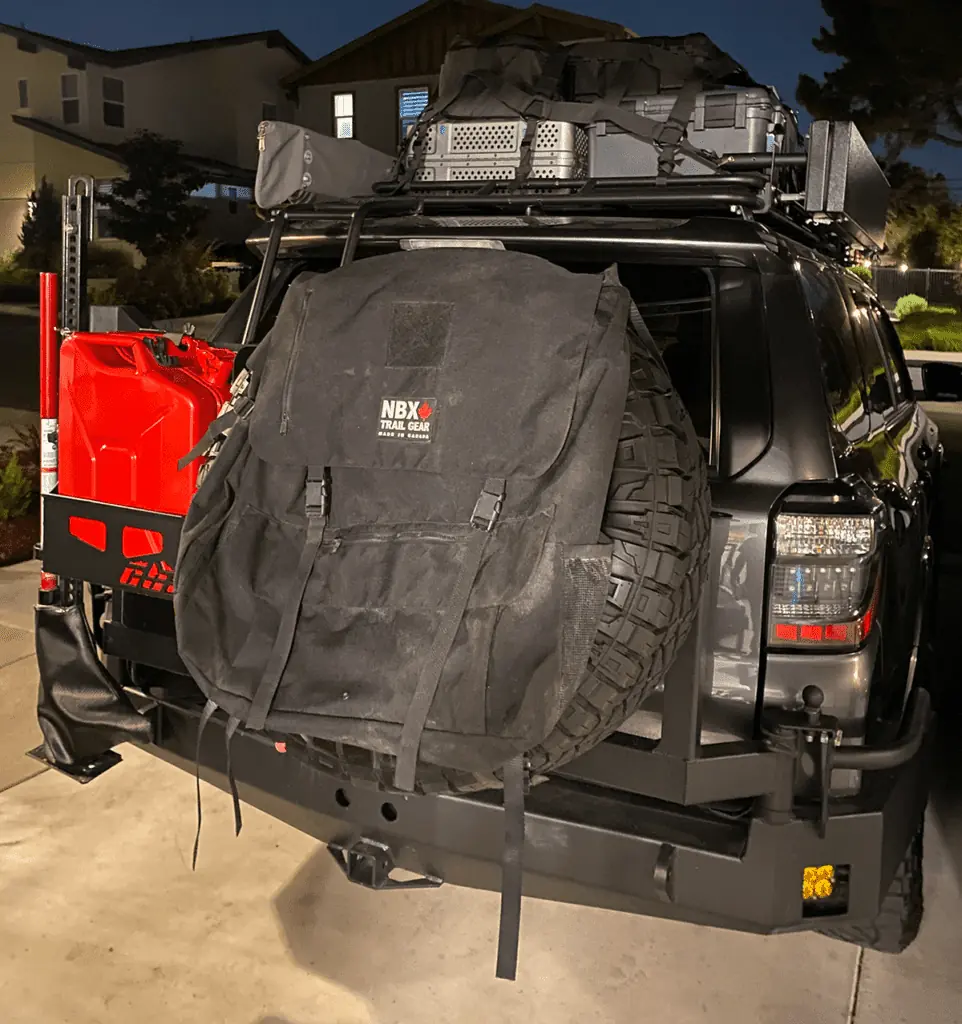 My Aftermarket Parts
Below is a list of the main aftermarket parts I've gotten over the years. Again, this is my list, and not required to take your 4Runner camping.
Roof Rack
I decided to add a roof rack to offload a lot of camping gear stored in the cargo area where my dog would be. The roof rack I decided to go with is from Gobi. My roof rack can hold up to 300 dynamic pounds and 600 static pounds.
Dynamic means the maximum allowable weight I can have when driving, and static is when the car's not moving.
Steel Front and Rear Bumpers
My front bumper was from C4 Fab, and the rear bumper with spare tire attachment and gas can holder was from CBI.
I decided to go steel, not aluminum, as I wanted to make sure it could take a beating as I was off-roading. The cost is higher and adds more weight, but this thing is a beast now.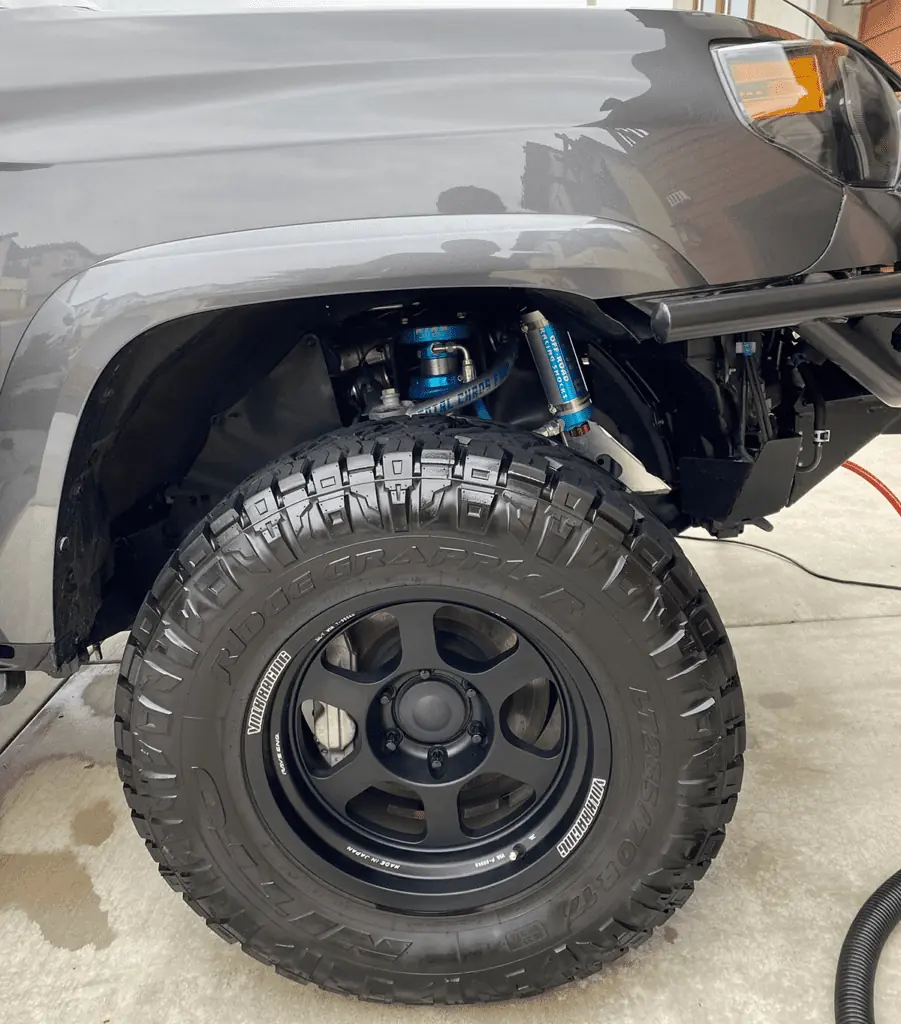 Suspension and Shocks
I wanted to lift my 4Runner a few inches to allow myself to take on slightly more technical trails and for a smoother ride.
Bigger Tires
I got 32″ all-terrain tires from Nitto called the Ridge Grappler to help improve the grip on trails with loose gravel.
Awning
Sometimes we'll post up on a campsite that doesn't have any shade. So I would attach my awning onto my roof rack for these specific trips, and it's a lifesaver.
Regear
With the additional weight added from all the mods on my 4Runner, I noticed going uphill was getting a little sluggish. Regearing your 4Runner allows your rig to perform at peak performance. You're not adding more power per se, but it allows your rig to perform as if your car is deadstock again.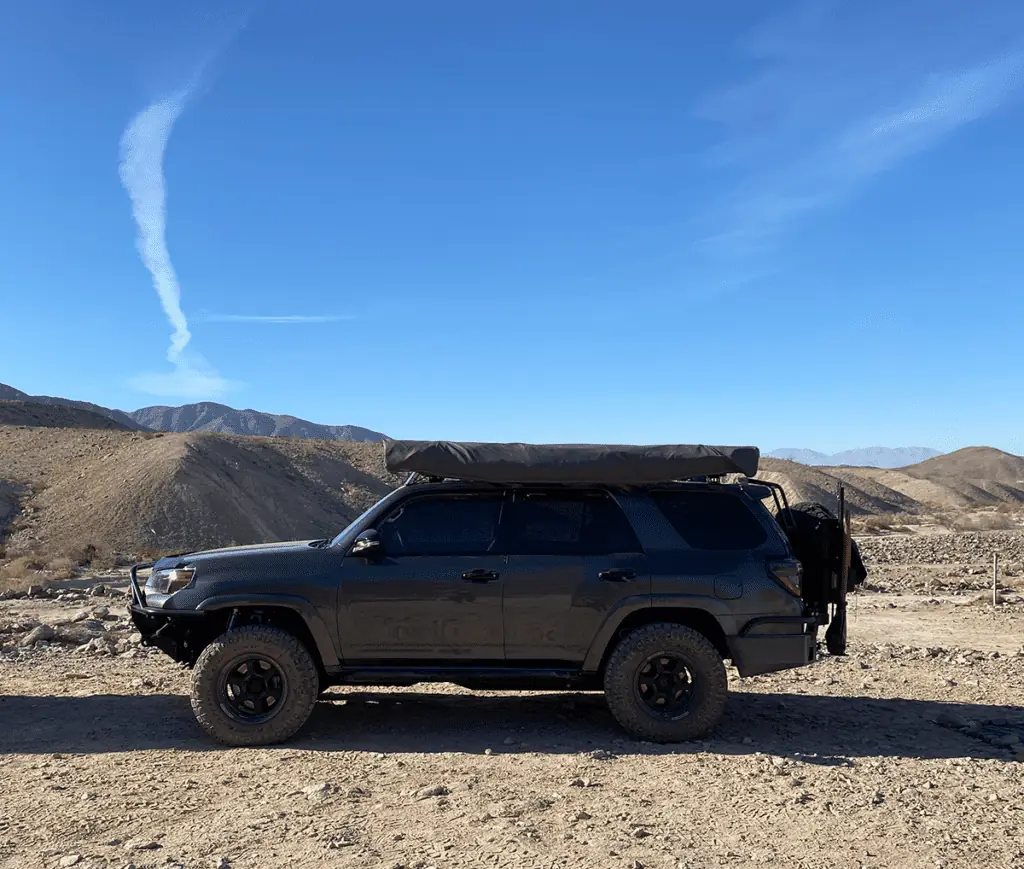 Camping with a Toyota 4Runner
The Toyota 4Runner is an ideal vehicle for camping, offering a powerful V6 engine, all-terrain tires, and superior towing capacity.
Whether car camping, tent camping, or rooftop camping in a 4Runner, plenty of options and accessories will make your outdoor adventure more comfortable.
For a comfortable camping experience, the Toyota 4Runner offers an elevated driver seat for improved visibility and its powerful V6 engine to transport cargo across rugged terrain.
The SUV's elevated driver seat offers better visibility when driving off-road, and its solid V6 engines can easily move heavy cargo across uneven grounds. For added comfort while sleeping in your vehicle, consider investing in a sleeping platform for extra support or bring some pillows for cushioning against hard surfaces.
For those seeking a traditional tent camping experience with the comforts of home, setting up camp inside your Toyota 4Runner can be a great option.
To make room for sleeping bags and other gear, fold down one or both rear seats as needed; investing in an appropriate bedding system, such as an inflatable mattress or foam pad, will provide additional insulation from cold temperatures outside.
Keeping weight to a minimum by packing light items like air mattresses is recommended for comfort during those starry nights out.
Roof Top Camping
Rooftop tents offer an excellent solution for those looking for even more freedom on their next outdoor excursion.
If you're like me, having a rooftop tent with a family of 5 doesn't make sense.
Plus, I need the space on my roof rack to load all our gear, but they're great for those solo campers with friends who meet up for group camping.
These lightweight structures provide plenty of headroom plus ventilation throughout summer months, making them a perfect choice when traveling long distances where hotel stays might not always be available.
And because they come equipped with waterproof rainfly, there's no need to worry about getting wet during sudden storms either – close up shop until the weather clears again.
Finally, depending on how much cargo you plan on bringing along it is important to understand exactly what type of trailer hitch setup works best for your needs.
Most factory-installed hitches have limited capacities, so adding aftermarket upgrades may be necessary if hauling heavier loads over rough terrain becomes a regular occurrence during trips away from civilization.
All-terrain tires also help ensure extra grip on loose dirt roads while carrying heavier loads, so look into upgrading here before embarking upon adventures far beyond city limits.
Exploring nature with a Toyota 4Runner is an outstanding selection for those seeking to traverse the wild. Car camping in a Toyota 4Runner offers additional comfort and convenience, allowing you to pursue your outdoor adventure.
Car Camping in a Toyota 4Runner
For those looking for an affordable way to experience nature, a Toyota 4Runner is the ideal car camping companion.
This reliable SUV can handle any terrain, making it perfect for exploring off-road trails and remote areas. It also has plenty of room for all your camping gear and supplies.
You can make car camping more comfortable and enjoyable with just a few modifications.
For starters, add some storage solutions like nightstands or drawers between wheel wells to maximize space inside the vehicle.
USB-powered fans provide directional airflow during hot summer nights, while Luno products offer air mattresses designed to fit inside the vehicle and canopies to block out sunlight for comfortable sleeping.
The 4Runner's V6 engine offers plenty of power when it comes time to tow heavier loads across uneven grounds, such as boats or ATVs.
The all-terrain tires improve traction, so you can traverse difficult terrain without getting stuck in muddy or sandy patches. The elevated driver seat provides better visibility when driving off-road, allowing you to navigate obstacles easily.
No matter how you decide to camp with your Toyota 4Runner, rest assured knowing this reliable ride won't let you down – whether it's easily pulling heavy loads over rocky roads or providing a cozy place for sweet dreams under starry skies.
Car camping in a Toyota 4Runner can be an enjoyable and convenient experience, with plenty of space to store gear. For those looking for more traditional camping experiences, tent camping in a Toyota 4Runner is also possible – although it may require some creative packing.
Tent Camping in a Toyota 4Runner
Tent camping in a Toyota 4Runner is an ideal way to explore the great outdoors. With its all-terrain tires, elevated driver seat, and solid V6 engine, the 4Runner can easily tow a tent or rooftop tent while providing plenty of sleeping space for up to four people.
Plus, it's easy to set up camp on uneven ground with the help of roof racks and sleeping platforms.
For those looking for more traditional camping experiences, several options are available when using your Toyota 4Runner as your base camp.
Front Runner makes rack kits compatible with many car models, including Toyotas like the 4runner. These kits allow you to attach accessories such as tents and sleeping platforms directly onto your vehicle's roof racks – making them perfect for stealth camping trips.
When choosing a tent for use with your Toyota 4Runner, look for one that has ample room inside but also packs down small enough so it won't take up too much space on top of your car when traveling between campsites.
Additionally, make sure that whatever tent you choose will fit comfortably on top of your vehicle without overhanging off either side or blocking any windows or lights from view while driving at night.
Finally, be sure to check out what types of gear storage solutions are available specifically designed for use with Toyota 4Runners. These include cargo boxes mounted directly onto roof racks and specialized bags for storing items like cooking supplies and fishing rods safely away from dirt and dust during transit between sites.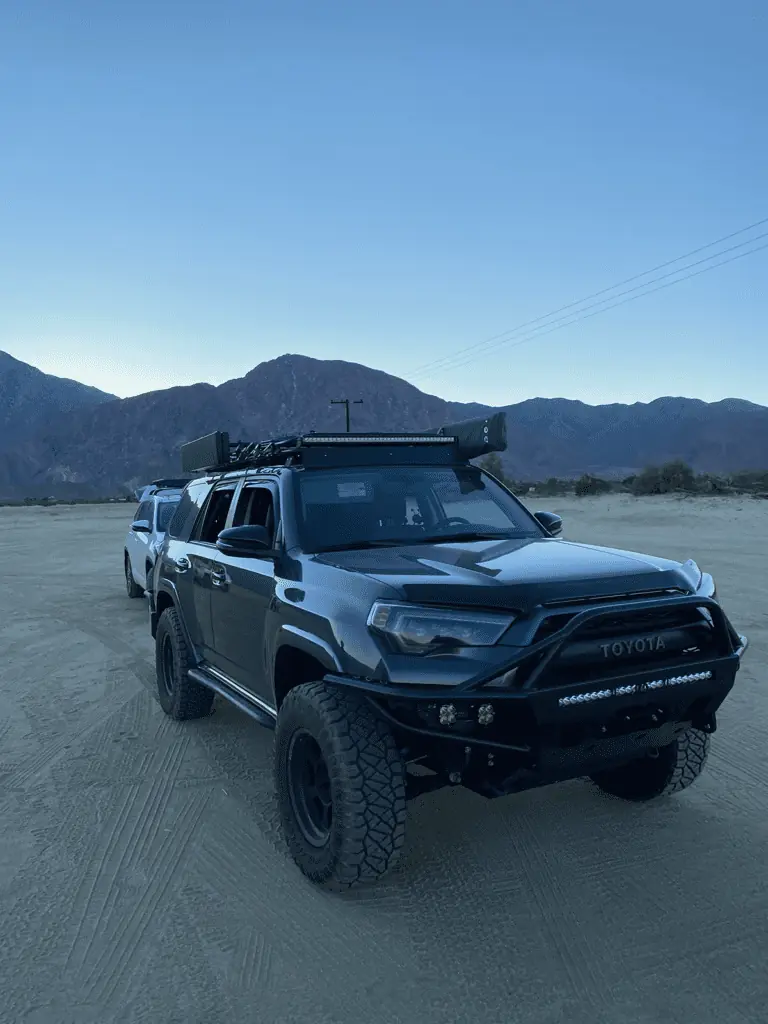 Towing Capabilities of a Toyota 4Runner
The 4Runner from Toyota is an ideal pick for camping and other outdoor pursuits due to its impressive haulage capabilities. With all-terrain tires, it can provide extra grip on rough terrain, and elevated driver seats offer better visibility when driving off-road. Its solid V6 engine lets you easily move heavy cargo across uneven grounds.
All-terrain tires are designed to handle the toughest terrains, providing superior traction in mud, sand, gravel, or snow. The increased tread depth of these tires helps them dig into softer surfaces for added stability and control while driving off-road. Additionally, the higher sidewalls of these tires help protect your vehicle from potential damage caused by rocks or other obstacles encountered while exploring the outdoors.
Elevated driver seats offer better visibility when driving off-road, essential for navigating trails with obstacles such as large boulders or fallen trees that can't be seen from lower positions in the car. A higher vantage point can help you spot potential risks before they become an issue, allowing for smoother navigation and fewer incidents.
The 4Runner's powerful V6 engine gives it plenty of power to easily tow heavier items like boats without straining the engine or transmission components over long distances on difficult terrain conditions. It has a maximum tow rating ranging between four thousand pounds – five thousand pounds depending on the model year, so you don't have to worry about leaving anything behind.
Finally, thanks to its rugged design and construction materials used in manufacturing this SUV, you can rest assured knowing that your 4Runner will get you where you need safely, no matter what kind of adventure awaits. Whether fishing at your favorite lake or taking an overnight camping trip up a mountain trail, Toyota's 4Runner will ensure nothing stands in your way.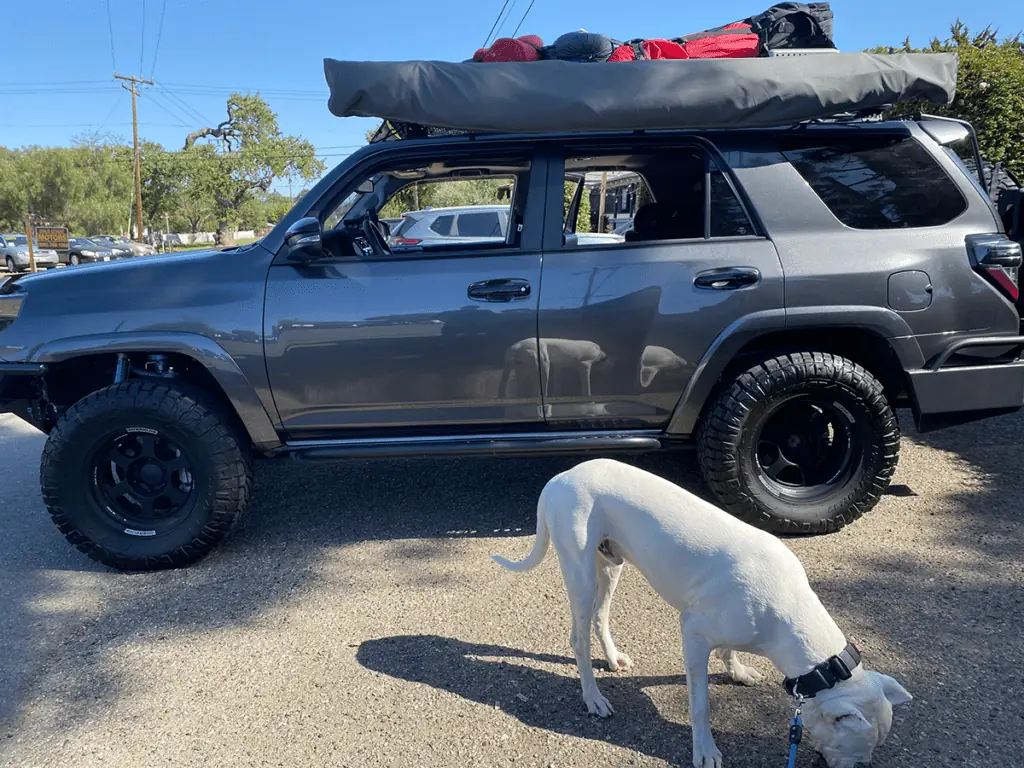 FAQs
Is a 4Runner good for camping?
Yes, the 4Runner is a great option for camping. It has plenty of room to store gear and supplies and features like an available third-row seat that allows you to bring extra passengers along on your trip. The 4Runner also offers excellent off-road capability with its four-wheel drive system and optional TRD Pro suspension package, making it perfect for navigating rough terrain when getting to remote campsites. Additionally, the 4Runner's powertrain options are reliable and efficient enough to get you there without breaking the bank at the pump.
Can you sleep comfortably in a 4Runner?
Yes, you can sleep comfortably in a 4Runner. The roomy interior and comfortable seats make it an ideal vehicle for camping or extended road trips. The 4Runner offers a large cargo area, perfect for stowing your items and supplies. If necessary, the backseats can be folded to create more sleeping areas. Moreover, with the correct additions, such as airbeds or bedclothes, you can have a snug spot to take respite while traveling.
Are 4Runners good for traveling?
Yes, 4Runners is great for traveling. For long trips with family or friends, 4Runners offer plenty of cargo room and a comfortable interior, making them an ideal choice for travelers. The off-road capabilities also make it suitable for exploring more remote locations while providing the necessary comfort to enjoy your travels. Advanced safety features like ABS brakes and airbags are included in 4Runners to ensure a safe ride. Overall, 4Runners is an excellent choice if you're looking for a reliable vehicle for your next adventure.
Before You Go
If you're new to camping, I highly suggest you check out these resources for a better, safer camping experience: