Is the Jetboil MiniMo Worth It? My Thoughts After 3 Years of Use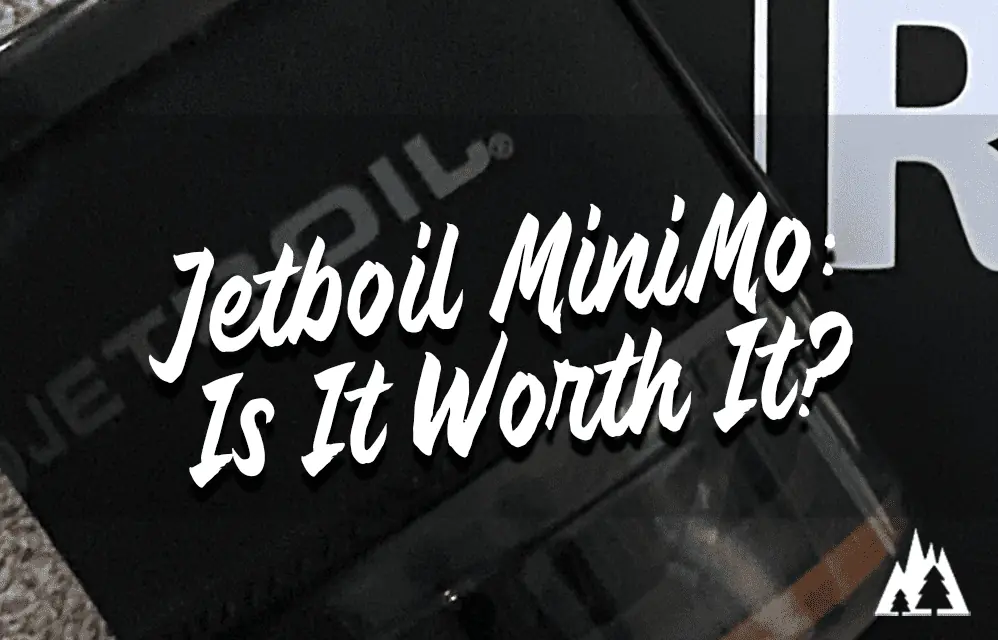 You know that expression, "a watched pot never boils"?
When you wait for something to happen, it takes forever for it to occur.
Like watching grass grow, staring at your phone because you're expecting a call and many other things like boiling water.
Waiting for water to boil while you're backpacking or camping might not seem like a big deal.
But if you're out winter camping or have a family to feed, time is of the essence.
And it doesn't get much easier than with the Jetboil MiniMo.
In short, the Jetboil MimiMo is worth it if you're looking for a small portable burner to cook hot meals or boil water in just over 2 minutes for 1 -2 people.
But with so many brands out there, is it worth it?
I've used the Jetboil MiniMo for 3 years (probably more than that, to be honest).
I'll break down its features, benefits, fuel compatibility, tips on how to use it effectively, and finally weigh the pros and cons.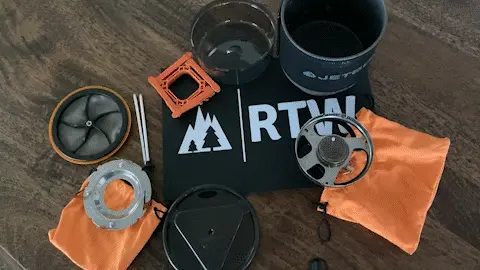 Overview of the Jetboil MiniMo
Whether a camping excursion or an outing in nature, the Jetboil MiniMo provides the perfect balance of portability, convenience, and performance. Jetboil has earned its place as a top choice for cooking systems due to its reputation.
First, the specs according to the company's website:
Weight: 14.6 oz / 415 grams
Power: 6000 BTU/h / 1.75 kW
Volume: 1 Liter Short
Cooking Type: Precision Cook
Fuel Regulator: Yes
Group Size: 1-2 People
Boil Time: 2m 15 sec per .5 liter
Ignition Type: Push Button
Product Type: System
When Jetboil first came into the market, I immediately thought, hey, sweet name.
I initially hesitated because of the price tag; I know it's not for everyone.
So who's it for?
Let me break down its features and benefits first.
Features and Benefits
The Jetboil MiniMo offers several great features that distinguish it from similar products. First, the MiniMo's small size makes it an ideal choice for taking on the go while allowing enough room to cook a meal for two.
Its FluxRing technology ensures fast boiling times with maximum efficiency.
Here's my test boiling two cups of water inside my home (video sped up):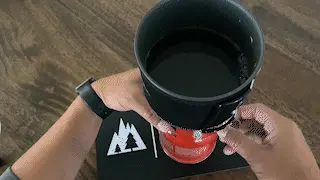 I was curious how much faster it was than boiling the same water volume over a pot and gas stove. The Jetboil MiniMo was 2.5 times faster in getting that water to a rapid boil.
Lastly, its adjustable flame control allows you to easily adjust heat levels depending on what type of food you're preparing.
Most other competitors don't have flame control, as well as an ignitor and built-in canister.
Pot Holder
Another great feature this product offers is the portable pot holder, which adds extra stability when setting using small pots.
Regarding fuel types, the JetBoil uses butane/isobutene canisters, which provide quick start-ups without having to wait around too long before getting started with your cooking session outdoors.
This means less hassle when trying to get things going during those last-minute hikes into uncharted territories where no electricity may be available, leaving only these two fuel sources left to enjoy some hot meals along the way.
Cooking with the Jetboil MiniMo
The Jetboil MiniMo is a great stove for those looking to take their outdoor cooking up a notch.
You can get accessories to make your own french press coffee, so you can steep your grounds in hot water before pressing down the plunger to extract that rich flavor.
The adjustable heat control allows you to get the right temperature for whatever food you're making. Boiling water with this stove is also fast and efficient, taking only two minutes or less, depending on how much water you need to boil.
After allowing the grounds to steep in hot water for 3-4 minutes, giving it a stir occasionally if needed, you can then press down firmly on the top plunger of your Jetboil MiniMo until it is fully depressed into the bottom cup position to depressurize and enjoy that freshly brewed cup of coffee.
Boiling water is also simple: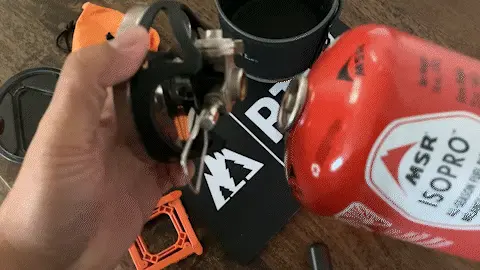 Screw the stove to your fuel canister, and make sure the flame regulator is completely turned clockwise to the off position.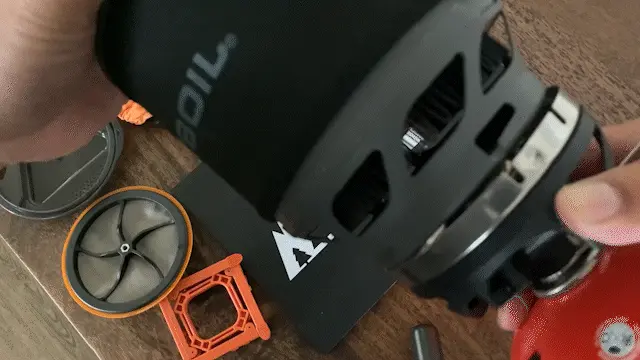 Align the dimple of the cooking canister to the grooves of the stove and twist it to lock it in place.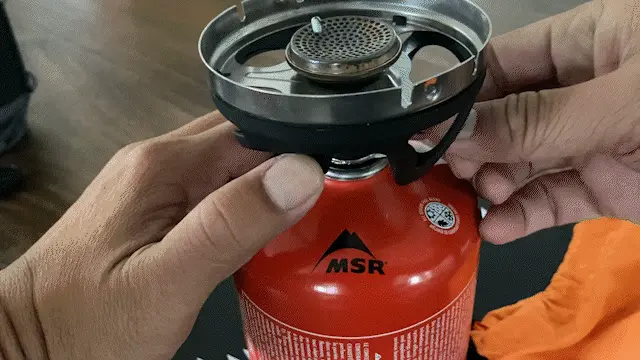 Release the fuel by turning the fuel regulator counterclockwise until you hear the fuel being released.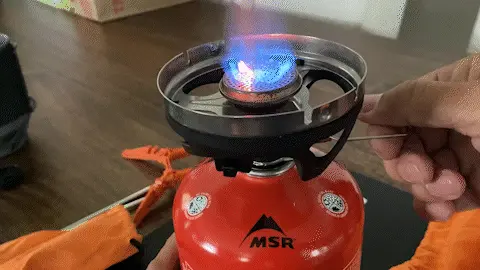 Quickly press the ignitor button once and adjust the flame regulator accordingly.
Finally, don't forget regular maintenance, such as cleaning the jets regularly using a soft brush after each use; storing the fuel tank separately when done using.
Pros and Cons of the Jetboil MiniMo
The MiniMo boasts many benefits for those who wish to enjoy the outdoors without transporting cumbersome gear. Here are some advantages and disadvantages when selecting this versatile cooking system.
Pros
One of the biggest advantages of the Jetboil MiniMo is its portability. This lightweight stove weighs only 14.6 oz and fits easily into most backpacks, making it easy to transport on any adventure.
The pot holder legs also fold inward and come with a bag, so you can save space when packing. This stove is ideal for outdoor activities. Its propane/isobutane fuel type ensures consistent performance in any climate while being lightweight and compact enough to fit into your bag.
Due to its uncomplicated design, cleaning, and upkeep of the Jetboil MiniMo are relatively easy tasks; however, users should still be mindful not to store their stove away when wet or soiled as this could lead to corrosion over time and a consequent decrease in performance.
Extra steps must be taken when switching between propane/isobutane fuels to avoid any potential hazards associated with improper usage.
Cons
If you're looking to feed a group of people, this is not the best solution for your needs.
Also, if the conditions are windy, you'll need to find a spot to shelter the burner from the wind to be more fuel efficient.
Who's It For?
The Jetboil MiniMo is worth it for those looking for a fast, portable, and efficient way to cook small meals and boil water for 1-2 people. Your budget should also be considered but keep in mind this has an integrated canister as well, so it's more of an all-in-one cooking system for the most part.
After 3 years, I've had no issues with it, and it's one of many pieces of camping equipment I own that I take with me on all trips, even with a family of 5.
Before You Go
Before you go, check out these other related resources for cooking outdoors: