Are Camping Toilets Worth It? My Thoughts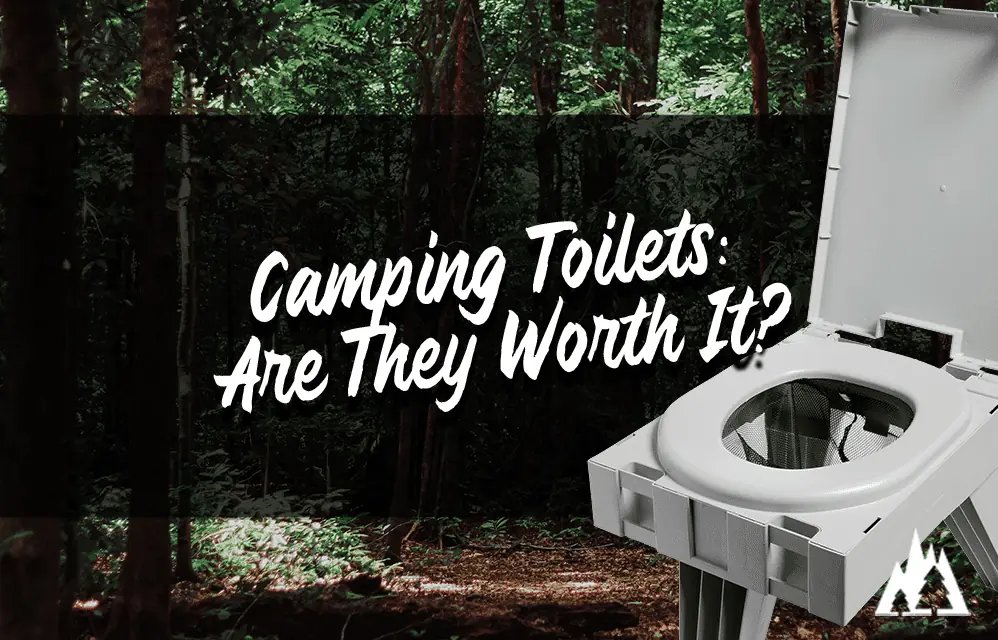 A camping toilet is worth the investment when you're camping or taking long road trips, especially when you have kids.
They are a portable, affordable, and convenient solution when there are no permanent outhouses or latrines on your campground.
Although they may seem like an extravagance, the advantages of owning and utilizing a camping toilet make them worth considering for your next outdoor excursion.
From convenience and portability to sanitation concerns, this article will explore 7 reasons why you should consider buying a portable camping toilet for your next adventure.
What Are Camping Toilets?
According to the 2022 North American Camping Report by KOA, in 2021, more than 93.8 million North American households considered themselves campers.
Camping accounted for 40% of all leisure trips taken in 2021, with more than half of travelers (53%) including camping in some or all of their travel (source: KOA).
I try to plan a camping trip with friends and family 3-4 times a year.
One of the most painful tasks is finding a campground for our group size, mainly because we tend to find campsites with running water and an outhouse.
Those amenities are definitely not a deal breaker.
We've done many amazing dispersed camping trips, and going dispersed opens allows us to camp when reservations get a little tough.
But you're roughing it a lot more, meaning no running water or outhouses.
So we started looking into portable camping toilets.
Camping toilets are simply a receptacle that holds human waste in a sanitary way.
They can be extravagant with flushable clean water or as minimal, such as a toilet seat snapped onto a five-gallon bucket with a bag.
Of course, the more features a camping toilet has, the higher the price, and it generally will take up more space.
After using a portable camping toilet on many trips, I wrote down why it's worth it.
Let's dig in.
7 Reasons Why I Think Camping Toilets Are Worth it
These are some of the main reasons that I discovered over the years why camping toilets are worth the investment:
1. Convinces Friends And Family To Try Camping
I'm sure many of you have been in the same boat.
You ask a friend or family member to try camping for the first time with you, and their first question is, "Are there restrooms??"
It has happened to me more than I can remember.
Taking a portable toilet has made people we know try camping for the first time, and they start to realize how much they enjoy it.
2. Convenience
Camping toilets offer the convenience of not having to leave your campsite in search of public restrooms or worry about late-night emergencies.
This was a huge plus for me when camping with kids.
Even with amenities like a permanent outside, taking your kids out of the tent when it's freezing cold at night sucks.
So having a portable camping toilet inside the tent was a huge plus for me.
3. Privacy
Having your own toilet provides that added privacy for those who hate public restrooms. You can either handle your business inside your tent or have a separate pop-up outside right next to your tent.
4. Lightweight
Most camping toilets have ergonomic features, and their lightweight design makes them easy to transport during your trips. However, most models come with adjustable legs so they can easily fit into tight spaces like tents or RV compartments.
5. Easy Maintenance
Cleaning up after using a camping toilet is relatively simple compared to traditional toilets at home because there's no plumbing involved; just empty it out into an appropriate waste receptacle when finished.
Some models also come equipped with special cleaning solutions and deodorizers.
Pro Tip: I like to add one to two cups of kitty litter at the bottom of the bag. This helps prevent any leaking, and it deodorizes at the same time!
6. Environmental Benefits
Outdoor enthusiasts can help conserve natural resources and preserve their surroundings by investing in mobile sanitation solutions rather than relying solely on public facilities, encouraging sustainable practices and responsible travel choices.
Camping toilets reduce overcrowding at public facilities, which helps protect fragile ecosystems from damage. This is especially important for sensitive habitats like wetlands or forests where human waste can quickly cause contamination if not disposed of properly.
They also promote sustainable travel practices through responsible hygiene management that prevents runoff pollution and other environmental degradation associated with traditional restroom use.
For example, when traveling to a remote location, it's much easier to bring along a lightweight camping toilet than to find an appropriate spot for disposal or build a makeshift latrine out in the wild.
Utilizing a camping toilet while journeying to an isolated area not only safeguards everyone but also decreases your personal ecological impact by removing the necessity of transporting waste across long distances for appropriate disposal.
7. Affordable
Camping toilets are affordable but can be pricey depending on your feature requirements. I only wanted one that packs down small, which I could find for less than $100.
Range Of Options Available
A wide range of portable camping toilets is available on the market today, ranging from simple bucket composting models to complex flushing mechanisms requiring regular upkeep.
For those who prefer something in between, there are gelling agents which neutralize solid wastes and convert liquids into easy-to-manage gel deposits that can be stored directly in storage containers.
No matter what individual preferences might entail, there is something for everyone looking for a reliable and convenient way to handle their hygiene needs when making sense to anyone planning extended stays outdoors while experiencing the joys of exploring the wilderness.
For campers seeking convenience and portability, lightweight plastic buckets with snap-on lids offer an ideal solution. These basic units require no water or electricity connection; simply empty waste after each use. They're also great for families with young children as they help familiarize them with outdoor toileting practices and teach Leave No Trace principles regarding human waste disposal.
For campers looking for more comfort during their travels, collapsible camping toilets provide extra padding and height adjustability to ensure maximum user comfort during use.
For those seeking home comforts without sacrificing amenities, self-contained flushing systems are ideal.
Before You Go
If you're new to camping, please check out my other resources to help you hone your skills and reduce stress: