Mt Whitney summit is at an elevation of 14,505 feet (4,421 meters) and is the tallest mountain in the contiguous United States.

It's located in the Sierra Nevada range in eastern California. The mountain's west slope is in Sequoia National Park, and the east slope is in the Inyo National Forest.

It is a very popular destination for hikers and climbers, but you need to take caution if you want to attempt the summit. The air is very thin at that altitude, and you will tire easily. Make sure you are physically fit and have proper equipment before attempting the summit.
Mount Whitney Permits
A permit system is in place to help minimize the volume of hikers. According to NPS, If you begin at Whitney Portal in Inyo National Forest on the east side of the Sierra Nevada, you should apply for a Mt. Whitney permit from Inyo National Forest.

Contact the Mt. Whitney Ranger District, PO Box 8, Lone Pine, CA 93545, 760-876-6200, for additional information about this trailhead.

If you begin in Sequoia National Park and approach Mt. Whitney from the west by traveling across the Sierra Nevada range, you should apply for a wilderness permit from Sequoia & Kings Canyon National Parks.

Still a little unsure what kind of permit you need? Head over to Recreation.gov and take the questionnaire. You can also apply for a permit on the same website here.

As of 2022, you can apply for a permit from either location, regardless of your starting point from February 1st to March 15th, in which you can expect to find out the lottery results last week of March.

In April, you can apply for permits when the lottery opens up again due to unpaid or unclaimed permits.

Online reservations from May through November will be the only way to obtain a permit.
Popular Routes
The main Mount Whitney Trail
The Mountaineer's Route
The North Fork Lone Pine Creek Route
East Face Route
East Buttress Route
Additional information for each of these routes can be found in detail under the resource links to the right.
Preparing For Your Hike
It would be best if you were prepared for your hike, no matter which route you decide to take. Make sure you have the proper equipment and clothing. The most important thing is to have proper footwear. Hiking boots are recommended.

You will also need food and water for the hike. It's a good idea to pack more than you think you'll need if you get stranded or lost on the trail.

Make sure you know your limits and don't push yourself too hard. Hiking to the summit of Mt Whitney is a strenuous undertaking and should not be taken lightly.

If you are not in good physical condition, it is recommended that you attempt one of the easier routes.
When To Go
The best time to hike Mt Whitney is from late June to September when the weather is typically the most stable. Conditions can change quickly at high altitudes, so always be prepared for cold weather, even in the summer months.
What To Bring
Whether hiking in the summer or winter, you should always be prepared for extreme weather conditions. Bring plenty of food and water, warm clothing, a first-aid kit, and a map.

It is also good to hike with a partner and let someone know your planned route and expected return date.
Remember to Leave No Trace
When hiking in the wilderness, it's important to practice Leave No Trace principles. This means leaving the trail as you found it and not disturbing the natural environment.
Pack out all of your trash, including food wrappers and empty water bottles.
Don't build campfires or dig trenches. Use a stove for cooking instead.
Don't damage live plants or trees. Don't cut switchbacks.
Respect wildlife and give them their space. Don't approach or feed them.
Be considerate of other hikers and yield to those going up the hill.
Hiking Mount Whitney Summit
Hiking Mt Whitney can be a rewarding experience, but it is important to be prepared before attempting the summit. With proper planning and preparation, you can enjoy a safe and memorable hike to the top of the tallest mountain in the contiguous United States.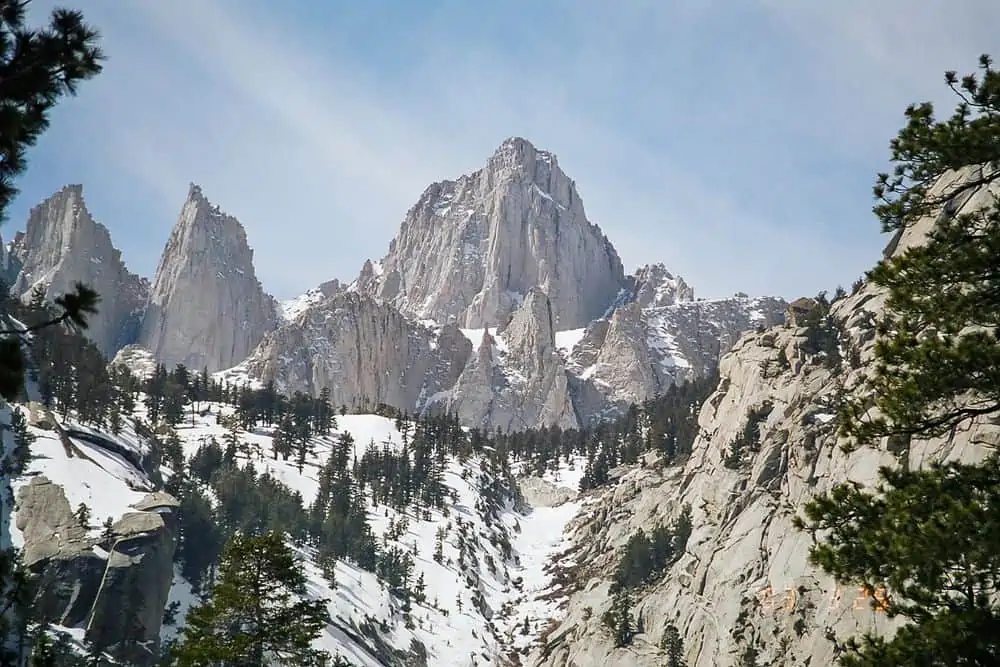 Mt Whitney Weather
Lone Pine, US
7:17 am,
December 2, 2023
1
°F
Feels like

-11

°F

°
few clouds
| Overview | |
| --- | --- |
| Elevation (feet) | 14,505 ft |
| Elevation (meters) | 4,421 m |
| Continent | North America |
| Country | United States |
| Range/Region | Sierra Nevada |
| Latitude | 36.578499 |
| Longitude | -118.292260 |
| Difficulty | Walk up |
| Best Months For Climbing | Jun, July, Aug, Sept |
| Year First Climbed | 1873 |
| Nearest Major Airport | Reno, Nevada and Los Angeles, California |
| Convenient Center | Whitney Portal, California (east of the mountain) |
| First Successful Climber(s) | A. Johnson, C. Begole, John Lucas |