Warbonnet Peak – Sawtooth Mountains of Idaho
The grandeur of Warbonnet Peak is unmatched in the state, located in the Sawtooth Mountains of Idaho. With its distinctive shape, this peak has been called "the Grand Teton" and rises 1400 feet from Bead Lakes at its base to encompass Subsummits with differing elevations that form an Indian chief's headdress crowning beauty.

Many adventures take place during the summer months when tourists come here looking for thrill-seeking activities such as hiking trails or mountaineering.

The ascent of Warbonnet Peak typically requires a hike of approximately six miles, with an elevation gain of 3,500 feet. The peak can be reached from the Warbonnet Creek Trailhead or the White Cap Mountain Trailhead. Warbonnet Peak is rated as a Class III climb, with some exposed scrambling sections.

The views from the summit are stunning, with panoramic views of the Sawtooth Range and surrounding mountains.
If you're looking for a quick way to get into the Sawtooth National Forest, then Sun Valley Express might be your best option. One of their buses leaves from Boise once a day.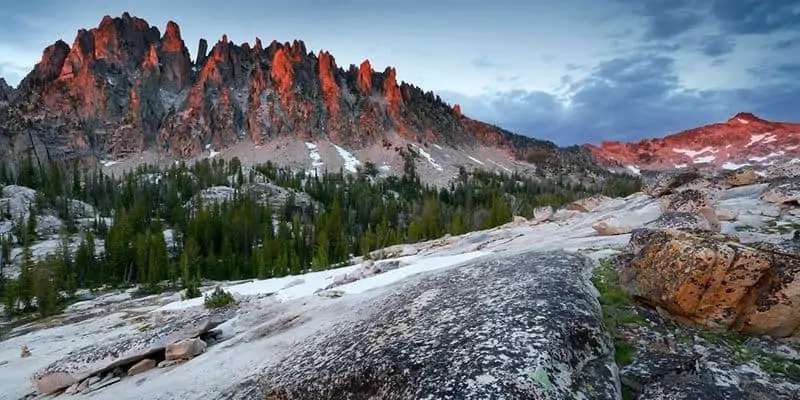 Warbonnet Peak Weather
Torreys, US
9:02 am,
December 2, 2023
14
°F
Feels like

3

°F

°
light snow
Overview
Elevation (feet)

10,200

 ft.
Elevation (meters)
3,100 m.
Continent

North America

Country

United States

Range/Region
Idaho-Bitterroot Rockies
State

Idaho

Latitude

44.0791667

Longitude

-115.0538889

Difficulty

Technical Climb

Best Months For Climbing

Jul, Aug, Sept

Year First Climbed

1947

First Successful Climber(s)

Paul Petzoldt, J. Speck, C. Wilson, C. Fish and B. Merriam.

Nearest Major Airport

Boise

Convenient Center

Stanley