Mont Blanc Mountain Summit
At 4,807.81 meters (15,774 ft) high, Mont Blanc is the highest mountain in Western Europe and the Alps. It is also the second-highest peak in the Alps and Europe outside of Russia after Mount Elbrus (5,642 m (18,510 ft)) and was one of the famous world mountains included in Maurice Herzog's book: "Annapurna: First Conquest of an 8000-meter Peak". It is located between France and Italy.
Mont Blanc is a part of the Graian Alps located between France and Italy. Mont Blanc gives its name to the surrounding Mont Blanc massif. The Mont Blanc mountain range runs from west to east about 65 kilometers long, crossing at least five French communes: Saint-Gervais-les-Bains and Chamonix in Haute-Savoie department, Courmayeur in Aosta Valley, Italy. The town of Chamonix lies on the confluence of the Argentière, the Dranse d'Argentière, and the Borne de l'Aiguille, three glacial rivers that flow from the Mont Blanc range.
The Mont Blanc massif is popular for outdoor activities like hiking, climbing, trail running, and winter sports like skiing and snowboarding. The most popular climbing route to the summit of Mont Blanc is the Goûter Route, which typically takes two days.
From Chamonix, a cable car system provides access to Aiguille du Midi peak, where hikers can start their ascent to Mont Blanc. There are also many other routes available for climbers with varying difficulty levels.
In winter, the mountain's slopes become a popular ski resort with over 50 kilometers of groomed pistes served by over 30 lifts. The Mont Blanc tunnel connecting France and Italy is also open in winter, allowing skiers to cross the border between the two countries.

The summit of Mont Blanc was first reached on August 9, 1786, by Jacques Balmat and Michel-Gabriel Paccard after climbing the north ridge over several days.

Nowadays, Mont Blanc is climbed by tens of thousands of people every year and continues to be a popular mountain to the summit for both experienced climbers and novice hikers. With the increase in tourism, visitors must respect the environment and follow Leave No Trace principles when traveling in the area.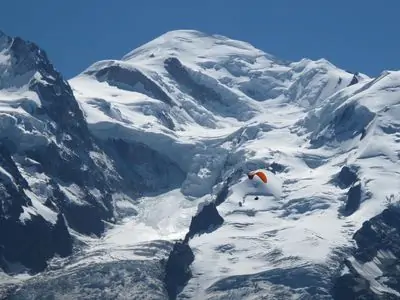 Mont Blanc Weather
Chamonix, FR
3:48 pm,
December 2, 2023
27
°F
Feels like

20

°F

°
light snow
| Overview | |
| --- | --- |
| Elevation (feet) | 15,777 |
| Elevation (meters) | 4,808 |
| Continent | Europe |
| Country | France |
| Range/Region | Savoy Alps |
| Latitude | 45.832622 |
| Longitude | 6.865175 |
| Difficulty | Basic Snow/Ice Climb |
| Best Months For Climbing | July, August, September |
| Year First Climbed | 1786 |
| First Successful Climber(s) | Michel-Gabriel Paccard, Jacques Balmat |
| Nearest Major Airport | Geneva, Switzerland |
| Convenient Center | Chamonix, France |