Best Backpacking Chair of 2023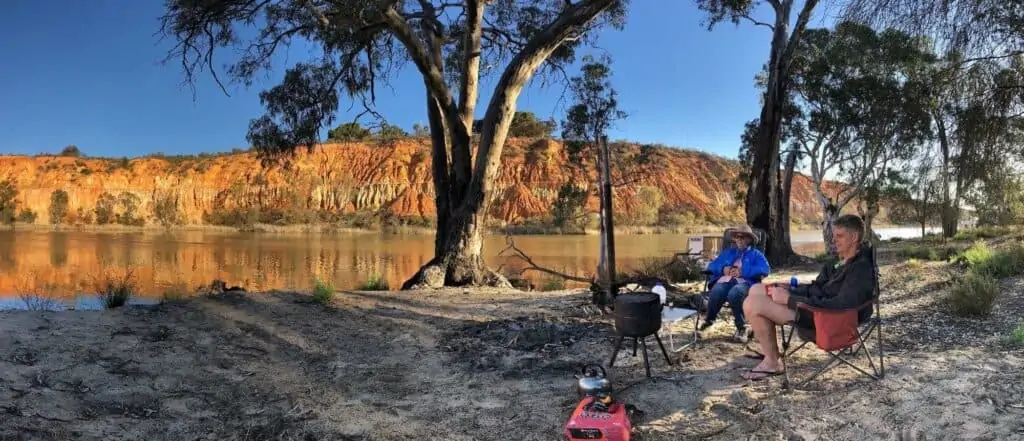 This post contains affiliate links where we may earn commissions from Amazon, REI, and other retailers at no additional cost to you. You can learn more about our affiliate policy here.
There are several factors to consider when shopping for the best backpacking chair. The main features to consider are comfort and stability and should be lightweight and packable.
Here is our list of best backpacking chairs that we recommend based on these criteria.
---
What Is The Best Backpacking Chair?
If you're looking for a backpacking chair that won't take up too much space, is light enough to carry around, and is comfortable enough to sleep on, The Big Anges Skyline UL Chair meets all these requirements with its super lightweight/ergonomic design.
Key Features
Lightweight at 1lb 11oz
Patented Hub-less designed
The frame is color-coded for simple setup
The wider bucket seat is supported by three pre-bent poles, resulting in a more sturdy and stable core.
There's a stuff sack included.
Weight capacity of 275lbs
Benefits
Ultralight and packable chair you can take along during your hikes without weighing you down
Quick set up and a very comfortable backpacking chair
Pros
Sturdy and well-made chair with a hub-less design and greater weight capacity. The height is approximately 2 inches higher than most backpacking chairs.
Cons
A bit pricier than other camping chairs
Summary
The Big Agnes Skyline UL chair is a unique ultralight camping chair. It has a hubless pole design which makes it tall, stable, and compact all at the same time. The shape of its seat fabric cups your rear with a deep pocket that keeps you firmly planted while relaxing.
This chair is the favorite of many of our backpackers. The excellent height off the ground and deep seat make this a go-to choice when heading out into nature, whether backpacking or camping.
The Big Agnes Skyline UL is a high-quality backup chair, and it allows the user to stay seated for hours. The seat depth of this model contributes significantly to its comfort level because, unlike other models that are shallow, causing users to slide down precariously in them; with deep seats like these found on the Skyline UL, campers can genuinely relax while sitting on them.
Overview
The Helinox Chair One is among the most popular camp chairs among lightweight backpacking enthusiasts. It's easy to understand why it has a solid reputation. We love that it offers supportive and comfortable seating for your spine. It weighs only 18 ounces with its stuff sack included – not as substantial compared to other products on the market but still very light! The downside?
For those that don't mind spending extra cash, the Helinox Chair Zero is a good buy.
Key Features
Lightest and most packable from Helinox
It weighs a mere 17oz
Holds up to 265lbs
Strong aluminum frame
5-year warranty
Benefits
Instead of picnic tables and stones while trekking, have a pleasant seat whenever you like.
Rest your feet on the trails and completely relax at basecamp
Perfect angle to reduce lower back pain
Pros
Very lightweight backpacking chair that doesn't compromise on comfort.
Cons
Taller individuals past 6 feet might not be the most comfortable option.
Summary
This chair is perfect for ultralight backpacking. It's lightweight and portable, so it doesn't take up as much space inside your backpack or camping gear. Some people might not enjoy the size because they don't feel comfortable enough for long periods. Others were surprised by how comfy this little chair is compared to other models with larger frames more padding on their seats.
Overview
The Crazy Creek Original Chair is a heavy-duty folding L shape chair that can stand up to the elements. Its thick foam and robust cloth have been put to the test for durability, making it perfect for use on rough terrain. However, this model from Crazy Creek comes at a premium price level compared to some other chairs in its class offering similar features but made by different brands.
Key Features
Carbon fiber stays in frame construction.
Adjustable backrests with quick-release buckles enable you to personalize your sitting posture.
The lightweight and foldable design make it easy to transport. For convenient transportation, there are handles on both sides of the bag.
Hook-and-loop straps keep the chair closed.
Benefits
You can take a versatile camp chair anywhere such as a hike, sports game, or beach.
Durable and rugged material that will last for years.
Pros
Very light and easy to set up.
Cons
There aren't any legs on this chair, which is something that many people would want.
Overview
CLIQ recently came into the scene with a successful Indiegogo campaign for these camping chairs. We here own three of these chairs and they are very easy to set up. They are lightweight and although they claim they are bottle-sized when packed up, they are slightly larger than that in our opinion.
This chair can be set up in just seconds, and it's made with aircraft-grade aluminum and ballistic nylon for durability. It also has solid rubber feet tips to keep you stable on uneven ground.
Key Features
Very lightweight
Comfortable
Weighs only 3.5lbs
Can hold up to 300lbs
Summary
Cliq outdoor chairs have been built with quality and durability in mind. Featuring aircraft grade aluminum, twice stitched ripstop ballistic nylon double seams for strength as well as solid rubber feet tips these portable campers can support up 300 pounds while only weighing 3.5lbs.
The four-legged camping chair supports tip proofing so it's tested extensively – supporting your weight without giving way under pressure or strain even when used outdoors most likely on uneven terrain where other products would fail beforehand due to their poor build materials which lead them to become unstable over time or break under stress.
What Are Backpacking Chairs?
These chairs help provide comfort but can sometimes prove dangerous if not appropriately placed, so be careful while using them because we never know when nature will surprise us with its beauty.
You can store them in your backpack or buy a separate bag for them. However, if you like to switch up the seating arrangement at different places (such as camping and beachside), then backpacking chairs are more versatile than other options out there on the market. Finding one that meets all of your criteria becomes critical when purchasing this sort of chair.