The Best Hiking Baby Carriers: What You Need to Know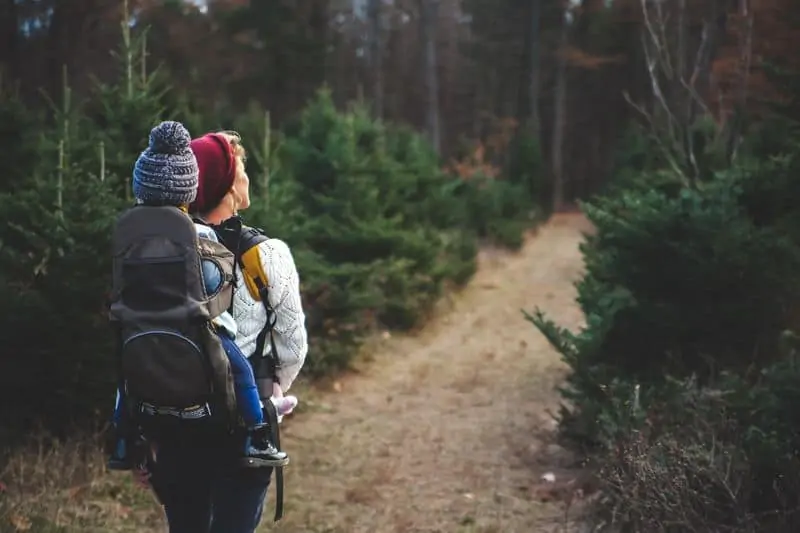 Taking your little one for your hike with you can be an exciting opportunity to bond with your child. In addition, your toddler can get to experience nature and fresh air as you hike through the trails.
But, for the sake of your baby's safety and comfort, it is vital to get a hiking baby carrier that offers you the proper lumbar and hip support.
Naturally, babies are heavy, especially when you carry one for hours. The best hiking baby carriers can help take some load off, offering you and your baby a comfortable and immersive outdoor experience.
But you don't have to worry about finding the most suitable baby carrier. Here is your ultimate guide for the best options, so keep reading.
What to Consider When Selecting a Hiking Baby Carrier
Several factors come into play when sourcing for a baby carrier. They include:
Age of Child
When shopping for a baby carrier, it is essential to consider your child's age. It would be best to use a soft chest carrier for infants. For mature children, a full-frame backpack carrier is ideal.
Safety
Not every carrier has a safe and sound construct to it. So as you shop for your carrier, ensure to check on its safety component, especially the harnesses. Also, ensure that the belt straps perfectly around you and locks well.
Try and avoid hiking carriers that appear to have loose belts for buckles.
Comfort
While hiking outdoors, the comfort of you and your baby is paramount. Unfortunately, an uncomfortable hiking baby carrier can make the experience quite awful for you.
So instead, check for a hiking carrier having enough pads on the shoulder straps. This will create even the pressure on the shoulders.
Weather
If you live in a hot area, you may want to consider a design with a hydration reservoir and allows for free air circulation. In addition, the hydration sleeve contains a storage space to keep your water.
These features will allow you and your baby to have a cool hike under the hot sun while also preventing any chances of dehydration.
It is essential to consider a carrier with a sunshade to protect your child from overheating and scorching sun rays.
Length of Hiking Trips
If you are fond of taking long day hikes or multiple hikes, it is essential to consider a good fit and suspension carrier.
Multiple-use of a carrier may require you to invest in one with an excellent back support system, an adjustable hip belt, and a sound suspension system.
Longer hikes may require additional items such as enough water, snacks, or repellant to last the entire hike. This calls for more storage space in your carrier.
Therefore, it is essential to consider the total carrying capacity of the carrier to give you an idea of the total weight of your child plus equipment as well.
Essential Items to Check Before a Hike
When planning for a hike, it is crucial to ensure you have all the items you require beforehand. Creating a checklist of items will help ensure you have the right items before you embark on your hike.
At the very least the items you should include in your checklist are; cooking kit, equipment charging stations, proper attire, and navigation systems.
Top Hiking Baby Carrier to Consider
There are several baby carrier brands. You need the best for the well-being of your baby.
Osprey Poco Plus Child Carrier
Essential hiking gear for overnight trips, the carrier has a gear capacity of 26 liters and supports a weight of 7 pounds. The carrier's total carrying capacity is 49 pounds and costs an average of $330 from retail stores.
The carrier features a suspended mesh back panel that is separate from the hip belt. The separation allows for breathability and limits sweat accumulation that may be uncomfortable for you and your baby.
The carrier's construct also ensures your baby is correctly strapped in place and limits your child's side-to-side movement while in the carrier.
The carrier also contains adequate gear storage to ensure you don't miss out on packing your essential hiking gear.
Besides, the carrier has two expansive zippered compartments that can accommodate a sleeping pad, a sleeping bag, some snacks, and, possibly, diapers and wipes for your child.
Pros
The carrier is quite affordable and has a comfortable design and construct
The shoulder and waist straps have thick pads for support and tension ease
The harness clips are at the carrier's back, making it difficult for your child to unlock themselves
It has a detachable sidebar that allows for better storage of the carrier
Cons
The carrier has minimal adjustability options as well as pockets
It may take some time to get the right setting for optimal comfort adjustments
The average cost of an Osprey Poco Plus Child Carrier is $330 from retail stores. A bit pricey compared to other standard baby carriers, however it is worth the investment.
Kelty Journey PerfectFIT Elite Child Carrier
Dubbed as the most versatile child carrier, the Kelty Journey PerfectFIT Elite child carrier weighs 7 pounds with a gear capacity of 26 liters. The maximum weight of the gear is 50 pounds, including the child's weight, pack, and bags.
The carrier is made of 420-denier polyester material with an aluminum frame and also features a sunshade.
The carrier also features nine organizational pockets and a vast internal compartment for maximum comfort for your child.
If you want to swap carriers with your partner, this carrier features an excellent suspension system that allows an easy switch.
Pros
The front cooler pocket of the carrier is insulated to guarantee you a cool drink during the hike.
Contains a sunshade
You can easily adjust the carrier for a proper fit.
Adequate storage space with seven exterior pockets
Cons
The carrier's mesh straps do not allow maximum breathability.
The zippers can become quite sticky.
The carrier is a bit pricey compared to the Osprey Poco; however, it is a worthwhile investment to make your hiking trip memorable. The cost of this carrier averages at $300.
DeuterKid Comfort Active SL Child Carrier
The Deuter Kid Comfort Active SL Child Carrier is an essential hiking gear for women. The carrier's construct has been specifically built to allow women to have comfortable hiking trips with their young ones.
The carrier has a 14L capacity with a maximum weight of 48 pounds.
Its narrow shoulder straps and ergonomic hip belt makes it ideal for women's body frames, in addition to the extra straps for maximum comfort.
The carrier is lightweight and features more mesh and ventilation for a non-sweaty hike for you and your baby.
Pros
The carrier's construct allows your child's foot to stirrup and prevents them from dangling
The carrier is affordable and adequately ventilated.
For safety reasons, the carrier has a metal frame with bars that surrounds the child
This carrier does not include additional accessories such as a sunshade, neither does it have a hydration sleeve
It contains a lot of storage on the waist belt
It contains color-coordinated buckles with an easy-to-use harness
They are specifically designed for a woman's build
The carrier folds flat, making it easy to store
Cons
The carrier's accessories are sold separately
Narrow shoulder straps may create an uncomfortable experience for the wearer
It may take some time to get the right setting for optimal comfort
The average cost of a Deuter Kid Comfort carrier is $275 from online stores.
Deuter Kid Comfort Pro
If you want to ensure maximum comfort for your baby, then the Deuter Kid Comfort Pro is the essential hiking gear for you. The carrier weighs 8 pounds and has a whole load of 48 pounds.
In addition, the carrier has a capacity of 14 liters with an adjustable torso height.
Additional features include a sunshade, an aluminum frame, and a 210-denier polyamide polyester.
The internal compartment is well ventilated with mesh to keep you and your baby cool while on the trails.
Pros
The carrier includes a rearview mirror for you to check on your child quickly.
A removable daypack for when you'd want to set the carrier aside
Seven exterior pockets with large hip pockets.
The carrier comes with accessories such as a chin rest and a sunshade.
Cons
The carrier is expensive compared to most carriers on the market.
It has a smaller capacity, and the stirrups are slippery.
It is challenging to fit owing to the many straps.
If your topmost consideration is comfort when looking for a carrier, then the Deuter Kid Comfort Pro is the right choice. However, its average price is $340.
Ergobay 360
Suitable for shorter hikes, the Ergobaby 360 is a standard baby carrier that does not include the backpack feature. The carrier is an essential hiking gear for men that allows you to carry your baby either front or back.
The carrier's build makes it an excellent choice for infants since they cannot hold up their heads. However, once your little one grows older, it is recommendable to get a carrier that features a backpack component.
Pros
It is lightweight, packable, and affordable
Contains a sunshade
You can carry your baby in 4 different positions
Cons
It is not well ventilated
It does not hold any storage space
The average cost of the Ergobaby 360 is $87.91.
Babybjorn Baby Carrier One Air 3D Mesh
Suitable for mellow hikes, the BABYBJÖRN Baby Carrier One Air 3D Mesh features a weight of 2 pounds, a maximum load of 24 pounds, and is made of polyester material.
The fabric component of the carrier allows you to launder it in a washing machine.
Similar to the Ergobaby 360, this carrier is suitable for infants. The carrier also contains a teething bib and a windproof cover.
The design of the carrier is to ensure maximum comfort for the wearer. The manufacturer, however, recommends using the carrier for babies up to 3 years (36 months).
Pros
The carrier is washable
You can wear over fleeces or jackets
The mesh ensures maximum breathability
You can carry your baby in 4 different positions
Adjustable to fit the wearer's height and weight
Cons
It does not include storage space
The mesh bib can trap your baby's teeth
The average cost of the carrier is $219.99.
Luvbaby Premium
This carrier weighs 6 pounds with a weight capacity of 40 pounds, and the LuvdBaby premium baby backpack carrier guarantees maximum comfort for you and your baby.
The carrier is made of 600D and 300D ripstop polyester that ensures maximum durability. It also features an aluminum frame with a sunshade.
The carrier contains additional features such as adjustable stirrups, a kickstand, hip-belt pockets, a thermal insulated pocket, and a mobile diaper changing station.
This carrier offers a similar functionality purpose with minimal comfort.
Pros
Contains multiple storage spaces
It is affordable
It includes a mesh shade and a rain cover
Cons
The padding on the shoulders and back are not adequate hence not comfortable for long hikes
It has a smaller maximum load, therefore suitable for infants and toddlers
Lacks holders for water bottles.
The average cost of a LuvdBaby Premium carrier is $199.
Lillebaby Carrier
If you like hiking in cold weather, then the LÍLLÉbaby Carrier is suitable for keeping your baby warm outdoors.
The carrier has a weight capacity of 1 pound with a sunshade accessory. The carrier's material is made out of cotton.
This carrier is similar to the Ergobay 360 in that it allows you to carry your baby in 6 different possible positions. For example, you can either have your baby on your back, front, or your hip.
Likewise, the carrier compares to a general baby carrier since it is frameless. The carrier is ideal for infants with adjustable straps that make breastfeeding easier.
Pros
Affordable
The shoulder straps are well-padded
Keeps your child close to your chest
Contains lumbar support with an extendable waist belt.
It includes a temperature control panel.
Cons
Not suitable for longer hikes due to minimal support
The neck support can unsnap easily.
Choosing the Best Hiking Baby Carrier
When purchasing a baby carrier, it is essential to note that common factors such as age may not apply to all babies. It is crucial to test out your carrier to ascertain whether it is comfortable for you and your child.
If you make your purchase online, ensure that the store has a return policy if the carrier fails to suit your needs.
We are an online review store providing outdoor lovers with guides on the essential hiking gear list.