15 Best Climbing Rope Bags [2023]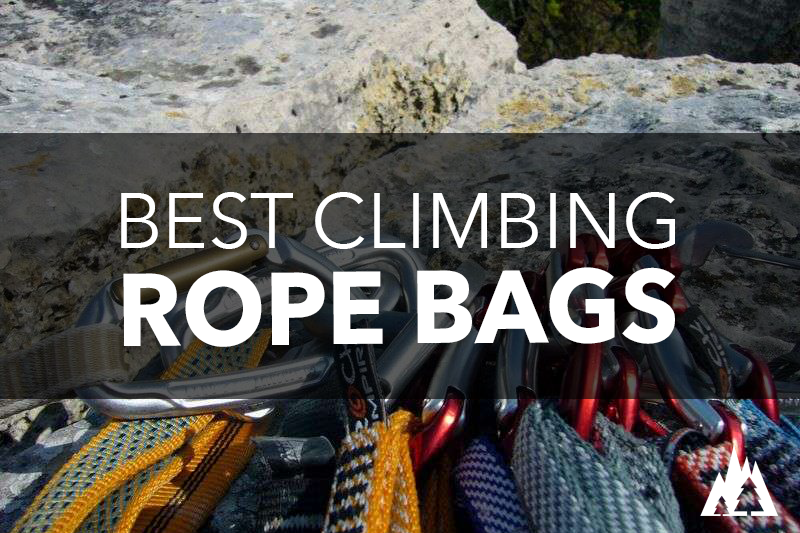 Are you in the market for climbing rope bags? You can read about the best climbing rope bags for climbers and mountaineers in this extensive guide.
You're halfway up a cliff face and the rope supporting your weight snaps.
It's truly a rock climber's nightmare.
Most climbers check their ropes for weaknesses before scaling a cliff face, so this scenario doesn't often happen. However, ensuring your ropes last over the long term is an easy way to mitigate safety risks when climbing.
But how do you maintain your ropes to ensure longevity?
Don't worry – we've got the answer. And it might be simpler than you think.
Rock climbing rope bags. Let us explain why.
Why Use a Rock Climbing Rope Bag?
When itemizing essential pieces of gear for a climbing adventure, you may not place climbing rope bags at the top of the list. However, climbing ropes are your lifeline. Literally. If you value the performance of your ropes, keeping them clean should be of utmost importance to you.
Unless you're in a gym, rock climbing is a dirty sport. Even beginner outdoor climbers will be familiar with the mud and grime that quickly cakes climbing equipment. If left unattended or built up over time, this muck will slowly deteriorate the fibers in your ropes, harnesses, and quickdraws.
You could invest in a great rope bag, but if you don't keep them clean, they won't last. There are a few ways to maintain the cleanliness of your ropes. Regularly cleaning your ropes is one of them.
Storing your ropes in a specifically-designed bag is another. Emphasis on 'specifically-designed' bags. While thrifty climbers have been known to use IKEA bags to store their ropes, it's not a good habit. A regular bag will not protect your ropes.
Most rock bags have two main components: an exterior pack and a removable tarp. You can fold this tarp out on the ground while you're climbing. It functions as an accessible surface on which to place your rope. This will keep your rope from lying in the dirt.
Most bags have a range of other handy features that function to protect your ropes and simplify storage.
Still not convinced?
These bags also simplify pack-up after a climb: you don't need to coil your rope if you store it in a bag. Plus, the bag will keep your rope free of tangles.
Different Types of Rock Climbing Rope Bags
From traditional climbing to bouldering, indoor climbing to soloing, there are so many different ways to climb rocks. And, for every mode of rock climbing, there are corresponding rope climbing bags.
Having different types of bags may seem unnecessary. However, if you think about it, each mode of rock climbing has different needs.
A multi-pitch solo climb calls for long ropes, for which you'll need a large enough bag to fit everything in. A waterproof exterior wouldn't hurt either. If you're doing a simple traditional climb with a group, you'll only need shorter ropes and a smaller bag.
Let's take a look at some of the different types of bags available on the market.
Indoor Climbing Pack
It would be easy to dismiss indoor rock bags as unnecessary.
It's clean. You're in a rock gym climbing inside. There's no mud. Why bother?
However, dirt and mud are not the only offenders. Oil, chemicals, and excessive sunlight can decrease the lifespan of your rope – all of which can be found in the great indoors.
Plus, even if the rock climbing gym floor looks clean, you don't want to leave your ropes on the ground. Even tiny bits of dirt can do long-term damage to your ropes.
A large, water-resistant rope bag won't be necessary for an indoor climb. However, most rope climbing bags – even indoor ones – are made from abrasion-resistant materials. Nylon and polyester are the most common materials. As such, they are capable of protecting your ropes from oil, chemicals, dust, and UV light.
Indoor bags are typically small, as you don't need lots of long ropes. Depending on your price range, they can come with handy features such as a laptop pouch. This makes it easy to hit the climbing gym on your commute to or from work. Some even come in stylish messenger bag designs, which can double as a work or school bag.
Outdoor Rock Climbing Bags
Weather can be unpredictable. You never know what it will throw at you.
That's why the best rope bags are water-proof. In addition to the typical abrasion-resistant materials, some outdoor rope bags have a special coated outer shell. There's no way your ropes are getting wet while they're in the bag.
Outdoor rope bags for climbing can also come in different designs. Some are shaped like a backpack. This makes longer, multi-pitch climbs easier. You can carry all the rope you need out of the way on your back. Advanced models will often come with handy features like padded straps, back panels, compression straps, and additional pockets in which to store other bits of gear, chalk, or snacks.
Other designs include a duffel-style gym rope bag. Good models will often have a wide, padded strap, extra pockets, tie-in loops, and elastic rim enclosures, which make them super simple to use.
Rope Tarp
If you're on a budget or after something malleable to stow in a pack, a simple rope tarp might do the job.
Typically light, cheap, and easy to use, most rope tarps are just that: a specially-designed tarp on which to lay your ropes. They can be rolled up in various shapes to fit into another pack.
However, you can also purchase fancier rope tarps that come with other features, such as pockets, compression straps, buckles, or tie-cords.
Features to Consider
While there is a large range of popular rope bags available, they are not all made equal. While basic rope bag models will do the job of protecting your ropes from mud, dirt, chemicals, oils, and UV rays, functionality is also an important factor to consider.
Depending on your budget and needs, there are some particular features to look out for if you're in the market for the best rope bag. We've listed a few below.
A Large, Removable Tarp
Not all bags have removable tarps. This feature is particularly useful. You may want to take your pack up the crag with you, but leave a rope behind on the ground – you can't do this if the tarp cannot be removed from the pack.
It's also handy to have a large tarp. If the tarp is big enough, it can double as a place to lay your rope away from the dirt and as a spot to sit and change your shoes.
A Cushioned Back Pad and Padded Straps
If you're after backpack style bags, a cushioned back pad and padded straps are useful for long approaches. In some backpack style rope bag models, the back pad is removable and can double as a cushioned seat. Duffel-style rope bags should also ideally have a wide, padded strap for ease and comfort.
It might be tempting to go for a cheaper option without the padding. But if you spend a decent amount of time climbing, your shoulders and back will thank you.
Extra Pockets or External Webbing
Having extra pockets or external webbing on your rope bag might seem like a frivolous, unnecessary extra. However, these handy little features can save you a lot of hassle and time.
If you're out climbing for an extended period of time, ropes aren't the only thing you need to carry. Chalk, snacks, extra carabiners, and quickdraws are all handy things to have on hand when you're up a crag. The last thing you want to be doing is rummaging through your pack to find something you need. Extra pockets make it easy to locate particular items. Alternatively, you can strap gear onto external webbing.
The Best Rock Climbing Rope Bags
Now you know what features to look for in a rock climbing rope bag, we've compiled 15 of the best models on the market for you to choose from.
As we've discussed, the best rope bag for you will depend on the type of rock climbing you do. To make it simple, we've split the list of rope bags into categories.
The Best Indoor Rope Bags
1) Mammut Magic Rope Bag
A freestanding rope bag that can easily be converted into a mat, the Mammut Magic Rope Bag is a quality investment. While the size might initially be off-putting, it's ideal for climbing gyms because you can fit everything you need in it. You won't need multiple bags for your gear, your shoes, and other essentials like your wallet and phone.
Features:
Weight – 600g
Volume – 61 – 70L
Enough room for different size ropes
Easy-to-use drawstring system
Can function as a freestanding bag or be flattened into a mat
A normal handle and a large shoulder strap
Colored rope attachment points
An internal strap to organize your gear
Price:
Depending on where you purchase it from, the Mammut Magic Rope Bag will cost between USD 67 – 100.
2) Petzl Kab
The Petzl Kab is a messenger bag with all the features you need to go straight from the office to the climbing gym. The gusseted design can be compressed or enlarged, depending on how much gear you're carrying. The reinforced shoulder strap is comfortable enough for a long commute, and multiple internal compartments keep your gear and rope inside organized.
Features:
Weight – 880g
Volume – 20 – 26L
Padded, closable laptop compartment
Extendable internal compartment
Detachable tarp
Two zippered pockets
Internal handles to organize your rope
Price:
Depending on where you purchase it from, the Petz Kab Rope Bag will cost between USD 65 – 90.
3) Black Diamond Gym
Lightweight, durable, and comfortable on your commute, the Black Diamond Gym bag is a great option for avid indoor rock climbers. The bag features a one-handed opening system for easy access, padded shoulder straps, large storage capacity, and internal elastic pockets.
Features:
Weight – 775g
Volume – 31 – 40L
Elastic gear pockets
Zippered pockets
Easy-to-use one-handed closure system
Padded shoulder strap
Price:
Depending on where you purchase it from, the Petz Kab Rope Bag will cost between USD 60 and 80.
4) Mammut Neon Shuttle
While it may be stylish and sleek, the Mammut Neon Shuttle has all the functional bells and whistles you need at the climbing gym. Available in a range of attractive colors, the Neon Shuttle could easily be mistaken for a mere urban backpack or tote, depending on how you wear it.
Features:
Weight – 690g
Volume – 11 – 20L
Padded and ventilated back pads
Internal gear loop
Over-the-shoulder carrying handle and padded backpack straps
Dual tote and backpack design provides easy access to the main compartment
External gear loops
An extra detachable shoulder strap
Internal zippers with pockets and a key clip
Price:
Depending on where you purchase it from, the Mammut Neon Shuttle will cost between USD 80 and 130.
5) Edelrid City Spotter
It may be small, but the Edelrid City Spotter packs a punch. (Get it? Packs a punch). Made from leftover rope from production, this handy little backpack is loaded with handy features to make your indoor rock climbing experience a breeze.
Key Features
Weight – 880g
Volume – 11 – 20L
Lid pocket featuring a zip closure
Internal notebook compartment
Dustproof compartment for a chalk bag
External zip pocket for small essential items
Price:
Depending on where you purchase it from, the Edelrid City Spotter will cost between USD 50 and 60.
The Best Outdoor Rope Bags
1) DMM Classic Rope Bag
With all the outdoor climbing features you need in a rope pack, the DMM Classic is an obvious choice. It can store an 80m rope, or two 60m ropes, plus all your gear with ease. Featuring a comfortable backpack design, the DMM Classic is a comfortable, functional rope bag suitable for both outdoor climbing and the gym.
Key Features
Weight – 623g
Volume – 30L
A good sized tarp with tie-in points for easy packing options
Compression straps make packing easy
Zippered pockets for small essential items
Padded straps for ease of wear and comfort on the crag
Lightweight, durable material
Price:
Depending on where you purchase it from, the DMM Classic Rope Bag will cost between USD 50 and 70.
2) Black Diamond Super Chute
If long approaches are your thing, the lightweight Black Diamond Equipment Super Chute is for you. With a massive 4 x 5 ft tarp, the traditional duffel design will fit an 80m rope, shoes and all your other gear with ease.
Features:
Weight – 490g
Volume – 25L
Compression straps with durable buckles
Adjustable, padded strap
Internal tie-in loops
Load traditionally or in a funnel-style
Large tarp
Price:
Depending on where you purchase it from, the Black Diamond Equipment Super Chute will cost between USD 49 and 60.
3) Petzl Kliff Rope Bag
Roomy and durable, the Petzl Kliff Rope Bag has a very large internal compartment – it can carry a 100m rope plus all your climbing gear. The Kliff's many features, including a practical opening system and adjustable padded shoulder straps, make it a great choice for long approaches.
Key Features
Weight – 750g
Volume – 36L
Sizeable removable tarp – 4.5 x 4.5 ft
Large main compartment with zippered opening
Internal and external pockets
Internal tie-in loops
Adjustable padded shoulder straps
Sternum straps
Abrasion-resistant fabric
Depending on where you purchase it from, the Petz Kliff Rope Bag will cost between USD 65 and 80.
4) Metolius Ropemaster HC Rope Bag
Sometimes, the original is best. This is true for the Metolius Ropemaster HC Rope Bag – an upgraded version of the brand's original, pioneering rope bag. A simple polyester drawcord bag with a generous tarp, this rope bag is simple and durable. With new features like external webbing and a transparent window, the duffel-style bag is a classic with which you can't go wrong.
Key Features
Weight – 567g
Volume – 29L
Large tarp – 52″ x 58″
External webbing
Transparent window
Easy-to-use drawcord opening
Tie-in rope points
Adjustable, padded shoulder strap
Price:
Depending on where you purchase it from, the Metolius Ropemaster HC Rope Bag will cost between USD 40 and 60.
5) Kavu Shapiro
Versatile enough to pass for an urban backpack, this colorful crag pack/rope bag has everything you need for a decent outdoor climb. From the generous tarp to the side panel vertical rigging straps, the spacious Kavu Shapiro is full of surprises.
Key Features:
Weight – 300g
Volume – 30L
Detachable tarp
Can be used as a duffel or backpack
Adjustable padded shoulder straps
Webbing with side release panels
Side panel vertical rigging
Exterior and interior pockets
Padded back panel
Price:
Depending on where you purchase it from, the Kavu Shapiro will cost between USD 45 and 75.
The Best Budget Rock Climbing Rope Bags
1) Black Diamond Full Rope Burrito
A lightweight option that can be stored in a pack, the Black Diamond Full Rope Burrito is great value for money. It fits a 70m cord and features an easy-to-use draw-string opening and a built-in tarp.
Price:
Depending on where you purchase it from, the Black Diamond Full Rope Burrito will cost between USD 30 and 40.
2) Metolius Dirt Bag II
The Metolius Dirt Bat II is a simple, lightweight rope bag with a tarp and a single padded shoulder strap. It doesn't have all the bells and whistles, but it's a solid option for climbers on a budget.
Price:
Depending on where you purchase it from, the Metolius Dirt Bag II will cost between USD 30 and 40.
3) Metolius Rope Tarp
We've moved away from the realm of rope bags here, into rope tarp territory. However, starting at USD 19.95, you can't go too wrong with the Metolius Rope Tarp. A circular shape, the tarp can be rolled up into an efficient size. If you've already got a pack, a tarp like this Metolius model is a great option.
Price:
Depending on where you purchase it from, the Metolius Rope Tarp will cost between USD 19.95 and 30.
4) Snap Rope Tarp
If you're on a shoestring budget, the Snap Rope Tarp will get the job done. A square-shaped tarp made from recycled polyester, this rope tarp is basic but reliable.
Price:
Depending on where you purchase it from, the Snap Rope Tarp will cost between USD 17 and 25.
5) Black Diamond Half Rope Burrito
Designed for the gym, the Black Diamond Half Rope Burrito is a smaller version of the aforementioned Full Rope Burrito. While it may be small, it features an elastic pocket and a one-handed open packing system.
Price:
Depending on where you purchase it from, the Snap Rope Tarp will cost between USD 21 and 30.
Keeping Your Rope Clean
It's important to have clean ropes as well as other climbing gear inside your bag clean because they rub against each other while you're climbing. It will not only make your ropes last longer but it will also give you peace of mind when using them.
Wash Your Rope Cold Water Without Detergent
Washing your climbing ropes with cold water and without detergent is the safest way to clean them.
Clean Other Climbing Gear Inside Your Bag Regularly
You need to make sure all of your tools are as clean as possible. Wipe them down with a microfiber cloth or piece of fabric after each use for best results.
Store Your Gear Inside A Dry Bag/Bag
When You're Not Using It If you are climbing outdoors, make sure you store your gear inside a dry bag if it's not raining. If you are indoors, make sure all of your equipment is stored in a safe place where moisture won't be able to get to them.
Keep Your Climbing Ropes & Other Gear From Rubbing Against Each Other
To keep the ropes from rubbing against each other while scratching on some surfaces, use some extra padding on these spots. You can do this by using chamois or even medical tape to protect them during storage and transport. There are also different types of clothes that have built-in protective features so consider looking into those for added protection as well.
Do Not Store Your Climbing Ropes Inside The Same Bag With Other Gear
If you are planning on keeping your climbing ropes inside the same bag as all of your other equipment, don't do it. If there is moisture in the bag, it will cause rust to your gear which will eventually break them down faster.
Take Good Care Of Your Climbing Ropes.
It's important to take good care of your climbing ropes because they are very expensive pieces of equipment. You can prolong their lifespan by properly taking care of them so look into buying a rope tarp so you could wipe it down after each use.
Not many people know that cleaning climbing equipment is extremely important for its safety and maintaining performance levels.
A rope bucket can be used to store your climbing ropes safely. But it's also important to store these gear in the right way. Here are some tips on how you can do that without any hassles.
Final Thoughts
Where you're in the market for a budget rope bag or don't mind paying the extra cost, make sure you buy a bag that will meet your specific needs.