Mount Aconcagua is a popular destination for mountaineers and climbers. At 6,960.8 meters (22,837 feet) above sea level, it is the highest mountain in the Western hemisphere. Aconcagua is located in western Argentina, near the Chile border. The mountain is a gigantic mass of rock, not picturesque in the traditional Alpine sense, but magnificent by its size alone. It dominates the sky west of Santiago, Chile's capital city, and is visible from the Pacific coast, 100 miles away.
Climbing Aconcagua Mountain
Most people climb Aconcagua as a day hike, taking four days to reach the summit. This is possible because much of the route can be done using fixed ropes previously set up by other climbers. However, any time you take to reach the summit reduces the time for the descent before dark.
The major drawback to this method is that it increases your chances of being caught on exposed sections of the mountain at night during periods of bad weather. An alternative less-traveled route is to make an all-night push for the summit immediately after setting out from high camp at 17,000 feet (5180 meters); this second day is particularly long and strenuous. For the physically fit, the all-night summit push offers a good balance between safety and economy of time.
All climbers should spend at least one night camping on the mountain before attempting to reach the summit; two nights are better, especially in summer. Once above high camp (14,000 feet / 4290 meters), most climbers sleep in tents placed along fixed ropes or under rock ledges where snow does not accumulate during the heat of the day.
Camping at 18,700 feet (5690 meters) on Aconcagua's south side is often done in bivouac sacks—lightweight single-person tents without floors that are easy to set up, take down, and cover with a poncho in case of rain.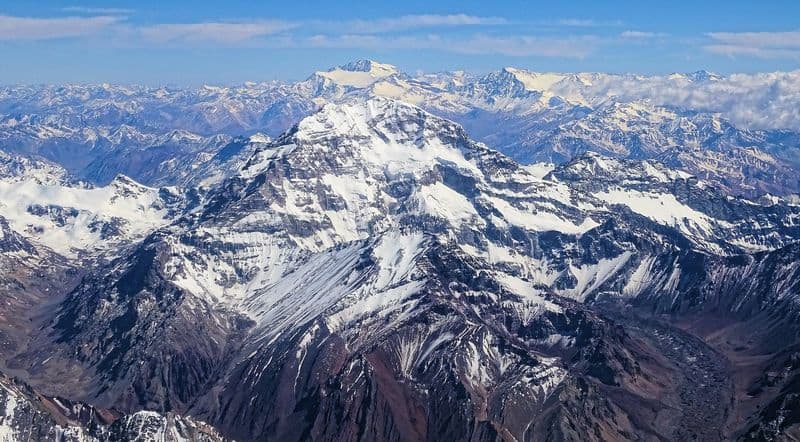 Aconcagua Weather
Los Andes, CL
7:43 am,
November 29, 2023
-1
°F
Feels like

-12

°F

°
clear sky
| Overview | |
| --- | --- |
| Elevation (feet) | 22,837 ft. |
| Elevation (meters) | 6,960.8 m. |
| Continent | South America |
| Country | Argentina |
| Range/Region | Andes |
| Latitude | -32.653179 |
| Longitude | -70.010864 |
| Difficulty | Major Mountain Expedition |
| Best Months For Climbing | Late December, January, February, March |
| Year First Climbed | 1897 |
| First Successful Climber(s) | European expedition led by the British mountaineer Edward FitzGerald |
| Nearest Major Airport | Mendoza, Argentina |
| Convenient Center | Mendoza, Argentina |