Cerro Blanco: The Highest Sand Dunes in the World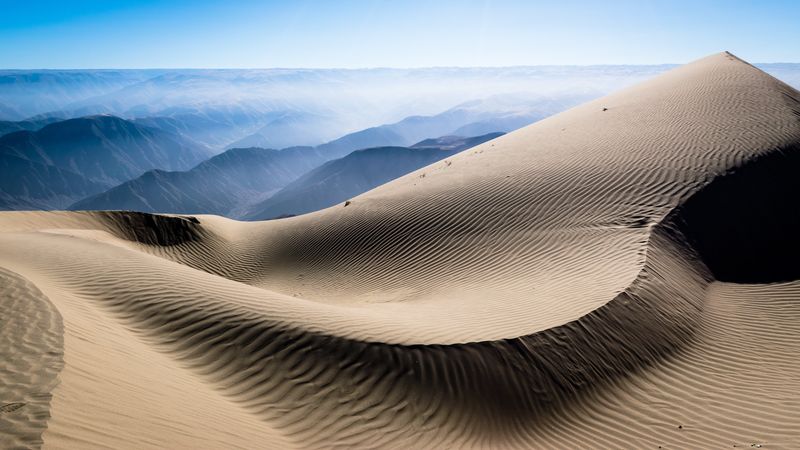 Did you know that you can hike the tallest sand dune in the world, Cerro Blanco? Cerro Blanco means "white hill" in Spanish, and what a big hill it is.
Not only can explore this beautiful region of South America, but you can also enjoy the history and culture that surround it. It was once a sacred mountain for the ancient Nazca civilization.
The first recorded summiting of Cerro Blanco was in 1994 when this region was scarcely visited. But today, the White Hill is becoming increasingly popular to adventure junkies, hikers, photographers, and even sand boarders.
So what makes the sand dunes of the Nazca region of Peru worth traveling to? And how can you plan hiking trips to this region? Read on below to learn why the Cerro Banco Trail is essential to anyone planning Peru travel.
What Is Cerro Blanco?
Sand dunes are made by wind constantly blowing sand back and forth until mounds are created.
The ever-changing nature of sand dunes makes them incredibly difficult to measure. But at 2,080m (6,824 feet), Cerro Blanco is officially the tallest sand dune in Peru, and most likely the world as well.
It sits in the arid Nazca region of Southwest Peru, between the Andes Mountains to the east and the Pacific Ocean to the west.
The ancient Nazca culture, which lived in the region from 100 BC to 800 AD, believed that Cerro Blanco was a source of water in the center of the sprawling desert. Legend has it that a beautiful lagoon can be found inside the dune.
Where Is Cerro Blanco?
Cerro Blanco is located in Southwest Peru, near the Pacific coast. It's about 700 km (434 miles) west of Cusco. It's 450 km (280 miles) south of Lima, Peru's capital city.
The actual sand dunes are located about 9 miles east of the city of Nazca, which is the largest city in the region of Nazca. If you book a trek through a local guide, they will pick you up from your hotel and drive to the trailhead outside of town. You can also book a taxi from town.
While there is a small, regional airport in the city of Nazca, it isn't used for tourist transportation. To reach Nazca and Cerro Blanco, you'll need to travel by road from Lima, which can take around six hours, or Cusco, which can take around 13 hours or longer.
While it's not a short trip, most of the drive is on nice, paved asphalt. And direct bus tickets can be had for less than $50.
You can also buy flexible bus tickets, allowing you to explore the country at your own pace, hopping on and off buses at will. These tickets are more expensive, but allow you to visit multiple destinations, including Nazca.
What Is the Nazca Region Like?
As more and more people travel to Peru to visit popular sites like Machu Pichu, the adventurous are constantly looking for places that are off the beaten path. And that's exactly what Cerro Blanco offers.
At Cerro Blanco, you'll find far fewer people than you would if you were to hike up to Machu Pichu, or other popular trails. And even though it's not too far away from sights like Machu Pichu, it feels like you are on another planet.
Cerro Blanco is often referred to as the "Everest of the Desert." The Nazca region of Peru lies on the Pacific coast, west of the Andes mountains. The region is covered in rolling, barren hills. It's a desert with very little rainfall, and consistently warm temperatures year-round.
The average daily temperature at Cerro Blanco is a comfortable 21 °C (70 °F). But with intense sun, and very little cloud cover most of the year, it often feels much warmer.
Because Peru is in the southern hemisphere, seasons are opposite to those in North America or Europe. The winter here is from June to August, which results in slightly cooler temperatures and fog rolling in from the coast.
The Nazca region is one of the aridest on the planet. Annually, it receives an average of 4mm of rainfall. Most of the rain happens in January and February.
Hiking the Cerro Blanco Trail
The Cerro Blanco trail takes you along the sand dunes, to the peak of Cerro Blanco. The typical trail that most hikers take is nine miles long with an elevation gain of 2,405 ft.
Upon leaving the trailhead, you'll hike along easy singletrack through breathtaking canyons and wild desert scenery.
Once you reach 1,200m, you'll start hiking in the sand dunes. In these lower stretches of the dune, you'll actually hike along the ancient Inca trail, before it finally disappears in the neverending sand dunes.
The rest of the climb will require you to walk up gradual sand dunes. While climbing on sand can be difficult, this specific climb isn't too taxing.
It takes most hikers about three or four hours to reach the top of the dune. Going down can take between two and four hours.
But many people who hike to the top of the dune aren't interested in walking down. Rather, they climb to the summit so they can sandboard down the dune(more of that later).
From the summit, you will be rewarded with breathtaking views of Nazca valley. At 2,080m above sea level, you should be able to see the Pacific Ocean to the west, if the weather is clear enough.
How to Hike Cerro Blanco
Most people who hike to the summit of Cerro Blanco do so as part of a guided tour. Tour providers make the logistics of getting to and from the trailhead very easy.
Plus, they offer trail guidance. When you reach the sand dunes, the trail becomes invisible. It's easy to get lost on the dunes if you aren't familiar with the area.
You don't need to book a tour in advance. When you arrive in Nazca, you can simply contact your hotel staff for tour recommendations. They will have connections with tour providers, and can likely schedule you on the next available trek.
For an all-day excursion, you can pay as little as $140, which is very reasonable for a trek like this.
Most treks will begin before the sun rises. In the desert, the sun can be very demanding at midday, so it's best to get to the summit in the morning.
Your tour guide will pick you up at your hotel and drive you and any other trekkers to the trailhead. Most guides will pack snacks so that you can have lunch at the summit before heading back down.
It's usually up to the group of trekkers as to how much time to spend on the summit. Sometimes groups want to stay for a few hours to take in the views and take photos. But those who would prefer to get out of the sun before the afternoon heat can head down after 30 minutes or so.
Hiking the Cerro Blanco Trail on Your Own
If you're a confident hiker and want to get to the summit yourself, you can certainly do so. You'll just need to hitch a ride to the trailhead.
Most taxi drivers will know where the trailhead is since it's one of the main attractions in the area. So your first step is finding a driver and negotiating a fair price.
Because the hike can take around five hours round trip, don't expect the driver to wait for you. Once you get back to the trailhead, hitching a taxi back into town will be easy to do. Just look for the cars with reflective taxi stickers on them.
The first part of the trail is easy since the trail is clearly marked. But once you're in the sand, the trail is hard to navigate. Bring a compass and download maps of the area onto your smartphone to use during the hike. Or bring along a GPS device.
If you feel the trail is disappearing, keep walking in the right direction and you'll find the trail again.
The benefit of trekking on your own is moving at your own pace. You can go slow if you want, or you can go much faster than a tour group if you want to. Rather than an all-day expedition, you can be back at your hotel by lunchtime.
What to Bring on Your Trek
You'll be hiking in the desert. What your wear and bring with you is very important.
It's best to bring a full-brimmed sunhat to protect your face and neck. Wear lightweight, synthetic clothing and avoid cotton, which can be heavy. Cotton takes a long time to dry if you get sweaty.
Synthetic hiking shirts tend to provide sun protection much better than cotton clothing does. But even with the right clothing, you should carry sunscreen with you and apply it multiple times.
Sunglasses are important to keep sand out of your eyes. And a handkerchief, bandana, or face mask might be useful for keeping sand out of your mouth, particularly on windy days.
Wear comfortable hiking shoes or boots. Wearing gaiters can help prevent your shoes from filling with sand.
You'll go through a lot of water, so make sure to bring at least two liters of water. Four liters is better. Bring plenty of snacks to keep you fueled up during the hike.
For emergencies, it's always a good idea to carry a headlamp, a first aid kit, an emergency blanket, and a whistle.
If hiking with a guide, make sure to bring some local currency to tip your guides and any of their assistants or drivers. And bring it all in a small hiking daypack to make it easy.
Cerro Blanco Sandboarding
Most people who visit Cerro Blanco aren't just looking to hike. They are looking to go sandboarding. With the largest dunes in the world, it's only natural to want to glide down them at high speeds.
People come from all over the world to sandboard in Peru. If you've ever gone snowboarding, the experience is very similar. But with sandboards, you can sit or even lay down if you want to, providing an opportunity for anyone to give it a try.
You can either book a trek and sandboarding trip with a local tour guide, or rent a sandboard and carry it to the summit yourself.
Once you reach the summit, after three hours of hiking, you can practice sandboarding on some of the smaller hills located nearby.
Then, once you're ready to leave the summit behind, you'll gear up for the main event. You'll sandboard nearly back down to the bottom. You'll cover about 2,500 feet, and the downhill ride lasts about four minutes if you ride straight down without falling.
For most people, it takes much longer than four minutes.
By booking a sandboarding excursion, you get to combine hiking to the summit with sandboarding back down. There are also options to book a camping trip near the dunes, to extend your trek.
Nearby Attractions
If you're making the journey down to the Nazca region to hike Cerro Blanco, there are a few other sights to enjoy to make the trip extra special.
One of the biggest draws to the region is the Nazca Lines. The lines in the earth, which are most easily seen by air, are the result of construction projects that occurred between 500 BC to AD 500.
There are countless different lines that you can see, many of which take the shape of animals and people. There's also a monkey, with a spiral tail. This tail was the inspiration used for the "P" logo that the nation of Peru uses.
The Nazca Lines have been a UNESCO World Heritage Site since 1994. You can book a local flight, operated by tour providers, for the best opportunity to see these ancient relics.
Discover the Real Peru
While people travel from across the globe to see the Nazca lines and to sandboard on Cerro Blanco, this destination on the southern coast of Peru isn't overrun by tourists.
It's a beautiful and unique destination worthy of adding to your bucket list, especially if you'd like to escape the throngs of people crowded around the popular tourist areas.
And it's a destination you'll love, whether you're an adrenaline junkie or a history buff.
Looking for more adventure travel inspiration? Check out some of the other hiking guides on our blog.
Cerro Blanco Weather
Hacienda Pangaravi, PE
6:56 pm, June 5, 2023
72°
Feels like 71.71 °F
clear sky
Wind gusts: 3 mph
UV Index: 0
Precipitation: 0 inch