27 Best Fishing Shoes for 2023 (Find The Best Shoes For Fishing)

This post contains affiliate links where we may earn commissions from Amazon, REI, and other retailers at no additional cost to you. You can learn more about our affiliate policy here.
Nothing ruin's a day of fishing without the proper gear.
Whether you're fishing on a boat, rock jetty, or in a kayak it's crucial to wear the proper footwear.
There are hundreds of men's fishing shoes (and women's) on the market.
The best pair of shoes for fishing will be different for each angler.
The key to staying comfortable during a long day of fishing is properly preparing for the occasion.
Waterproof fishing shoes, boots, and sandals all have their value depending on where and when an angler plans on casting out and wearing the wrong pair can leave you feeling like a regular fish out of water.

Failing to prepare for the weather can lead you to discomfort and an unpleasant day of fishing. The best waterproof fishing shoes, boots, or sandals will be the one that matches your planned activity.

Below we have compiled a list of some popular choices in order to ensure all bases are covered this season so when next comes around there will be no need to worry about how best to protect yourself during rough waters.
Whether you're at a lake catching bass or out at sea, there's a shoe for everyone below.

Let's dive in.

Below, you will find an assortment of the best fishing shoes currently on the market to ensure that the next time you take to the water, you do so protected and prepared for the rough waters ahead.
Best For Deep Sea Fishing: Rugged Shark GreatWhite
Most Versatile, Casual Shoe: Sperry Captain's A/O
Most Comfortable: Grundens SeaKnit
Brand
Image
Link
Shimano Evair Rubber Boots
$89.99
Amazon
Sperry Billfish
$99.95

Amazon
Sperry 7 Seas

$62.97 

Amazon | TackleDirect
Sperry Captain's A/O
$94.95

Amazon
Sperry Sea Kite
$109.95

Amazon
Sperry Shock Light Boat
$90.00
Amazon
Grundens SeaKnit
$109.99
Amazon
Olu Kai Moku Pae
$120.00
Amazon     

BEST SELLER

Gill Race Trainers
$104.00
Amazon
Columbia Dorado CVO PFG Shoe
$70.00
Amazon
Columbia Drainmaker IV Boat Shoe
$88.29
Amazon | Similar Columbia shoe models: Bass Pro Shops
OluKai Nohea Lace Mesh
$94.95
Roadrunner Sports
Under Armour Micro G Kilchis
$80.00
Amazon
Simms Currents
$59.99
Backcountry
Paul Sperry Flex Deck Boat
$41.97
Amazon
Sebago Docksides Ariaprene
$85.00
Amazon
Columbia PFG Tamiami
$74.99
Bass Pro Shops | Dick's Sporting Goods
DLGJPA Quick-Dry
$28.99+
Amazon
Huk Rogue Wave
$65.95+
Amazon
Rugged Shark GreatWhite
$80.00
Amazon
Xtratuf Ankle Deck Boots
$94.95
Amazon
Shimano Evair Marine Boots
$74.99
Amazon | Tackle Direct
Grundens Deck Boss Ankle Boots
$99.99
Amazon
Grundens Leather Captain's Sandals
$79.99
Amazon
Pelagic Offshore Fishing Sandals
$65.00
Amazon
OluKai Kapua
$87.95
Amazon
Crocs Swiftwater Wave
$34.49 – $99.99
Amazon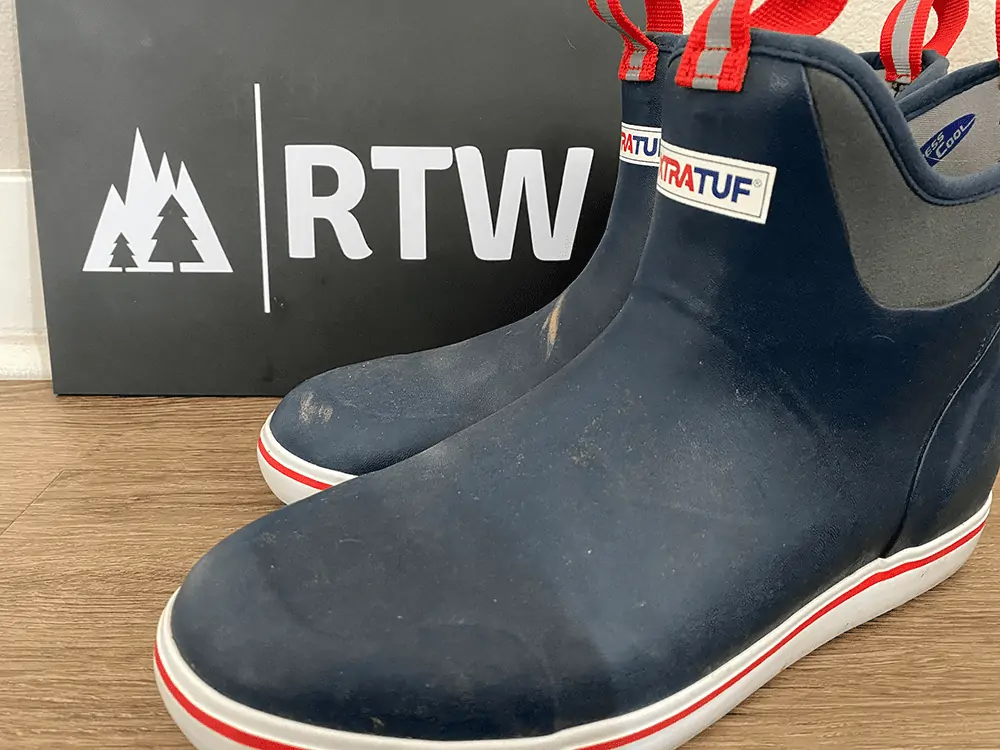 What Are The Best Fishing Shoes?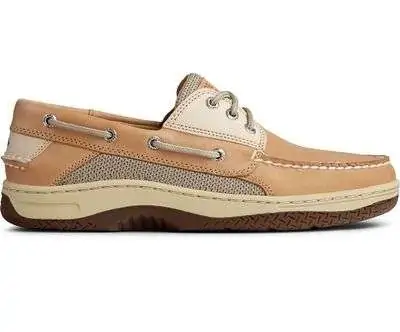 Sperry Billfish shoes are perfect for fishing – the rubber soles, cloth lining, and cushioned footbed provide comfort through long days on your feet. The slip-resistant grip keeps you safe in wet conditions, while original details like open ventilation holes make these Sperrys look as iconic as they feel. The perfect shoe to patrol the waterfront.
Sperry is so versatile. Some of our team members here wear these on a daily basis. We would put these on the top of the list in terms of style for boat shoes.
You can wear these with a nice pair of khaki shorts or throw on a pair of jeans for any semi-casual event. If you're looking for more use in a pair of fishing shoes, these are the ones.
Specs
Sizing: men's 7 through 15
Width: medium
Color: classic brown
Features/Benefits
Non-slip sole
Non-marking outsole
Secure lacing
Full-length cushioning
Full-grain leather
PROS:
Extremely comfortable
Durable
Versatile and stylish
CONS:
Might be a little too narrow for those with wider feet
Very little arch support
Overview
With cushioning and a trademarked lacing system to provide a comfortable fit, the Sperry Billfish fishing shoes are the ideal fishing shoes for long periods on the shore.
Stand firm on damp docks, rocks, or boats in sturdy leather boat shoes, designed in classic style with a high-traction sole for a secure grip as you reel in each catch. Extended use won't wear down the Sperry Billfish shoes or an angler's feet, letting you fish for hours on end without issue.
The Sperry 7 Seas shoes are made with a hydrophobic material that repels water and dries fast. With its high-quality materials and sleek design, the shoe will make your next fishing trip a breeze.
Specs
Sizing: men's 4 though 15
Width: medium
Color: grey, navy, taupe
Features/Benefits
Hydrophobic materials
Non-marking outsole
Secure lacing
Integrated draining
Full-length cushioning
PROS:
Comfortable
Good grip
Easy to wash
CONS:
Laces that comes with them might be too long, consider buying your own
Overview
The quick-drying Sperry 7 Seas sneakers best suit those anglers that can't stay out of the water. Hydrophobic mesh and draining midsoles allow these fishing sneakers to dry quickly, reducing the discomfort of a damp pair of shoes. A variety of sizes and colors, along with the 360 Lacing System, ensures you'll find a pair that looks as great as it feels on your feet, wet or dry.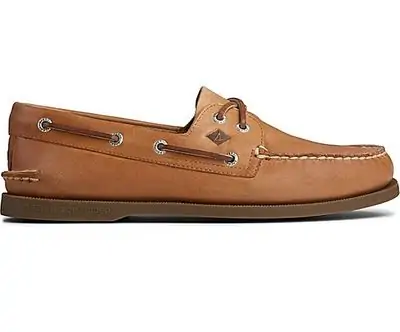 Sperry Captain's A/O shoes are rugged, well constructed, and perfect for fishing. They feature durable leathers that resist scuffs and tears from hooks and nets. Plus, built to withstand water density, these nautical classics have been a go-to choice of fisherman since 1935.
Specs
Sizing: men's 6 – 16
Width: medium
Color: navy
Features/Benefits
Non-marking outsole
Secure lacing
Full-length cushioning
Slip-on
Lightweight
PROS:
Can be worn for any occasion
Comfortable
Will last many years
CONS:
Might be a little snug for wider feet
Overview
Constructed with lightweight materials, the Sperry Captain's A/O is the ideal fishing shoe for those favoring more strenuous environments. Though quick to slip on and off, secure lace closures provide a secure fit all day. Additional lining inside and out contributes to a durable, comfortable pair of fishing shoes that are light enough to travel in, even on rougher terrain.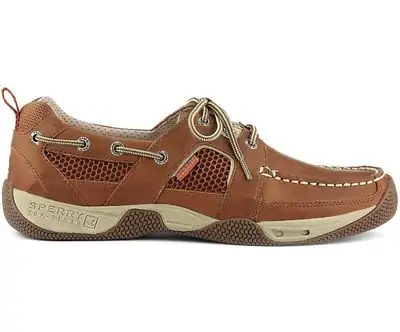 It's time to trade in your old shoes and upgrade to the latest fishing gear with Sperry Sea Kites. Designed by world-class fishermen, these durable sneakers were created for protection on all kinds of terrain, from rocks to sand.
Specs
Sizing: men's 7 through 13
Width: medium, wide
Color: dark tan, gray
Features/Benefits
Water resistant
Reduced slip
Removable footbed
PROS:
Great for all-day wear
Comfortable
Good support
CONS:
Texture might feel a little odd on bare feet
Overview
Sperry Sea Kite boat shoes are designed to adapt to wet environments using their trademarked Wave-Siping technology; by pushing water to disperse with each step you take, these boat shoes provide a stable stance for anglers as they cast out and reel in. A combination of leather and mesh materials helps Sperry Sea Kites to dry quickly after being soaked, further protecting your comfort and stability throughout the day.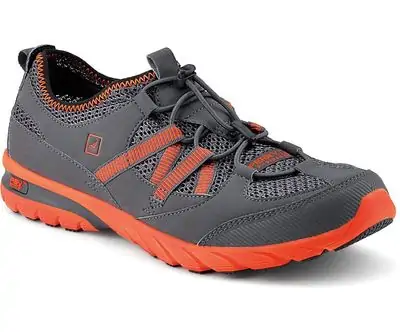 There's no time for blisters on the water. The Shock Light Boat from Sperry is made with a DuraFresh lining to keep your feet cool and dry all day long. When you're out fishing, make sure you can see what's happening by wearing these great shoes.
Specs
Width: medium
Color: gray/orange
Features/Benefits
Shock reduction
Removable footbed
Reduced slip
Lightweight
PROS:
Great cushioning in heel
Comfortable
Provides firm grip on wet surfaces
Quick drying
CONS:
Slight durability issues than other Sperry shoes
Overview
Anglers that prefer fishing in rougher areas will appreciate the Sperry Shock Light Boat shoes. ASV technology built into the boat shoes decreases vibrations with every step, lessening the stress on your feet as you get into position. The lightweight build also helps when traversing rocky shores or stepping on or off boats by decreasing the burden on the body, allowing you to move easily wherever you decide to fish.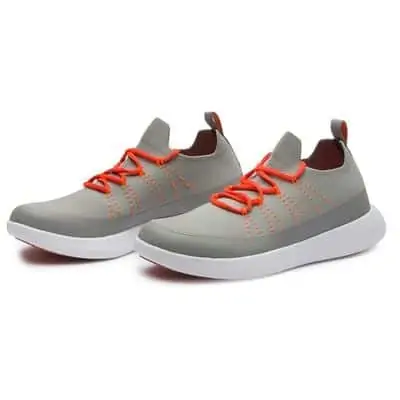 With the ability to withstand slime, sand, saltwater, and all the elements of the great outdoors, Grundens' SeaKnit fishing shoes are your best option for comfort during a day on the boat or shore. A unique combination of wool and rubber makes extremely comfortable fishing shoes also have a good grip for climbing onto dry land.
Specs
Sizing: EU41 through EU46
Color: metal, anchor
Features/Benefits
Water resistance
Non-marking outsole
Shock reduction
Integrated footbed
PROS:
Lightweight, breathable
Extremely comfortable
Durable
Good traction
CONS:
Might be a tight fit for those with wider feet
Overview
Even casual fishing trips demand some water resistance, and Grundens SeaKnit sneakers, with a reliable overlay, provide just the resistance to stay dry. Shock absorption and a comfortable footbed provide the additional support to keep your legs and feet out of pain, letting you focus on the open waters ahead.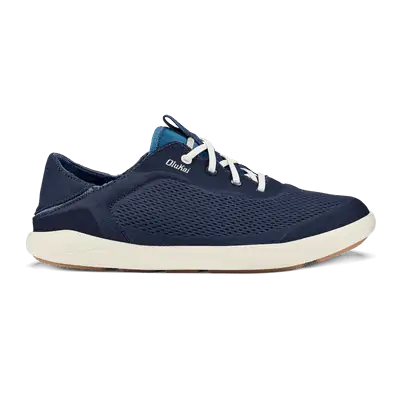 Olu Kai Moku Pae fishing shoes are are considered one of the best fishing shoes out there, backed by a reputable brand. They're set for durability and to keep your feet dry when you're in the water, which is extremely important when it comes to fishing. They provide great support, look good with any outfit, and have enough room inside so that your toes aren't being smashed together while you're out on the boat all day catching fish.
Specs
Sizing: men's 7 through 15
Color: trench blue/off white, black/blue coral, island salt/koi, poi/red ochre
Features/Benefits
Slip-on
Breathable
Removable footbed
Non-marking outsole
PROS:
Comfortable, even for wide feet
Stylish appearance
Good support
Good traction
CONS:
Size might be larger than your true to fit size, so might need to go down half a size.
Overview
Incorporating a versatile drop-in heel into its design, the Olu Kai Moku Pae boat shoes are the best fishing shoes for those torn between a sandal and a sneaker. However you wear them, these boat shoes provide long-lasting comfort for your feet with quick-drying cushioning and breathable mesh lining. Feel and smell fresh with boat shoes designed specifically for the sporadic angler.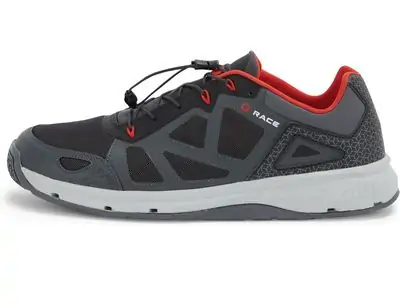 Featuring a water-resistant and lightweight design, these shoes will keep you comfortable as you enjoy your day on the shore or in the boat. They also have an extra cushioned heel for recovery from those long days out on the open seas! No matter what type of fisher you happen to be, whether it's fly-fishing, deep-sea fishing, or public racing fishing with waders down by riverside creeks—these sturdy shoes will help get you through your journey more comfortably than ever before.
Specs
Sizing: 5-13
Color: graphite
Features/Benefits
Water drainage
Non-slip
Non-marking outsole
Breathable
Toe protection
Lightweight


PROS:
Great grip
Stylish appearance
Comfortable
Lightweight
Overview
Serious fishing trips are safest with the high-end protection Gill Race Trainers shoes can provide. Beyond their non-slip grip, Gill Race Trainers feature toe protection, breathable lining, and water draining capabilities to keep your feet safe and dry even in the worst of conditions. Athletic, high-energy fishing can be fully enjoyed with a reliable pair of Gill Race Trainers to withstand wind, rain, and standing water.
Columbia Dorado CVO PFG fishing shoes features Techlite™ cushioning and Omni-Grip™ wet grip outsoles, these shoes are the perfect choice for any sailor with blood in his veins. With an open mesh upper that allows your foot to breathe through any port or starboard it may face, you will always be ready for the stormiest of seas
Specs
Features/Benefits
Quick-drying
Breathable
Wet grip traction
PROS:
Good support
Stylish appearance
Comfortable
Lightweight
CONS:
Sizing may run bit larger, take note before purchasing.
Overview
The trademarked Blood N Guts used in the Columbia Dorado CVO PFG shoes is the key feature of these unique sneakers. Repelling water, stains, and smells, this technology keeps the joy of fishing at the docks, protecting your home and vehicle from those inevitable fishing odors. Keep your boat in top condition with shoes that won't mark its surface with scuffs or smells that come with frequent fishing.
Columbia Drainmaker IV fishing shoes are great out on the water and for fishing. Paired with a low-cut style, these lace-up shoes give you enough ankle flexibility to wade through weeds and streams. The rubber soles make it comfortable to stand in wet or dry conditions for hours without getting too hot. These shoes, backed by a reputable brand like Columbia, are designed with the upmost quality.
Specs
Width: Medium
Color: Black
Features/Benefits
Breathable
Water drainage
Full-length cushioning
Non-slip


PROS:
Stylish appearance
Comfortable
Lightweight
CONS:
Laces might run a little short, might need to upgrade those.
Overview
Suited for extended use on dry and wet surfaces, Columbia Drainmaker IV shoes for fishing provide comfort and breathability when confronted with water, rain, or damp surfaces. Combination materials in the upper body of the Columbia Drainmaker protect from the elements while allowing the foot fresh air. Even soaked, constant airflow and water drainage allow the shoe to dry quickly and remain tactile.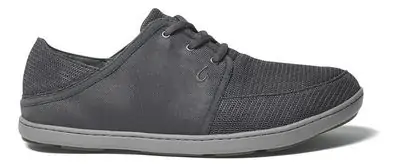 OluKai Nohea Lace Mesh fishing shoes are designed for comfort, style, and durability. These shoes are great on the water and for fishing. The open mesh running shoe provides ventilation in hot weather to help keep your feet cool, while strategically placed hideouts provide traction when you need it most.
Specs
Features/Benefits
Breathable
Water resistant
Removable footbed
Non-marking outsole
Drop-In heel
Lightweight
Vegan
Overview
The OluKai Nohea Lace Mesh shoe may well be the perfect fishing shoes for vegan anglers. Despite incorporating only animal-friendly materials, the OluKai Nohea Lace Mesh shoes are as tactile and durable as any other on this list. And, with the drop-in heel design, these water-resistant shoes can be comfortable for both casual fishing and more intense expeditions into the wild.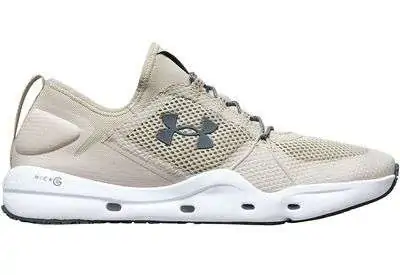 Your weekday, weekend warrior fishing shoes are here. The Under Armour Micro G Kilchis are decked out with outer soles that provide great traction for boat slipper or footbed protection when you're not solidly planted on wet docks or surfaces.
Specs
Sizing: 8 – 14
Width: medium
Features/Benefits
Quick-dry
Breathable
Non-marking outsole
Non-slip
Full-length Micro G® foam midsole
Overview
While the Under Armour Micro G Kilchis are quick to slip on and off the foot, these water shoes are sturdy and reliable for fishing by boat or by the shore. The insole ensures a stable base for an angler when conditions are less than ideal. Additionally, vital features such as drainage and a non-slip grip are intrinsic to the Under Armour Kilchis design, making them well-fit for fishermen in particular.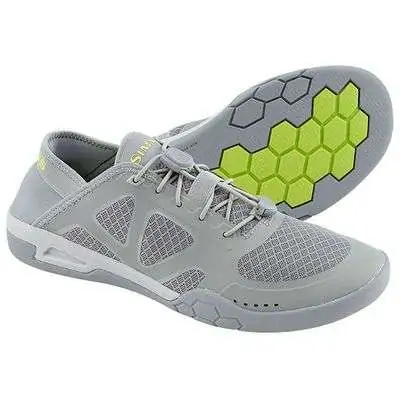 Were you looking for some shoes that can stand up to anything and do it with style? Meet Simms Currents. This shoe is cleanly styled and water repellant so they can spend as much time on your feet as possible without getting wet. The lightweight construction will keep things comfortable on those long days on the boat or beach, with a rubber sole that is tough enough for any kind of terrain.
Specs
Features/Benefits
Quick-dry
Lace closure
Anti-odor footbed
Non-slip
Non-marking outsole
Overview
An efficient, sturdy grip makes the Simms Currents fishing shoes perfect for quick adjustments, even on unsteady ground. As you fish, the durable lace closure remains firm; nevertheless, should you want to tighten or loosen its hold, doing so is efficient for your convenience. An angler can feel safe and completely supported by the innovative EVA footbed, built for breathability, odor resistance, and comfort all at once.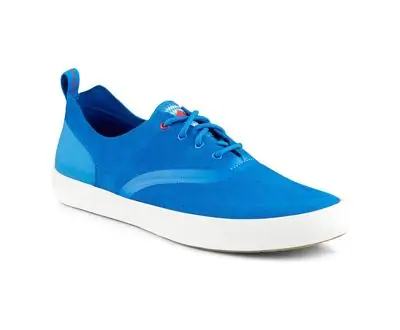 If you love spending time by the water, you'll want Paul Sperry Flex Deck Boat fishing shoes. Designed to look like boat deck cleats, these stylish slips-ons will help keep your feet comfortable while looking great. Plus, they're shaped with a patented mold that grips difficult terrain for enhanced stability and balance on tricky surfaces; perfect for rocky docks or slippery rocks.
Specs
Width: medium
Color: royal
Features/Benefits
Slip-on
Breathable
Non-slip
Non-marking outsole
Heel counter
Interactive footbed
Overview
Providing a secure grip on damp surfaces without reducing your sensory feedback as you walk, Paul Sperry Flex Deck Boat shoes are water-friendly shoes made for boaters. Navigate slippery rocks or decks on Wave-Siping outsoles in comfortable microfiber suede boating shoes. Embedded footbeds and heel counters add additional support that improves comfort for as long as required.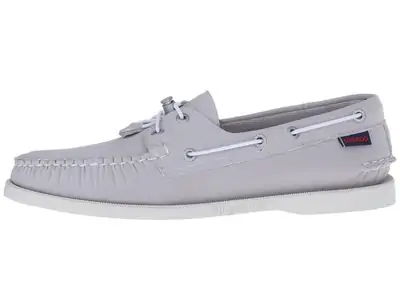 With great breathability and a slim silhouette, these Sebago Docksides Ariaprene fishing shoes keep your feet feeling natural whether you are on the boat or in the water. With mesh panels to maintain airflow, this is an excellent choice for day-long expeditions out to sea.
Specs
Features/Benefits
Breathable
Water-resistant
Slip-on
Lightweight
Overview
Sebago Docksides Ariaprene is the best fishing shoe for the standard family fishing trip. The lightweight, breathable materials and easy slip-on style ensure comfort from the first cast to final reel. Fishing is stress-free as ariaprene keeps an angler dry and stable on the docks.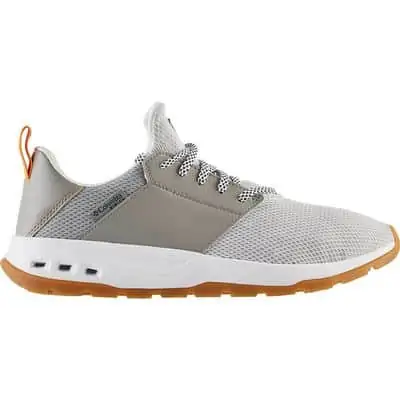 Columbia PFG Tamiami shoes are perfect for fishing on the water and while hiking. The special design lets you be more comfortable all day with a lighter, healthier foot system that's easy to clean.
Specs
Sizing: men's 7 through 17
Color: black/white, mountain/voltage, slate grey/light orange, white/black
Features/Benefits
Water-resistant
Stain-resistant
Breathable
Non-slip
Non-marking outsole
Lightweight
Overview
High-performance Columbia Tamiami fishing shoes provide athletic, high-energy fishermen with traction and cushioning for long days by the lake. Whether you're navigating unsteady shores or sailing out on the water, Columbia Tamiami shoes feature a sturdy, secure midsole to keep you balanced on wet and dry surfaces alike. Blood N Guts technology keeps the shoes in prime condition, smelling and looking fresh enough to wander the town or take to the water.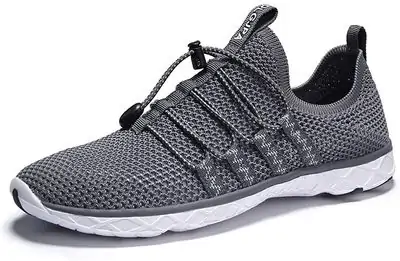 Don't be fooled by the price, these are on the list for a reason.
If you're a recreational angler and only goes out on the water a handful of times per year, these should suffice in terms of function and affordability.
These shoes dry out quickly from the high-level moisture from saltwater or even from spills on board your boat.
The anti-slip soles also make it easier when casting your fishing line, because they won't skid away while your reeling in that big catch.
Specs
Sizing: men's 7 through 14
Color: dark grey, apricot, black/white, green, light grey, light green, orange/red, red, yellow, black, gray/blue, navy
Features/Benefits
Non-slip
Breathable
Elastic straps
Lightweight
Overview
Featuring the widest color selection, DLGJPA Quick-Dry shoes suit every angler's tastes in regards to appearance.
Performance-wise, these shoes are just as ideal; elastic straps instead of laces ensure no fiddling with loose laces is necessary, and the non-slip soles provide the traction needed to sigh all day without giving a second thought to your footwear.
What Are The Best Fishing Boots?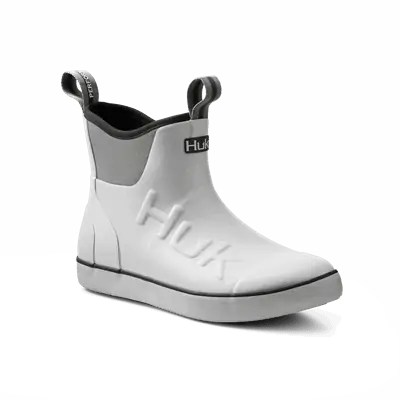 The Huk Rogue Wave offer superior footwear for your travels out on the open water. With a boaty feel and great traction, it's perfect for fishing or any other time you find yourself stepping into the action of the waves.
Specs
Sizing: men's 7 through 14
Color: Huk blue, white, grey, refraction storm mossy oak hydro standards, mossy oak bottomland
Features/Benefits
Non-slip
Non-marking outsole
Heavy duty pull tabs
Rubber/neoprene materials
Overview
Wading into murky water is made safe and comfortable with Huk Rogue Wave. Rubber and neoprene insulate the foot from water and debris for your utmost protection; additionally, a molded footbed offers ergonomic support to your foot as you cast off. Durable materials guarantee that the Huk Rogue Wave will withstand countless fishing trips for years to come.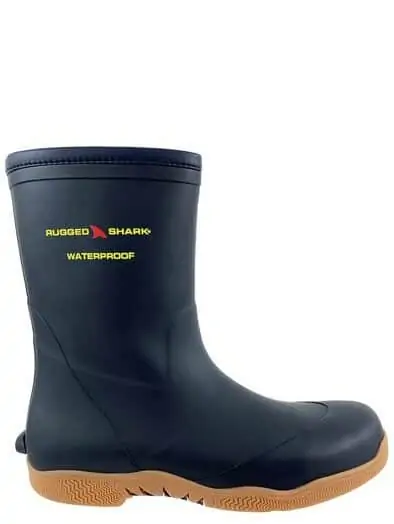 These are lightweight and durable and great for taking out to the boat or just lounging at your favorite pier. They keep you dry and covered with a large collection of colors so they can match any outfit.
Specs
Sizing: men's 8 through 13
Width: medium
Color: white, orange, navy
Features/Benefits
Waterproof
Removable footbed
Rubber materials
Slip-resistant
Calf height
Overview
THe Rugged Shark GreatWhite come with a guarantee of its waterproof build, granting you the assurance that wading and boating will remain a comfortable and dry experience for your feet. Features like the removable footbed and calf-height fit balance comfort with support, further improving your fishing experience – as well as the clean-up work afterward. Prioritize your body's well-being with proper coverage next time you set out into deeper waters.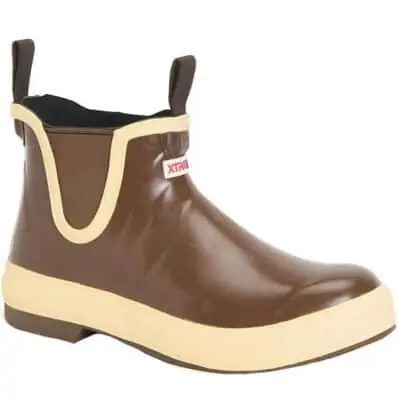 The Xtratuf Ankle Boots are made of neoprene rubber, which is designed to resist cold water and keep you warm while fishing or boating. Whether it's the perfect way to keep your feet dry or just a fancy footwear option, they also have arch support for a better fit.
Specs
Sizing: men's 7 through 15
Width: medium
Color: brown
Features/Benefits
Waterproof
Acid resistant
Overview
Protect yourself from the harshest waters with the Xtratuf Ankle Deck Boots. A sturdy ankle boot construct with waterproof, acid-resistant materials, they help prepare an angler for the very worst of what the water might contain. While you might not fear acid on your regular voyage, fishing in these easy on/off boots ensures you're ready to handle whatever the day brings your way.
When you're out on the water or in a boat, your feet will get wet and won't stay warm. They are made to prevent that, especially with their steel toes for protection. You'll be warm and dry all day long with these Shimano Evair.
Specs
Sizing: 8 through 13
Color: gray
Features/Benefits
Waterproof
Rubber materials
EVA insole
Non-marking outsole
Overview
Designed with a sturdy memory insole to fit your unique foot shape, Shimano Evair promise to feel comfortable on every angler. Waterproofing along with the molded insole ensures that your feet remain cozy and dry, even when poor weather means that the rest of your body is soaked to the bone.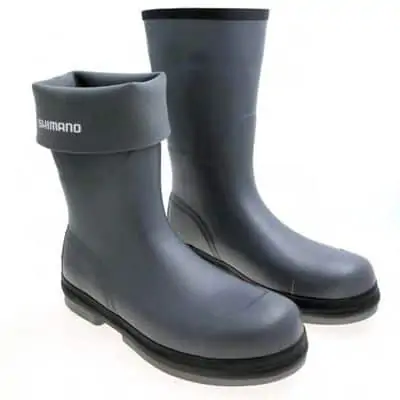 Shimano Evair is just what you need on the sea, on the wet ground outside your house, or when running between ponds. They provide a sole grip to make sure you don't slip no matter what terrain.
Specs
Sizing: 8 through 13
Color: gray
Features/Benefits
Ergonomic arch support
Non-marking outsole
Non-slip
Lightweight
Overview
Shimano Evair are made with the angler in mind. The integrated arch support combined with the lightweight materials makes these original fishing boots ideal for long periods of standing on and maneuvering rough shores. Stand tall on your rocking boat or traverse slippery stones; they feature non-slip traction to support you wherever you fish.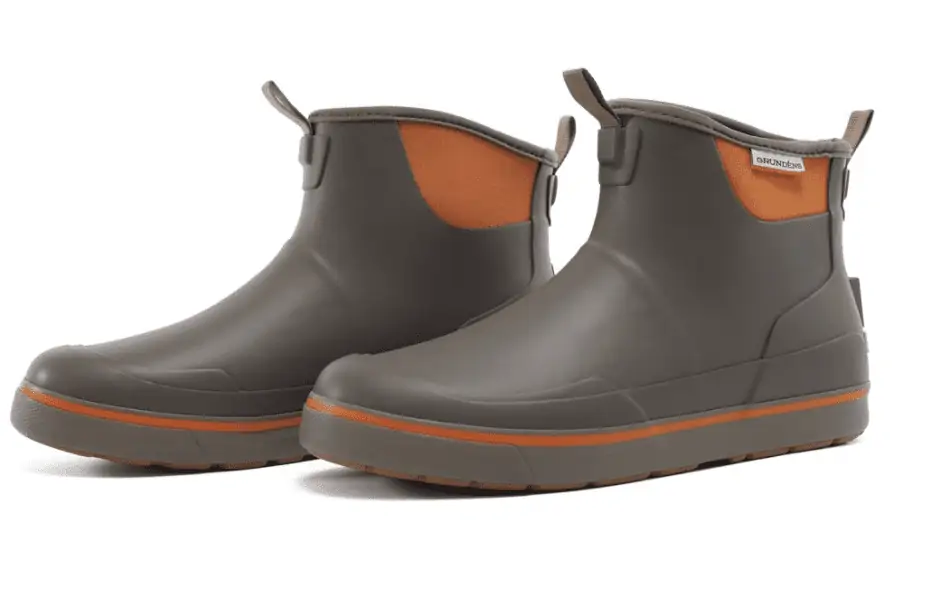 Grundens Deck Boss are made from a rubber material with a neoprene lining for durability and warmth. The upper part of the boot is made from breathable, waterproof fabric to keep your feet nice and dry. With soles that grip well on slippery surfaces, they will be your go-to for fishing or any type of water activity.
Specs
Sizing: 8 – 14
Color: brindle, monument grey, white, black, capers
Features/Benefits
Slip-on
Water-resistant
Asymmetrical top line
Rubber materials
Non-marking outsole
Thermoregulated
Overview
Whereas some boots leave your feet cold or cramped, Grundens Deck Boss aims to make fishing even on the coldest winter morning a comfortable experience. Thermoregulation stands up to the elements in the form of an integrated liner as well as a sturdy rubber exterior. Comfort is also provided to you via the unique ergonomic design of the asymmetrical topline you never knew you needed.
What Are The Best Fishing Sandals?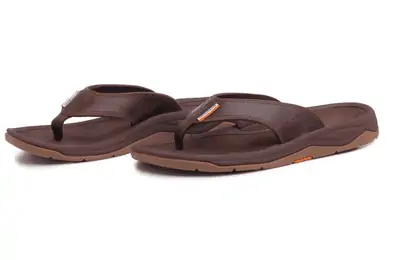 Get your feet out on the boat! Know what it feels like to be at one with nature? Well, these leather Captain's sandals feel perfect for both tasks. Therapeutic design soothes the soul while ruggedly strong materials assure safe footing even when you tread in shallow water or aboard slippery options. They're durable enough for oil-stained decks and salt-encrusted skiffs but comfortable enough that you can wear them around town just as easily.
Specs
Sizing:men's 8 through 14
Color: butternut, black
Features/Benefits
Leather straps
Footbed insert
Non-marking outsole
Shock resistance
Overview
Sandals are only as reliable as they are comfortable. Grundens Leather Captain's Sandals promise complete comfort in the form of a molded footbed insert and integrated shock resistance, both necessary to keep you on your feet for the full length of your fishing trip. Together with the genuine leather straps, these comfort necessities make Grundens Leather Captain's Sandals a pair of flip flops bound to last.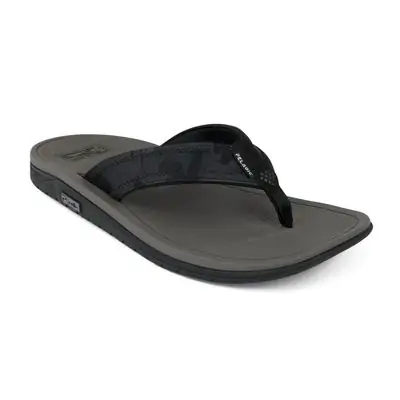 Pelagic is about fishing, and it's time to be back on the water. These sporty sandals are made of high-quality materials that ensure waterproofing and durability with a padded sock insert for comfort. You'll enjoy everything from your outdoor adventures to your post-catch foot rubs in Pelagic Fishing Sandals.
Specs
Sizing: men's 8 through 13
Color: blue ambush camo, green, black, slate
Features/Benefits
Neoprene lined strap
Non-marking outsole
Cushioned footbed
Overview
Containing neoprene lining in the strap and a water channel footbed, Pelagic Offshore Fishing Sandals are deliberately crafted to endure the wear and tear of the angler's life. Non-marking outsoles ensure that the fishing sandals are completely boat-friendly while ample cushioning makes fishing on shore less strenuous on the feet and ankles. Wherever it is that you prefer to fish, the Pelagic Offshore Fishing Sandals are the best fishing shoes for the task.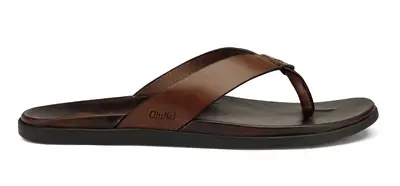 These lightweight, wide-fitting sandals are perfect for paddlers and fisherpeople who need to get their feet out of the boat. The fabric straps dry quickly and the protective toe post keeps you safe on slippery rocks.
Specs
Sizing: men's 7 through 15
Color: toffee/fark java, black/black, mustard/toffee
Features/Benefits
Leather straps
Micro-dot artwork
Microfiber lining
Molded midsole
Non-marking outsole
Overview
Low-profile but high-quality OluKai Kapua flip-flops are ideal for recreational fishermen. Micro-dot detailing with brass hardware lens, these leather flip-flops have an artistic flair without reducing their comfort or practicality. Quickly slip on your beach sandals and appreciate the softness of skin-friendly microfiber lining beneath the rich tones of leather.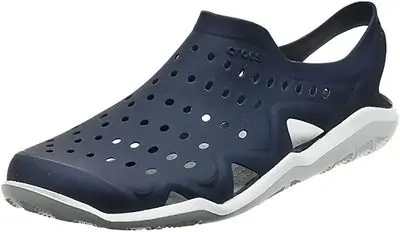 Crocs Swiftwater Wave sandals are great for any water activity and some would even call them water shoes. They're just durable, lightweight, and low-profile enough to go with you on trips without taking too much room or weight. The channels in the soles make sure your feet stay cool and dry while the rubber protection means there's no harm done if you take a trip through puddles.
Specs
Sizing: men's 4 through 13
Color: blue
Features/Benefits
Lightweight
Non-marking outsole
Overview
Always a reputable brand, the Crocs Swiftwater Wave Flip flops are a quality shoe for an angler to enjoy. The lightweight, comfortable footwear slips on and off quickly for full efficiency but remains sturdy enough to support the foot for the duration of a fishing trip. The simple look and structure of the flip flop are just what makes the Crocs Swiftwater Wave perfect for the grit and grime of a day of fishing.
What Are Fishing Shoes?
Fishing shoes are water-resistant and designed specifically for use in wet, muddy, or rocky terrain.
Fishing shoes are typically made with rubber soles to provide traction on slippery surfaces and have an open design that allows them to drain quickly when submerged.
The most common designs will have leather uppers, but boots can also be created from neoprene with rubberized soles. Some models may integrate metal cleats into the sole for added grip on slick surfaces.
Many anglers wear fishing shoes because they need protection from the elements while engaging in their sport or occupation.
While you can wear other types of shoes for fishing (such as jogging shoes), you would still need to make sure it has the main key factors for a more enjoyable experience such as:
Breathability
Quick Drying
Comfortable
Good Grip/Wet Traction
Should I Buy Fishing Shoes Or Boots?
The first step is to decide whether you need boots or shoes. The main difference between the two is that boots are typically sturdier and have more grip, but they are heavier and bulkier than fishing shoes. They are more favorable when looking for the best shoes for boats.
Fishing shoes are lighter weight, have less traction, and may not be as durable as their boot counterparts. But they do tend to drain faster after submersion in water due to their open design.
If possible, test different types of footwear on the terrain you plan to use them in before making a purchase decision. This way, you can decide which design will meet your specific needs.
If you are concerned about the durability of fishing shoes, look for models that have rubber soles. This material is typically resistant to punctures, tears, and abrasion while still providing excellent traction on wet surfaces.
Some manufacturers may use neoprene uppers in their designs instead of or in addition to leather. Neoprene is a synthetic rubber designed specifically for wetsuits, but it also provides good water resistance and insulation while remaining lightweight at the same time.
Regardless of what features are most important to you, make sure any footwear that you purchase is specifically labeled as being water-resistant or waterproof. A lot of boot or shoe brands may advertise breathability instead, but this is not as effective when it comes to standing in water or mud for an extended period of time.
Because fishing shoes are meant to be worn on the water, manufacturers tend to include features that will keep them afloat if they become submerged. Look for models with drain holes and added flotation devices like foam or sealed air chambers. The extra buoyancy will help prevent your footwear from sinking too deep if you accidentally step off a pier or boat deck into the water.
But since most boots and shoes are designed with breathability in mind (which means they lack insulation), make sure you also purchase some waders before facing extremely cold temperatures.
Fishing Shoes vs Fishing Flip Flops
Some of you may be thinking why would anyone wear sandals for fishing. Well, there are actually many reasons to do so. First of all, flip flops offer much more comfort than shoes when spending long hours walking on the beach or wading in the water.
They are also easier to take on and off, which is very convenient when going in and out of the water.
When it comes to finding the best fishing flip flops for your needs, there are a few things you should look for to make sure you get a good pair.
First, they should have a good grip so you don't slip on wet surfaces.
Second, they should be comfortable with a cushioned footbed to support your feet after a long day of fishing.
Third, they should be durable enough to withstand frequent use and exposure to saltwater and sand.
If you keep these things in mind, you should be able to find a great pair of fishing flip flops that will serve you well for many fishing trips to come.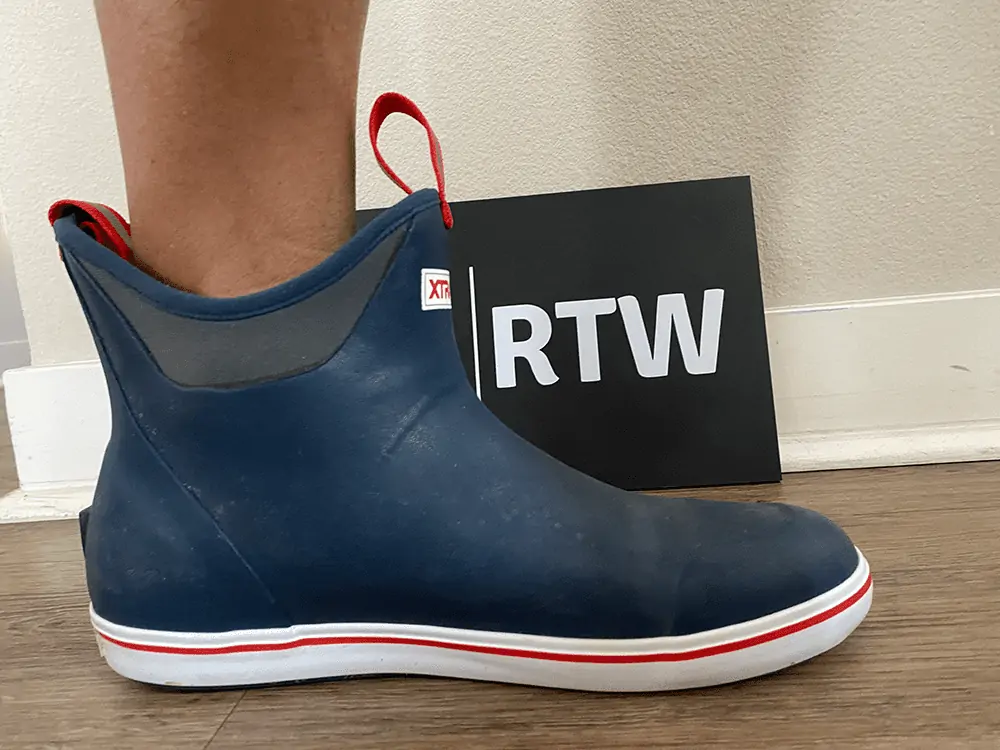 Waterproof Fishing Shoes
When it comes to fishing, one of the most important things is keeping your feet dry. This is especially important if you are fishing in cold weather.
There are a few different types of shoes that you can wear when fishing, but the best option for keeping your feet dry is a pair of waterproof fishing shoes. These shoes are specifically designed to keep water out, so they are perfect for anglers who want to stay warm and dry.
Waterproof fishing shoes come in a variety of styles and sizes, so you can find a pair that fits your needs. They are also made from durable materials that can withstand frequent use and exposure to saltwater and sand.
If you are looking for a pair of waterproof fishing shoes that will keep your feet dry and comfortable, then be sure to check out the selection above in our comparison table. I would particularly look at the styles that are made with rubber.
Fishing Shoe Care and Maintenance
The best way to care for your shoes is to use a leather conditioner designed specifically for waders and fishing footwear. Regular shoe polish will not work on these materials because it tends to clog up the pores, which can cause them to rot faster if they are constantly submerged in water. Leather waders may also be treated with waxes, oils, or waterproofing sprays if available through your manufacturer or retailer.
When sizing your shoes, pay attention to two key measurements: the length of the opening (from the toe box to heel area) and the circumference around the widest part of each foot. Most brand-name footwear will have size guides that include measurements directly on their website or in the sizing chart section of their catalog.
If you are still unsure about your size, consider asking a friend to help you measure your foot before going shopping. Measuring yourself may lead to errors since it is easy to make mistakes when using a tape measure and not enough light makes it difficult for you to see what you are doing.
You can also visit a local retailer that specializes in fishing gear and ask an employee if they have any recommendations for brands or styles that they would recommend based on the measurements you provide them with.
Make sure that whatever shoes you choose fit comfortably but snugly, as this will prevent water from entering the sides while standing in deep ponds or streams. They should not be loose enough to slip off or restrict your movement in any way, however.
It is a good idea to test a new pair of fishing shoes before bringing them on a long trip. Wear them around town for a while and make sure that they do not cause any pain or discomfort when walking normally. If you plan on taking them out on the boat, take small trips first so you can see how they work under different conditions.
Always wear socks with your shoes during water sports activities, even if this is not mentioned in the instructions provided by the manufacturer. Wearing footwear without socks will lead to wet feet and blisters at best, which can put an end to your enjoyment very quickly.
Try using waterproof sprays designed for leather uppers and other materials on your footwear before heading out to the water. This will add an extra layer of protection from rain and splashing, which can be beneficial if your shoes are not fully waterproof.
Wet socks will lead to cold feet in a matter of minutes, so keep a dry pair with you at all times or purchase a drying machine for your shoes. These may be bulky but they work well for fishing footwear that is designed more for looks than practicality.
Seal any air holes on wading boots with silicone repair tape, then use some sandpaper or a knife blade to remove sharp edges around fastening points. This will prevent rocks or other debris from entering through tears in the soles while you explore fresh waters near your favorite fishing spot.
Always remember that you should never stand in water or run through brush with your boots on to avoid damaging the materials by catching them on branches, rocks, or other objects. This could lead to tears and leaks so do not take any unnecessary risks by wearing them when exploring deep waters by yourself. And remember, always make sure you check to see at what age do you need a fishing license in your state before heading out.