15 Best Camping Tables For 2023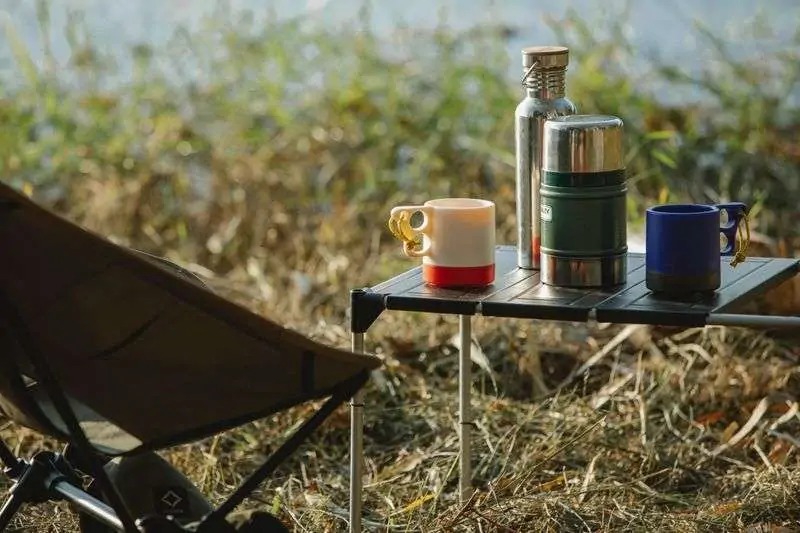 Finding the best camping tables for your outdoor adventures is an essential piece of equipment to take along with you. With so many different products available on the market, it is hard to know which one will best suit your needs.
Do you want a camping table that folds up compactly?
A camp table with some storage features?
How about a table that sets up in seconds?
We'll dive into some of the best tables for camping below that will surely fit the needs of every camper.
What Are The Best Camping Tables?
1. Mountain Summit Gear Heavy-Duty Roll-Top
The Mountain Summit Gear Heavy-Duty Roll-Top is a great camping table that can be set up in under a minute. The aluminum roll-top table provides a large, stable surface for meals, games, prep, and more.
It sets up easily and features a lightweight and sturdy weather-resistant frame adding durability to the product. This camping table has a weight capacity of 70 lbs. and is great for outdoor enthusiasts.
Summary
The Mountain Summit Gear Heavy-Duty Roll-Top camping table is a great choice for the outdoorsman on the go. If you are looking for something that can be set up in under one minute, this table has your back.
Its lightweight and sturdy aluminum frame will last through any outdoor adventure while providing plenty of space to enjoy meals or games with friends. You won't regret investing in this product if you love being outside.
2. Coleman Compact
The Coleman Compact is a low-cost, simple camping table that's lightweight. It's not as sturdy as some of the other options on this list, but it does the job for those looking to set up camp quickly and easily without any fuss.
Summary
If camping is your thing, the Coleman Compact camping table may be perfect for you. It's a lightweight and effortless setup. The only downside is that it's not as sturdy or durable as some of the other tables on this list, but if you're looking for a quick setup without too much fuss, this camping table will do just fine.
3. Lifetime 4428 Height Adjustable Folding Utility Table
The Lifetime 4428 camping table is a multi-purpose folding camping table and can be used for practically anything you'll need it for. It is the largest camping table and one of the sturdiest and toughest camping tables on this list. The convenience of having this camping table fold up to a thinner profile with its carry handle is another one of its best features. The Lifetime 4428 table is an all-around utility table that will last, well, a lifetime.
Summary
The Lifetime 4428 table is a great all-around camping table that can be used for practically anything you need it to. It's the best and largest of our reviewed tables on this list.
4. REI Co-op Camp Prep Table
The REI Co-op Camp Prep Table is simple to set up, sturdy, and portable. It provides lots of surface area for all your needs while camping or hiking in a short distance. You can fold it into an easily transportable 2×2 square that takes up very little space in your car, so it's perfect for making meals at camp.
Summary
The best camp table for your next camping trip is the REI Co-op Camp Prep Table. This lightweight aluminum table provides a 100lb weight capacity, so you don't need to fear accidentally damaging it while carrying items across the campsite or preparing food.
The steel independently adjustable legs can be adjusted from 22in-31in using lever locks similar to those found on trekking poles, meaning they're sure not to slip out unexpectedly when adjusting them in different positions throughout the day.
Finally, corner holes provide easy storage options like hanging a trash bag or dish towel from them. All of this, plus its best-in-class weight capacity, makes it an excellent choice for your next camping trip.
5. Camp Time Roll-A-Table
The Camp Time Roll-A-Table sets up in seconds and is the best way to enjoy camping without all the fuss. A high-grade "Ultra-Core" laminated wood from Montana is used for the tabletop, completely covered by a water-resistant fabric that makes it durable when built and simple to maintain.
Summary
The Camp Time Roll a Table is sturdy when assembled, quick and easy to put together, doesn't take up much space to store, and is easy to carry. This is largely because the tabletop is made from wooden slats wrapped in heavy-duty fabric. It rolls up into a 5″ diameter bundle for easy transport, weighs only 10 LBS, and supports 100 LBS. It also assembles fast with no leg braces to hit your knees.
6. Camp Chef Sherpa Table
The Sherpa Camp Table & Organizer is a kitchen on wheels. You can pull out the aluminum top for an outdoor dining table or use four removable storage bags to keep all your cooking equipment organized while still having access to that famous camp sink through waterproof lining inside one of them! When you're ready to pack up at night, there are no tools needed because this setup folds down into its carry bag – grab handles on either side before heading home.
It features a durable and convenient design that still gives you versatility when in camp. This ensures that the table will last and that you can do more than one activity in camp.
It is best for camping tables because it is large enough to feed a lot of people at once and has a variety of compartments on the exterior. This allows you to pack things away in an organized way rather than just throwing them all together.
The telescoping legs work well with the blue organizer, which can also double as a cooler or sink depending on how much water is available where you are camped.
It includes padded carry handles to transport this between your campsite, your car, and other locations will not be difficult at all.
Summary
One of the best camp tables with ample storage is the Camp Chef Sherpa Table because it's versatile, has a durable construction, and folds up into its carrying case.
7. ALPS Mountaineering Dining Table Regular
The ALPS Mountaineering Dining Table is a lightweight camp table that you'll have no problem carrying around. It's 12 pounds, which means it's both very lightweight and great for those looking for a table that can handle light loads.
The smooth aluminum top invites everyone to enjoy a meal at your campsite or whenever you're on the road. You can easily set up this dining area for up to four people, and it folds up quickly for transport and storage in a durable bag with included shoulder strap.
This item is made from durable yet easy-to-clean aluminum construction, and it's great for family camping, tailgating, or backyard barbecues.
Summary
From outdoor barbecues in the backyard to large gatherings of friends and family, this affordable product can help you create a dining area easily at any location.
8. Trekology Talu
Trekology's camping tables are a great way for you to enjoy picnics, cookouts, or dinners outside, anywhere from your campsite to the forest. They provide a high-quality, stylish product that will last a long time and can be taken anywhere. The three different light and compact sizes ensure that there is always a table for every need, no matter what they may be.
Summary
This all-purpose table is lightweight and portable, perfect for taking along on your camping trips. They are designed to hold up to 50lbs and are incredibly sturdy.
9. REI Co-op Camp Roll Table
The REI Camp Roll Top Table is a durable, lightweight, and portable roll-up camping table with plenty of space for your cooking equipment or portable radio. The aluminum legs provide stability when used while also saving weight compared to other materials like steel or plastic. This makes it perfect if you're looking not only for something strong enough but also light enough so as not to add too much extra baggage on top of all those hiking supplies. With its compact size (it packs down small), there won't be any problem storing away after use either.
Summary
The REI Camp Roll Top Table is a lightweight, durable, and portable camping table that can be taken anywhere. With its aluminum legs and compact size for storage, this camping table will last you many years of trips to the outdoors with your family or friends. The best part about it? It's easy to transport – roll up when you're done.
10. Helinox Table One
The Helinox Table One is the perfect addition to your camp setup. It's lightweight, packable, and can be set up anywhere. This table is an excellent option for your camp setup. It can hold up to 110 pounds and has an aluminum alloy frame that provides maximum strength.
Summary
With a durable construction from DAC aluminum pole technology, this folding table will last you through many campouts without worrying about breaking down in-between trips back home.
11. Portal Outdoor Lightweight Aluminum
The Portal camp table has a lightweight and durable aluminum frame. It's perfect for camping, picnics, or extra seating at parties. The top is made of roll-up mesh, making it easy to store objects on the surface when not in use; it can also be detached from the legs entirely if desired. When rolled up, this camp table takes little room and packs quickly into its storage bag (included). This compact design ensures that you're able to carry all your camp furniture without taking up too much space while moving around the campsite.
Summary
If you camp a lot and need a lightweight, durable camp table that's easy to carry while taking up minimal space, then the Portal camp table is perfect for you. Perfect for taking along on all your camp trips and outdoor adventures.
12. GCI Outdoor Slim-Fold Cook Station
Not everyone can spend hours preparing a meal out of their cabin, so not everyone likes to cook. But now, there's an easy solution for those who want to cook with convenience and portability.
The GCI Outdoor Slim-Fold Cook Station, designed with Slim-Fold Technology, is quick and simple to set up and break down at any campsite. The aluminum countertop gives you plenty of room for cooking, while the lower rack stores your gear – pull it into place when you're all done.
Fold-out side tables provide added conveniences like beverage holders, stem glass holders, or hooks that can be used as garbage bags or hang cooking utensils off. So no matter what outdoor adventure awaits you, this camp kitchen makes your camping trips more enjoyable.
Summary
Enhance the way you camp with a folding table. Camping tables have been around for years but never as portable and functional as this one from GCI Outdoor. Whether taking care of outdoor chores or enjoying time together as a family, you can camp in comfort with this folding table.
13. Mountain Summit Gear Deluxe Roll Top
The Mountain Summit Gear Deluxe Roll Top Kitchen is the perfect solution for any cooking enthusiast. This durable, well-built kitchen has everything you need to prepare delicious meals. It features an additional side table that can be detached from its base when not in use – it collapses into itself so easily after being stored away during trips on foot or by car.
Summary
The campers on your list will love this new camp table from Mountain Summit Gear. This aluminum frame is lightweight and sturdy, making it perfect for the outdoors. The roll-top design allows campers to have a space for cooking or eating that can be closed up at night without having to set anything else up – just fold away.
Plus, with two side tables and a detachable storage space compartment with shelves, campers don't need to worry about not being able to cook their favorite meals during trips into the great outdoors.
14. Mountain Summit Gear Feather-Lite Camping Table
Camping is a great way to explore the outdoors. But campers are often limited by camp tables that are too heavy or bulky for easy transport, tables with legs that sink into soft ground, camp tables too short for comfort.
The Feather-Lite Camp Table solves all these problems. It's lightweight and packable so that it won't slow you down on your next adventure. Plus, its durable anodized aluminum frame is built to last through any weather condition. And because this table unfolds in seconds, campers will never have to worry about finding space at crowded picnic grounds again.
The Mountain Summit Gear Feather-Lite Camp Table also includes a roll-up top so campers can set up their table without worrying about grass or dirt getting stuck underneath. When it's time to leave camp, the Feather-Lite easily folds for convenient storage and transport.
Summary
Campers can spend less time worrying about their next meal while on the trail and more time enjoying nature with this Feather-Lite Camp Table. The durable anodized aluminum frame is built to last through any weather condition, so campers don't have to worry about it getting ruined in wet or dry climates. Plus, because this table unfolds in seconds, no matter where you are camping, there should be enough space for a relaxing dinner by the fire without having to set up your cooking station beforehand.
15. Snow Peak Renewed Single Action Table Large
The Renewed Single Action Table Large is designed in Japan and features a solid laminated bamboo worktop. This updated finish ensures durability, while the durable aluminum legs provide stability for outdoor use. Four to six people are seated at once or more if you're dining outdoors on your private getaway. The table has folding capabilities to be stored inside its nylon carry case when not being used.
Summary
The best way to summarize is just to say it's the greatest camping table ever. It folds up, locks into place, and has no wobble. The surface of the bamboo looks great.
How Do I Choose A Camping Table?
When choosing a camping table, there are many things you need to take into consideration. There is no one size fits all option when it comes to picking the right kind of camping table for your next trip, and what works well for some might not work as well with others. As such, we've put together this blog post on how to choose a camping table so that you can make an informed decision before making your purchase.
What type of camp will you be setting up? Will it just be yourself, or do you have family/friends coming along too? How often will people eat at the campsite? Do they like outdoor barbecues over hot dogs cooked directly on the ground (tires & rocks)? All these questions are essential when picking the right type of camping table.
Price is a big issue for many campers, and as such, you will need to decide how much money you are willing to spend on your next camping trip. If it's just going to be yourself, then don't go out and buy the most expensive one available because the chances are that it won't last long if not used correctly. However, even if you're only using it occasionally with friends or family members who aren't too experienced in outdoor activities – there's no reason why they shouldn't have something nice either.
Please research what other people think about certain products before deciding which ones sound best from their descriptions/reviews etc. There's no use buying something that you're not completely happy with just because it was cheap.
If you've already bought your camping table, then the best thing to do is practice setting it up before leaving for your trip! Although most campers will tell you this, many people don't bother, and they end up getting frustrated at their campsite when things go wrong, which could have been avoided if only they had practiced beforehand.
Once again, there are so many factors at play here, but these should give some food for thought when choosing a camping table.