11 Best Solar Chargers For Backpacking & Hiking

This post contains affiliate links where we may earn commissions from Amazon, REI, and other retailers at no additional cost to you. You can learn more about our affiliate policy here.
Solar chargers are becoming more popular for this purpose. Choosing the best solar charger for backpacking or hiking can be a little daunting. Whether you're new to hiking or a seasoned veteran, here's a great list to start with so you can decide which portable solar charger works best for your needs.
Let's start.
What Are The Best Solar Chargers For Backpacking?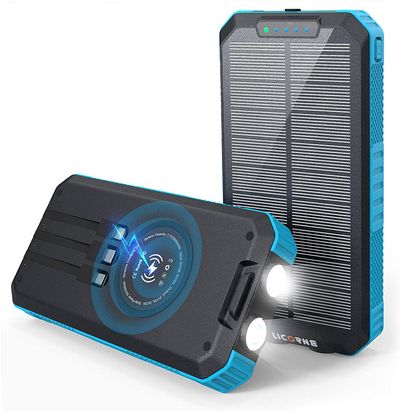 Overview
The high-capacity solar power bank is a cable-free portable charger. Built-in lightning and micro cables, as well as type C wire for all your devices! This lightweight unit can be used anywhere with an outlet or directly from the sun via its built-in 2300mAh battery that charges quickly. No more waiting around at home base while you're out on mission Loaded up? You won't have any trouble staying powered up thanks to this handy device
Highlights
Panel size: 5W
6 outputs
2 outports and 2 inports
It can sustain multiple devices charging at the same time
Able to recharge itself completely if left under the sun for hours
Has a flashlight on the top edge
PROS:
Rugged and lightweight
Charging cables attached to unit
Easy to operate
Can also plug into outlet to charge unit
Pricing
Wrap-up
This portable charger is ideal for those who want to have a power bank with the possibility of adding extra power through the solar panels unit. It is affordable, durable, and able to charge fastly one or more devices, and indeed it is more compact than other foldable solar panels.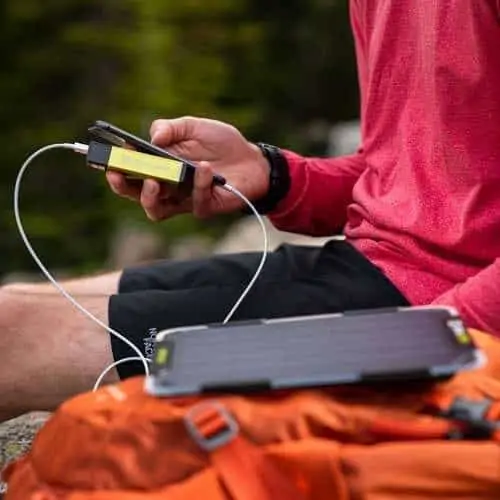 Overview
This solar charger includes a 5 watt USB solar panel, combined with the Goal Zero Flip power bank. Thanks to the collapsible stand that allows you to hang it wherever you want, it is easy to position it in the best location to harness the sun. It is robust but lightweight and is suitable for charging smartphones, action cameras, and other USB devices.
Key Features
Total weight: Solar Charger Panel 360g + Powerbank 70g
Size: Solar Panel: 24 x 17.8 x 2.0 cm – Powerbank: 9.4 x 2.1 x 2.1 cm
Power 5W
Output USB: 5v up to 1A
Battery type and capacity: Li-ion NMC, 12.06 Wh
Recharge time with the solar panel: 4-6h
Recharge time with USB: 3h
It can charge a smartwatch six times, a smartphone one time, an e-reader two times, and 35% of a tablet
Auto-restart technology
PROS:
Rugged and lightweight
Great for charging phone in the field
Easy to operate
CONS:
Built-in kickstand could be a little more sturdy
Pricing
You can find it at around $74.95
Also available at: GoalZero
Wrap-up
Goal Zero is a reputable brand in portable solar chargers. Its dimension and weight make it quite portable, even if it will require a backpack. However, the possibility to plug in and out the power bank will permit you to have your energy reserve easily accessible in your pocket or leave the solar panel aside when not needed.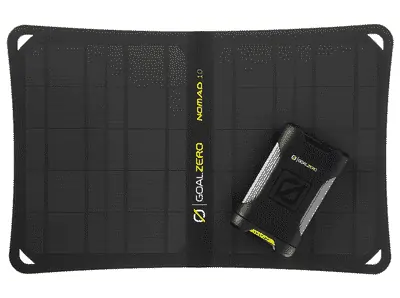 Overview
One of the best solar chargers available is the combination of the Venture 35 Portable Power Station and the Nomad 10 Solar Panel represents a 35 Wh (7800 mAh) power pack. This solar charger can give energy to any device: phones, cameras, tablets, etc., and it has been improved with different ports and a build-in Micro-USB cable. It is lightweight and easily packable, and the IPX6-rated technology makes it waterproof. Moreover, the portable power station has protective and waterproof sleeves to save your ports from damage when you are not using them. The solar panel has a kickstand that permits placing it at multiple angles for optimal solar power acquisition.
Key Features
Venture 35 power bank:
18W (max) USB-C (5-12V up to 3A) port (input/output) for a faster charging in and out
USB-A port (output) 15W (max) (5V up to 3A)
Integrated 50 lumens emergency flashlight
Charging times: USB-C 3h, USB-A 4h, nomad 10 6-12 h
It can last hundreds of cycles and has a shelf-life of 3-6 months
Dimensions and weight: 11.2 x 6.8 x 2.8 cm 286.9g
can charge: Smartphone 3 times, POV camera six times, Headlamp 7 times, Tablet 1 time
Nomad 10 Solar Panel:
Dimentions and weight: 24.1 x 36.8 x 1.9 cm (unfolded) 24.1 x 18.4 x 3.2 cm (folded) 0.51kg
Ports: USB port 5V up to 1.5 A , 7.5 W (max)
It will last as long as your adventures do
PROS:
Rugged and lightweight
Great for charging phone in the field
Easy to operate
CONS:
Waterproof door over the connector ports a litte fragile
Pricing
You can find it at around $149.95
Also available at: Amazon | Backcountry | REI
Wrap-up
The combination of the Venture 35 with the nomad 10 kit is undoubtedly one of the best choices for solar chargers. The possibility of folding the solar panels and the relatively lightweight overall system makes it adequate for the most extreme wildlife styles and everyday carry. The significant amount of power that both the solar panels and the power bank can provide will give you many days of freedom with different devices, thanks to the various ports available. The waterproof and independent power bank gives you the freedom to leave the solar panel away and still have an energy reserve with you.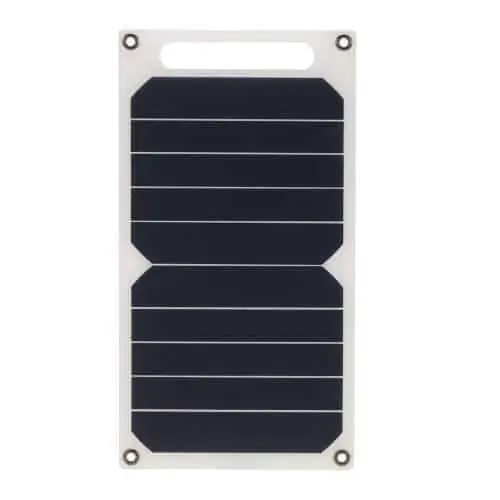 Overview
Unlike the previous systems, the Lixada 10W is a unique device composed of a solar panel made of monocrystalline silicon cells and an epoxy resin surface seal. It is incredibly lightweight and portable, with 2mm thickness and the possibility to hang this solar charger wherever you want. It connects directly to your digital devices through a single standard USB port.
Key Features
Power: 10 W
Output: USB 5V1200 Ah
Dimensions: 26 x 14 cm
Weight: 102g
PROS:
Plastic coating is durable
One of the best output for the price
Powers up iphone with no issues
CONS:
Have been reviewed to get lower than 10W as advertised
Pricing
You can purchase it or a more powerful version on Amazon. In the picture, you can see the price of the higher power option.
Wrap-up
The Lixada Solar Panel is the ideal solar charger for a daily backup when running out of energy or for a short hike. It connects to your device and starts charging it via the USB cable and port. However, since the solar panel cannot be connected to an integrated or independent battery, it can not store energy. This solar panel is highly portable, and its dimension allows you to carry it easily, even if it is not foldable.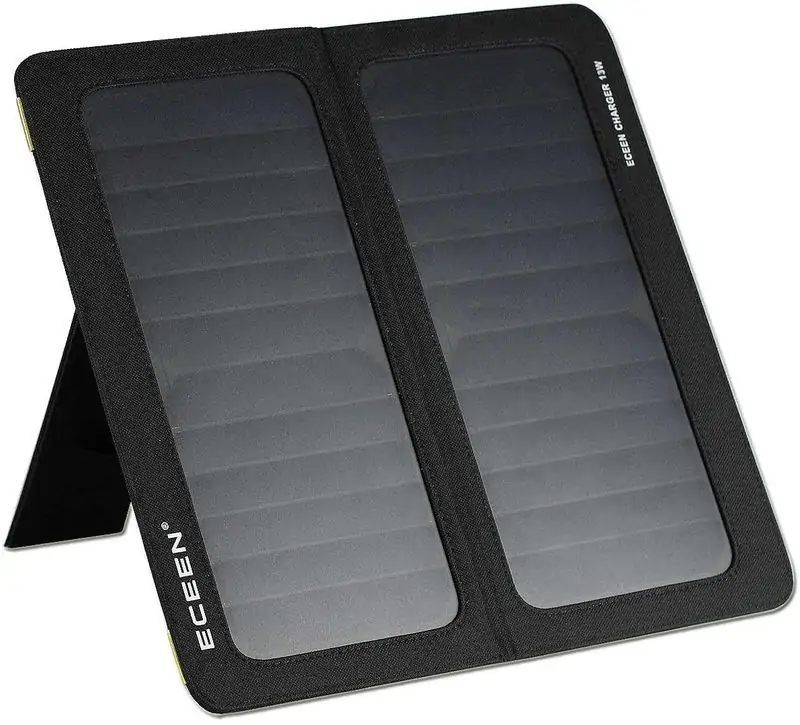 Overview
ECEEN 13W is a foldable, canvas-covered portable solar charger. It is classified as a mid-size solar panel and does impressive work compared to other products of the same size. The dimensions of this solar charger, when folded, make it one of the most portable solar panels in commerce. Even if it has some difficulties in reconnecting to the devices after a period of shading and it can't support multiple devices recharging at the same time, it has a good charging speed and durability,
Key Features
Panel size: 13W
Weight: 340g
USB outlets: 2
High durability
Good charging speed
PROS:
Rugged and durable
Quick charging for phones
Easy to operate
CONS:
Will stop charging if in shady areas
Pricing
You can find it on Amazon at $39.99
Wrap-up
The ECEEN 13 W is one of the ideal solar panels if you need to charge simple devices without buying a complete portable charging station. Its lightweight and small dimensions allow you to carry this solar panel comfortably in your backpack.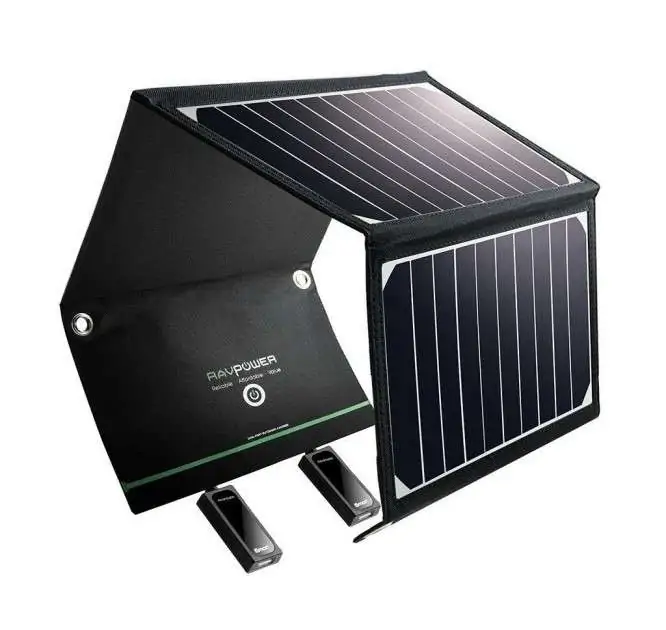 Overview
The RAVPower solar charger has been recently updated, and it is lightweight and immediate to use. Its solar panels have some difficulties giving a constant charge and recharging multiple devices simultaneously, but they have excellent charging speed and durability. The RAVPower 16W is foldable, and with the included carabiner, you can hang it easily wherever you need to. This solar panel is not able to store power but will recharge your devices directly when connected.
Key Features
Number of ports: 2
Dimensions: 27.51 x 17.5 x 3.99 cm
Weight: 510g
Power: 5V, 16W
Compatible with iPhone and all versions of IOS
Waterproof coating
PROS:
Lightweight
Quick charging for phones
Easy to operate
CONS:
Solar panels seems less durable
than similar models
Pricing
It can be found at around $60, when available on Amazon.
Wrap-up
If you need a power source to carry with you without high expectations or particular needs, then this solar charger is what you need. It will be a durable and reliable solution for your daily adventures and a quick charge for your devices. Even if RAVPower 16W solar panels are not the most efficient ones, it is one of the best solar chargers for wilder medium-length hiking, where durability and efficiency are the keys for a helpful emergency solar charger.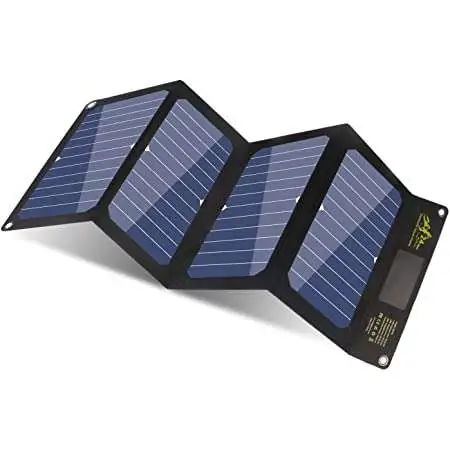 Overview
The BigBlue 3 solar panel has exceptional capability thanks to its charging efficiency. You can find the 28W solar charger model with an auto-restart function that helps the panels to continue delivering charging power to your devices even in cloudy weather.
Key Features
Foldable and easy to carry in a backpack.
USB ports connector: 3
Good support of multiple devices charging at the same time.
Auto-restart: when the weather is cloudy, it will temporarily stop and automatically start when sun rays reach it.
Panel size 28W
Weight: 666g
Dimensions: 28.1 x 16 x 3.4 cm
Waterproof with IPX4 technology
Power: 5V, 2.4A max
Compatible with most mobile phones and iPhones
Overcharge, overcurrent, overvoltage, and short circuit protection
PROS:
Rugged and lightweight
Great for charging phone in the field
Easy to operate
Has loops for carabiners
4 carabiners included
Charges even in low sunlight
Pricing
You can find it at $69.99 on Amazon.
Wrap-up
With its incredibly convenient price BigBlue 3 is one of the best solar charger opportunity for everyone that needs a reliable solution for charging electronic devices. Even if it can not store power, this foldable solar panel is one of the few that support efficient multiple charging simultaneously. No matter the weather, you can rely on BigBlue 3 in every situation. It is not the lighter solar panel we have seen so far. However, this solar charger can still be considered an everyday carry solution other than an adventure companion for its dimensions and weight.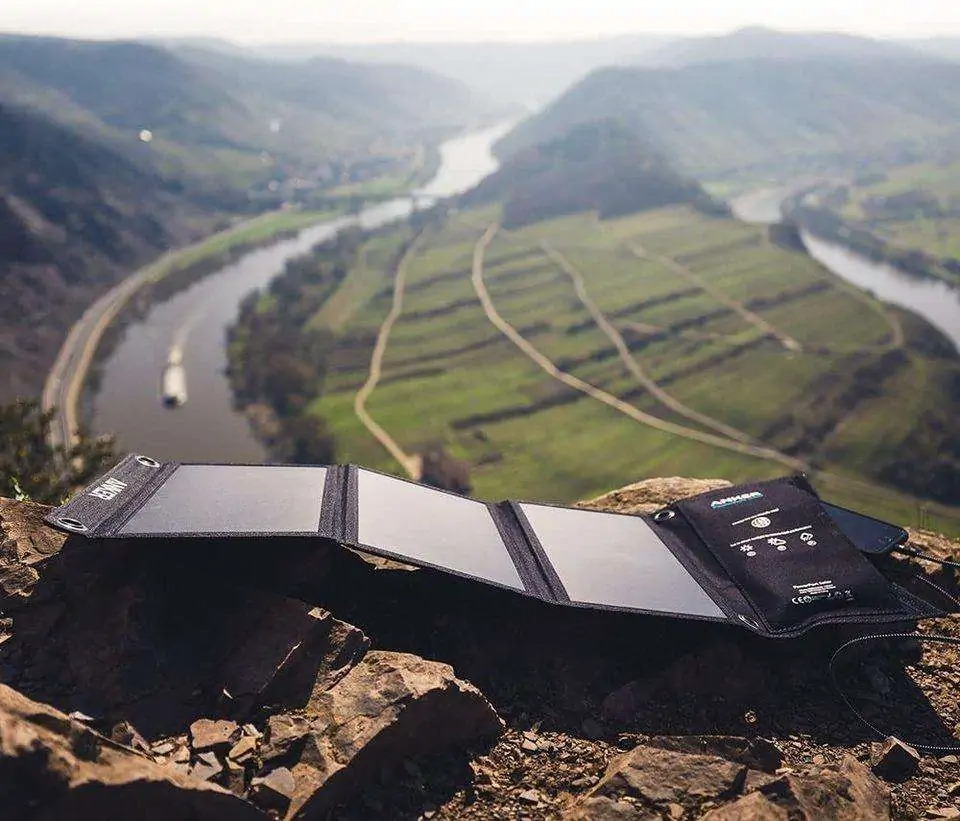 Overview
You probably already know this brand if you have ever searched for a power bank or a USB Hub. The Anker PowePort 21 W solar charger is reliable as the other Anker product. Its solar panels are lightweight, foldable, and hangable to place the solar charger easily under the sun and carry it in your backpack. The industrial-strength PET solar panel are efficient and durable and the polyester canvas that surrounds them allow you to bring the solar charger with you even in the more extreme environments. The fast-charging PowerIQ technology replicates the charging protocol of your devices. It makes PowerPort Solar 2Ports one of the most efficient solar chargers for both speed and multi-charging modality efficacy.
Key Features
The polyester protects from water but does not make the solar charger completely waterproof
Dimensions: 15.24 x 27.94 x 2.7 cm folded 67 x 15.24 cm opened
Weight: 0.4 kg
Compatible with Apple and Android smartphones, tablets,s and other devices except for iPod nano, iPod Classic, iPod Shuffle, HP TouchPad, and Asus tablets
USB outlets: 2 + 3ft USB micro USB cable
power: 5V, 3A
PROS:
Rugged and lightweight
Great for charging phone in the field
Easy to operate
Affordable
LED indicator when receiving sunlight
2.1 Amp fast charge
Pricing
You can buy it on Amazon for around $69.99 as soon as it is available again.
Wrap-up
The Anker 21W PowerPort is the best solar charger if your primary need is efficiency: it is reliable, durable. It can charge your devices even when the solar light is not optimal. It cannot store power, but it is lightweight and able to charge multiple devices simultaneously. For all these reasons, the Anker21 is a competitive solar charger on the market, and the pricing is adequate for such a well-made product.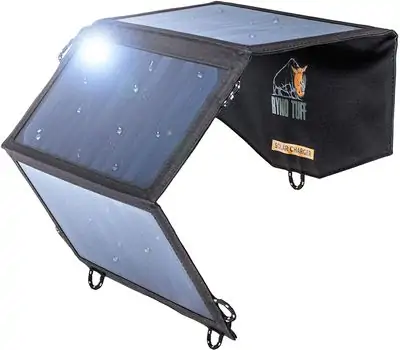 Overview
The Ryno-Tuff resides again in the category of foldable solar panels; this is a solar charger that does not store power but can charge your devices directly leveraging solar light. This product is efficient in terms of high speed and multiple device charging, and it is at the level of even more powerful solar chargers. It is pretty durable, even if not as far as others we have seen previously. The great pro to this option is the price: it is very affordable and can be an excellent first try in the world of solar chargers.
Highlights
Waterproof and durable
21W solar panel
USB outlets: 2
Power: 5V, 2.4A (3 max)
Dimensions: 49.57 x 29.9 x 0.3 unfolded, 14.9 x 29.9 x 2 folded
Weight: 350g
A little laking in charge interruption recovery efficiency when the weather is cloudy
Outstanding performance in charging speed given the dimensions and power of the solar panel
Pricing
You can find it on Amazon ( when available ) at $54.99
Wrap-up
The Ryno-Tuff solar charger, thanks to its efficiency, portability, and low price could be a good product for those who want to try and approach this kind of system for the first time. It is pretty durable and, even if it does not present the latest technologies regarding charge interruption recovery or multiple devices handling, it can be a loyal companion for your everyday life and adventures. It does what you need quickly and efficiently.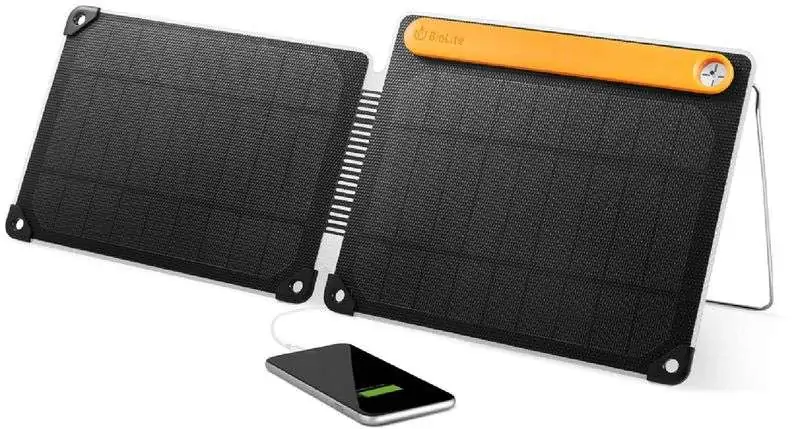 Overview
The BioLite solar panel can charge tablets, phones, and other gear thanks to 10W of electricity. It is easy to position on the correct and most efficient location thanks to an integrated sundial that will guide you. It is possible to orient the solar panels with a kickstand that renders the positioning phase quite simple. Even if it has a different structure from the previous foldable solar panels, the BioLite is also packable, comfortable, and easy to carry. An integrated 3200 mAH battery will allow you to even store the energy for later.
Highlights
10 watts of useable power via USB output
USB outlets: 1
micro USB charge in
360-degree stand featuring Optimal Sun System
Integrated battery: 3,200mAh
Dimensions: 25.7 x 20,8 x 2,38 cm
Weight: 548 g
Weather-resistant with IPX4 technology
Coner latches to hang it if needed
Pricing
Wrap-up
The BioLite 10+, with its different folding method, outperforms the other portable solar panels in terms of durability. It is not the easiest to carry for everyday use, but it will adapt to every terrain or situation you will encounter. With an integrated battery, this solar panel is the perfect camping gear for weekend escapes, and overnight adventures. It has good performance in charging speed even if it has only 1 USB output; thus, it does not support multiple charging modalities. However, the integrated battery makes it highly efficient when speaking about interruption recovery. This solar charger is one of the best products for the most adventurous ones.
11. Suntactics S14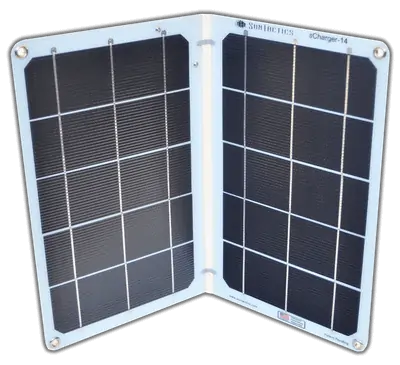 Overview
The S14 is not only a valuable solar panel for multiple devices charging but also a complete off-grid charging station, able to deal even with bad weather conditions. It can give you independence for days since it can charge the phones of a group of 5-7 people. It is highly durable, water and corrosion resistant; thus, it is also suitable for those who like water sports. The price tag reflects the practical design and production of this solar charger. The S14 is not the most portable solar panel, and indeed, it is not suited as an everyday carry backup. Still, it deals perfectly with bad weather conditions thanks to its charge interruption recovery system, and it handles two devices simultaneously, as they were just one.
Highlights
Power: 2800mA, 5.1V, 14Watts
USB outlets: 2, Patented Auto-Retry (Auto-Reset)
Weight: 596 g
Water Resistant: 40 Feet, Corrosion Resistant, IPX7 Rated
Dimensions: 29.46 x 18.41 x 63.5 cm (closed) / 29.46 x 36.83 x 317.5 cm (open)
Solar Cell Efficiency: ~20%, Mono-Crystalline
Solar cell triple redundancy prevents power dropout
Charging times: 2-3h for iPhones and Samsungs, 4-7h for iPad and Galaxy tablets depending on the model
Pricing
Wrap-up
The Suntactics s14 solar charger, with its well-made design, durability, and power, is the perfect companion for the most unpredictable adventures. Whether you are dealing with steep mountains or wild rivers, this is the product for you. It is not the cheaper solar charger available, but it is worth it if you are a more advanced user of this system. It performs well in different aspects, from charging speed, multiple simultaneous charging devices, and charging interruption recovery. This is a solid and reliable solution, even if not the most portable one.
What Is A Solar Charger For Backpacking?
A solar charger is a device that is used to collect and use the power of the sun. It can be hooked up to a light or phone for hours of power at night. Solar chargers are also lightweight and compact, so they are perfect for backpacking and hiking.
A solar charger can come in many shapes, sizes, and lights. They are not always expensive, either. A solar charger usually comes with a small battery and panels. The batteries can be charged using a computer or wall before use. If you plan to go on long backpacking trips, we suggest investing in one of these items.
How Does A Solar Charger Work?
Solar chargers work by collecting direct sunlight and converting it into electricity that is stored in an attached battery. The sun's rays activate the panel, which then converts into energy that powers your device, such as your phone or tablet.
These chargers are perfect for outdoor activities because they rely on natural light rather than being plugged into an outlet all day while inside at home or school/work. Solar chargers are very convenient when you're stranded somewhere without access to power, such as when you're backpacking in the wilderness.
What Are The Benefits Of A Solar Charger?
Solar chargers are very beneficial because they work with no need to be plugged into a wall or electrical source. They provide energy from the sun that is collected throughout the day and slowly released to your device at night. Many solar chargers have a power storage feature so users can store up energy for later use.
It's also possible to combine multiple panels together to charge larger devices, such as laptops and tablets, which makes them perfect for group travel or camping with friends/family. By having a solar charger on hand, you don't have to worry about being disconnected from your phone at any point during your trip.
What Are The Different Types Of Solar Chargers?
There are many different types of solar chargers out there today. However, they can be separated into two main groups: foldable or rigid. Foldable solar chargers feature lightweight and flexible materials that allow users to fold and carry them like a map when hiking, climbing, or backpacking.
They're usually small-scale and used for charging phones and other small devices such as headlamps, flashlights, music players, etc. Rigid solar chargers normally come with stronger panel frames made from aluminum or plastic so they can withstand more wear and tear during outdoor activities.
They also offer larger surface areas so multiple devices can be charged at once via USB ports or carabiners. These are perfect for large groups or anyone who plans on using their device(s) frequently while backpacking, climbing, skiing, etc.
Solar Panels Only
If you already have a power bank, then getting a solar panel to charge your small electronics makes the most sense. This is especially true if you're going to be away from an outlet for a week or more. Even if you don't have a power bank, but are able to charge your devices via USB, then a solar panel is still a great option since they're relatively affordable and can be used to recharge any number of devices.
Solar panels come in a variety of shapes, sizes, and power capacities. The one you choose will depend on your device needs and how much space you have to pack everything. If you're only looking to charge a phone or small tablet, then a 5W panel should suffice. Larger devices like laptops will require at least 10-15W of power, so keep that in mind when selecting a panel.
Portable Solar Chargers with Attached Battery Pack
If you don't want to lug around a solar panel and power bank separately, then consider getting a portable solar charger that has an integrated battery. These devices are great because they're self-contained and easy to use. Simply unfold the panel to expose the solar cells and let it sit in the sun to charge up the internal battery. Once it's charged, you can use it to power your devices just like you would with a power bank.
Most of these portable solar chargers come in around 10,000mAh, which is enough to fully charge a smartphone 2-3 times. If you need more power, there are also larger 20,000mAh+ options available. Just keep in mind that the larger the capacity, the heavier and bulkier the charger will be.
Portable Solar Chargers with an External Battery Pack
You'll also find solar charger bundles that include a solar panel and an external battery pack. This is useful if you're in need of a power bank that you like to store power and just need a way to keep it topped off while on your adventures. Simply connect the solar panel to the battery pack and let it charge up. Once it's full, you can then use the battery pack to charge your devices as needed.
These types of chargers are great because they offer the flexibility to use any power bank you want, not just the one that comes with the charger. And, if you ever need more power than what your current power bank can provide, you can simply upgrade to a larger capacity without having to get a new charger.
Solar Backpacks
For those that want an all-in-one solution, there are also solar backpacks available on the market. These backpacks have built-in solar panels that allow you to charge your devices while you're on the go. They're perfect for hikers, cyclists, and anyone else that spends a lot of time outdoors.
Solar backpacks are available in a variety of sizes, but most have enough room to store a laptop, tablet, and other essential gear. And since they have straps, they're very easy to carry around with you. The only downside is that they can be quite expensive, so if you're on a tight budget, then you might want to stick with a solar panel or portable charger instead.
Conclusion
To wrap up, if you want to disconnect from your everyday busy life and enjoy an adventure in the wild with the opportunity to be independent of electricity, the best solar panels for backpacking is your friend.
You can find a solar charger that best suits your needs in the wide variety of products available. When selecting a solar charger, you should keep in mind some factors. First of all, the amount of time you will rely on it to charge your devices, for more extended periods a solar panel with an integrated or detachable battery could be a better choice. Second, it figures what you'll need in terms of the number and types of ports with the number of devices you want to charge. Third, consider the power they can provide: a smaller wattage solar panel will be less expensive but probably less powerful, increasing the wattage, the panels will be more powerful, and charge your devices more efficiently, but this comes with a higher price tag.