Floating Cabins in Southern California – Santee Lakes, San Diego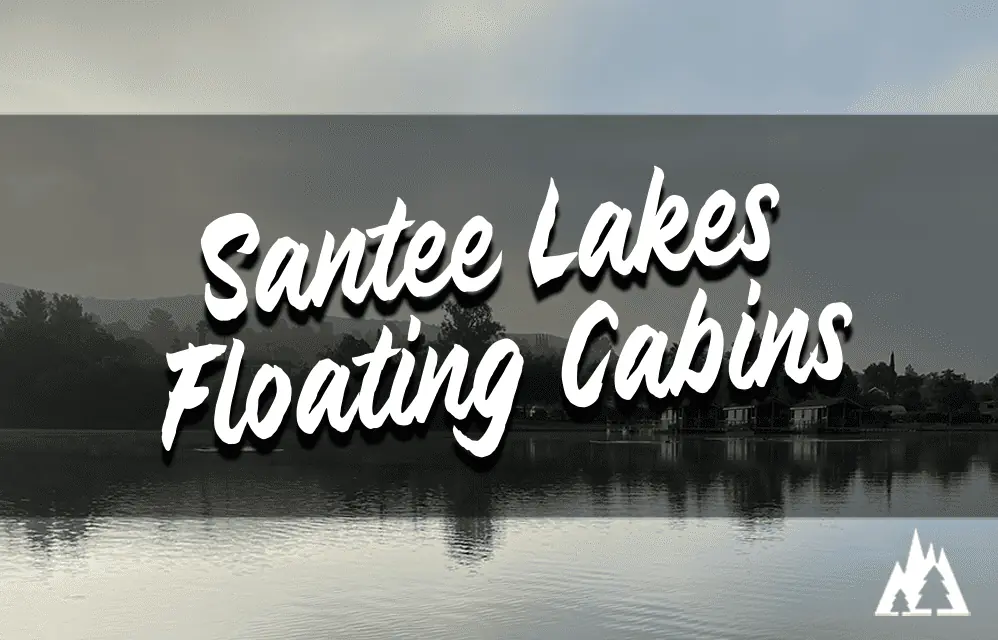 A few months ago I was talking to someone walking by as I was fishing one or our local ponds.
He mentioned he just came back from the floating cabins.
I knew of floating cabins but most of them were out of state, so I was curious and started asking some questions.
It was the floating cabins over at Santee Lake in San Diego, a recreation preserve that hosts over 670000 visitors a year.
I started researching and decided to do a short, two night trip.
It was such a great time that we're planning to go back early next year.
If you decide to go in the future, here's some additional information and tips if you plan to fish over there.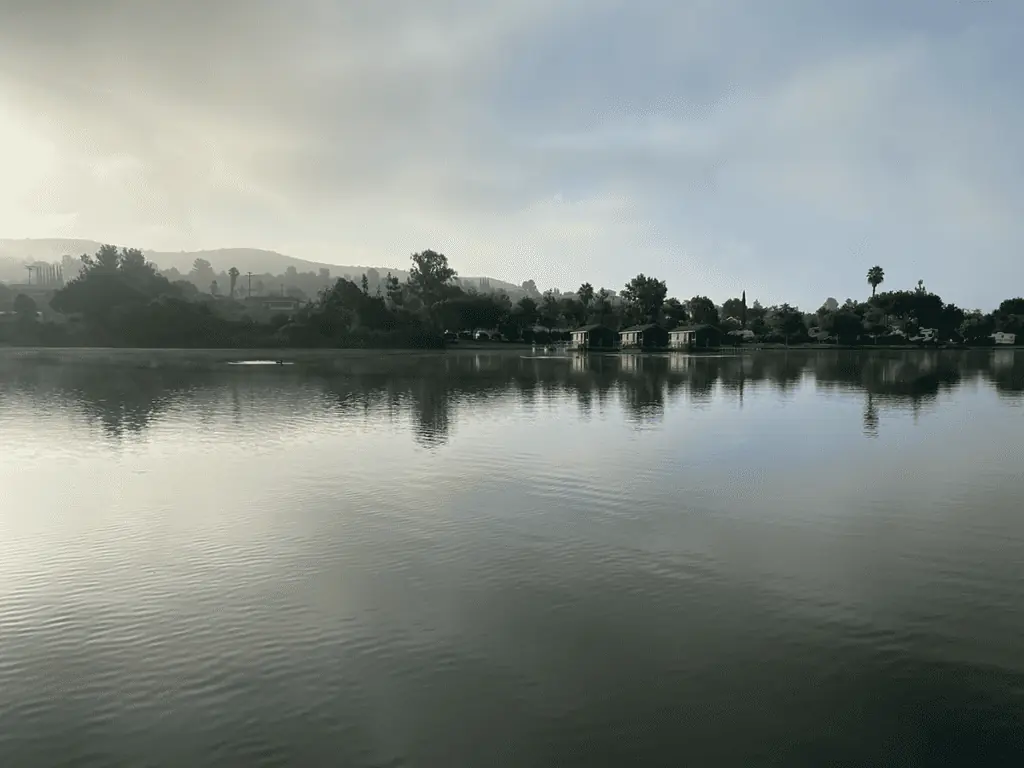 Floating Cabins at Santee Lakes
Just a heads up, there are only 3 floating cabins at the lake but there are other spots for RV campers, tent campers, as well as additional lake front cabins.
Santee Lake is a 190‐acre Park with 7 beautiful recycled water lakes that are close together where the first couple of lakes as you enter the main gate are for public day-use and the remaining lakes are for campers.
Types of Cabins
At Santee Lakes, you can find two unique types of cabins for your stay: floating cabins and lakefront homes. The floating cabins are perfect for those who want to be as close to the water as possible.
Each floating cabin comes with a front porch, patio table, chairs, and a bbq grill so you can relax and enjoy the beautiful view. The best part? You can even fish right at your porch.
Next to the floating cabins are the lakefront cabins which offer more traditional cabin experience while still providing stunning views of the lake. These cabins are situated right by the water, giving you a cozy and comfortable stay surrounded by nature and they can accommodate more people than the floating cabins.
Both types of cabins are equipped with essential amenities to make your stay enjoyable. You can expect air conditioning and heating, a flat-screen television, and a bathroom with each cabin.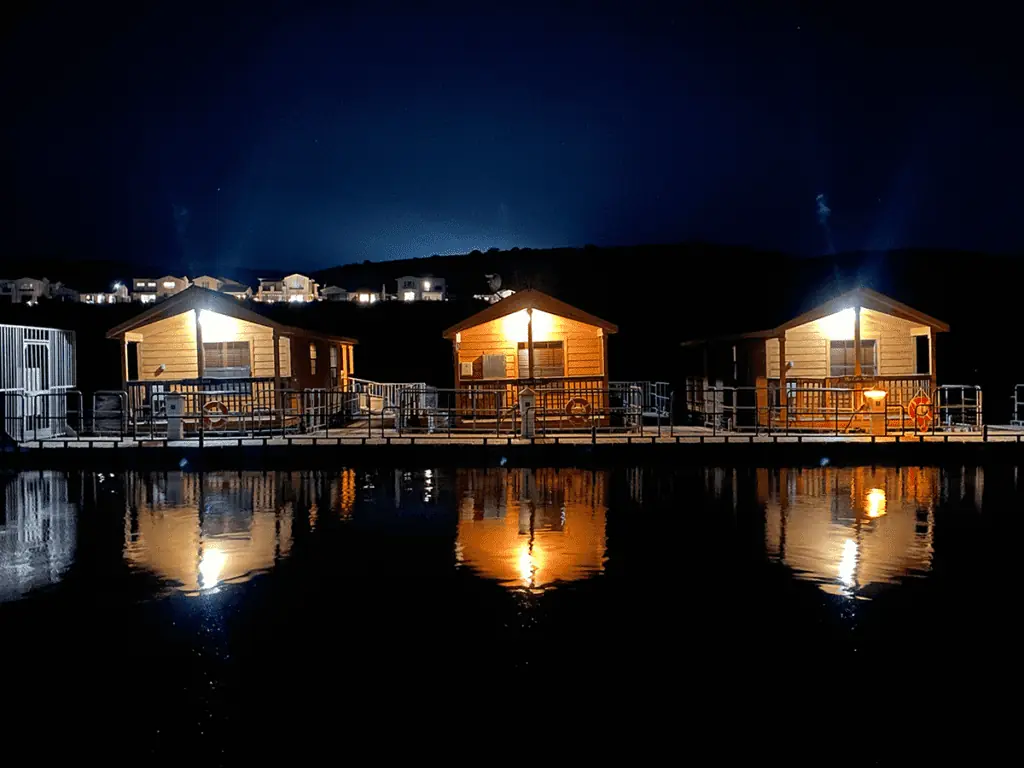 Cabin Rental
Renting a cabin at Santee Lakes is quite easy. The cabins have a market rate schedule, and the rental prices vary depending on the day of the week.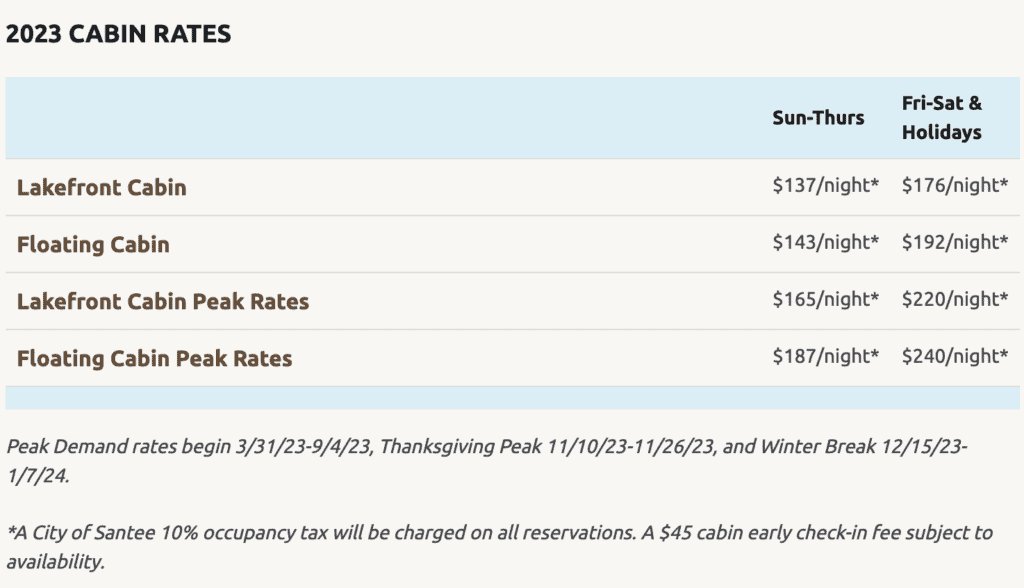 Keep in mind that these prices are subject to change, and it's always a good idea to check the official Santee Lakes website for the most up-to-date information on cabin availability and pricing.
Whether you choose a floating cabin or a lakefront home, Santee Lakes offers a unique and memorable getaway experience right in Southern California.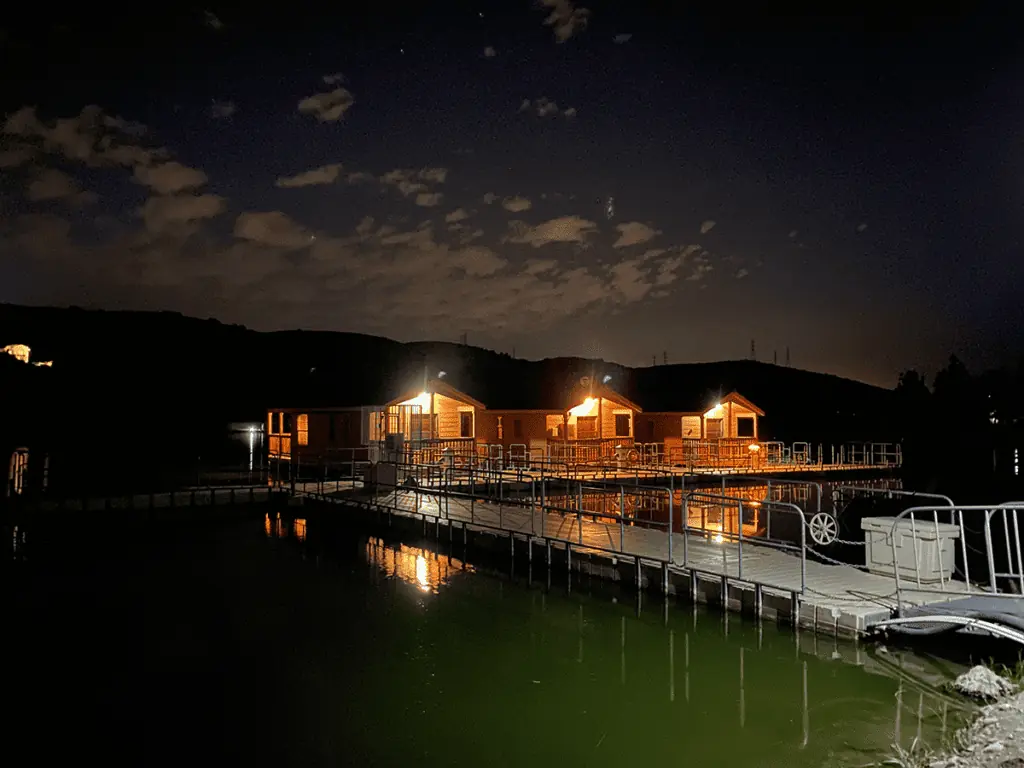 Accommodations
At Santee Lakes, you will find a variety of comfortable accommodations for families seeking a unique vacation experience. The floating cabins provide plenty of space for your family to relax and enjoy the scenery.
Each cabin comes equipped with air conditioning, heating, and a flat-screen television to ensure your comfort during your stay.
The cabins also include a private barbecue grill, allowing you to cook delicious meals together while enjoying the captivating scenery. Relax on the large front porch, where your family can sit and fish or simply soak up the natural beauty of the area.
Please note, no pets are allowed inside any of the cabins. However, other RV and tent campsites do allow behaved pets as long as they're on a leash.
While staying at Santee Lakes, your family can take advantage of various recreational activities available within the preserve.
Enjoy water-based activities such as pedal boating, made more convenient with a private pedal boat included with your floating cabin.
Also, there are several swimming pools nearby for your entire family to cool off and unwind since you can't swim in the lakes.
Outdoor Activities
At Santee Lakes, you can experience a variety of outdoor activities that cater to every type of adventurer. Surrounded by scenic parkland and seven beautiful lakes, this Southern California gem offers numerous opportunities to immerse yourself in nature.
Fishing is a popular activity at Santee Lakes, with an abundance of fish species available.
They have scheduled restocking of catfish and trout depending on season.
Other fish species include largemouth bass and panfish.
Check out these resources before you head out on the water:
One thing to note, if you have an existing fishing license that doesn't apply at this lake. Here, you are required to purchase day and night fishing permits for each adult and child. You can check out the rates here.
The floating cabins even come with a front porch and patio table for easy access to fish right from your doorstep.
Boating enthusiasts will be delighted to find pedal boats readily available for use. If you're staying in one of the three floating cabins, you'll have a private pedal boat included with your accommodation.
This enables you to leisurely explore the lakes and take in the picturesque views at your own pace. Paddle around the calm waters, enjoying the serenity and peacefulness that Santee Lakes offers.
Swimming is also an option at Santee Lakes. You can take a refreshing dip in designated swimming areas and cool off during the warm Southern Californian days. Make sure to always follow safety guidelines and enjoy this invigorating activity responsibly.
Whether you're seeking relaxation or adventure, Santee Lakes provides you with an unforgettable escape in these unique floating cabins, surrounded by top-notch outdoor activities for your family.
We had an amazing time and will return for sure!