Mount Annapurna is a mountain of the Himalayas in north-central Nepal and was first conquered by Maurice Herzog and Louis Lachenal in 1950. It is located just south of Pokhara and about 160 km west-northwest from Kathmandu.
Annapurna is the tenth highest peak in the world, forming part of the huge Himalayan range.
In 1950, it became the first 8,000 meter mountain to be successfully climbed.
It is located east of the Kali Gandaki River, which has carved a deep gorge through the Himalayas.
The mountain has glaciers on its western and northwestern slopes which drain into this gorge.
Of Annapurna's many high peaks, five are labeled using some variation of the name Annapurna.
The three major trekking routes in the Annapurna region are Jomson Trek to Jomsom and Muktinath, which is a popular one for its proximity with Pokhara. There's also an option of Sanctuary Route starting from here that leads you all way up till base camp at 8400 feet above sea level – this takes about two weeks on foot.
Finally, there's a circuit around it where we can find various shorter trips too if our schedule allows them; these don't require much high altitude training so they're not only fun but good exercise too.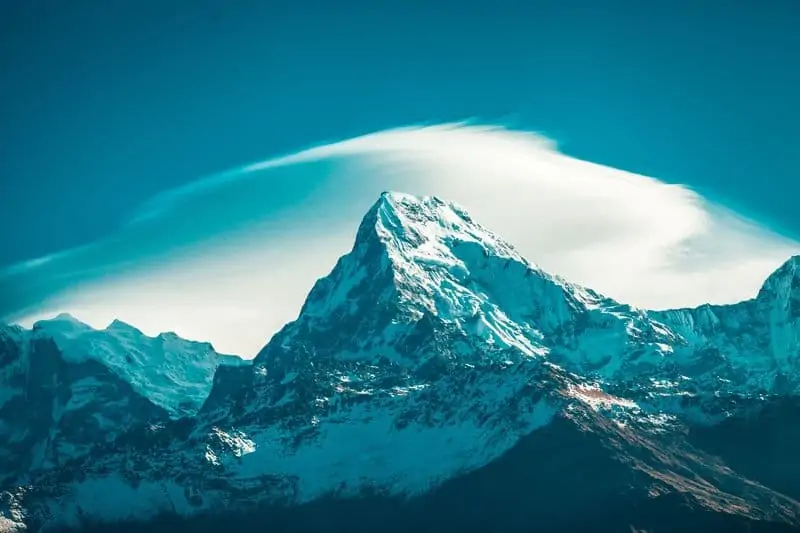 Annapurna Weather
-5
°F
Feels like

-5

°F

°
light snow
| Overview | |
| --- | --- |
| Elevation (feet) | 26,545 ft. |
| Elevation (meters) | 8,091 m. |
| Continent | Asia |
| Country | Nepal |
| Range/Region | Central Nepal Himalaya |
| Latitude | 28.596111 |
| Longitude | 83.820274 |
| Difficulty | Major Mountain Expedition |
| Best Months For Climbing | Apr, May |
| Year First Climbed | 1950 |
| First Successful Climber(s) | Maurice Herzog, Louis Lachenal, (French expedition) |
| Nearest Major Airport | Kathmandu, Nepal |
| Convenient Center | Pokhara, Nepal |