Hammock vs Tent: Which Should You Take Camping?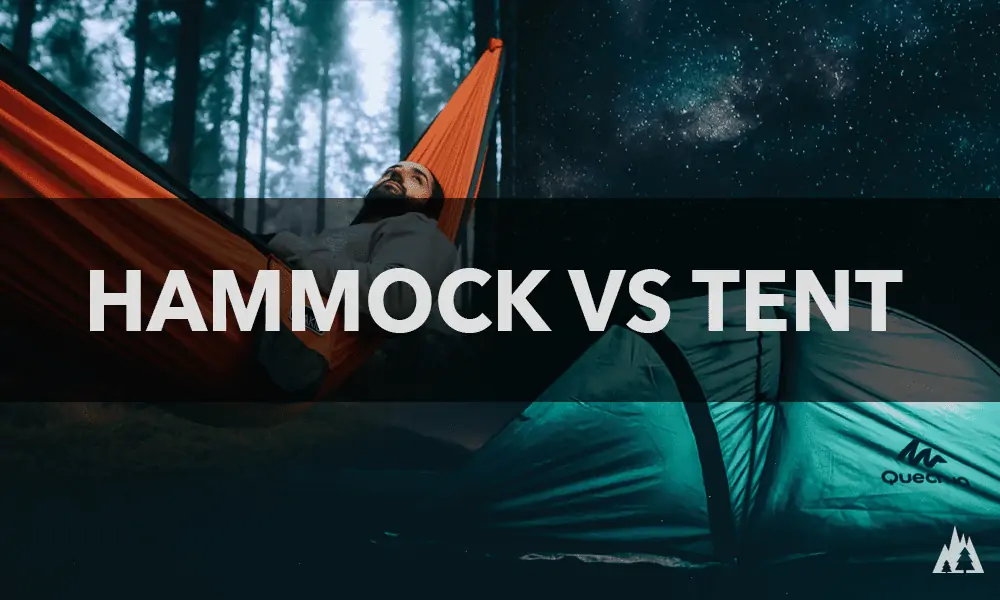 Everybody deserves a break from work every once in a while to go camping in the great outdoors. You've tried a motorhome and you've stayed in plenty of lodges, but now you want to try something different.
Camping in a tent or hammock makes for a more intimate camping experience. You can only fit a minimal amount of items in your tent, and even less in a hammock, so get ready to experience a different type of camping.
A tent and hammock are both great choices for sleeping arrangements when camping.
With a tent, you must also bring a sleeping pad, sleeping bag, and maybe a pillow for a comfortable night's rest. With a hammock, however, you only need a sleeping bag or a blanket and maybe a mosquito net depending on the location.
While the decision is up to you, the question of tent vs. hammock typically comes down to personal comfort.
If you are wondering whether to take a hammock or a tent on your next camping trip, then check out our "hammock vs. tent" article for a closer look at the matter.
Hammock Camping
Many campers believe that hammocks are more comfortable than tents when it comes to camping. You are able to camp on a lump-free surface in a hammock and don't have to worry about uncomfortable rocks or uneven land beneath you.
Hammocks offer you back support, which is ideal for multi-day camping trips. As long as you find two trees that are somewhat close together, you are always guaranteed a good night's rest in widely available campsites.
Keep this in mind if you are camping in the desert or at the beach, as trees may be more sparse.
In places where trees are available, hammock camping is more likely to be allowed than tent camping. Many cities prohibit tent camping to limit the homeless population.
Hammocks are popular for camping in tropical areas or in the summer in any ecosystem. You are more exposed to the elements and a cool breeze is, therefore, more welcomed in the summer months.
Hammocks also allow for more airflow and don't collect condensation like a tent. They are more versatile and can be used in many outdoor situations.
Hammocks can act as a camp chair or a quick nap setup. It's also an excellent way to see the nighttime sky and watch for shooting stars.
Some hammocks even come with a mosquito net to prevent all sorts of creepy crawlers from entering your sleeping space.
Hammocks also pack down to an insanely small size and take up less room in your suitcase if you choose to go camping outside of your hometown.
Tent Camping
Tent camping is classic camping at its finest. This was one of the first forms of camping and remains one of the most popular options today.
There is a wide range of different tents available on the market to suit your every need. You have the liberty to choose between a 10-person tent to camp with your whole family or a lightweight single-person tent for a solo adventure.
You feel the elements while tent camping. You are aware of any wind or rain that occurs, as it makes a loud impression on your tent.
It is suggested that you bring a sleeping pad, a sleeping bag, and a pillow for your tent. Depending on the season, you may even need two sleeping pads to keep you sufficiently warm.
Tents usually come with a rain fly, which is detachable from the mesh body. This is a great feature in the summer months when it's too hot to leave the rain fly on and it allows for a breeze.
Tent camping tends to provide more protection from rain than a hammock thanks to this rain fly. Higher-end tents also come with weather-proofed zippers for extra protection.
Tent interiors also have more storage space and even a few pockets lining the walls of the tent.
With more space available and storage for all your extra gear, your camping trip will be more organized and stress-free.
Hammock Pros
Hammocks are more comfortable
You don't feel the ground underneath you while camping in a hammock. Hammock set-ups are great for one person and offer more back support than a tent.
You may fall asleep faster as a result and have a higher quality of sleep in a hammock.
Legal hammock camping is more widely available
You don't need as many permits for hammock camping and you have more options than tent camping. You can set up a hammock in just about any public place for a nap without question.
Better visibility
You can see someone approaching better in a hammock than if you were zipped up in a tent. This ensures your safety while camping in a hammock.
You also have a clear view of the sky and can stargaze at all hours of the night.
Hammocks are multi-use
You can take your hammock overnight camping, through-hiking on the Pacific Crest Trail, set it up at the beach for a nap or barbecue, or high on a mountain top for a snack break.
The setup and breakdown consume less time than a tent. You can also travel with a hammock and set it up at hostels for a cheaper price per night.
Hammocks take up less space
Hammocks pack down really small. You don't need a groundsheet, a rain fly (in fair weather), poles, or stakes like a tent.
Hammocks are therefore lighter in weight and pack down smaller so you can take them just about anywhere.
Hammocks are cost-friendly
Hammocks cost an average of $60. There are more expensive and less expensive hammocks on the market, but $60 will buy you just what you need for any occasion.
Hammock Cons
You need perfectly spaced trees to set-up
You cannot set up a hammock if you don't have properly spaced trees. This can be an issue if you are multi-day camping in a changing environment.
It requires you to do adequate research before any camping trip. Your options may be limited in the desert or at the beach.
Hammocks are cooler
Because they hang higher than tents, they tend to sleep colder. In a cold environment, this means that you will need some insulation under your body to keep you comfortable and warm throughout the night.
Hammocks lose heat faster and you may need a sleeping pad or quilt to sleep on if temperatures are predicted to drop.
Hammocks offer less privacy
In a hammock, you're always out in the open. This could be bothersome if you value your privacy.
You can always cover your face with your blanket, but you are otherwise exposed to the elements and have no privacy when changing.
No storage space
Hammocks offer basically no storage space for any gear. There is room only for yourself and your sleeping arrangements.
Unless your car is nearby, all your gear must go on the ground, leaving it susceptible to robbers.
Hammocks may damage trees
Setting up your hammock may present trees with more wear-and-tear than you imagined. If you hang your hammock improperly, you may be causing stress on the trees.
Hammocks don't offer much protection from the rain
Hammocks are open and exposed. They do not come with a rain fly and you are likely to get wet should it rain.
You can always bring your own rain tarp, but it may be uncomfortable and hang very close to your body,
Rain can also blow in from the sides and run down the trees into your hammock.
Tent Pros
Extra storage space
While tent camping, you can bring your gear into the tent with you to keep it dry. Many people feel more secure camping with their valuables right next to them.
From multi-person tents to one-person tents, there is usually plenty of space inside for even your overnight backpack. Many tents also offer a roof pocket so you can store or hang a light to read at night or play cards with friends.
Tent camping may be more readily available
You can pitch a free-standing tent just about anywhere. You don't need to look for perfectly spaced trees to pitch your tent for the night.
Although some campsites require permits, many campsites are first-come first-served, and backcountry permits are typically easy to obtain.
More privacy
Tent camping offers more privacy than hammock camping. Tent bodies are mesh but the rain fly is a solid material, meaning no stranger can look into the tent while you are away.
You can also leave your tent set up with your belongings inside while you go on a day hike. You can lock the zipper and not worry about a break-in.
Stay warm
Tents tend to keep you warmer than hammocks because they are fully enclosed. There is extra space for a very durable sleeping pad and to ensure you stay warm throughout the night, there is even space enough for two pads.
Paired with a warm sleeping bag, you are guaranteed to stay warm and toasty inside of your tent.
Tent Cons
Tents are fragile
Because tents have so many parts to them, they are more likely to break than hammocks. A pole may snap, a stake may become lost, or you may accidentally puncture your tent fabric with a sharp object.
You may also acquire holes in the bottom of the tent if you do not use a groundsheet.
Condensation
Because tents are enclosed in a small space, condensation usually gathers on the inside. It is hard to avoid it, and the severity of condensation depends on the location.
Moisture comes from your breath or sweat and collects on the tent walls. This is why you wake up with a damp sleeping bag sometimes.
Tents take up a lot of space
Although you can fly with tents, they take up a lot of space in your bag. Tents usually comprise at least a third of your baggage storage space.
They can compress down but not considerably, meaning they probably won't fit in your carry-on bag.
You have more contact with critters
Being on the ground, you will have more contact with critters in a tent. Bugs may fly into the space when you go in and out of the vestibule and you may see them crawling under your tent ground.
Tents also make a lot of noise when they flap in the wind, which may sound like outside animals when you are cozy in your sleeping bag. A good rule of thumb is to make sure you're fully prepared for any situation.
Which Is Best for You?
So, which is best for you, a tent or a hammock? This depends on many above-mentioned factors.
What kind of environment are you camping in? Will there be enough trees around to hang a hammock?
What will the temperature be like when you are camping? If it's cold, maybe a tent is your best option to stay warm.
Will you need to change your clothes more than once? If so, then perhaps the privacy of a tent is the best option for you.
Do you have a lot of space in your bag for a shelter? If not, then maybe a small, compressed hammock is the best option for you.
Choosing Between Hammock vs. Tent
Whichever you choose, camping outside is always a fun experience. Both tents and hammocks provide a more intimate camping adventure than lodging or sleeping in an RV.
Tent camping allows you to camp with more friends, whereas hammock camping allows you to camp comfortably in hot weather. The choice between a hammock vs. tent is yours.