Is St Croix a Good Fishing Rod?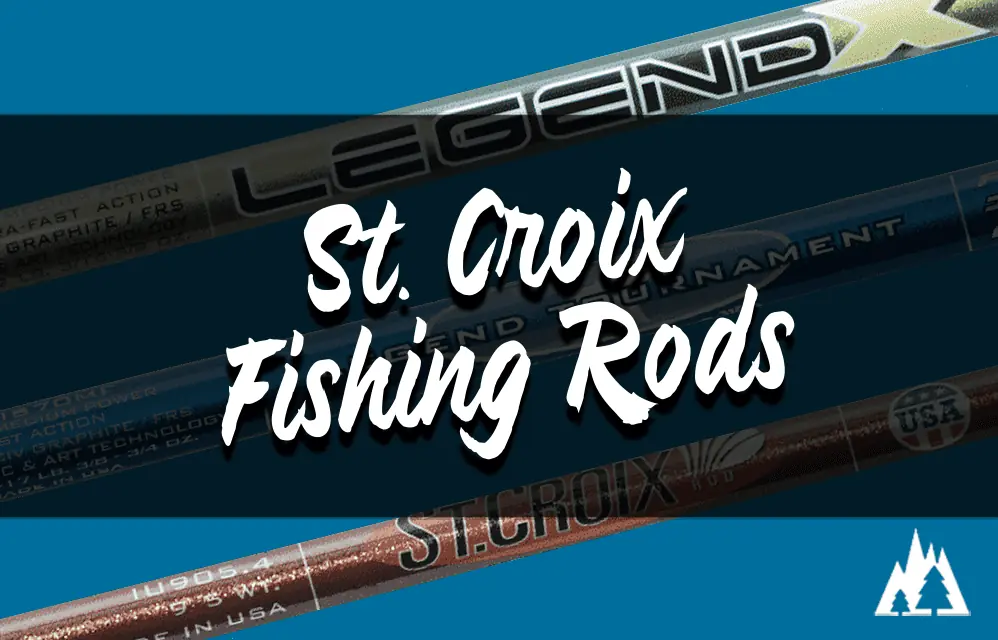 Fishing is a popular pastime for many, including us over here.
Having the right equipment can greatly enhance your experience. It doesn't necessarily mean it needs to be the most expensive either.
But sometimes you'll find fishing gear that warrants the high price tag.
With that said, one essential component in fishing is a reliable fishing rod.
And you might be wondering if St. Croix is a good fishing rod to invest in.
St Croix rods are definitely worth it. They are sensitive, durable, well-balanced, and come with an outstanding warranty.
St. Croix, a family-owned company based in the United States, has been in the business of manufacturing fishing rods for over 70 years.
Their dedication to quality and innovation shows in every rod they produce. Offering a wide range of fishing rods suitable for various techniques, from freshwater to saltwater, St. Croix has a rod for every type of angler.
Whether you're a seasoned fisherman or just starting out, St. Croix fishing rods are known for their craftsmanship, durability, and performance.
We'll get into the features that set them apart from their competition, and why you should consider St. Croix for your next fishing adventure.
Awards
ICAST Best Freshwater Rod Award: In 2021, the St. Croix Bass X Series won the prestigious "ICAST Best Freshwater Rod" award. This accolade speaks to the brand's performance and dedication to providing top-quality products.
Features and Technologies
Some of the most important features and technologies of St. Croix are:
SCIII Graphite Blanks: This high-modulus graphite material adds strength, sensitivity, and power to your rod.
Integrated Poly Curve (IPC) tooling technology: This technology eliminates transitional points in the rod blank, providing smoother actions and improved sensitivity.
Price Range
The St. Croix rod lineup offers various price ranges, including:
Premier Series ($129 – $220): The Premier series offers excellent value for a high-quality rod. Models in this series cater to specific techniques and species.
Legend Tournament Series ($250 – $400): This series offers premium rods designed for tournament-level performance.
Legend Elite Series ($390 – $640): The top-tier Legend Elite series combines cutting-edge technologies and materials to produce the highest quality rods for serious anglers.
Innovative Craftsmanship
When considering a St. Croix fishing rod, you'll quickly notice the innovative craftsmanship that goes into creating each rod.
They employ cutting-edge technology combined with the expertise of skilled artisans to manufacture exceptionally reliable and high-performance fishing rods.
One of the hallmarks of St. Croix's innovative craftsmanship is the use of high-quality materials. You'll find that their fishing rods use premium-grade SCII and SCIII graphite, which contributes to the strength, sensitivity, and durability of your fishing rod. Such materials ensure that you can rely on your rod to perform well in various fishing conditions.
St. Croix pays close attention to the finer details of rod construction. For example, they utilize advanced reinforcing technology like Integrated Poly Curve (IPC) and Advanced Reinforcing Technology (AR) to eliminate transitional points in the rod blanks. As a result, you'll experience smoother and more consistent power throughout the casting process.
In addition to material advancements, St. Croix takes pride in their customized, hand-built components that elevate the performance of their rods. These components include:
Premium-quality guides with slim aluminum-oxide rings and black frames for smooth line movement
Fuji reel seats with gunsmoke hoods for a secure and stable reel attachment
High-grade cork handles for a comfortable grip and enhanced sensitivity
All these elements come together to create a fishing rod that embodies the innovative craftsmanship that St. Croix is known for. With a St. Croix rod in your hands, you'll be well-equipped to up your game in the world of fishing.
Rod Balance
When evaluating a St. Croix fishing rod, you should look at its balance. A well-balanced rod allows you to fish comfortably for long periods, reducing fatigue and enhancing your fishing experience.
To assess the balance, hold the rod in your hand by the reel seat. A balanced rod should feel comfortable and require minimal effort to maintain its position. If the rod is tip-heavy or tip-light, you might experience discomfort and fatigue.
St. Croix offers a variety of rods with different weights and actions, such as:
Premier Series: This series offers a medium action and weight, providing a good balance for most fishing situations.
Bass X Series: Designed specifically for bass fishing, these rods have a faster action and slightly heavier weight for improved casting accuracy and distance.
Consider the type of fish you are targeting and the techniques you intend to use. Different fishing situations require different rod balances. For example, when casting lures all day, a lighter and more balanced rod would be beneficial. On the other hand, if you are targeting larger fish, a slightly heavier rod with more power might be necessary.
Some factors influencing rod balance include:
Rod length: Longer rods tend to be tip-heavy, while shorter rods may feel more balanced.
Rod materials: High-quality materials, such as the SCIII graphite used in St. Croix rods, contribute to a better balance and overall performance.
Handle design: The shape and materials of the handle can affect the feel and balance. St. Croix offers a variety of handle options, including cork and EVA foam, to help you find the perfect fit for your preferences.
St. Croix fishing rods often have excellent balance due to their use of high-quality materials, thoughtful design, and a variety of options to suit different fishing situations. When choosing a St. Croix rod, consider the desired balance, and remember that the right rod balance can improve your overall fishing experience.
Outstanding Warranty
When you invest in a St. Croix fishing rod, you can trust that you're getting a high-quality product backed by an excellent warranty program. St. Croix's warranty options include the original owner's warranty and a global service warranty.
The Original Owner's warranty covers manufacturing defects for the lifetime of the rod, ensuring that you receive a product free of material or workmanship issues. In the unlikely event that you discover a problem, St. Croix will repair or replace the rod. To benefit from this warranty, you'll need to register your rod within 30 days of purchase. Keep in mind that this warranty is non-transferable and covers only the original owner.
St. Croix's Global Service Warranty is designed for those who do not qualify for the Original Owner's warranty. The Global Service Warranty covers out-of-warranty rods, unregistered rods, or second-hand purchases, making rod repairs accessible to a broader range of customers. The warranty has a fixed, reasonable fee, and you'll receive a repaired or replaced rod within a few weeks.
Here's a quick summary of the benefits provided by St. Croix's warranty program:
Lifetime warranty for original owners
Register within 30 days to activate the warranty
Global Service Warranty for broader coverage
It's essential to know that warranties don't cover damage caused by accidents, negligence or normal wear and tear. Yet, with St. Croix's dedication to customer satisfaction, you can trust that your fishing rod's performance will be supported throughout its lifetime, providing you with peace of mind in your investment.
Product Recommendations
If you're looking for a good fishing rod, St. Croix offers a variety of options for all skill levels and different types of fishing. Here are a few recommendations to help you make an informed decision:
St. Croix Bass X Casting Rods These rods are designed specifically for bass anglers, and they provide exceptional performance at an affordable price. Choose from a range of power, action, and length options to suit your fishing style.
Key Features:
Premium-quality SCII graphite
Fuji ECS reel seat
Split-grip cork handle
5-year warranty
St. Croix Mojo Inshore Spinning Rods These versatile rods are perfect for inshore saltwater fishing, targeting species like redfish, sea trout, and snook. They are made from high-quality SCIII graphite blanks and feature Kigan Master Hand 3D guides for smooth line movement.
Key Features:
High-modulus SCIII graphite
Kigan Master Hand 3D guides
Split-grip cork handle
5-year warranty
St. Croix Eyecon Walleye Spinning Rods Designed for walleye fishing enthusiasts, these rods offer excellent sensitivity and power to detect and reel in those elusive walleye. The Eyecon series has several length and power options to cater to various fishing techniques.
Key Features:
Premium-quality SCII graphite
Kigan 3D guides with aluminum-oxide rings
Fuji DPS reel seat
5-year warranty
As you consider which St. Croix fishing rod is best for your needs, remember to evaluate factors such as targeted species, fishing environment, and your preferred techniques. Be confident in your choice and enjoy your time on the water with a reliable and high-performance St. Croix rod.
What To Look For In A Fishing Rod
When selecting a fishing rod, considering the St. Croix brand is a smart choice. In this section, you'll learn about the various aspects of St. Croix fishing rods to help you make an informed decision.
To begin, consider your fishing environment and the type of fish you'll be targeting. St. Croix offers rods designed for freshwater and saltwater fishing, catering to various species and techniques. Research the specific rod action and power to match your needs:
Action: Describes how quickly the rod returns to its straight form after bending.


Fast action: Better sensitivity and faster hook-setting power, ideal for larger fish.
Moderate action: Better casting distance and versatility, suitable for medium-sized fish.
Slow action: Easier for beginners, with more flex for lighter lures and smaller fish.


Power: Refers to the amount of force needed to bend the rod.


Heavy power: Suitable for larger, stronger fish and heavier lures.
Medium power: Balanced option for medium-sized fish and diverse techniques.
Light power: Ideal for smaller fish and lightweight lures.
St. Croix rods come in various materials, with graphite and fiberglass being the most common. Analyze the advantages each material brings to your fishing experience:
| Material | Benefits |
| --- | --- |
| Graphite | Lighter in weight, increased sensitivity |
| Fiberglass | Durable, less brittle, better for beginners |
Finally, choose a rod length that complements your style and target species. Longer rods provide greater casting distance, while shorter rods offer better accuracy and control.
Understanding the key factors in selecting a St. Croix fishing rod such as action, power, material, and length will help you choose the right rod for your specific angling needs. Incorporate this knowledge into your decision-making process, and you'll find a St. Croix rod that meets your requirements.
Before You Go
If you're into fishing make sure to check out these resources that will for sure make you a better angler: