4 Best Campfire Cooking Kit and Equipment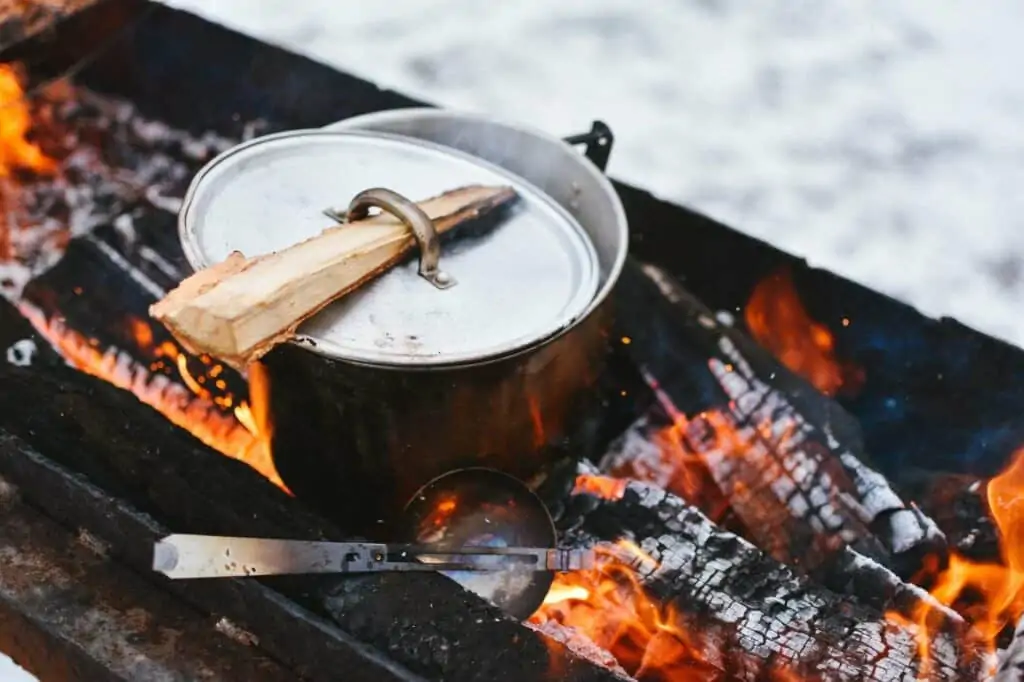 Campers and hikers are always on the lookout for the best campfire cooking kit that will make their next trip more manageable. There's nothing worse than being in an unfamiliar place with no way to cook food. This post rounds up the best portable campfire cooking equipment so you can find what works best before you head out to your next adventure.
We have compiled this list of the five best cooking kits and equipment that will help you prepare your favorite dishes on your fire pit while camping.
---
What Is The Best Campfire Cooking Kit To Purchase?
1. GSI Glacier Stainless Troop Cookset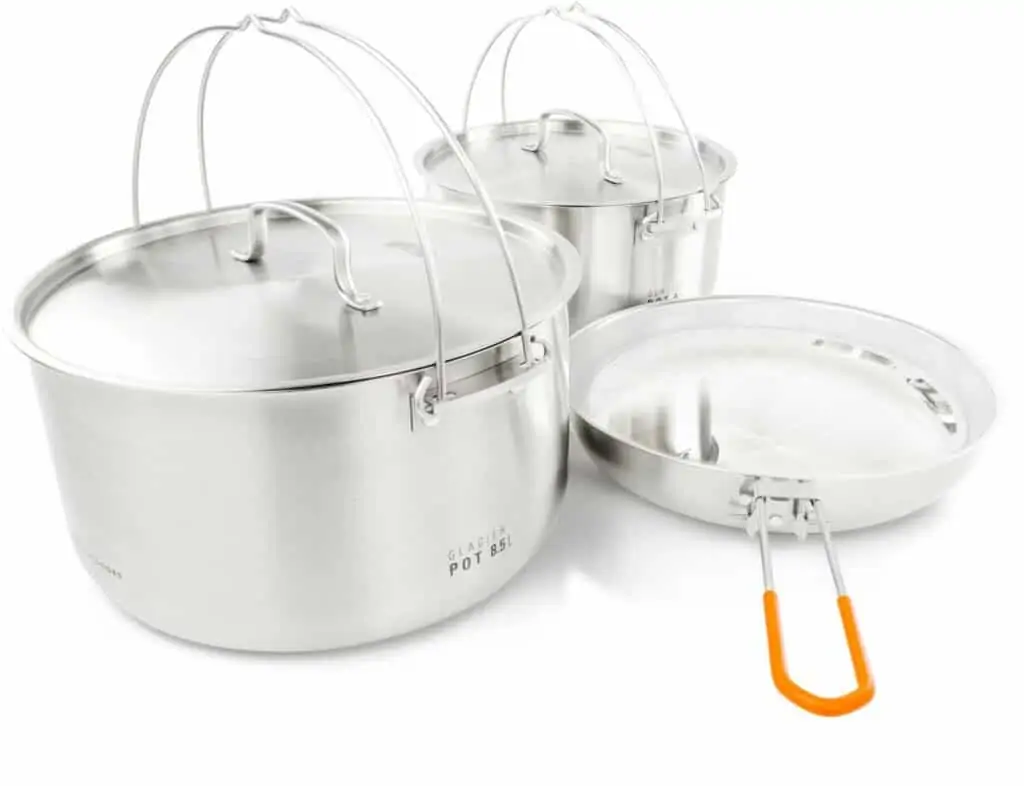 Overview
GSI Glacier's troop cookset is insanely durable and large enough to feed ten people. The rugged 304 steel construction resists rust, withstands open flame and coals while heating evenly fast, making it perfect for years of cooking on an outdoor grill or portable fire pit for camping. Plus, the dishwasher-safe design keeps looking shiny no matter what you put this pot through.
Key Features
A massive 8.5L pot
Giant 5L pot with lids
Jumbo 10" fry pan
Dual handles lock in place
Nests into a compact 12.4 x 11.7 x 8.6-inch stuff sack
Benefits
Great campfire cooking kit for larger families
This kit can take a beating and will last for years
Conclusion
This is a great cooking kit for large families while camping. The set includes everything you need to make hot, tasty meals on your next outdoor adventure, including the perfect size pot and frying pan. Cooking outdoors has never been easier with this complete cookware system that can be used over any open flame or stovetop.
We love how durable the stainless steel construction makes it, so we don't have to worry about scratching up our pots when stored in our backpacks. If you want an easy-to-pack solution for family-sized groups, this will quickly become your go-to choice of kitchen gear every time you head into nature.
2. MSR Quick 2 System Cook Set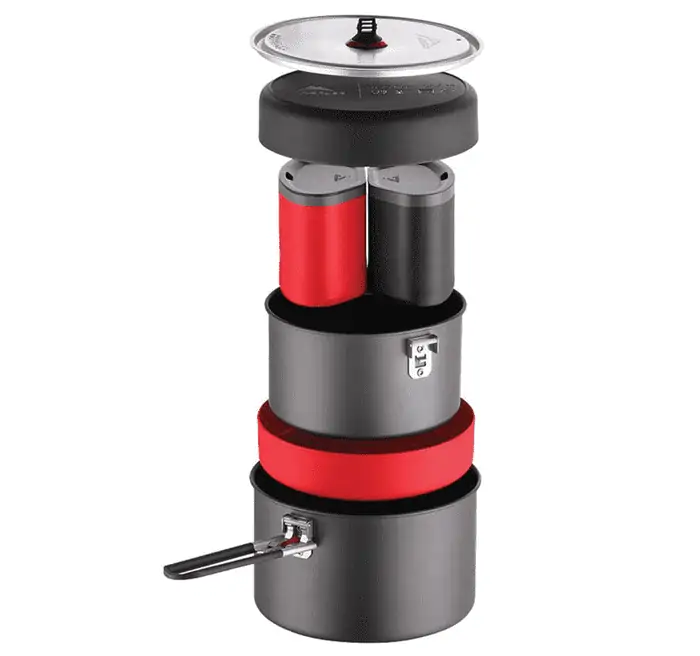 Overview
The MSR Quick 2 System is the ultimate all-in-one cooking and eating solution. It gives you everything you need for your backcountry eats, combining insulated mugs with deep-dish plates, both non-stick and uncoated hard-anodized aluminum, to meet any cooking needs.
Key Features
Lightweight two-person backpacking cookset
Includes 1.5L hard-anodized non-stick aluminum pot
2.5L hard-anodized aluminum pot
Strainer lid
Two deep dish plates
Two insulated mugs
Pot handle
12.5-ounce mugs are insulated with sip-thru lids
Benefits
It stacks nicely to reduce packing space
It contains everything needed to cook and eat for two people
Bruntmor Heavy Duty Cast Iron Cook Set
Conclusion
The MSR Quick 2 System is an excellent campfire cooking kit that will not let you down when cooking various meals. It is ideal camping cookware set for two people. It has enough features to make cooking a breeze but not so many that it becomes complicated or time-consuming. If you are in the market for a new camping cookware set, this one should be on your shortlist.
3. Stanley Adventure Base Camp Cookset 4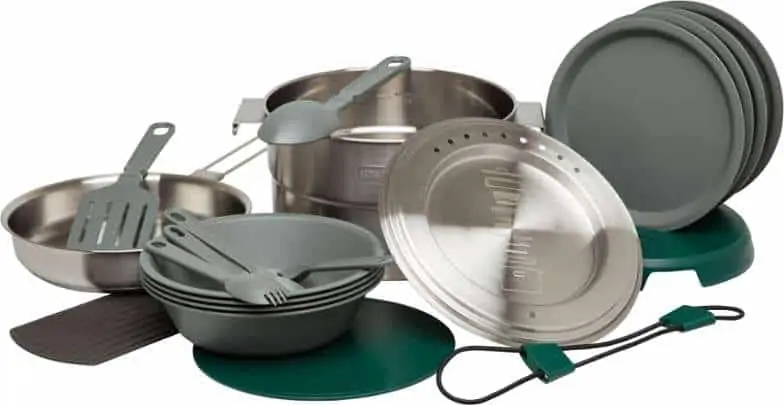 Overview
The Stanley Adventure Base Camp is as close to bringing your home kitchen cookware to camping in a good way. This campfire cooking kit has everything you need to cook in the great outdoors, including an ultra-durable stainless steel design and superior meat browning capabilities. The only downside? It's heavy, so it isn't ideal if all you're looking for are some cooking utensils rather than your entire kitchen set up while camping outdoors.
Key Features
3.7 qt pot with vented lid
3-ply durable 18/8 stainless steel 7.25″ frying pan
BPA-free plastic plates, 22 oz bowls, cutting board, extendable spatula, extendable serving spoon, sporks, and drying rack
The frying pan's handle folds out, and it locks in place.
The entire cook set fits into the pot and is held in place with an included locking bungee
Dishwasher safe
Covered by the Stanley Built for Life™ limited lifetime warranty
Benefits
It packs up very nicely and is easy to clean
Nests down to reduce the footprint, perfect for car campers
Even heat distribution to make your ideal campfire meals
Conclusion
Stanley Adventure Base Camp Cookset is an excellent set for campers looking to do more than boil water. The cookware has the perfect balance of durability and weight, making it easy to pack up your cooking gear without breaking your back or shoving too much in one bag. Whether you're looking for an upgrade from aluminum pots and pans or want something that will last through years on end, this cookware can handle all kinds of camping trips with ease.
4. Snow Peak Titanium Multi Compact Cookset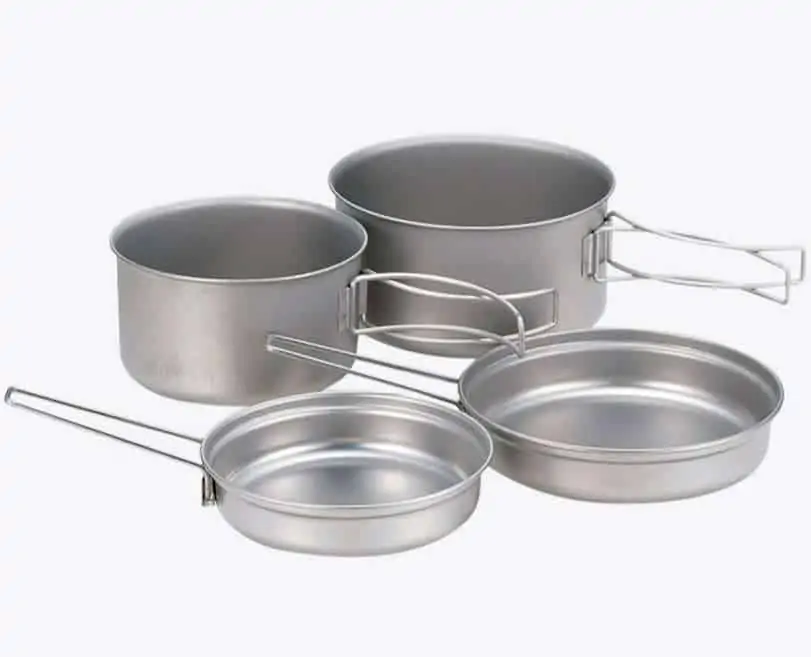 Overview
When you're miles from the nearest campfire and cooking supplies, a lightweight cookset like Snow Peak's Multi Compact Cook Set can make all of the difference. It includes two stacking pots that fit together for compact storage, as well as frypans with foldable handles, so they don't get in your way when packed away. This set is designed to be used alongside their GigaPower Stove Manual and Titanium Trek Bowl (sold separately).
Key Features
Lightweight titanium four-piece cooking set
1-liter pot
.8 liter pot
6″ frying pan with lid
5.3″ frying pan with lid
Benefits
Ultra-lightweight campfire cooking kit for backpackers
Materials made to last many years
Conclusion
The Snow Peak Titanium Multi Compact Cookset is durable, ultra-lightweight cooking set for serious backpackers looking to pack light on their hikes. With an included pot gripper and collapsible handles on the pots and pan, this cookware will be easy to carry while maintaining its durability in harsh conditions.
What Is Campfire Cooking Equipment?
Campfire cooking equipment is an excellent way for campers and backpackers to cook food while spending the night in the woods. It combines a stove, grill, and oven with a few different options for each type.
One of the main reasons people use campfire cooking equipment is because they are lightweight and easy to carry around. You can't always be sure about what kind of cooking facilities will be provided in campsites, but you don't need any cooking gear other than your campfire kit if you bring it with you. There are many different variations on these kits, so find one that fits your needs.
Here is some other popular campfire cooking equipment to consider:
Cast Iron Grill
This grill sits right on top of your fire pit or tripod you've created over the flames for added stability. It allows you to cook with an open flame like grilling but with additional control because it's not directly touching the coals underneath, making it possible to adjust temperatures without moving food around constantly. You can also use this as a base for pots and pans that need extra support while boiling water or heating other ingredients. The best part about cast iron is how durable they are, so they can last a lifetime if taken care of properly.
Folding Grill
This is only about 18 inches in diameter and works great for camping trips where you don't need to bring a lot of cooking equipment along with you but still want the option of grilling food over an open flame if necessary. It's lightweight and folds flat, so it can be stored easily when not in use or brought on backpacking trips that might require some extra weight capacity from your pack. Since it's made out of aluminum, this grill won't last as long as cast iron ones usually coated with porcelain enamel. Still, they're also less expensive than other campfire kits because there isn't any advanced technology involved like heat resistant handles vents that regulate airflow inside the grill.
Wood Burning Stove
If you're interested in cooking over a wood fire, but don't want to have to build an entire campfire just for this purpose, then a stove is the best option for your needs. These typically come with various accessories like pots and pans that fit on top of them and utensils to cook food inside those items. They range from super-compact designs that are only about 12 inches square or round up to large ones that can be up to 30 inches high, including ovens attached at the bottom where you would place bread or other baked goods while they rise before being cooked thoroughly.
Camp Oven
This particular type of camping equipment allows food enthusiasts who love open flame baking without the hassle of building a fire to make bread, cakes, or even roast meat. They can be round and fit on top of cooking stoves the same way as pots and pans. A camp oven will block out most of the heat from your stove, which is why it's helpful to have one that comes with extra accessories like wire racks for placing food inside.
Wood Burning Grill
This style works great if you want an open flame grill but still prefer something lightweight. It doesn't add any unnecessary weight while backpacking, where camping might not provide too many opportunities for using this type of cookery equipment unless the campsite already supplies them. They're pretty much the same as a folding grill with fewer features and smaller sizes to make them easier to carry around when you need them most.
Is There Any Wood You Shouldn't Cook Over?
Cooking over a campfire is one of the most popular camping activities. However, not all types of wood are created equal. For example, while hardwoods such as oak and maple produce long-lasting fires that will keep you warm for hours, softwoods like pine have a much lower BTU value and burn out quickly. As a result, it's best to bring your own firewood or purchase some from a campsite when you arrive if possible.
For the perfect wood for cooking, you need to be aware of what kind will give off an unpleasant flavor. Softwoods such as pine and fir are not ideal because they contain terpenes – which gives meat bad flavors when burnt or cooked at high temperatures with spices added in during baking time (this has happened before). Redwood is better than these two though it still isn't great since there's no point using woods like cedar or cypress due to their strong scent once burned.
It's easy to forget that treated wood can release harmful toxins when burned, so don't use it! If you want your fire pit experience around the house to be safe and enjoyable for everyone involved (especially if there are children), avoid burning any type of coated or pressure-treated board. You should also make sure old fences aren't left on-site as these may lead them into unsafe territory – especially since they're usually not made from untreated pallets as most people think; this means no more fence posts either
---
Summary
Whether you're interested in grilling food over an open flame or baking bread using a camping oven, there's something here to meet your requirements. When it comes to durability and longevity, cast iron is the best option because these kits will last a lifetime if taken care of properly by caring owners.
Aluminum options are also available, which are less expensive but don't offer as much design flexibility with features like heat-resistant handles that help regulate airflow inside the grill when needed most. Wood-burning stoves are excellent for those who love open flames without having to build a fire just for this purpose, while wood-burning grills work well if you want an open flame grill but don't need to bring a lot of cooking equipment along with you on your trip. Campers, hikers, and backpackers all have different needs for what they want out of their campfire cooking kit.