Best Dog Harness For Hiking [Top 9 Reviewed]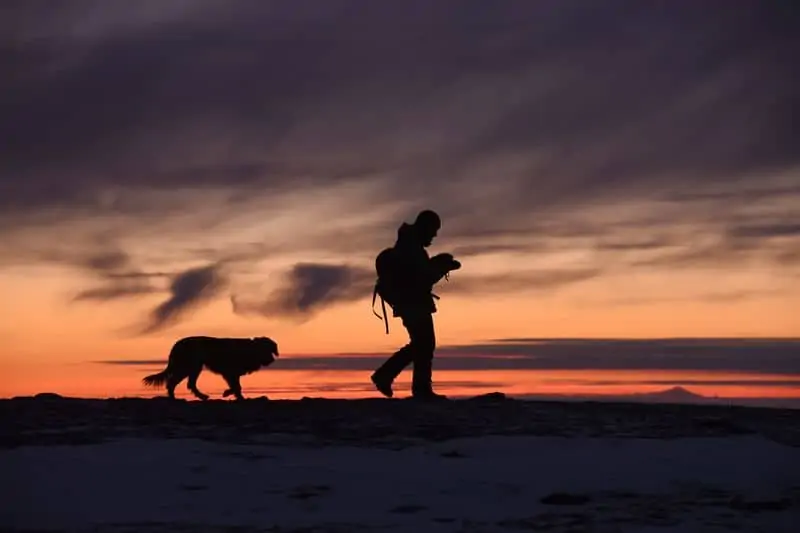 This post contains affiliate links where we may earn commissions from Amazon, REI, and other retailers at no additional cost to you. You can learn more about our affiliate policy here.
One of the most important gear you will need to take your dog on the trails is a hiking harness. There are many different types and styles of harnesses available. The best dog harness for hiking provides safety and security for your pet while remaining comfortable on their body.
What Is The Best Dog Hiking Harness?
In this article, we will be discussing nine different dog harnesses for hiking that would make great choices for easy trails and rough terrain.
The Ruffwear Web Master Harness is a secure, highly versatile harness designed specifically for canine adventurers. Ideal for challenging terrains and working dogs, the Web Master hiking harness features padded, reinforced handles to safely and comfortably help your dog up and over rocks when hiking and five points of adjustment for a perfect fit. This harness is built to last through camping, hiking, or any outdoor activity with two sturdy reinforced leash attachment points, anodized aluminum hardware, and durable construction.
Key Features
With five points of adjustment, this hiking harness is easy to fit and comfortable for your pup to wear all day long, even if they have sensitive skin, as some breeds do. It also comes in four different colors, so you can find one that matches your style perfectly. And if anything ever happens while you're out walking them, grab the sturdy aluminum V-ring leash attachment point and get ready.
Summary
The Ruffwear Web Master dog harness is a great choice for owners who want their pets to have a full range of motion while exploring the outdoors. The padded handle help assist lifting, making it ideal for dog handlers with disabilities or amputees and working dogs that need help getting over obstacles. This harness also features 5 points of adjustment so you can customize the fit based on your dog's needs. Other highlights include anodized aluminum V-ring and webbing loop attachments designed to hold up even in challenging conditions, along with durable construction that makes this product last year-round.
The Front Range Harness is a sleek and modern dog harness that's easy to put on, comfortable for dogs to wear.
Key Features
It features two leash attachment options: an aluminum V-ring centered on the canine back for everyday walks or another front clip webbing at chest level, which redirects them when they pull too strongly – no more yanking! The ID pocket helps keep tags quiet, so you'll always know where your pup goes.
Summary
The Ruff Wear Front Range dog hiking harness is perfect for keeping your dog safe and comfortable on challenging terrains or other outdoor activities. The harness is made from durable materials that can withstand wear and tear, and it features five points of adjustment for a snug and customizable fit. Additionally, the Front Range hiking harness has two sturdy leash connection points, an aluminum V-ring centered on the canine back, and a reinforced webbing loop at the chest level to provide maximum control during walks or other activities.
The Balance Harness is a no-pull solution that doesn't cause chaffing, choking or restriction. Instead, it provides six adjustment points for ultimate comfort, freedom, and control. Their patented design provides a custom fit for every dog while preventing pulling behavior. They have designed this harness to be comfortable and easy to use so you can enjoy walks with your pup again.
Key Features
The Balance Harness Buckle Neck is perfect for large and small dogs that need a comfortable, secure fit. The six-point adjustment system ensures a snug and comfortable fit, while the total range of motion allows your dog to move freely. Multiple leash attachments make it easy to manage to pull, and the buckle on the neck loop makes it easier to put on than traditional dog harnesses. Made of washable soft-touch nylon, this hiking harness is easy to keep clean.
Summary
The Balance Harness is a good option for a hiking harness. It's easy to put on your dog with the buckle neck loop, perfect for dogs who don't enjoy being slipped over their head into a harness. So finding the right dog hiking harness will give you peace of mind knowing that your dog will be comfortable while also allowing them to move freely without pulling or feeling restricted.
The Alpine Outfitters Urban Trail Harness is a good hiking harness and the perfect solution for many. It's fully padded everywhere that touches your dog, even under the buckles and on the adjustment strap. Each harness is cut & sewn to order to your dog's exact measurements and specifications that you provide, ensuring a comfortable like-a-glove fit for your best friend.
Key Features
With this durable nylon webbing construction and sturdy metal D rings, you can rest easy knowing they will be safe while out on their daily adventures. This harness also features reflective stitching to make your dog visible in low light conditions or at night time when visibility isn't as good.
Summary
You'll love how easy it is to get these dog hiking harnesses on and off your pet, plus you won't have to worry about them coming loose or getting caught on anything while out hiking. With the adjustable straps, each harness will be custom-fitted just for every dog, so they never feel uncomfortable or restricted when wearing it. Plus, they include a lifetime warranty with every purchase.
The ComfortFlex Sport Harness is an active dog harness that is comfortable for long hikes with your furry friend. With its redundant velcro closure, quick-release buckles, or plastic rings on each side of the chest plate that can be tightened safely with one hand, this harness will fit most dogs well.
Key Features
This dog harness is both comfortable and safe. The padded nylon construction ensures your pup stays comfy while taking them on a run or hike, and the reflective strapping helps keep them visible in low-light conditions. The ergonomic design allows for a full range of motion without irritating your pet, and the easy-to-use velcro and safety snap closure make putting it on this hiking harness a breeze.
Summary
The ComfortFlex Sport Harness is the most comfortable and secure harness. It protects sensitive areas, like your dog's throat and underarm, during any level of exercise. Your dog will also be able to retain a full range of motion without worrying about irritation or chafing. This simple yet effective design lets your dog enjoy their time with you while staying safe.
You can feel confident that this harness has got you covered when it comes to safety, comfort, and security.
Julius K9's IDC Powair Harness is a heavy-duty, easy-to-use harness designed for urban use. The innovative chest strap distributes weight evenly, making it the perfect choice for dogs who need a little extra support. This harness is also a favorite among busy pet parents with its clear and clean design.
Key Features
This harness is made with your dog's comfort and safety in mind. The wide chest strap helps evenly distribute tension, and the certified materials are safe and comfortable for your pet. The German straps are tested for strength and durability, and the Swiss fastening elements provide maximum freedom of movement.
Summary
When it comes to finding the best dog hiking harnesses, you don't have to sacrifice safety for comfort. With the IDC Powair Harness from Julius K9, your dog will be secure and comfortable. This heavy-duty nylon webbing construction provides a snug fit while preventing chafing or irritation on sensitive skin areas like underarms and throats. You can feel confident knowing that every dog is safe in this design because of its ergonomic shape and reflective stitching (which increases visibility). Plus, these harnesses come with a lifetime warranty, so if anything does happen to go wrong, we'll replace them.
The Ezy Dog Express Harness is the perfect solution for owners looking for a minimalist, sleek design with several handy features. This harness is made from PP webbing with an extremely soft hand feel, meaning it is strong and durable yet extremely comfortable.
Key Features
It features contouring EVA pads, molded grab handle, accessory D ring, and reflective trim. The harness can be customized to fit any dog, small or large, based on a single-buckle-on/off design as simple as a collar.
Summary
This dog hiking harness is a perfect companion for pet owners who want to keep their pets safe and secure while on the trail. The dog harness features contouring EVA pads, molded grab handle, an accessory D ring, and reflective trim that will allow you to customize it based on your dog's size. The dog hiking harness is perfect for pet owners who want to keep their pets safe and secure while on the trail. This easy-to-use, one-buckle design is as simple as putting on your dog's collar. The reflective trim will also help ensure your pet's safety during low light conditions.
There's no better way to do it than with a good dog hiking harness when it comes to dog hiking. And that's where the Fidogear Walking Harness comes in. So this heavy-duty harness is perfect for taking your dog hiking with you.
Key Features
It features a padded neck and chest, ensuring that your dog is always comfortable. The best part is that it's easy to adjust so that you can get a perfect fit every time.
And to ensure that your dog is safe, this dog hiking harness has reflective stitching. Plus, it comes in various colors for you to choose from.
Summary
If you want the best dog hiking experience possible with your dog, why not go with Fidogear? The next time you're ready for an adventure, be sure to take along the right tools so everyone can have fun.
This is one of the most expensive harnesses on this list, but it has some pretty sweet features worth noting. First, it's made for those working dogs who need something more heavy-duty to do their jobs without being uncomfortable or getting in the way. Considered the best dog harnesses in its class by many dog owners, these are designed for large dogs.
Key Features
This dog harness has a lightweight mesh tactical dog harness for comfort and ventilation, full range-of-motion in legs and chest for high-intensity tracking or search and rescue work, and a secure-grip handle to ensure your buddy does not get too tired while he's at work or play. Able to be adjusted with Nylon strap pulls makes it easier to fit any size dog perfectly, making this guard/service/therapy animal perfect even if you're constantly on the go. The Icon Air Harness is also fitted with a chest/belly pad to distribute your dog's weight evenly, so you don't have to worry about hurting him while on duty or during playtime.
Summary
This harness is made for active dogs and is one of the best hiking harnesses but can be used for many purposes. So if you're looking for an amazing heavy-duty dog harness that won't disappoint, the Ray Allen Icon Air Harness is the one for you.
What Are Dog Hiking Harnesses?
When taking your furry friend out on hikes, you'll want to make sure they're as safe as possible. The best dog hiking harnesses come in – they help keep your pet secure while walking or climbing. Here are a few tips on how to choose the right one for your pup:
Make sure the harness is adjustable – you'll want it to fit snugly but not too tightly, and it should be comfortable for your dog to wear.
Look for a harness that has a clip or D-ring on the back. This will allow you to attach a lead or leash for better control while hiking.
Avoid harnesses with straps that go over the neck – these can be dangerous and cause choking or other breathing problems.
With the right harness, you and your pup can enjoy safe hikes together for years to come.
What To Look For When Buying Hiking Harnesses
When looking to purchase hiking harnesses for dogs, there are several features you should look out for. First, we'll break down the basics of choosing the best harness for your dog. Some of the basic features to look for are attachment points, foam padded strips material, and any reflective material included in your leash or leash attachments.
Leash Attachment Points: There are two main types of leash clip attachment points: D-rings and velcro straps. A leash with a standard D ring can have special features that allow it to be adjustable when pulled tight against the dog's chest, so it doesn't get caught on objects while walking through forested areas or undergrowth. If not properly adjusted, these leashes could cause serious injury if they catch on objects while hiking. Velcro straps are usually used on leash attachments that do not need to be adjusted constantly throughout the hike, such as leash handle attachment points. This leash type is preferred by many due to its ease of use and quick release feature if it were to get caught or snagged on an object.
Padding Materials: There are two main types of padding materials: neoprene foam pads and breathable mesh fabric panels. Breathable mesh fabric tends to be more durable than neoprene foam pad harnesses, so it has a longer lifespan for dogs who enjoy running through brushy areas frequently during their walks with you. Neoprene material provides extra comfort along your dog's chest when pulling them from a leash handle attachment point.
Reflective Material: Harnesses can include reflective material as part of your dog's safety harness. If you enjoy taking walks early in the morning before it gets dark, this feature is a must-have since cars won't be able to see your dog from far away due to darkness. This feature helps keep them safe and keeps other hikers and adventurers safer by being seen more easily when out at night or on trails that do not get much sunlight during certain times of the year.
Other things to consider when looking for the best dog harness for your four legged friend are attachments for poop bags, front attachment point, easy access id pocket, and belly strap.
Other Types Of Dog Harnesses
There are several other types of harnesses available on the market today. Like the no pull harnesses, some are designed to make walking your dog easier. Others, like climbing harnesses, can be used for more specialized purposes. Not all dogs are the same, so the dog's harness is dependant on the primary use of the harness itself. Here is a brief overview of some of the most common varieties:
No Pull Harness: As their name suggests, no pull harnesses are designed to discourage your dog from pulling on the leash. They work by distributing pressure evenly across the chest and shoulders, making it difficult for your pet to pull forward. No pull harnesses come in both standard and adjustable designs, so you can find one that will fit your dog comfortably. This is the best hiking harness for pets who tend to pull.
Climbing Harness: Climbing harnesses are perfect for dogs who love hiking and exploring the great outdoors. They are made of sturdy, durable materials and have padded chest plates to keep your pet safe and comfortable while climbing. Climbing harnesses also typically include a top handle, which allows you to lift or restrain your dog if necessary.
Halti Head Harness: The Halti head harness is popular among dog owners who struggle with leash pulling. It works by redirecting your dog's attention back towards you when he starts to pull on the leash. The Halti head harness fits comfortably over your pet's head and muzzle and can be easily adjusted to fit different sizes.
Lifting Harness: Lifting harnesses are designed to assist you when lifting your dog into the back of a car or onto furniture. They come in both standard and no pull designs so that you can choose one based on your pet's individual needs. When shopping for a lifting harness, make sure it is comfortable but secure enough that it won't slip off while you're using it.
How To Measure Your Dog For Harness Sizing
Having an ill fitting harness will increase the likelihood of injuries. Knowing how to fit the harness properly will ensure a safe hiking trip outdoors. Starting with the dog's neck, measure around your dog's throat. Make sure to go high enough that you are right below their ears and above where they would wear a collar.
Then, take this number and multiply it by two to accurately measure how large your dog's chest is. Next comes the girth or widest part (near the dog's rib cage) of the body, which should be measured behind his front legs on both sides at about elbow height, near the dog's shoulders.
This will give you one half of what size range he falls under, so now you need to double it again if needed.
Finally, use a soft tape measure to get roughly how long your pup is from the nape (back)of head to tail tip following along their spine.
Basic Leash Skills When Using a Dog Harness
When using a dog harness for hiking, it is important to be aware of the basic leash skills. Many off leash obedience cues apply when your dog is on a leash. Make sure you are familiar with these commands before hitting the trails. Additionally, remember that there are leash laws in most areas, so obey them. This will help keep you and your furry friend safe while enjoying nature. If the trail is crowded, having polite leash skills when people are around is recommended.
Stay close to me: When using a dog harness on hikes, it is important to keep your pup close by your side. This will help avoid any potential hazards and ensure their safety.
Come when called: Even if your dog is on a leash, always make sure they come when called. There could be other off leash dogs or wildlife on the trails, and you will need your pup to come back when called.
Walk at an appropriate pace: Walking slowly and calmly while using a dog harness is important for both you and your furry friend. This will help keep everyone safe by not rushing into things that may cause harm, such as steep cliffs or dangerous animals.
Final Thoughts
You've learned that finding the best harness for your dog when you go out hiking can be a little daunting with so many options on the market. As we mentioned before, there are many factors to consider, and it can be hard to know which one will work best for you and your pup. To make things easier on yourself, use our helpful tips as a starting point but don't stop until you find something both of you feel comfortable with.