GIGA Lounger GS1 [Review]
A portable, lightweight, and comfortable lounger for that much-needed R&R
We're all for packing light as much as possible.
But there are some things so portable and useful that it wouldn't hurt to sneak it on our trip.
Especially when we're talking about an ergonomic lounger.
We were given MicroNovelty's Giga Lounger GS1 inflatable lounger for a thorough review and we're happy to report back what we liked about it, and the things we think can make it better.
Let's dive in.
GIGA Lounger GS1
Product Name: GIGA Lounger GS1
Product Description: An ergonomic air lounger with a self-contained pump, allowing you to fully inflate in 100 seconds.
Brand: MicroNovelty
Features -

8.4/10

Usability -

7.9/10

Durability -

8/10

Performance -

7.9/10
Summary
One-click fast, automatic inflation system with self-contained electric pump
100 seconds to fully inflate
Weighs just over 2 pounds
Ergonomic design
Emergency power bank for mobile charging
Pros
Portable and lightweight
Convenient self-contained pump
Internal power bank for charging mobile devices
Cons
Gust of wind will blow away if not in use
Material is slick
MicroNovelty's GIGA Lounger GS1
The GIGA Lounger GS1 is a lightweight and portable lounger with some unique features.
To be honest, when we were given this lounger to test we were very skeptical of its durability.
After taking the lounger with us in the desert, here are our thoughts on its features, durability, usability, and performance.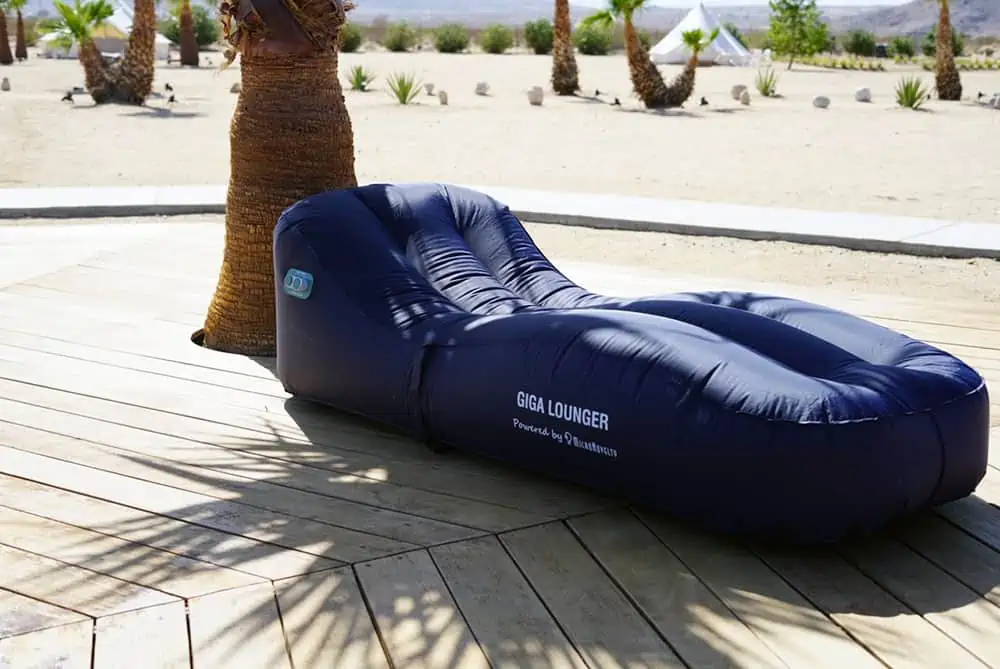 Key Features
One-click fast, automatic inflation system with self-contained electric pump
100 seconds to fully inflate
Weighs just over 2 pounds
Ergonomic design
Emergency power bank for mobile charging
This is an area where I think the GS1 shines.
This inflatable lounger comes with an innovative built-in, one-key automatic pump.
With a simple press of the orange power button, the lounger fully inflates in about 100 seconds.
The pump also has a micro USB and USB-A port. The micro USB is used to charge the internal 2600mAh capacity battery.
You can also charge your mobile device as well via the USB-A port. A lounger and mini battery pack, all in one.
No need to manually inflate, it's ready to enjoy in about 100 seconds.
Another great feature, that is uncommon for camping chairs, is the ergonomic design.
Laying down on the GS1, it was very comfortable.
Comfortable enough to even take a little snooze.
You can take this to the beach, camping, or poolside. It's great.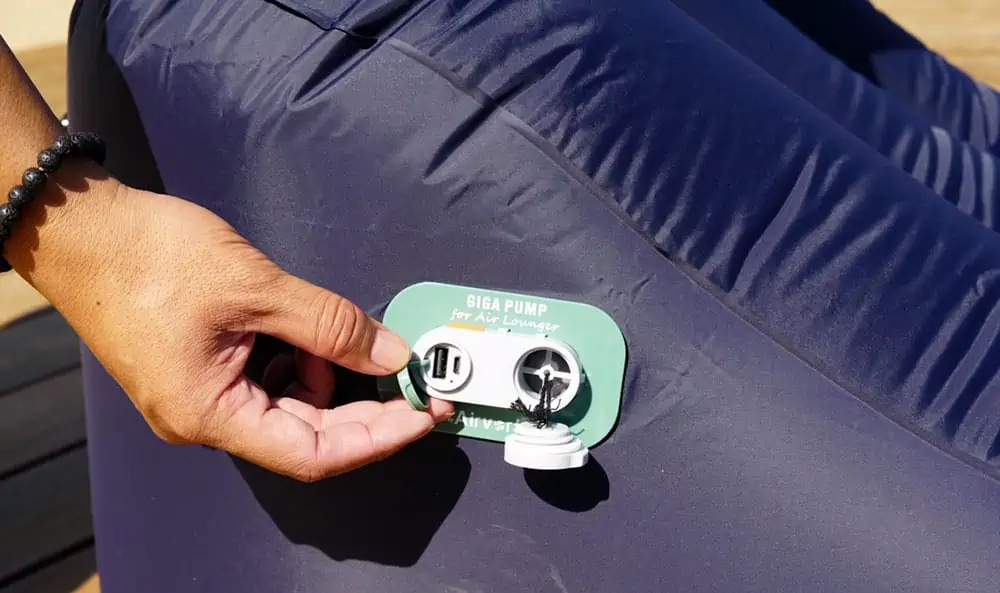 Usability & Performance
The Giga Lounger GS-i was very easy to use and performed well in our test.
As I mentioned before, the built-in pump makes inflating and the air release valve makes deflating a breeze.
It took us less than two minutes to inflate and less than one minute to deflate.
The Giga Lounger GS1 is very lightweight and portable, weighing just over 2 pounds.
It comes with a carrying bag so you can easily take it with you on the go and has a respectable maximum load capacity of 330 pounds.
We took it camping, to the park, and even used it around the house. It was comfortable in all situations but had some things that the company can improve on which we'll explain below.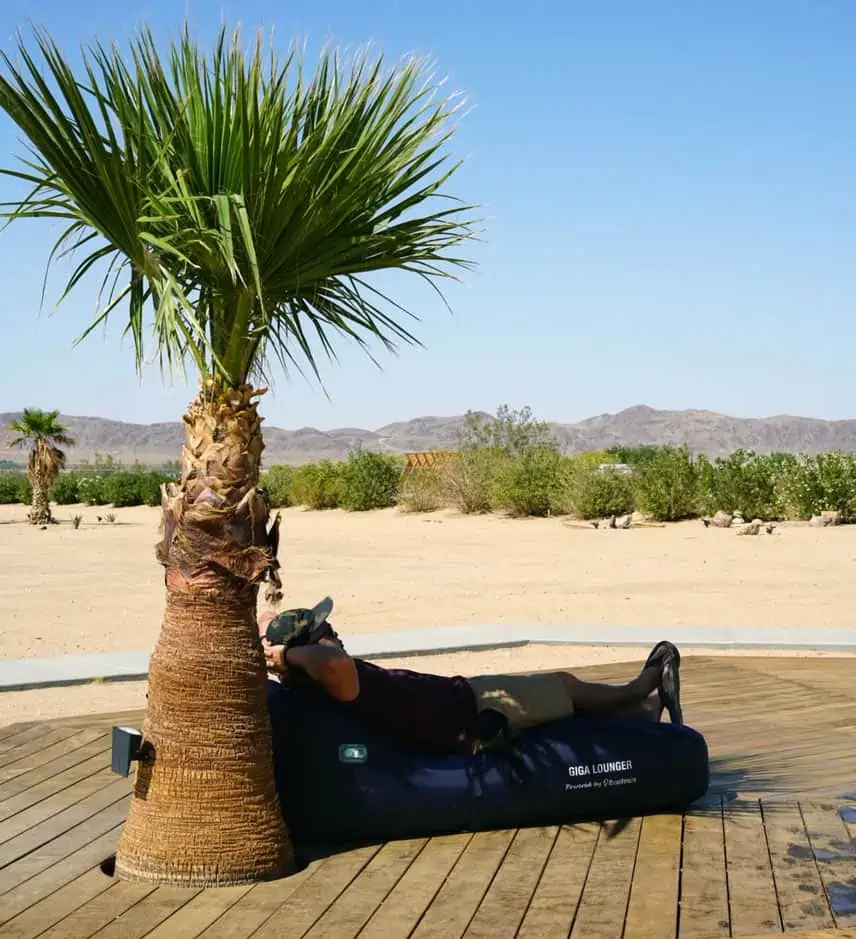 Durability
When it comes to durability, we were pleasantly surprised at how well the Giga Lounger GS1 held up. We took it camping in the desert and it had no problem at all handling the rocky terrain.
The material is also water-resistant so you don't have to worry about getting caught in the rain or accidentally spilling your drink on it.
The lounger, according to their website, is made by hot-pressing high-frequency welding of new friendly polymer thermoplastic polyurethane (TPU) material.
TPU has the properties of plastic and rubber and has the durability and flexibility for the most demanding applications.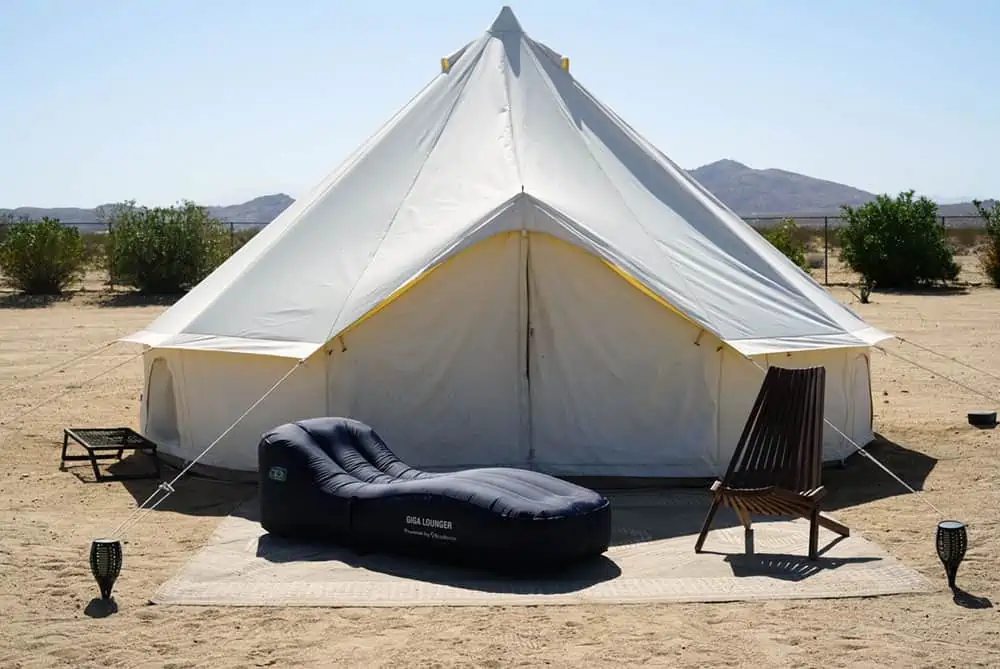 What We like
When packed, the GS1 is the size of a small backpack and conveniently comes with a carrying case.
Not having to worry about carrying a separate pump is convenient.
The battery pack to charge mobile devices gives you that added peace of mind when you're running out of juice in the middle of nowhere.
What Can Improve
When researching more about this product, you'll notice a lot of the images floating around on the web make it look like the lounger is made of felt material, like most inflatable air mattresses.
But that's not the case.
The lounger's material is slick and slippery, so you'll more than likely re-adjust yourself when laying down.
Another thing we noticed when field testing out in the desert is that a strong gust of wind will blow the lounger away when not in use.
Would be great to maybe have a pouch on each end where you can add sand to anchor down the lounger.
What To Look For In An Inflatable Lounger
When looking for an inflatable lounger for camping and other outdoor activities, you'll want to consider a few things.
The first is durability. Make sure the material is water-resistant and can handle a bit of wear and tear.
The second is portability. The lounger should be lightweight and come with a carrying case or backpack for easy transport.
The third is usability. The lounger should be easy to inflate and deflate, with an air release valve, and have a comfortable design.
Finally, price is always a consideration. You don't want to break the bank, but you also want a quality product that will last.
Summary
Overall, we were very happy with the Giga Lounger GS1 inflatable lounger.
It's a great choice for anyone looking for a comfortable, lightweight, and portable lounger for camping or any outdoor activity.
The built-in pump is a game-changer and the added bonus of being able to charge your mobile devices is an added convenience.