Humphreys Peak: Hiking The Highest Peak in Arizona
Humphreys Peak is the highest mountain in Arizona, and it offers some of the best hiking and climbing opportunities in the state. Humphreys Peak is worth your time if you're looking for a challenge.
This guide will provide you with all the information you need to know before attempting to climb Humphreys Peak. We'll discuss the difficulty level of the hike and some of the best routes to take.
Humphreys Peak is one of the many summits that make up the San Francisco Peaks, a group of extinct volcanoes located in north-central Arizona. The peak is named after General Andrew A. Humphreys, who surveyed the area in 1864 and is the highest point in Arizona, reaching 12,637 feet (3852 meters).
The trail to Humphrey's summit begins at the Snowbowl Ski Area, located about 15 miles (24 kilometers) northwest of Flagstaff. The hike to the top of Humphrey's Peak is approximately ten miles round trip and gains about 3,343 feet (1,019 meters) in elevation. Although this may seem like a lot, Humphreys Peak is one of the easier high points to climb in the western United States.
Most people attempt to hike Humphreys Peak during the summer months when the weather is cooler, and there is less snow on the trail. However, hikers should be aware that thunderstorms are common in the afternoon during the summer, so it's always a good idea to start your hike early in the day.
There are several different routes you can take to reach the summit of Humphreys Peak. The most popular route is probably the Humphreys Summit Trail, which starts at the Snow Bowl Ski Area and follows a series of switchbacks up to the top of the peak. However, if you are looking for a more challenging hike, you can try the Arizona Snow Bowl North Rim route, a longer and more difficult trail.
The first half of the trail is forested with Aspen trees and provides shade, a huge plus if you're hiking on a hot sunny day. The second half above the treeline is more exposed, so make sure to put on sunscreen and bring plenty of water.
You will know you're getting close to the summit when the trail levels out and you see Humphreys Peak looming ahead. The most difficult part of the hike is the last quarter-mile, as the trail becomes steeper and rockier.
Forty-five minutes off the trail, you'll even discover a plane crash from 1944. It may be a little difficult to find, so we suggest having a GPS tracker with you.
Once you reach the summit, you'll be rewarded with stunning views of the surrounding area. Be sure to take plenty of pictures to capture your accomplishment.
Hiking Humphreys Peak is a challenging but rewarding experience, and we hope this blog post has given you everything you need to know to plan your hike. Remember to start early, bring plenty of water, and be prepared for changing weather conditions. Most importantly, have fun and enjoy the incredible views from Arizona's highest peak.
How Long Does It Take To Hike Humphreys Peak?
It takes most hikers between five and eight hours to hike from the trailhead to the top of Humphreys Peak and back down again. This is not your average day hike, however, and you should prepare well in advance to avoid altitude sickness. Once you're done, find a place to rest your tired feet.
Make sure you're physically fit before attempting Humphreys Peak. It is a strenuous hike, and although it's doable for most people in decent shape, you should make sure to train beforehand. If you have any doubts about your abilities, it's always best to err on caution and turn back. We suggest you check out our hiking for beginners guide if you're new to hiking or a veteran looking to brush up on their skills.
Hiking Gear
When you're planning a hike up Humphreys Peak, you must make sure you have the right hiking gear. You'll need to pack plenty of water, sunscreen, snacks, first-aid kit, and a portable solar power charger for your electronics. You'll also want to ensure you have the proper clothing and footwear for the conditions.
For clothing, you'll want to dress in layers to adjust as needed. Pants and a long-sleeve shirt are good ideas, as are a hat and sunglasses. If it's cold at the summit, you'll want to bring a jacket and thermals.
Footwear is another important consideration. Hiking boots are recommended, as are grippy soles to help with traction on the rocky terrain.
A hiking stick is also a good idea, both for balance and to help with the steep sections of the trail.
Altitude sickness is something you should be aware of when hiking Humphreys Peak. This can happen when people travel to high altitudes too quickly, and it can cause symptoms like nausea, headache, lightheadedness, and fatigue. If you start to feel any of these symptoms, it's best to turn back and descend to a lower altitude.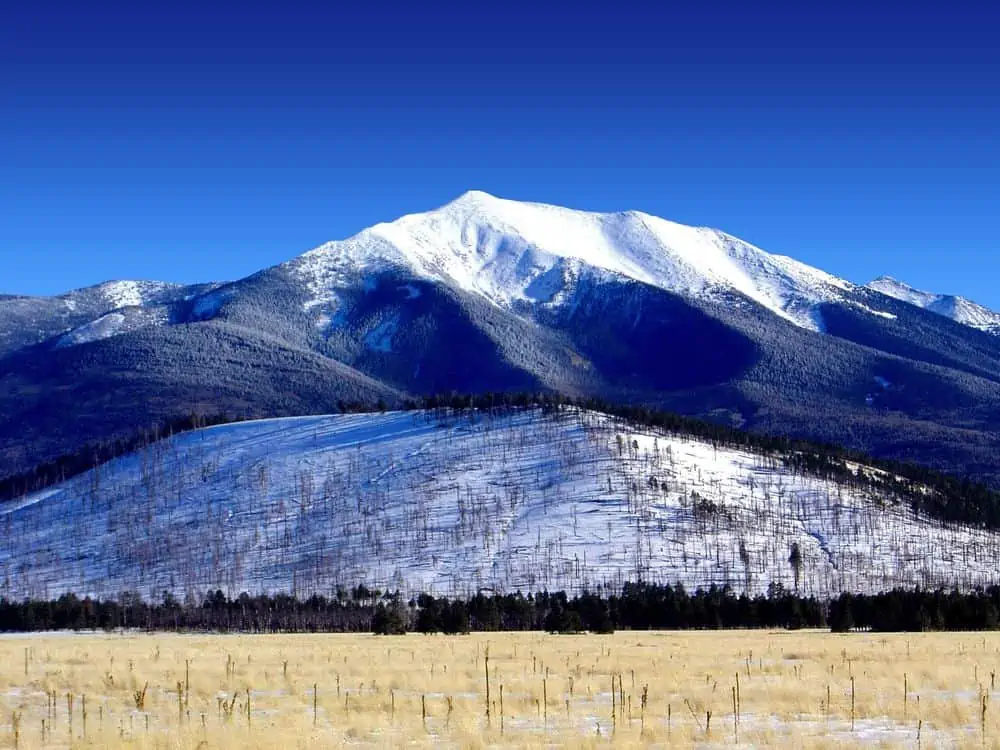 Humphreys Peak Weather
East Flagstaff, US
6:50 pm,
September 29, 2023
43
°F
Feels like

37

°F

°
clear sky
| Overview | |
| --- | --- |
| Elevation (feet) | 12,637 ft |
| Elevation (meters) | 3,852 m |
| Continent | North America |
| Country | United States |
| Range/Region | Colorado Plateau |
| Latitude | 35.3333 |
| Longitude | -111.683 |
| Difficulty | Walk up |
| Best Months For Climbing | Jun, Jul, Aug, Sep, Oct |
| Year First Climbed | 1904 |
| First Successful Climber(s) | James S. Hutchingson, Jr. and Edward C. Hutchingson |
| Nearest Major Airport | Flagstaff, Arizona |
| Convenient Center | Flagstaff, Arizona |
| State | Arizona |