Best Coolers For Camping & Outdoor Adventures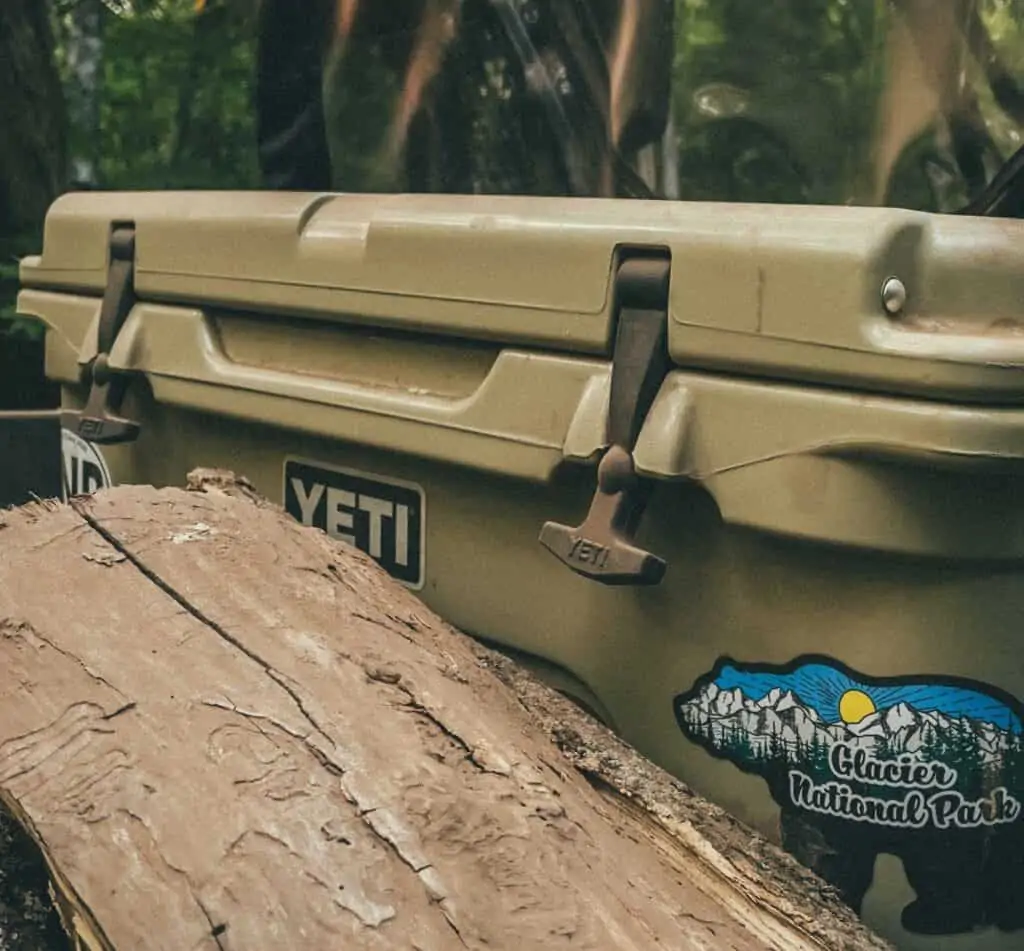 You're looking for the best camping coolers.
You want something that will keep food and drinks cold, but you also want a quality cooler that can withstand all your outdoor adventures like heavy-duty construction and wheels for easy transportation.
We've put together this list of the best coolers for camping by brand so you can easily compare them based on their features and durability.
What Are The Best Camping Cooler Brands?
1. Yeti
Yeti coolers are designed to last years and we couldn't make a list of the best coolers for camping without its recognition. They're made of polyethylene with stainless steel hinge pins and hardware for added strength and durability, so you don't have to worry about any breakdowns or leaks. And because of their construction, they can be used in all climates.
Yeti Tundra
The Yeti Tundra series offers the best in weight insulation with its sturdy, rugged rotomolded cooler construction for better ice retention and lightweight foam structure. Ice won't be an issue if you plan on camping anytime soon; these coolers are 10x more resistant to ice creep, which means you keep cold drinks for much longer than usual when stored inside one of these bad boys.
These models make any trip into uncharted territory easy breezy thanks to their durable build quality as well comfort features like beverage holders all around so everyone can enjoy themselves while out there exploring nature's beauty up close.
Listed below are some of the popular Tundra model sizes, all hard cooler models in this category can be viewed here.
Yeti Tundra 35
Features
28 quart capacity, 28lbs of ice (only), and 20 cans of beer when using a 2-to-1 ice ratio
15.75 x 21.4 x 16.1 inches (H x L x W)
Weight: 20 pounds
Sturdy rubber latches
dry goods basket
The Yeti tundra 35 is a great cooler for camping and outdoor sports with great ice retention. It has the ability to be clipped onto larger kayaks, which makes it easy to bring on your next excursion. The fact that you can use this as a casting platform for small boats is also an awesome feature. This product should suit any type of outdoor enthusiast's needs with its durability and versatility.
Yeti Tundra 45
Features
Capacity: 35 pounds of ice (only) and 26 cans of beer when using a 2-to-1 ice ratio
37.6 Quarts
16 x 25.8 x 16 inches (H x L x W)
Weight: 23 pounds
Bear resistant when used with extra-long shank Master locks
Sturdy rubber latches
Rubber non-skid feet
The Yeti Tundra 45 hard cooler is one of the best coolers for camping because it can be carried by just one person, fits well in off-road vehicles, and is easily used as a casting platform. If you're looking for the ideal multi-day getaway cooler, the Yeti Tundra 45 is your best bet.
Yeti Tundra 65
Features
Capacity: 56 pounds of ice (only) and 42 cans of beer when using a 2-to-1 ice rati
52 Quarts
16 x 30.6 x 16 inches (H x L x W)
Weight: 29 pounds
Bear resistant when used with extra-long shank Master locks
Sturdy rubber latches
Rubber non-skid feet
The Yeti Tundra 65 is a great cooler for small gatherings and weekend events, its versatile use options make it perfect for tailgating, fishing, or hunting. It can also work as a boat casting platform. It's worth every penny to invest in this high large cooler that will keep your food cold on those hot summer days of camping.
Yeti Roadie 24
This versatile hard cooler is perfect for campsites, hunting trips, and fishing excursions. Free of the worries about breaking a zipper or clumsy hinges that can lead to leaks at home or on the road, this cooler is ready to be your go-to for nearly any occasion from picnics in family parks to week-long camping trips with friends.
Constructed of 18/8 stainless steel and a trademarked rotomolded polyurethane foam insulation system inside. The Yeti Roadie 24 delivers maximum ice retention with its uniquely high insulation performance.
Features
Capacity: 24 quarts, Holds 18 cans of beer when using a 2-to-1 ice ratio
Tall enough for most 2 liter and wine bottles
Grizzly bear resistant when used with extra-long shank Master locks
17.5 x 16.5 x 14 inches (Height x Length x Width)
Weight: 12.8 Pounds
Rubber non-skid feet
Yeti Hopper Models
The Yeti Hopper Flip 12 is a durable, stylish, and versatile soft cooler that will keep you well-provided for day trips to the lake or week-long adventures up North. With a tough outer shell, non-slip bottom, and sturdy zipper side panels it can take any beating thrown at it by your many weekends in the sun.
Features
Superior soft-sided cooler on the market
Great for short camping trip outings
Holds between 8-20 cans of beer (depending on the model in this category)
Shoulder strap for ease of carrying
A perfect alternative to large ice chest coolers
Conclusion
The Yeti brand coolers offer a plethora of products for any type of outdoor enthusiast. Whether you're spending the day by the lake, a weekend camping trip, or an extended time in the wilderness; one of their products will keep your food and drink cold and ready when you need them most. The iconic Yeti logo is recognizable in both its excellent product selection and impeccable customer service. With its durable build quality and state-of-the-art insulation systems, every person who chooses to purchase a Yeti cooler is making a solid investment.
2. Coleman
Coleman Coolers are built to last and come in different shapes, sizes, colors so you'll be able to find the perfect cooler for any outdoor event. These durable units can withstand many camping trips or fishing excursions with their heavy-duty design and affordable price tag.
Listed below are some of the popular Coleman cooler models:
Coleman Reunion 54 Quart Steel Belted Stainless Steel Cooler is sleek, stylish, and holds ice for 4 days in temperatures as high as 90 degrees F. Comes with a rigid insulation lid that snaps securely in place and keeps drinks colder for longer. It is designed to keep your food safe from the elements while camping or use it around the house for parties, picnics, beach trips, and more.
Features
Built-in bottle opener for the 85 cans of beer it can hold
Rust and leak proof
Lid supports up to 250 lbs as a seat
The Coleman 316 series is a line with many hard and soft coolers as well as tote bags. The size ranges of these coolers make it great for even small families who do not have access to refrigerator space. Some also come with a convenient carrying handle so you can easily take your food and are wheeled coolers for certain models in this category.
The Coleman brand is one of the best camping coolers on the market, they offer many different models for even the most specific of needs. The durability and affordability of these camping coolers make them an excellent choice if you're in the market to purchase one this season.
3. Orca
The Orca cooler is the best of both worlds with an extremely tough exterior that will keep your things cold for days but still light enough to carry around. Orca also has a lifetime warranty on their coolers which shows just how confident they are in their product being the best of its kind.
Orca coolers come with two different kinds of handles standard and rope handle that I recommend you use only when the Orca is empty because these bad boys can get heavy and will wear your arms out fast if you don't use proper lift techniques like twisting from the waist and not pulling up straight.
4. Pelican
Pelican's Elite range of coolers is ultra-lightweight, durable, and cooler more efficiently than standard models. They're able to keep ice retention for up to 10 days thanks to their innovative insulation technology which utilizes a combination of aluminum walls with two inches of polyurethane foam insulation between them. With many capacity sizes to choose from as well as wheeled cooler options, you'll be able to find the right cooler for any occasion.
5. Igloo
Igloo coolers are well-built and offer long life. They have an airtight seal around the lid. The inner plastic liner is sturdy and can resist scratches from ice, which helps to reduce odors over time.
Igloo coolers come in many sizes including small lunch coolers or large coolers for big groups of people going camping or on picnics. Igloos also make insulated cooler bags that keep items cold as they transport them to other locations such as work or school during the day then home at night making meal preparation easy after returning from work/school each day. Igloo coolers and Igloo cooler bags are available for both adults and children which makes it easy to buy one for everyone in the family. Igloos come in a variety of colors so finding something that matches your style is simple.
6. RTIC
Coolers RTIC coolers are built to last and can be used for years. They have thick insulation that is made of closed-cell polyurethane foam which makes them very efficient at keeping cold things cold, lasting longer than conventional ice chests/coolers without added cooling packs or blocks. RTIC offers sizes from 20 quarts all the way up to 145 quarts so there's something for everyone no matter how much space you need in your cooler or if you will only use it once every other year during hunting season. RTICs come with two types of handles including rope handles on some models and rubber molded grips on others making carrying easier by hand, via vehicle roof rack crossbars, etc.
7. OtterBox
OtterBox coolers are designed to keep your food and drinks cold while you go camping or on other outdoor activities. OtterBox has a wide range of sizes, colors, and styles for their coolers that will fit the needs of everyone out there. Otterbox offers soft style cooler bags as well as hard shell coolers depending on what you need for your trip. They have made it easy to find exactly what you're looking for with an interactive product selector tool that allows users to select things like size, color, price point, etc. All OttersBox products come with a lifetime guarantee so if anything happens they'll fix it free of charge. Otterbox is known all over the world for being extremely durable cases so their coolers are no different.
7. ROVR
The ROVR Cooler is what you need when you want to make the most out of your camping adventure. It has a bear-resisting rotationally molded body and lid to help keep from attracting animals. The high-density foam insulation will keep ice for up to 8 days depending on how much you use it. You will have a variety of storage options with the deep freeze removable dry bin with 2 compartments, a wagon bin, and a place for smaller items in the telescopic handle. It has a high-performance wheel assembly with rubber tires and an interchangeable tube and aluminum hubs. The handles are strong, fast flow drain plug with a gasket will make draining water easy when you get back to your destination.
The ROVR Cooler is the best option for camping because its ice retention capabilities can last up to eight days depending on how much use it gets during that time period. You'll have lots of storage space along with a variety of features like an airtight gasket, telescopic handle, deep freeze removable dry bin with two compartments, wagon bin, etc. Not only does the material used to ensure this cooler is bear-resistant but also helps prevent animals from approaching in general while also making it easier to drain water.
8. Grizzley
The grizzly cooler is rotationally molded construction designed to withstand wear and tear under any conditions out there making them durable enough to last through many years of outdoor use. The Grizzly cooler is environmentally friendly and pressure-injected for greater resilience against the outdoor elements. The cooler features heavy-duty latches that don't require any hardware yet still provide a secure grip. For added convenience, the cooler has dry goods tray so that you can separate food from drinks while also keeping it cool inside thanks to their superior insulation properties. Grizzly coolers are available in many different sizes to fit your needs. They are also designed so that they can be used for multiple purposes. This cooler comes with a lifetime warranty, made here in the USA by Americans who care about their craftsmanship and product quality being second to none.
9. Stanley
Stanley Adventure Coolers are a more affordable option for those looking for a more heavy-duty cooler. The Stanley Adventure Cooler is perfect for those who enjoy the outdoors and go on frequent camping trips. The company makes this cooler to be durable and dependable.
It also has leak-resistant gaskets that will help you avoid any spills or leaks while transporting your ice, food, and beverage coolers. This cooler also has a rugged snap latch that will keep your items secure and a comfortable handle that easily allows you to pull them from one location to the next location.
Stanley offers an unmatched level of quality and safety in its products as they are manufactured by one of the most trusted companies out there today. A great option for those looking for a smaller quart cooler.
10. Polar Bear
The Polar Bear Cooler is perfect for both the avid hunter or fisherman who often ventures deep into nature and your average weekend warrior. It's an insulated cooler with a high-performance airtight gasket that keeps contents cold for up to five days, even when left in hot environments like cars. The 1 ½ inch rubber gasket drain plug makes it easy to clean out any excess water without having to take the entire thing apart. It also has steel lockdown plates that can double as a bottle opener. This cooler also has an optional accessory kit that includes a cutting board, divider, and cup holder.
11. Engel
For over 50 years, Engel Coolers has been the gold standard for high-performance and durable coolers. From fishing to camping or just everyday use at home; you'll never regret buying an Engel.
The Engel High-Performance Cooler is a molded, rotational mold cooler that provides ice retention for up to 10 days and dry ice compatibility. The product also has a seamless construction with durable materials which provide durability and protection from the elements. With many sizes available for those looking for the best cooler for camping.
What Is A Camping Cooler?
A camping cooler is a cooler that can be used by two or more people for a period of time. The features of a camping cooler vary depending on individual preferences and needs.
There are five general types of camp coolers: soft-sided, hard-sided, commercial, electric, and folding.
When choosing a camping cooler it's always best to consider size and durability as well as what type of insulation is used.
Camping Cooler Styles
Soft-sided coolers are made of thermal insulated material that is flexible and durable. Soft-sided camping coolers can fold up into their own attached pouch for both easy storage and transportation.
A benefit to the soft-sided cooler is that it may be used as a seat when it is folded out flat. However, soft-sided coolers do not have a hard outer shell so they tend to bounce around a lot while being transported. They also don't usually hold ice for too long without insulation because the insulating materials aren't as good as other cooler types.
Hard-sided camping coolers come in various shapes and sizes, but typically have a top handle making them easy to carry. Simply put, hard-sided camping coolers are insulated boxes that have a durable outer shell made of either plastic or metal.
The two materials have their own benefits and drawbacks for both the user and the cooler itself. If you're looking for something lightweight to take along with you on fishing trips, for example, then plastic is not your best option. However, if you need something long-lasting that isn't easily scratched up by branches while being driven around in an ATV, then metal would be your best choice.
Commercial-style camp coolers are built rugged enough to withstand heavy usage in highly commercial settings like campsites or multiple-day backpacking trips.
They usually come equipped with swing-up handles that can be pulled down to provide a shoulder strap for wearer comfort and ease of carrying the cooler. Commercial camping coolers usually have enough room inside of them to store items like firewood, ice blocks, or even fishing bait.
Electric camping coolers are more complicated than most other styles because they need to include two main components: a motorized fan and a rechargeable battery. Electric camping coolers can run from anywhere between thirty minutes and an entire day depending on the model you choose.
The benefit that comes with this style is that it does not require manual labor in order to keep your food cold – all you need is the right amount of juice! One necessary drawback though is how heavy electric models tend to be – they can weigh anywhere from ten to thirty pounds depending on the size and style of the cooler.
Folding camping coolers are a cross between soft-sided and hard-sided options because they have both a flexible exterior as well as an insulated inside.
Folding camping coolers collapse down into flat, compact pouches which makes them easier to store away in smaller spaces like a closet or under your bed at home.
They work much like a collapsible laundry basket does except that instead of being made from wire mesh, these ones are mostly made out of neoprene or vinyl material. You can find folding camping coolers in sizes from medium to extra large for those who need their cooler roomy enough to hold more items inside.
Camping Cooler Features to Consider
Size: How much space do you need? How often are you planning to use the cooler?
These are important questions to consider when narrowing down your camping cooler options. If you're planning on taking the cooler somewhere like a campsite or tailgating party, then size won't be as crucial because you don't have to transport the entire thing very far.
However, if you plan to take it out hiking with you in order to store items like extra water or food for an overnight adventure then size does matter! You want something that won't slow you down too much while carrying it around, but at the same time is large enough for all of your gear.
Size usually ranges anywhere from 10 to 50 quarts because you don't need much more space than that unless you have a lot of people traveling with you.
Weight: We recommend finding the lightest camping cooler possible because no one wants to lug around something heavy all day long just to store food or drinks for an overnight trip.
If weight is not too big of a concern then consider investing in an electric camping cooler since those are usually the heaviest option due to their motorized components.
Drain System: If you want to be able to drink cold beverages while enjoying your favorite outdoor activities then make sure that your cooler has an effective drainage system so all of the melted ice doesn't stay on the bottom of your cooler. This will increase the amount of time that you can go before having to refill it with ice and cold drinks, which is a huge plus during long camping trips.
Lid: A lot of people tend to forget about the importance of a good lid design because they think that as long as their items are kept cold, it doesn't matter if their lid keeps things from spilling out everywhere. However, an effective seal between the top and bottom parts of your cooler is what allows for maximum insulation capabilities so make sure that you don't skimp out here! The only way to open my favorite coolers is with two hands; one hand to keep pressure on the lower part while flipping up the top.
Wheels/Towel Bar: If you are planning on using your cooler for camping or any other type of outdoor activity then having wheels that swivel is a huge plus because the terrain will be uneven. The last thing that you want to do is lug around a massive cooler after climbing up steep terrain. Make sure that if your cooler comes with a towel bar then it has enough space between itself and where you will need to grab it at. Not only can this become uncomfortable after holding onto for an extended period of time, but it could also make your hands dirty by getting stuck on any ice on the bottom of your cooler.
Design: If you plan on taking your camping cooler with you while kayaking, climbing, or biking then make sure that it is lightweight and compact. Metal/plastic coolers are more durable, easy to clean, and less likely to absorb any smells or flavors as long as they have a good insulation system. In addition, if possible try to get one with a drain so that melted ice doesn't stay at the bottom for too long!
Material Type: Does it matter if your cooler is made from plastic, metal, or another material? The answer depends on how often the cooler will be used and what conditions it will be exposed to while being transported.
Plastic tends to be less durable but lightweight compared to other materials like metal or insulated foam. If you plan on using your cooler frequently then having a plastic one might not be the best choice because it could end up cracking after only a few uses.
Locking Mechanism: Having an airtight seal is important for keeping items fresh and preventing spillage from occurring inside of the cooler.
Look for camping coolers that have latches, clasps, or other locking mechanisms to keep things from falling out as well as leakage from occurring. The last thing you want is for your ice blocks or food to melt all over everything else in your car.
What Not To Do With Your Cooler
Do not leave your camping cooler in direct sunlight for extended periods of time – even if it has a built-in cup holder. Sun damage can warp the material of your cooler which will affect how airtight it is, not to mention that heat can cause ice to melt much faster than normal.
Do not transport frozen items in your camping coolers because they could end up bursting when you least expect it! Frozen food expands after thawing therefore leading the container to pop open and ruin everything inside of it.
Do I Need A Different Cooler For The Season?
If you tend to camp in warmer climates like Florida or California then having an insulated cooler is probably necessary since there's a higher chance for warm weather during those particular seasons.
You can get by with just purchasing ice blocks from local grocery stores near your campsite if you want to save a few bucks, but it's not a wise move if you need to keep your items cold for more than a day.
If you want an easy way to transport your food or drinks without having to worry about keeping them cool then investing in the best camping cooler is the optimal solution! Look for options that are made from durable materials like plastic or metal instead of foam since those tend to crack after only one season.
If weight isn't an issue then consider getting an electric or plug-in cooler instead since they run on rechargeable batteries and can be plugged into your car's cigarette lighter socket. No matter which type of cooling system you end up buying, make sure that it has all of the features that you need to keep your items fresh for at least a couple of days.
Keep your new camping cooler away from direct sunlight or else it will get warped over time, plus never leave anything frozen inside because the pressure could pop open the lid and ruin everything inside.
Don't forget about ventilation either since too much condensation can lead to leakage so always follow the manufacturer's directions when transporting food or drinks in your new wilderness equipment!
Final Thoughts
You should consider factors such as insulation material, design, and size when choosing a cooler for your next camping trip. A well-insulated metal/plastic cooler with wheels will keep ice frozen longer than other styles of coolers because it can withstand the heat better while also being easier to carry on uneven terrain thanks to its large wheels. The best type of lid is one that seals tightly between the top and bottom parts of the cooler so make sure you don't skimp out here.