The Mönch (German: "monk") is a mountain in the Bernese Alps, in Switzerland.
The Eiger and the Jungfrau form a highly recognizable group of mountains, visible from far away.
At 4,110 meters (13,480 ft), the Mönch is not one of the highest peaks in the Alps, but it is nonetheless a challenging ascent. The mountain lies on the border between the cantons of Valais and Bern and forms part of a mountain ridge between the Jungfrau and Jungfraujoch to the west and the Eiger to the east. It is west of Mönchsjoch, a pass at 3,650 meters (11,980 ft), Mönchsjoch Hut, and north of the Jungfraufirn and Ewigschneefäld, two affluents of the Great Aletsch Glacier.
The first ascent was made on August 11, 1859, by Charles Barrington with guides Christian Almer and Peter Bohren. They started at 5 a.m. from the Mönchsjoch Hut to reach the summit for sunrise and ran into another party trying to make it to the top on their way down. In an attempt to let them pass, he stepped aside but lost his balance, fell off a cliff. The band dropped 60m before being held a rope around his waist and suffered a few bruises but was lucky to have survived.
In 1891 Albert Frederick Mummery died on the northeast ridge attempting the first ascent. In 1935 Fritz Morgenthaler and his guide Louis Perroud made the first winter ascent of the north wall. The south wall was climbed in 1938 by Max Eiselin, Yvonne von Günther, and Walter Risch. Today it is rarely attempted as most climbers will take one of three different routes to ascend from the Jungfraujoch:
In 1934 the Swiss Alpine Club erected a 20 meters (66 ft) steel cross at 2470 meters above sea level. Below, twelve metal pegs are rung, forming a large enough path for a single-file passage up the ridge.
Climbing Mönch Mountain
Monch mountain can be climbed from three different routes, the normal route from the Jungfraujoch, the northern or Nollen route, and the southern route. The normal route is not difficult and short if you reach the Jungfraujoch with the train. The summit is reached via a long walk on a thin corniche. Watch out for wind-induced snow accumulation and keep clear of the lee side. The Nollen Route is a technical ice climb on a very long and exposed north face, with over 60-degree inclination on average and some vertical passages. It requires overnight bivouacking. The southern route is an easier climb than the other two routes.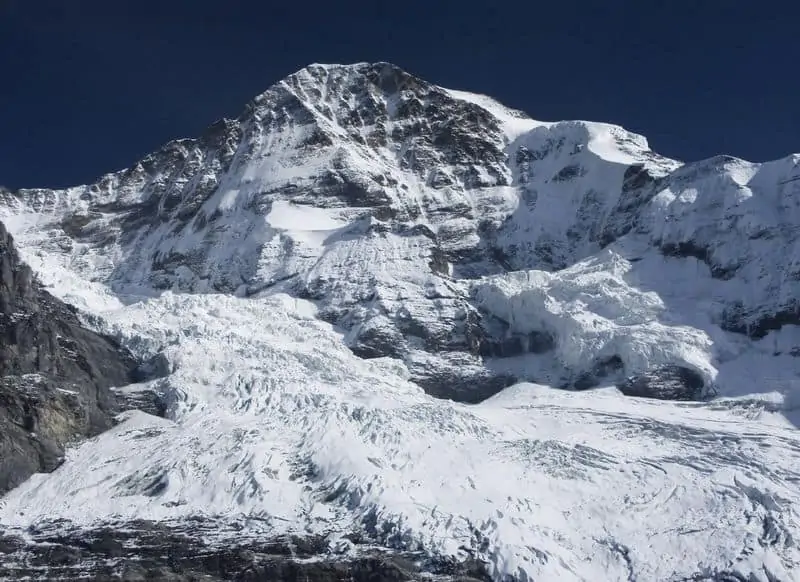 Monch Weather
Oeding, DE
7:18 am,
December 2, 2023
27
°F
Feels like

23

°F

°
few clouds
| Overview | |
| --- | --- |
| Elevation (feet) | 13,480 ft |
| Elevation (meters) | 4,110 |
| Continent | Europe |
| Country | Switzerland |
| Range/Region | Berner Oberland |
| Latitude | 51.902310 |
| Longitude | 6.788110 |
| Difficulty | Snow/Ice Climb |
| Best Months For Climbing | Jun, Jul, Aug, Sep |
| Year First Climbed | 1857 |
| First Successful Climber(s) | Christian Almer, Christian Kaufmann, Ulrich Kaufmann and Sigismund Porges |
| Nearest Major Airport | Bern or Zurich, Switzerland |
| Convenient Center | Grindelwald or Interlaken, Switzerland |