A beautiful mountain mass in the Himalaya, with many satellite peaks rising from its icy ridges, Kangchenjunga is considered a challenging ascent.
Kangchenjunga is the third highest mountain in the world. Located on the border of Nepal and Sikkim, just 46 miles northwest of Darjeeling, it is an enormous mountain mass with many satellite peaks rising from its icy ridges. It was first attempted in 1905, but four members of that party were killed in an avalanche. The summit was finally reached in 1955 by an Italian expedition.
Kangchenjunga is a popular destination for climbers and hikers, as it is not as difficult to climb as some of the other 8,000 meter peaks in the Himalayas. However, due to its remoteness and the extreme weather conditions, it is still considered a challenging ascent.
The best time to climb is between April and May in the spring. Climbing Kangchenjunga from West Sikkim is a much longer trek than approaching Nepal, but there are more routes available from the Nepalese side.
The last few feet to the summit of Kangchenjunga are considered sacred by the local Sikkimese people, so most expeditions stop short of the actual summit with respect for their religion. The British expedition of 1955 set the standard by stopping a few feet short of the actual summit in honor of the local people.
The best time to climb is during this period because it has less snow when there are no monsoon winds. The weather is often unpredictable in the mountains when there are strong monsoon winds. Climbers should be well-equipped with an ice ax, crampons, warm clothes, rope, etc. since the climate can change quickly with extreme temperature changes.
The physiology of climbers must also be considered–some people will experience altitude sickness due to oxygen deprivation at higher altitudes. First-aid kits and supplemental oxygen tanks are important supplies to have on a climbing expedition.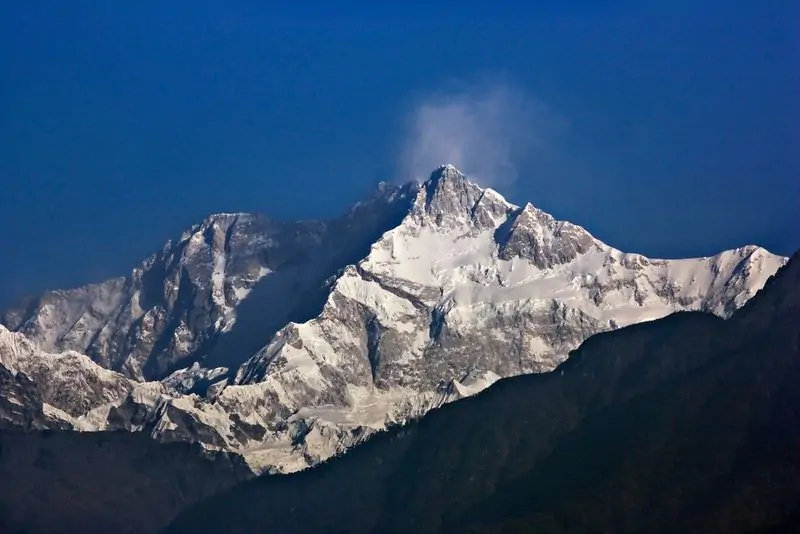 Kangchenjunga Weather
State of Sikkim, IN
8:52 pm,
December 2, 2023
-32
°F
Feels like

-44

°F

°
clear sky
| Overview | |
| --- | --- |
| Elevation (feet) | 28,169 |
| Elevation (meters) | 8,586 |
| Continent | Asia |
| Country | Nepal/India |
| Range/Region | Sikkim-Eastern Nepal Himalaya |
| Latitude | 27.702414 |
| Longitude | 88.147881 |
| Difficulty | Major Mountain Expedition |
| Best Months For Climbing | April, May |
| Year First Climbed | 1955 |
| First Successful Climber(s) | George Band, Joe Brown, (British expedition) |
| Nearest Major Airport | Kathmandu, Nepal |
| Convenient Center | Hille, Nepal via Dharan Bazar |