Best Lure For Crappie Fishing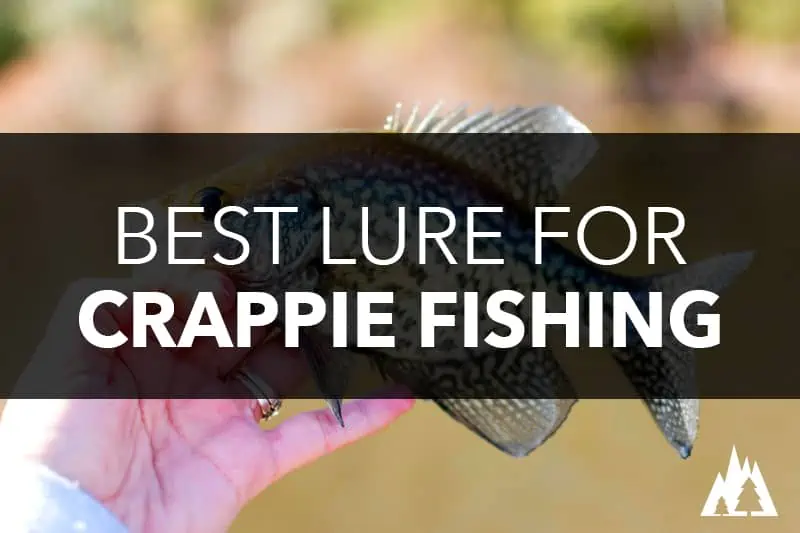 This post contains affiliate links where we may earn commissions from Amazon, REI, and other retailers at no additional cost to you. You can learn more about our affiliate policy here.
Crappie is a panfish commonly found in any body of water and is a relative of the sunfish that can be caught just about all year round though they generally prefer warmer waters with aquatic vegetation.

Some beginners think there is no difference between lures for crappies and other species, but only an experienced angler knows how to distinguish which lure is best for what type of fish.

We'll dive into the best Crappie lures and jig below so you can start catching Crappie in no time.
What Are The Best Lures For Crappie Fishing?

The Rapala X-Rap is a hard bait that suspends in the water is a popular jerkbait for Crappie and other gamefish like smallmouth bass. Crank this lure down 2-3 feet underwater and watch the Crappie clock these lures as it starts floating to the surface. Loud colors of these lures in clear water will trigger pre-spawn Crappie when you've had no luck with plastics.
Recommendations
Recommended size: 1 1/2″
Recommended weight: 1/16 oz
Use a light spinning rod and reel setup
The best way to use this lure is to cast out the X-Rap and let it float in the water as you're tightening up the slack of your fishing line. Jerk the lure, so it starts dashing a few feet into the water and pause to let it float back up to the surface. Reel in the slack again, jerk, and pause.

The flash and vibration of this spinnerbait make it irresistible for panfish like Bluegill and Crappie. It also produces a stable, enticing sound because of the french blade's design that undulates at a perfect 60-degree angle from the body.
Crappie will attack these lures not necessarily because they're hungry but because they're not sure what's invading their territory, which pisses them off.
Recommendations For Crappie
Size #00 or #0
Blade color: Gold for murky water, silver for clear water
Have dressed and undressed options available. Undressed will sink faster. Dressed Aglia will make the lure look bigger, attracting larger fish.
Recommended tail color if for dressed Aglia: black or chartreuse
Use a light spinning rod and reel setup
No higher than 6lb test line
The best way to use this spinnerbait is to cast it out and steadily retrieve it back. You'll want to vary your retrieve to see what entices the Crappie. For example, faster retrieve will result in the spinnerbait buzzing near the surface.

This is the most versatile lure of the three. You can jig it up and down, cast and retrieve, and even troll it behind a boat.
This soft plastic is designed to catch Crappie, period.
It's a 2-inch shad body with an amazing straight tail. The action on this thing is incredible, from casting and retrieving to vertical jigging. The profile of this soft bait with the Road Runner jig head creates a ton of action that Crappie won't be able to resist.
Recommendations
Size: 2″
Color: Blue pearl or pearl white
Road Runner jig head size: 1/16 oz
What Is The Best Color For Catching Crappie?
There's no definitive answer to this question. And there is no specific color for Crappie; ask several different people, and they'll tell you something different about the best color or color combination for catching Crappie.

But, here's some good information:

It would help if you always had a variety of colors on hand so you could switch it up whenever things get slow.

For stained water, low light, all-brown, brown-orange, black-lime, and all-black have been consistent performers for my best crappie action. The best colors are chartreuse and orange in clear waters with a heavy algae bloom. Contrasting them together or with black or brown is good.

Good colors in the spring and early summer are green pumpkin, bluegill, gold shiner, speckled perch, white bass belly, and watermelon seed.

You should avoid using bright reds or yellows in low-visibility waters.
The Best Time To Catch Crappie
The best time for Crappie fishing is just after sunrise and an hour before sunset during the warmer months. Nighttime can also produce good crappie fishing during warmer months. During colder months, midday, when the warmest air temperature seems to work best for both black and white Crappie.
Best Jig Size For Crappie
The best jig size for Crappie can vary. Smaller jigs (sized in ounces) seem to work better for Crappie; trying to use a 1/16 ounce jig during daytime and moving up to a larger 1/8 or 3/16 size at night, when the fish are more active.
Final Thoughts
Fishing for Crappie is a fun way to spend the day with family and friends. By knowing specifically when Crappie are most active, you can increase your catch rate substantially. Before heading out on the water make sure you have on your comfortable fishing shoes, a good pair of sunglasses, and other fishing gear.