15 Quick Fishing Trip Meal Ideas (For Short and Long Trips)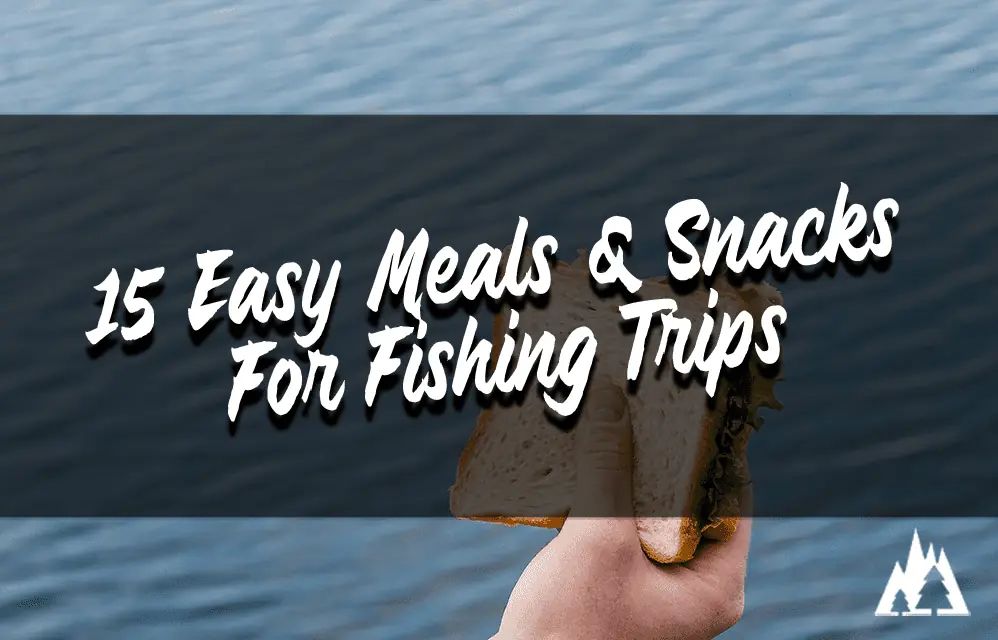 Planning for a fishing trip is essential.
We go through our mental checklist of rods and reels to bring, lures, leaders, and other fishing gear.
But most of us don't think much about what food to bring for ourselves.
One key factor to consider when planning your fishing trip is the duration of your outing.
Snacks like nuts, fruit, and jerky can provide a quick energy boost if you're only going out for a few hours. However, for longer trips, bringing more substantial meals like sandwiches, wraps, or even a portable grill for cooking is important.
Another important consideration is the weather.
Bring plenty of water and sports drinks to stay hydrated if it's hot and sunny. And if you're fishing in a remote location, bringing enough food to last the entire trip is important.
Planning your meals ensures you have the energy and sustenance you need to make the most of your fishing trip.
Here are 15 quick and easy cold and warm meals you can do for long or short fishing trips.
Quick and Easy Meal Ideas for Short Fishing Trips
A short fishing trip, for me at least, is 3 hours.
Your hours may vary slightly, but we all know that time is of the essence here.
On short trips, I like to have my food:
Ready to eat
Easy to eat
Enough to satisfy my hunger until I get home
That's it. Nothing too demanding here, as long as I can fill my belly quickly and get back to fishing.
Below are some of my favorite meal and snack ideas for short fishing trips.
1. Sandwiches
Sandwiches don't need refrigeration, and no need for plates and utensils. You can make them the night before with your favorite deli meats or purchase a sandwich the night before if you plan accordingly.
2. Beef Jerky
If you're looking for a quick, high-protein, zero-carb meal, there's nothing better than beef jerky or pepperoni sticks.
I love taking a few sticks with me because I can throw them in my fishing backpack or tacklebox and leave them there for future trips.
No refrigeration, and they last a long time unopened.
3. Vienna Sausages
This might not be everyone's cup of tea, but Vienna sausages are nostalgic for most anglers from all those fishing trips when they were kids.
They don't require any preparation or cooking, so you can eat them right out of the can.
Unopened, they have a long shelf-life, but they are probably not the healthiest option.
4. Protein Bars
It doesn't get any easier than having a protein, granola, or meal replacement bar on short trips. Just make sure it contains chocolate to keep it away from direct sunlight.
5. Trail Mix
Mixed nuts are portable and convenient. Trail mix makes the perfect snack for quick fishing trips. Trail mix contains a variety of nuts, seeds, and dried fruit, and the fat in nuts gives it a sustained energy boost.
Also, since trail mix doesn't need to be prepared, you can grab a handful whenever you need a quick snack while fishing so you can concentrate on fishing.
Trail mix is the ideal snack to keep you fueled and energized during your quick fishing excursions, whether casting a line in a local pond or going out to the open sea.
6. Pizza
If you had pizza the night before and got leftovers, it would be a great snack out on the water. Cold pizza is super convenient because it doesn't need to be warmed up and still tastes great.
The fact that it can be eaten cold saves time because there is no need to heat it.
7. Fresh / Dried Fruits
Fresh or preserved fruit makes for a healthy snack on short fishing excursions.
On your next fishing excursion, you can bring fresh fruit like apples, bananas, oranges or dried fruit like raisins, apricots, or cranberries.
Bring a compact container or bag to keep your fruit cool and handy. Fresh and preserved fruits are refreshing, tasty, highly nutritious, and a great source of vitamins.
Whether fishing in a local lake or venturing out to sea, keeping some fresh or dried fruit on hand will help you maintain your energy and hunger.
A slight warning on bananas if you're fishing on a charter boat in the ocean. Maybe people think bringing bananas on board is bad luck. You can do as you feel with that info.
Warm Meals for Long Fishing Trips
For long fishing trips, it's nice to have a warm meal.
When prepping for a lengthy fishing expedition, think about what utensils and food will be the core of your menu.
A camping stove or a portable burner like the JetBoil Mimo is essential when preparing hot meals on the go.
It allows you to cook pasta with meatballs or fry eggs and bacon quickly and easily while on the water.
Here are some warm food ideas for long, multi-day fishing trips:
8. Chili
Here's a quick and easy chili recipe:
Ingredients:
1 pound ground beef
1 can (14.5 oz) diced tomatoes
1 can (15 oz) kidney beans, drained and rinsed
1 can (8 oz) tomato sauce
1/2 onion, chopped
1 green bell pepper, chopped
2 garlic cloves, minced
1 tablespoon chili powder
1 teaspoon ground cumin
1/2 teaspoon salt
Optional toppings: shredded cheese, sour cream, chopped green onions
Directions:
In a large pot or Dutch oven, brown the ground beef over medium-high heat.
Add the onion, bell pepper, and garlic and cook until the vegetables are tender about 5 minutes.
Stir in the diced tomatoes, kidney beans, tomato sauce, chili powder, cumin, and salt.
Bring the chili to a simmer and cook for 20-30 minutes, occasionally stirring, until the flavors have melded together and the chili has thickened to your desired consistency.
Serve hot with your choice of toppings.
This chili recipe is easy to make and can be adapted to your taste preferences. It can also be made ahead of time and reheated on the boat. You can even make a large pot of chili and keep it warm in a thermos throughout the day.
9. Soup
Here's a quick and easy soup recipe:
Ingredients:
1 tablespoon olive oil
1 chopped onion
2 cloves of garlic, chopped up
3 cups soup made from chicken or vegetables
1 can (14.5 oz) diced tomatoes
1 (15-ounce) can of chickpeas, rinsed and drained
1 zucchini, chopped
1 teaspoon dried basil
1/2 teaspoon of dried oregano
To taste, salt and pepper
Extras you can add: Parm cheese, and chopped parsley
Directions:
Heat olive oil over medium heat in a pot.
Add onions and garlic and cook for 5 minutes until the onions are clear and the garlic turns golden.
Add your broth, chopped tomatoes, chickpeas, zucchini, and herbs.
Bring to a boil, turn down the heat, and let simmer for 20 minutes.
Add salt and pepper to the soup to your taste.
If you want, you can serve it hot with grated Parmesan cheese and chopped fresh parsley.
This soup recipe is easy to make and can be changed to suit your tastes. You can also make it ahead of time and warm it up on the boat.
10. Stew
Not a quick one, but still easy to make. And one of the heartiest meals you can make!
Ingredients:
1 pound beef stew meat
1 onion, chopped
2 garlic cloves, minced
2 carrots, chopped
2 potatoes, chopped
1 can (14.5 oz) diced tomatoes
2 cups beef broth
1 teaspoon dried thyme
1 bay leaf
Salt and pepper, to taste
Directions:
Heat oil in a pot.
Add beef and cook until browned.
Remove beef and set aside.
Add onion and garlic to the pot and cook until soft.
Add carrots and potatoes to the pot, and cook for 5 minutes.
Add beef back to the pot.
Add diced tomatoes, beef broth, thyme, and bay leaf to the pot.
Bring to a boil, then reduce heat and simmer for 1-2 hours or until beef is tender.
Season with salt and pepper to taste.
11. Hot dogs
Is a hot dog a sandwich? Doesn't matter what it is (but to answer the question, a hotdog is a hotdog IMO)
All I know is it's quick and easy to prepare and eat.
Get a small portable burner and a pan to heat the hotdog, and you're ready to go.
You can use leftover condiments from restaurants to make things easier.
12. Grilled cheese
I'm not too fond of grilled cheese sammies, but my kids do.
They're dead easy to make, and it's one of those meals where I know my kids would at least finish until we get home for dinner.
13. Instant ramen
Not the healthiest option, but a warm bowl or cup of instant ramen on a cold morning of fishing does the trick.
Simply boil water, pour it into the ramen and the seasonings for a few minutes, and enjoy.
14. Breakfast burritos
Probably one of my favorite to-go meals ever.
Breakfast burritos are an excellent choice when fishing and needing a quick breakfast.
You can make a batch for you and your friends in just a few simple steps.
First, scramble some eggs over medium heat in a pan. Then, after cooking the eggs, leave them aside.
Next, cook some breakfast sausage until browned in the same pan.
Remove the sausage from the skillet and set it to the side.
Then, heat the tortillas in a pan until they are heated and flexible.
Add scrambled eggs, breakfast sausage, and any other desired garnishes, such as cheese, salsa, or avocado, to your breakfast burritos.
Enjoy the burritos by rolling them up.
15. Quesadillas
Heat a skillet on the boat's stove or a portable flat grill. Place a tortilla in the skillet. Add shredded cheese and desired toppings, such as cooked chicken or sautéed vegetables. Top with another tortilla. Cook until the cheese is melted and the tortilla is crispy. Flip and cook on the other side. Remove from skillet and cut into wedges. Enjoy your delicious quesadilla while on the boat or fishing on the shore.
Best Drinks to Bring on Your Fishing Trip
Staying hydrated is essential for any successful fishing trip, so bringing along water bottles that are filled up beforehand is important.
Sports drinks are also a great option if you're looking for an extra energy boost. Electrolytes, like those in Gatorade or Powerade, can help to fuel the body on extended trips.
My preference before I head out is coffee and water throughout the day.
Make a brew at home and throw it in a thermos or grab a cup of joe somewhere before you arrive at your destination.
Bring enough water for your trip and stay hydrated, especially on those hot summer days.
Consider how much water is needed if you plan on bringing your children out on the water with you.
A good rule of thumb is 2 to 3 cups of water per hour per person, or more if sweating heavily.
Cooking Gear Essentials for Your Next Fishing Trip
Here are some of the must-have items for any fishing trip:
Knives & Utensils
A good knife is essential when preparing meals while on a fishing trip. It should be sharp enough to cut through fish if necessary and have multiple uses, such as cutting vegetables, slicing cheese, or opening cans. Ensure you bring other utensils like forks, spoons, tongs, etc., so you don't find yourself without them when needed.
Plates/Bowls/Cups/Mugs
You need something to eat during your trip. Plates and bowls come in handy for serving up hot dishes like pasta with meatballs or sandwiches with breadsticks and fresh water.
Mugs are great for coffee or tea in the morning, and cups will help keep drinks cold throughout the day (especially sports drinks which provide electrolytes). Don't forget about reusable containers; they'll come in handy if you bring leftovers back home.
No matter how long your trip is – whether it's a quick one-day outing or an extended stay – having these basics packed away can save time and energy when preparing meals while on the lake (or wherever else). Just remember not to overpack; only bring what is necessary so that everything fits inside your cooler easily.
Before You Go
If you're looking to get a good meal while fishing or camping, please check out these resources before you head out: