21 Best Bass Lakes In California
California has some of the best fishing lakes along the west coast.
There are over 800 miles of shoreline, hundreds of lakes, thousands of lakes, and many national parks in California. The third-largest state in the country has plenty of places to catch largemouth bass.
In fact, some of the lakes below have been recorded with catches of largemouth bass weighing over 20 pounds.
If you're wondering where the best places to catch largemouth bass are and where you can find the largest fish, keep reading below.

This article will discuss 21 of the best bass lakes in California. 
We'll also discuss the abundance of bass in California and where to find the largest of these fish. If you're interested in bass fishing, read on to find out more.
What Are The Best Bass Fishing Lakes In California?
1. Casitas Lake
Casitas Lake is located in Ventura County, CA, primarily used for irrigation and drinking water. Despite the lake's typical utility, it contains various sportfish, including bass.
Although bass in Casitas Lake is around 1 to 5 pounds, you have a chance at a monster fish in the transparent reservoir waters. Double-digit bass is a common enough occurrence in this lake.
Seasonally stocked rainbow trout help feed the bass and keep the lake full of the fish. There are two locations worth exploring for bass – Coyote Creek and places that transition into deeper waters near the southern shoreline.
2. Lake Isabella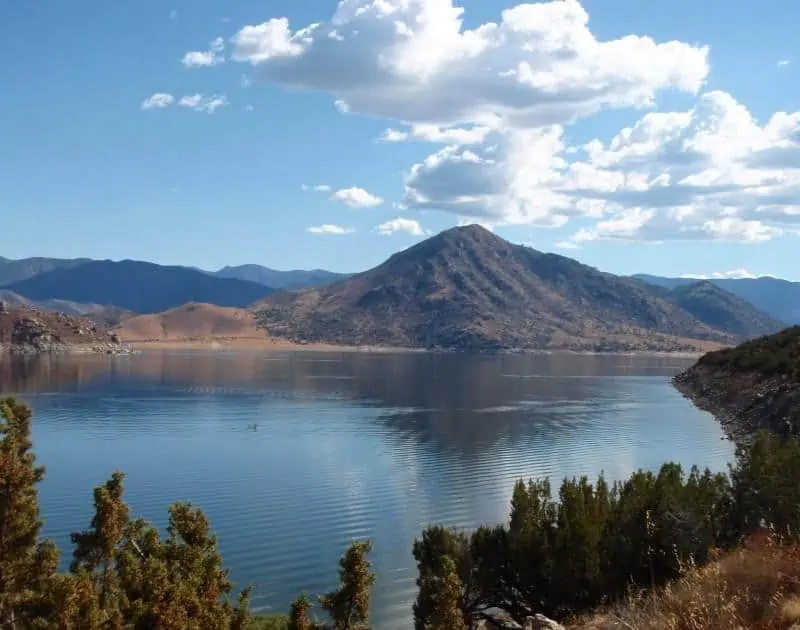 You'll find Lake Isabella – a reservoir in Southern California, teeming with big bass. The local people think fish are hard to get because of submerged trees and brush. Bass has plenty of places to hide from would-be bass anglers.
Trophy bass was once prevalent within the lake during the 80s. Now, though, it's not exceedingly common to find a big fish, but there's still a reasonable possibility of catching a ten-pounder.
3. Castaic Lake
Those seeking trophy bass should visit Castaic lake. The lake is run by the Los Angeles Department of Parks and Recreation and close by Santa Clarita. This over 300,000-acre lake was home to six of the 80s biggest bass.
Robert Crupi caught a 21-pound monster in 1990, but the record for the largest bass caught at Castaic goes to Ray Easley in 1980.
Easley is on record for capturing a 21.3 pounder. If you're looking to catch a big bass of your own, try lures that imitate rainbow trout.
4. Clear Lake
Clear Lake is the largest inland lake in the Golden State. There are over 43,000 acres of bass-filled water for anglers to sink their lines. Clear Lake's shoreline is dotted with piers and other structures to attract fish.
While Clear Lake is a natural freshwater lake, there is an abundance of brush and tules for fish to hide behind. The large amounts of underwater plant life and sizable boulders make this lake a fantastic spot for trophy bass.
5. Lake Camanche
Lake Camanche often has clear waters and plenty of things on the bottom, making it a good spot for large bass fishing. Boulders, trees, brush, and mine tailings, offer a lot of hiding spots for bass and other fish.
There's also stocked rainbow trout at Camanche, which provides a source of food for the bass. Fishing is best between Big and Little Hat Islands. You can expect to find plenty of good fish near boat ramps and creek inlets.
6. Bullards Bar
Bullards Bar is a reservoir lake in the Tahoe National Forest. This lake is a prime fishing spot year-round. You can find large and smallmouth bass near rockier areas and creek mouths in this Northern California reservoir.
Spawning season is when bass swims in shallower areas. The lake boasts enormous bass as large as approximately 10 pounds. An angler named Cody Meyer caught a 10.8 pound spotted bass in 2016.
7. Lake Murray
The next lake we will discuss is a small reservoir in the Mission Trails Regional Park. The San Diego City Public Utilities Department manages Lake Murray – which is indeed a small lake- it only covers 171.1 acres.
Despite its size, Lake Murray contains double-digit bass. This San Diego lake is mostly slopping gravel and rock banks. You'll have to rely on trout pattern swimbaits to attract the bass' attention.
8. Folsom Lake
Folsom Lake is close by Sacramento County and has 75 miles of shoreline. The lake is 11,400 acres filled with bass and trout. While a Folsom Lake bass' average weight is 5 pounds, you can catch a ten-pounder in spring.
Largemouth bass populates the South Fork, but you'll have to contend with the bass boats. For people looking to fish in seclusion, try the North Fork region.
9. Lake Don Pedro
Lake Don Pedro, which is also known as Don Pedro Reservoir, was formed from the New Don Pedro Dam's construction across the Toulumne River. There are rainbow trout, largemouth, and smallmouth bass aplenty in this lake.
If you're looking for prime fishing spots, travel to the Flemming Meadows. Locals recommend fishing at Jinkins Point and the Middle and Upper Bay narrows.
However, the best bass fishing spots are the coves on Lake Don Pedro. People report that Don Pedro's coves have a lot of underwater cover for the fish to hide, so you'll have a good chance of finding bass there.
10. Lake Havasu
There's a variety of bass to catch at Lake Havasu, but some of the best fishing is for striped bass. The clear water lake is a reservoir on the Colorado River, which means this body of water borders both California and Arizona.
Lake Havasu is near Havasu City (in Arizona) and hosts plenty of recreational and tournament fishing. Havasu is in the unique position of being the best lake in Southern California and Arizona.
11. Lake Perris
Lake Perris is a lake in Southern California filled with Alabama spotted bass, largemouth bass, and rainbow trout. The best bass fishing on the lake is around Alessandro island, near the dam and eastern lakeside.
You can catch sizable fish on Perris Lake. The lake record for this body of water is 17 pounds and 8 ounces. Any bass you catch has to be at least 12 inches for you to keep it.
You're also able to bow fish on Lake Perris now. You use archery equipment to catch fish when you go bow fishing, for those unaware.
12. Lake Oroville
Lake Oroville is said to have the best bass fishing in California. Four kinds of bass live in the lake; largemouth bass, smallmouth, redeye, and spotted bass call this area their home.
Rainbow trout and Coho Salmon inhabit the cooler waters during the summer. Fishing is allowed on Oroville's waters year-round.
The banks are great places to search for bass fish. Areas with fallen trees and rocks for cover are generally good bass fishing areas. The Middle and South Forks are excellent fishing spots as well.
13. Pyramid Lake
Fishing is allowed anywhere, all year on Pyramid Lake. Located near Los Angles, this popular recreational destination has largemouth bass, smallmouth bass, striped bass, and rainbow trout.
Pyramid Lake is over 1,300 acres and is well known for its large stripers. Stripers tend to range from 15 to 20 pounds. The lake record is a 40-pound striped bass caught by Josh Griffin in 2021.
14. New Melones Lake
New Melones Lake is a reservoir in the Sierra Nevada foothills in Calaveras and Tuolumne county. The bass in New Melone's waters is on the smaller side at 2 to 5 pounds. But you may get lucky and snatch up a ten-pounder.
However, New Melones Lake is mainly known for containing much fish. Early spring is one of the best times to reel in bass, although you can begin some great fishing as early as February occasionally.
15. Diamond Valley Lake
Diamond Valley Lake is a relatively young South Californian reservoir and is part of the Californian Metropolitan Water District or MWD. The MWD supplies water throughout Southern California.
Diamond Valley is one of the largest lakes in California, with its 800,000 acre-foot capacity. Fishing at Diamond Valley typically nets anglers big bass.
The reservoir is kept stocked with trout, so lures that imitate rainbow trout are an excellent tactic. People have caught trophy bass as large as 16 pounds at this lake.
16. Lake Berryessa
In Northern California's Nappa County, Berryessa is one of the largest lakes in the region. Lake Berryessa has a wide assortment of fish like small and largemouth bass, rainbow trout, spotted bass, and bluegill.
Skiers often use the lake's center during the summer, but you can opt for side-channel fishing. The locals recommend fishing on Berryessa lake at dusk near man-man structures to increase your chances of catching bass.
17. Shasta Lake
Shasta Lake (or Lake Shasta) is a reservoir in Shasta County. The Shasta-Trinity National Forest runs the Northern Californian lake. If you want to catch some California bass, Shasta is the place to be.
Largemouth bass, smallmouth, and spotted bass live in the lake. There are so many basses that it's possible to catch all three in a single trip. Provided you can find them – the lake is so large it can be challenging to locate fish.
18. Millerton Lake
Millerton Lake is close to Fresno inside the San Joaquin Valley. Millerton is one of the largest reservoirs on the San Joaquin River; the lake boasts two enormous ten-lane boat ramps on its southern side.
Millerton Lake is home to Largemouth bass, smallmouth, and spotted bass. Bass has to be at least 12 inches for you to keep it. As with most largemouth bass fishing spots, the fish like to congregate at underwater structures.
19. Dixon Lake
Dixon Lake is only 72 acres, but anglers can find big fish. Dixon was unknown to most people until 2001 when monster bass appeared seemingly out of nowhere. Three world record bass came from Dixon Lake.
Bass enjoys swimming among the underwater vegetation at this lake, and the plentiful rainbow trout ensures that bass is well fed. Having trout-patterned swimbaits on hand will help lure a big bass.
20. Miramar Lake
Miramar Lake is in the suburbs of San Diego and is where an angler found the first 20 pound California bass in 1972. Lake Miramar is home to some big fish. Anglers caught five world record bass on this small, 162-acre lake.
You have a shot a catching a 15-pound fish, but the lake waters aren't too clear. You've only got about 20 feet of clarity on average, so bass tends to be harder to catch here.
21. Hodges Lake
Hodges Lake is a reservoir lake in Southern California about 31 miles outside Downtown San Diego and borders the city of Escondido. Hodges Lake has largemouth bass, channel catfish, and crappies.
The smallest a bass can be to take home is 15 inches. There are limits on the amount of bass you can keep; five basses are the maximum you can remove from the water.
Interestingly, Diamond Valley bass originally came from Hodges. Fish were taken from this lake to start the Diamond Valley Lake bass population.
Why Are There Bass in California?
We've thoroughly discussed that there are bass in California with our list, but have you ever wondered why these fish are in the nation's third-largest state? As it turns out, the bass is an invasive species.
Striped bass, for example, entered the state through the Sacramento-San Joaquin River Delta, also known as the California Delta. To specify, the bass was planted there for dining and sport fishing.
The California Delta is the perfect environment for striped bass as they inhabit salt and freshwater regions. Stripers don't like the open ocean during their saltwater phase and seek protected areas like San Francisco Bay.
Stripers mature in saltwater areas and return to freshwater to spawn. However, unlike salmon, stripers don't die off after spawning young.
A male striped bass can reach sexual maturity in three years at most. Both males and females live up to ten years, although some fish can live for 30 years.
The largemouth bass is an invasive fish species originally from Quincy, Illinois. The fish was introduced into Lake Cuyamaca and is now in various bodies of water throughout California.
Thanks to their cannibalistic nature and other invasive species, largemouth bass has propagated in the San Francisco Bay. The invasive plant – Brazilian waterweed – often serves as a hiding spot for Largemouth bass.
Smallmouth bass came from New York's Lake Champlain and was placed into the Napa River in 1874. A few years later, people next planted the fish in the Crystal Springs Reservoir near San Francisco City.
The prolific spread of these fish species makes California among the best bass fishing places in the United States. The state is home to many bass fisheries, and anglers can pick and choose at their leisure.
Where Are the Biggest Bass in California?
A giant bass is a fish that weighs 11 pounds or more. California has many places where you can find quality fish of this size. Many of these "large bass lakes" are in Northern California and on our 21 best bass lakes list.
Clear Lake is one spot you can find big northern largemouth bass; this lake is often considered the "Bass Capital of the West." The Sacramento-San Joaquin River Delta is flush with largemouth bass and spotted bass.
Another of the best bass fishing lakes we've already mentioned is Lake Camanche. In 2019, an angler caught a 14.71-pound bass in this lake.
The Don Pedro Reservoir offers prime bass fishing in California too. Don Pedro Lake is where you're likeliest to find a 15-pound bass.
Lake Berryessa is an excellent place to look for bass in the spring. May is the best time to find big bass. Fish up to ten pounds swim in the lake's relatively shallow waters. In the summer, the bass move to deeper areas of the lake. 
You can buy a fishing kayak under $1000 and increase your chances of catching these lunkers.
What Are the Most Effective Ways to Bass Fish?
Fishing for bass is unlike fishing for other fish because they have slightly unpredictable behaviors at times. In fact, some bass is harder to catch than others.
However, there are some effective tips for fishing that you'll want to keep in mind before you set out on the water to have the best chance of success.
Learn to Use Drop Shot Rigs
If you want to brag about caught fish, consider using drop shots. The technique is relatively simple to learn.
To make a drop shot, tie your hook to the line and leave a long tag end from the knot. Next, you add a weight to the tag end under the hook and a soft plastic bait.
Drop-shot rigs work so well because tying the hook directly to your line allows the slightest movements to move your bait. You have three drop shot options when fishing for bass:
Dragging – simulates baitfish movement above the lake floor
Vertical – you drop, shake, and raise your line repeatedly
Shaking – this uses motion inherent drop shots to attract bass
Drop shots are useful during post and pre-spawn times. You can also use a drop shot in still waters, canals, and rivers. Perhaps the only time a drop shot isn't the best option is if there are weeds and other tall vegetation.
Learn to Use Different Types of Baits
Another effective bass fishing technique is to learn how to use various bass baits because they don't all have the same impact. Bass fishing baits should complement the user's personality.
Calmer, meticulous bass anglers use jigs and Texas rigged worms. Agressive anglers go for spinnerbaits. You don't need thousands of bass baits, but you should know how to use different ones if you strike out with a particular lure.
Fish in Multiple Areas
Also, try fishing in different spots to get different experiences. We know that routine is comforting, but sometimes, you have to move around to catch anything.
Moving around can give you a complete understanding of the lake you're fishing on. Bass fishing may become more manageable when you know where the fish are.
Don't Be Afraid to Try Different Ideas
Bass fishing shouldn't be a "follow the leader" sport. It may seem like copying other ideas from other anglers is a good idea, but your fellow anglers may not know what they're doing.
Don't be afraid to mix up your strategies if something you've already tried isn't working.
Always Keep a Close Eye on the Weather
The final bass fishing tip we have for you is to keep a close eye on the weather—fish by current weather patterns in your area.
Windy weather and overcast sky make the bass more aggressive and prone to seeking out showy baits. The fish spread out over broader distances. Cloudlessness and high pressure lower the strike zone dramatically. 
You'll have to take a calmer approach to catch bass. While spinnerbaits work in cloudy weather, cloudless skies call for jigs and worms.
Always watch out for the weather while fishing. The slightest change can transform bass behaviors instantly, and you need to be careful while out on the water. Don't forget your fishing shoes as well to prevent you from falling on wet surfaces.
On the Prowl for Largemouth Bass?
There are many places to go largemouth bass fishing in California. Bass is an invasive species, so they call various lakes throughout the state home. All the lakes listed don't have big bass, but they are plentiful.
Berryessa and Clear Lake are home to some of the largest bass in California. Other great fishing spots include Pyramid Lake, Lake Don Pedro, and Lake Isabella.
Check out Rep the Wild for more wilderness-inspired news and reviews. Next, take a look at what gear you'll need for your first fishing trip to any of the locations in this blog.