Fishing for Beginners: What Gear Is Needed?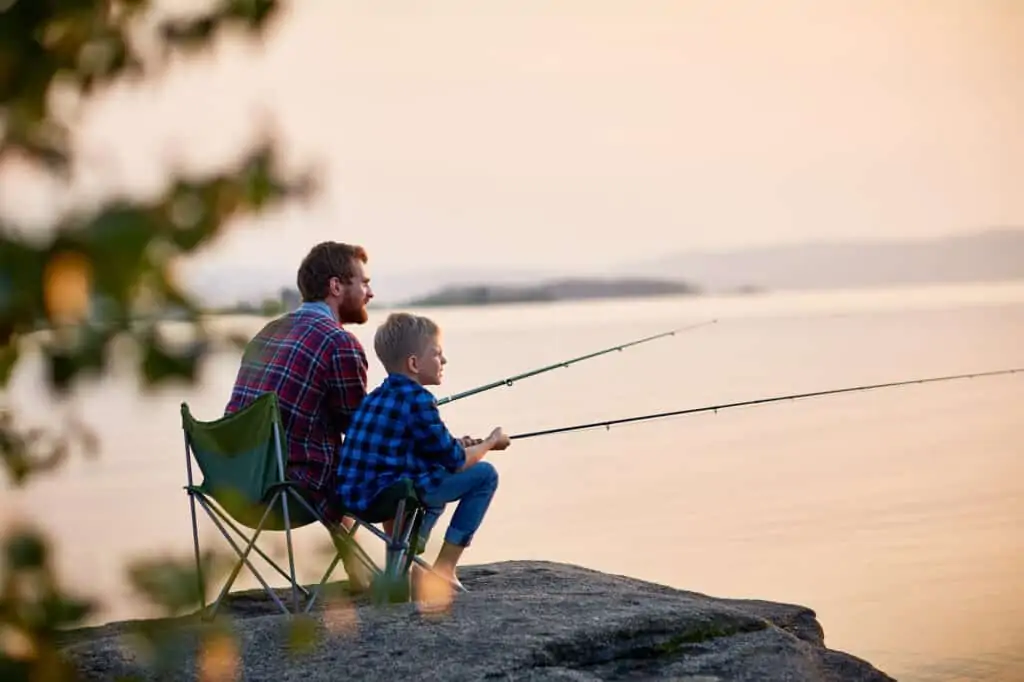 Fishing for beginners doesn't have to be complicated. This guide explains the gear you'll need to get started and how to enjoy this wonderful hobby to the max.
---
Many states saw record-breaking numbers in the past two years as more people flocked to the outdoors for fishing and other recreational activities. Utah sold over 400,000 fishing licenses between 2020 and 2021.
This was over 100,000 more than the year prior. Don't worry – you haven't missed out on all the fun. Learning about fishing for beginners is a fun way to get involved in outdoor activities with friends and family.
Depending on the type of fishing you choose, it also doesn't have to cost a lot. You can purchase simple items from your local stores and head out to the nearest pond for a relaxing Sunday afternoon.
If you have an interest in learning more about what is needed for your first time fishing, keep reading.
Before we begin, it's important to check what age in your state requires a fishing license.
Fishing for Beginners
The holidays are just around the corner and there are few things better for the adventurer at heart than fishing gear. Better yet – it is an easy sport to pick up and can be enjoyed anywhere that has a body of water. Get yourself a pair of shoes for fishing, a pair of fishing sunglasses, and fish on.
There are many types of fishing that will be addressed later on, but here are some basic tips and tricks when you ask the question, 'what's needed to fish?'
First – purchase a fishing license. Sometimes it is cheaper to go with the year-long option rather than just a couple of days. Plus, if you are investing your time and money into gear, you will want to go out more than just a couple of times.
Next, look at the clothes you have and where you expect to go fishing. Is it cold? Warm? Are you on the ocean?
A good rain jacket is always a must since you never know when the weather will strike. A hat and a good pair of sunglasses can make it less taxing on you while you're staring out on the sunkissed waters.
With that in mind, make sure you have some sunblock and a lightweight shirt to throw on over top to protect your skin. If you are fishing from a kayak, then check out some of the best fishing kayaks that you can find at a cost-friendly price, and make sure you pack extra water and life jackets to stay safe.
Types of Fishing
Before diving into fishing equipment and what you need for your first time, it is helpful to know the different types of fishing that are out there. Depending on what type of fishing piques your interest, you will want to purchase gear for that environment.
Believe it or not – not every type of fishing uses or requires the same gear. You might not know what type of fishing you like – and that's okay. The simplest way to fish is bait fishing.
Other common types of fishing include:
Fly fishing
Ice fishing
Saltwater fishing
Spearfishing
How can you get started as a beginner in these different types of fishing? For starters – it always pays to go out with someone who knows what they are doing. They can help you with technique, gear, and landing your first fish.
Fishing is also a great sport that can be enjoyed at any age. This means kids, parents, and grandparents can all enjoy the great outdoors.
Bait Fishing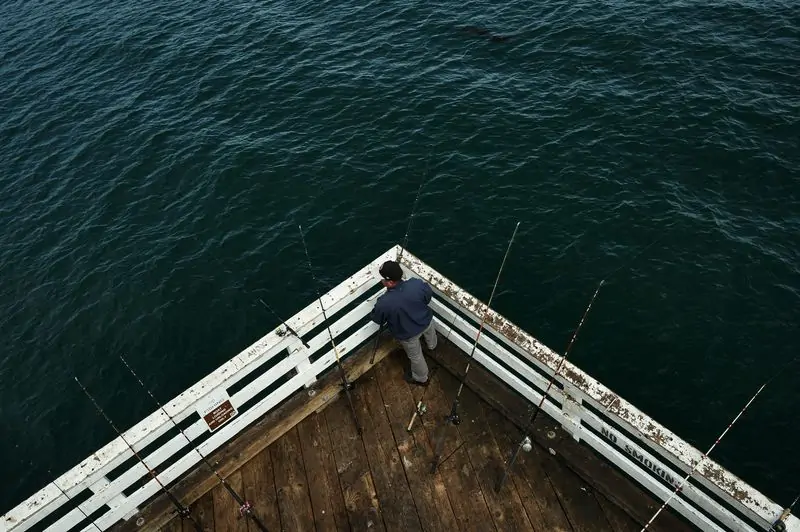 First things first – you need to get that fishing license. Yes, even if you are fishing for just a couple of hours. Not only can you get a fine if you are caught without but the money goes towards helping the conservation and restoration of fishing areas. Most piers might not require a license, you will need to check with the city for your local piers.
This is required in every state, although some might vary in age limitations and pricing. Typically, an in-state license is much cheaper than purchasing a license out of state.
However, you want to target the areas that you'll most likely be fishing in. Most states have plenty of regions for simple bait fishing. These can include things such as lakes, ponds, rivers, and other small bodies of water.
Here are some things you will need for your first time fishing:
Live bait includes things like worms or minnows. Artificial bait is plastic lures or other types of homemade concoctions that mimic the bait the fish eat. However, the main distinction here is that it is fake.
Your local fishing license guidebook should be able to provide you with any regulations in your area. Some rivers, lakes, and ponds only allow artificial bait.
Other places might have restrictions on the types of hooks you use and whether barbed hooks are allowed.
Fly Fishing
Moving up in the ranks, fly fishing is a bit more complicated than bait fishing. However, it is not impossible for beginners to head out onto rivers and learn the tricks of the trade. You might ask yourself how to start fishing on rivers and the answer is simple.
Your best bet – if the typical rod and reel method isn't working – is to grab a fly rod and head out there. You will need a different type of rod, fly line, and reel for this hobby. Here is a more comprehensive list of basic things to take with you on your first time:
Fly rod (typically 9 feet long on average)
Reel
Fly line
Leader
Tippet
Weights
Hooks
Artificial flies
Bobber or indicator
Fishing waders
Boots
Polarized sunglasses
Learn the basic fishing knots
There are many more items that can make your life much easier while fly fishing. These include things like a fly box, net, floatant (for your dry flies), and a vest to store all of this in.
Keep in mind – you will likely have to stand on the shore or wade into the water partially. This is why quality fishing waders and boots are critical to a fly fishing wardrobe. Also, watch out for the weather forecast and make sure you are exercising caution when you step into the current – sometimes those rocks are a lot more slippery than they look.
Check Out Sunglasses
Polarized sunglasses are extremely helpful gear to have in your collection. They can help you see into the water and spot any fish that have peaked out from hidden nooks and crannies.
Additionally, they are frequently used in fly fishing since the leader and line are so long. Many unsuspecting people have accidentally gotten snagged by a fly and that includes your eyes. Glasses can offer you better protection.
As you can see – the gear starts to add up for fly fishing. But rest assured – investing in quality gear now can last you for years down the road. Additionally, some of the best polarized glasses are useful for more than just fishing.
Ice Fishing
Typically, ice fishing tends to use similar gear to bait fishing. The only difference is that the rod and reel are a bit smaller since you aren't casting clear out into the lake. You can also use live bait for ice fishing.
Yet, ice fishing remains one of the more expensive sports to start up from the beginning – if you invest in high quality fishing gear. You will need some of the following things:
Ice drill (e.g., auger)
Scooper for slush
Seat
Jigger rod and reel
Tent
The tent is optional, but some people like to keep warm on their time out on the ice. Additionally, make sure you check the weather and ice conditions before stepping out onto any frozen lakes. The last thing you need is a crack in the ice that can lead to dangerous consequences.
Ice fishing might not sound super appealing to you if you hate the cold. However, a large portion of the U.S. encounters frozen lakes for at least part of the year.
However, with a few key safety features and warm gear, you should be good to go. For ice fishing, you will want to bust out your best winter gear – maybe even similar stuff you would wear skiing or snowboarding.
Next, pack some life vests, a throw rope, and ice grips. This will ensure you and your friends are safe out on the ice. The ice grips will save you from any unsuspecting falls.
Saltwater Fishing
You don't really have to worry about saltwater fishing if you don't live next to the ocean. It is likely that you won't have easy access to saltwater fishing.
Most of the time, you don't need a fancy boat to enjoy fishing in these regions. Simply find a sport on a dock or next to an inlet. In these scenarios, saltwater fishing closely mimics bait fishing on a lake, but with a few distinctions.
You will need to check the tides before you head out. Live bait can also prove highly beneficial for saltwater fishing, and you'll need to store it in a bucket or live well. Here is some other gear you will need for your first time out:
7-foot fishing pole
10-20 lb line
Reel
The fish out in the ocean can oftentimes be larger and more difficult for reeling in than your local pond. You'll need a test line and poles that can handle the harsher environment.
As for clothing, make sure you have a good pair of lightweight and water-repellant shoes so that you aren't miserable standing on your feet all day.
Spearfishing
Spearfishing is a bit of an oddball as far as types of fishing go. It also isn't a sport where your main goal is catch and release. Spearfishing involves more in-depth knowledge of the restrictions for catching fish in your area and a level of comfort with being underwater.
If you love snorkeling or scuba diving, then you might want to give this a shot! You also don't have to limit yourself to saltwater spearfishing. There are plenty of local lakes where it is legal. Here are a few things to get you started:
Speargun or pole
Wetsuit
Mask and snorkel
Gloves
Booties
Fins
Weight belt
Knife
This is a sport that you should always go out with someone else for safety. Additionally, start in shallower regions or calmer waters. This will help you get used to the idea of diving and fishing simultaneously.
Where To Go?
How can you tell where to go for your first time fishing? The most simple places you can start out fishing are locally stocked ponds.
Not everyone is a fan of these, but it can provide you with a great opportunity for getting your feet wet – so to speak. You can practice bait fishing, kayaking, fly fishing, and more.
If you are feeling confident with the smaller ponds, then you can check out lakes and rivers. In both places, look for areas that fish might be hiding under or keeping cool.
Target areas where there are obvious changes in depth. You can spot this by looking at the water and seeing the color differences. Or you can look towards areas by weeds and rocks.
Rivers function in a similar way. If you are looking at catching fish, then target the banks, around rocks, or next to weeds. This might pose more of a problem for snags, but it can work at enticing picky fish.
Additionally, fish don't usually stay in fast-moving water. This requires too much energy. Instead, look for changes in current such as when fast water begins to slow down or along the edges.
Lastly, you can find the most luck with saltwater fishing by keeping an eye out for the birds. Wherever the birds are congregating is likely where you might see some fish as well.
Get Outside
Fishing for beginners can provide you with a unique opportunity to explore the outdoors in a way you haven't done before. The type of fishing equipment you purchase largely depends on what bodies of water you want to fish.
Before you go, check out these other fishing resources: