Nanga Parbat is the ninth highest mountain in the world and one of the most dangerous. The westernmost mountain of the Himalayas, its vast snowy face, is a powerful spectacle from the Indus Valley to which it soars at 22,000 feet. Nanga Parbat's isolation overcomes visitors with awe as they reach its base on China's Karakoram Highway, but it's not so easy to climb.
The name meaning "naked mountain," Nanga Parbat has long been considered unclimbable. Its steep slopes are divided by over 100 cliff bands; wintry conditions prevail year-round, with temperatures dropping to -20° Fahrenheit in some areas.
The mountain's sheer height increases the danger of altitude sickness. Bruce Bairnsfather, a British military officer during World War I, called Nanga Parbat "the most dangerous mountain in the world" after several of its expedition members died on his climb there. More than 30 climbers have lost their lives on Nanga Parbat since 1934.
Nanga Parbat earned its unrivaled status on June 3, 1953, when German mountaineers reached its summit via the Rupal face (aka South face). Hermann Buhl, a member of that team, is the only climber to have ever reached the summit of Nanga Parbat solo.
The first attempt to climb the Rupal face was made in 1937 by a British expedition led by Eric Shipton, who turned back after reaching 24,000 feet due to extreme weather conditions.
It can be reached by car or bus from Pakistan's capital city Islamabad, but it requires an expedition with a competent guide for climbers to make their way up to its steep face.
The summit offers views that are unparalleled anywhere else on Earth because it towers over 22,000 feet above sea level at one end of the Himalayan range while looking out towards Tibet and India.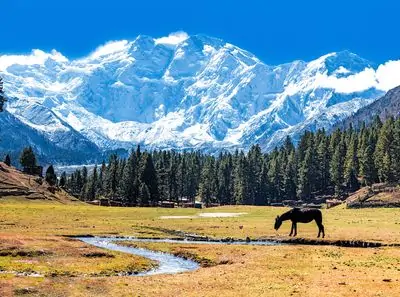 Nanga Parbat Weather
-13
°F
Feels like

-24

°F

°
broken clouds
| Overview | |
| --- | --- |
| Elevation (feet) | 26,660 |
| Elevation (meters) | 8,126 |
| Continent | Asia |
| Country | Pakistan |
| Range/Region | Punjab Himalaya |
| Latitude | 35.237499 |
| Longitude | 74.589165 |
| Difficulty | Major Mountain Expedition |
| Best Months For Climbing | June, July, August, September |
| Year First Climbed | 1953 |
| First Successful Climber(s) | Herman Buhl |
| Nearest Major Airport | Rawalpindi, Pakistan |
| Convenient Center | Chilas, Pakistan |