The Best Camping Knife for You: A Complete Review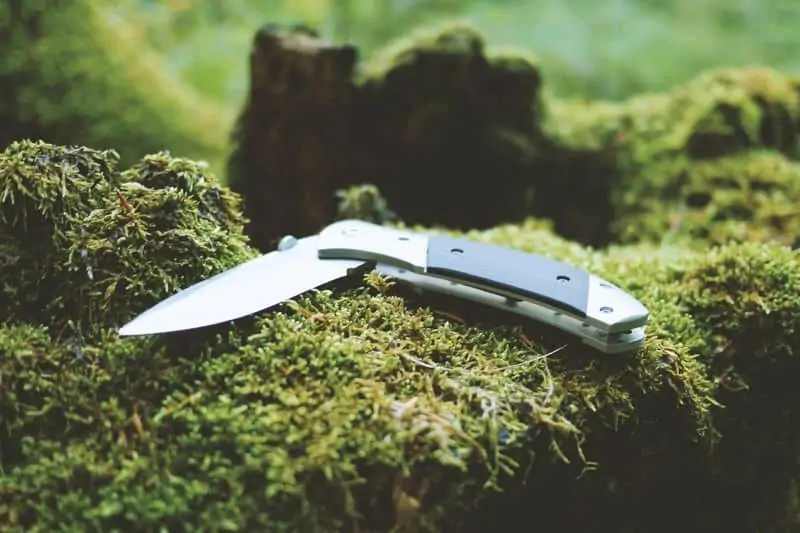 This post contains affiliate links where we may earn commissions from Amazon, REI, and other retailers at no additional cost to you. You can learn more about our affiliate policy here.
A camping knife is an essential tool when out in the wilderness. Learn more from this review about finding the best camping knife for you.
More than 40 million U.S. citizens take part in camping every year. That's over 12% of the whole population. Yet, not all of those campers are as prepared as they need to be. There are a ton of camping gear and supplies that hikers need to carry to make life easier; a good camping knife is one of them.
Read on to find out the types of camping knives, how to choose the best camping knife, and a complete review of each of the best camping knives on the market.
How to Choose the Best Camping Knife
Choosing a knife can be a difficult process if you don't know what you're looking for. We have you covered though. We'll tell you the important things to look out for as you scroll through this article.
Types of Camping Knives
There are a few different styles of camping knives. Take a look below to figure out which best suits your needs.
Fixed Blade
Fixed blade knives are preferred when size and weight are not an issue. Fixed blades are not only strong but also more durable than folding knives.
You're required to maintain a firm grip on the handle when using it because of its robust (and potentially dangerous) blades. You will need a fixed blade if you intend to cut branches or trim sticks.
The main disadvantage of a fixed blade is that it does not have additional tools such as a cock-screw or pliers. Be wary that long versions of fixed blades, such as certain types of hunting knives, are illegal in some states.
Folding Knives
Folding knives are lightweight and compact, making them easy to carry; they fit in your pocket for easy access. Even though campers often prefer a fixed blade for heavy-duty and small camping tasks, they cannot measure up to a folding knife's convenience.
Multi-tool Knives
You can liken multi-tools to a mini toolbox in your hand. This knife can carry out more tasks than a standard knife, such as opening canned food and corked bottles.
Victorinox and Leatherman are amongst the best multi-tool knives, and they're specially designed to prevent slips.
Tang
The term tang is usually used to describe how far the steel of a knife extends into its handle, and blades can either be half-tang or full-tang.
Half- or Quarter-Tang Knives, if well-made, can be very stable. They can efficiently perform most camp tasks.
Full-Tang Knives are designed so that one piece of metal extends to the length and width of the knife's handle, and the tang also follows the shape of the grip. Full-tang blades offer excellent stability for heavy-duty tasks.
The best camping knife should be a fixed full-tang knife; they are easy to use and almost indestructible.
Type of Material
The most common material used in making knives is stainless steel. However, stainless steel is not the most ideal for camping knives.
Mild steels are easy to sharpen but can easily break, so they are less durable. On the other hand, harder metals are durable but difficult to sharpen.
Unlike stainless steel, other metallic materials tend to rust, so they need more maintenance.
Blade Coating
Blade coating is a hardened material used to increase the blade's durability, protect it, and make it visually appealing.
The coating is not necessary because it sometimes prohibits starting a fire using the knife's spine. In addition, blade coatings can be challenging to clean or might chip off if made of inferior quality material.
Ability to Start a Fire
Knives have the varying capability of lighting a fire on a ferrocerium rod. Some knife manufacturers curve out unique edges on knives' spines to give them the added advantage of striking a spark.
You should choose a camping knife which is likely to last a lifetime, so you can use it whenever you go camping. A quality knife also makes a great legacy item to pass on to your children.
Reviews of the Best Camping Knives
The fact is, there's no best camping knife for every user. People need their knives for different purposes or within different budgets. Take a gander at these reviews to find the best one for you.

Morakniv Companion is a simple, versatile, and compact round camping knife. The knife's grip is rubber and has a good grip shape to accommodate different hand sizes.
The Morakniv blades made of stainless steel are one of the sharpest. You will enjoy cutting vegetables and cleaning fish when using this knife for campground cooking; it is also perfect for wood whittling.
This knife is quite affordable when compared to all the camping tasks it can carry out. However, you should be aware that it is not a heavy-duty knife.
Here are some specs you should know:
Weight – 0.27 lb
Blade length – 4.1″
Material – Sandvik 12C27
The Morakniv Companion is a knife for those on a budget but still need a quality knife. It's perfect for food but will fall short when clearing paths.

KA-BAR Becker Campanion is a heavy-duty camping knife with a full-tang design. It is well balanced and near indestructible, making it one of the best camping knives.
You can rely on the knife for clearing thick bushes, woodcutting, and batoning firewood. The knife's steel slightly extends through the handle, making a perfect hummer for tent stakes.
Even though the knife is hardy and durable, it is not stainless steel; you need to pay extra attention to maintenance.
The knife has a durable coating, but you should not use it for preparing food because it quickly picks up gunk and is hard to clean thoroughly.
The Campanion's thickness makes it a favorite for cutting wood.

One disadvantage is the knife's tight sheath that requires a considerable amount of effort to remove.
The Companion has the following specs:
Weight – 1 lb
Blade length – 5.25″
Material – 1095 Cro-Van
The Ka-Bar Becker Companion is one of the toughest knives on the market. It will also cost you a pretty penny, though.

Barebones is a simple but effective camping knife. The full-tang blade is made of high carbon steel and features a decent point and thumb depression, making it one of the best camping knives in terms of comfort.
The barebones knife is comfortable to wield due to its thumb depression. It also has a utility-driven design which includes an inlaid copper lanyard ring and a belt clip.
The six-inch sheath steel and full-tang design make the No.6 a highly durable knife.
You can easily use it for debranching, cutting thick rope, and preparing food.
The knife has a waxed canvas leather sheath protecting its edge from dulling and wear from natural elements.
The No.6 Field Knife by Barebones comes with the following specs:
Weight – 0.7 lb
Blade length – 6″
Material – High-carbon steel
This knife works well as a tough fulcrum for prying things open. You can also expect a long life from this knife.

The Schrade Frontier is a full-tang knife that proves to be worth more than its price.
The knife comes with additional accessories; a ferrocerium rod, a striker, a sharpening stone, and a decent sheath that accommodates all.
The blade features an ergonomic finger notch beneath it to provide you with a comfortable and sturdy hold when performing repetitive tasks.
You may use the Schrade Frontier to chop through small branches and split firewood, but the knife rates are lower than the shrewd KA-BAR Becker Campanion for these purposes.
One downfall is the knife's coating is not durable, so it is likely to chip fast. It also has a round base making it ill-suited for hammering tent stakes.
Like the KA-BAR, it is not suited for food preparations but is a workhorse of a camp knife.
The Frontier comes equipped with the following specs:
Weight – 0.77 lb
Blade length – 5″
Material – Powder coated 1095 High-carbon steel
This knife can help you to avoid wrist pain from all-day use. Other than its flakey coating, it's one of the best knives available.

The Spyderco Endura 4 is a foldable knife that is incredibly sharp and has a solid feel.
The Endura 4 has a thumb hole for easy one-hand opening, and it easily opens and closes with a smooth and snappy feel.
You can use it to carve out notches as tent stakes, boring holes in wood, and slice through thick cordage. In addition, you can comfortably use it in chopping vegetables and other food preparations.
Do you have large hands? The knife has a great handle suitable for individuals with bigger hands.
If you need a sharp and rigid folding knife for camp activities, the Endura 4 is well suited.
Endura 4 knives bring these specs to the campground:
Weight – 0.23 lb
Blade length – 3.75″
Material – VG-10
This knife may be difficult to use for those with smaller hands. Just be aware of this if you're shopping online and can't try it out first.

The Gerber Bear Grylls Ultimate Fixed Blade Knife is a versatile tool accompanied by a whistle, a ferrocerium rod, and an essential survival guide.
It has a long blade and partial serration that will aid you in lightning-fast heavy-duty cutting. You can also use its hard metal pommel on its end as a hammer.
This knife is not heavy-duty but is versatile.
Its partial serration can help you saw into branches while you can quickly start a fire using its Ferro rod. You can also use the knife to prepare food and perform other basic camp tasks.
This knife has the following specs:
Weight – 0.92 lb
Blade length – 4.8″
Material – 7Cr17MoV stainless steel
As this is a versatile knife, it makes a first great knife. It may be the only knife you ever need, but if you can also identify its shortcomings for your needs, it will help you find that perfect seconds knife too.
How to Maintain Camping Knives
If you do not maintain your knife, it will probably get rust or become dull. A lot goes into the maintenance of a knife. Follow these tips to take care of your camping knife;
Storage
The place you store your knife will determine its condition when you go back to retrieve it months later. Ideally, you should keep your knife away from moisture if it is not water-resistant.
Knives can cause accidents if you fail to store them properly—keep fixed blades in a leather or plastic sheath. Take caution when storing knives in leather sheaths; leather absorbs moisture and can cause your knife to rust.
Clean your knife
Follow basic hygiene guidelines and ensure your camp knife is clean at all times. You need to clean the blade and handle it thoroughly.
Pay close attention when cleaning a foldable knife. Clean all the knife's pivots, joints, and corners where grease and dust are likely to collect. A clean knife is also imperative for food preparation to avoid contamination and subsequent sickness.
How to Deal with Rust
If you find rust on your knife, do not ignore it. Rust signifies an ongoing oxidation process that will spread more with time.
Use an abrasive to clean out the rusted part and apply oil on the blade. Do not use a rusted knife to handle your food as it will contaminate it. It is better to get rid of a knife adversely affected by rust as it weakens its blade.
Sharpening Your Knife
A blunt knife cannot assist you in effectively going about your camping task. Use sharpening steel or stone to re-sharpen your knife whenever it loses its edge.
Hiking Gear to Accompany Your Knife
Knives are included in hiking backpacks as they come in handy in clearing paths. In addition, ensure you have the appropriate hiking gear and confirm the items you need to pack in your hiking backpack.
The following is a general list of hiking gear:
Sturdy boots or shoes – You need to choose the best boots for hiking.
Hiking socks
Clothing appropriate for the weather
Backpack
Water and food
Navigational aids such as a map, compass, and GPS
There are also some different essential hiking gear for males and females.
Hiking Gear for Women
You need to be comfortable when heading out for a hike. Wear breathable and sweat-wicking undergarments. For tops, choose loose-fitting tops that dry out quickly and resist sweat odors.
Adorn comfortable rip-resistant, durable pants that are quick-drying and resist abrasion. You may also opt to wear comfortable yoga leggings. For shorts, spandex or yoga shorts offer comfort.
Keep your body insulated by wearing fleece or merino wool layers. If the weather gets cooler, wear warm down-filled jackets. Pack a raincoat to be safe in case it rains.
Wear lightweight and waterproof hiking boots. Ensure that the shoes offer a good grip, stability, and ankle protection. Wear dry merino wool socks that quickly dry out.
Hiking Gear for Men
First and foremost, ensure that you have a good pair of waterproof hiking boots with cushioned soles, good grip, and ankle protection. Wear merino wool socks too.
You should wear hiking underwear with moisture-wicking properties. Steer clear of cotton underwear. Additionally, you may opt to wear convertible hiking pants, which you can convert to shorts.
Wear synthetic lightweight wicking tee shirts when headed out for a hike. Have a long sleeve and short-sleeved version for different weather conditions.
Always carry a lightweight hoody or softshell mid-layer clothing. Check the weather and if it's likely to rain, bring a windbreaker or rain jacket.
Depending on the weather, you can wear a cape for protection or a hat for warmth. If you need to carry your wallet, take a minimalist one.
Meanwhile, find out how else you can get ready for a hike here.
Knives and Camping
Camping is a fun recreational activity to carry out with family and friends. Before heading out for camping and other nature-related outdoor activities, research proper practices and take the best camping knife for your needs.
Check out our other articles on Rep the Wild to get pointers for your next adventure.