What Shoes to Wear for Deep Sea Fishing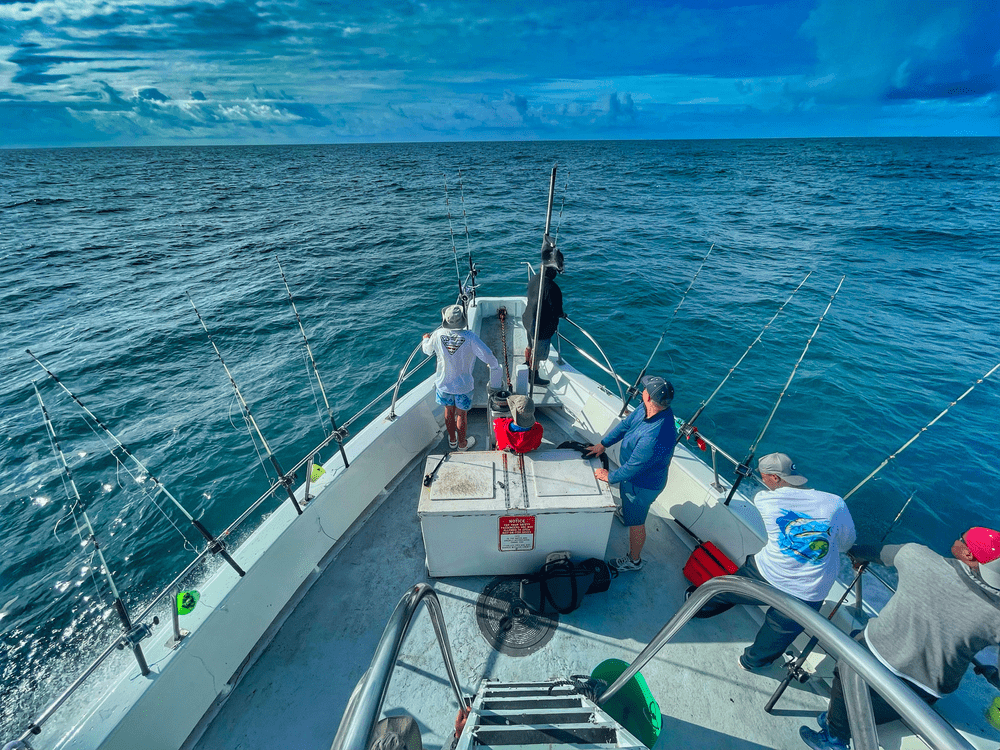 There are a lot of things you shouldn't bring with you on your deep sea fishing adventure.
Like slippery flip-flops, a bad attitude, and bananas.
But what about shoes?
There is no one "best" shoe to wear deep sea fishing because it depends on your personal preferences.
Some people prefer a boot because it offers more support and protection, while others prefer a lighter shoe for warmer weather.
It really comes down to what you are most comfortable in and what works best for the conditions you'll be fishing in.
Here are a few things to consider when looking for shoes for your deep sea fishing trip.
Key Features
Good Rubber Sole
The first thing to consider when looking for the right shoes when charter fishing is a good rubber sole.
Good traction is crucial when deep sea fishing, the deckhand will constantly spray down the deck from fish slime and blood.
This will help prevent slippage when the deck gets wet and especially when you're hooked onto a big fish.
Breathability
Breathability is another key element to consider while shopping for deep sea fishing shoes.
On a hot day, your feet will likely be sweating while you are fishing, so it is important to have a shoe that will allow them to breathe.
In colder weather, this won't be a factor as much so make sure to take the weather into consideration when choosing your shoes.
Comfort
This goes without saying for any type of shoe. Comfort is always important when choosing any type of shoe.
For the amount of time spent fishing, you'll want to wear comfortable shoes for a more enjoyable fishing experience.
Look for a shoe with good arch support and cushioning to help prevent fatigue.
Waterproof
A lot of the boots for deep sea fishing are made of rubber, like some of the boots found here.
These are great to keep your feet dry but not the best option for breathability, so keep that in mind.
Some shoes, like the ones made by Sperry, have a waterproof leather upper which will also help keep your feet dry in wet conditions.
Quick Drying
Another feature to look for in a good deep sea fishing shoe is that it dries quickly. You're going to be getting wet, whether from spray, waves crashing over the boat, or from actually falling in. A quick drying shoe will help you keep your feet comfortable and prevent blisters.
Style
While function is more important than style when it comes to choosing shoes for deep sea fishing, it is still something to consider.
Some shoes are designed to be more stylish than others and some even come in fun colors and patterns.
At the end of the day, choose a shoe that is both comfortable and stylish so you can enjoy your fishing trip to the fullest.
Can I Wear Flip Flops Deep Sea Fishing?
Technically you can but it's not the safest (and definitely not the smartest) thing to wear.
As we mentioned before, good traction is key when fishing and you're more likely to slip in flip flops.
We also recommend avoiding any type of shoe that is open-toed for safety reasons.
You don't want to accidentally step on a hook or get your toes caught in a line.
Can You Wear Running Shoes On A Boat?
Common running shoes have good traction and can be worn on a boat when fishing. However, these types of shoes don't dry quickly and can be uncomfortable when wet.
Do You Wear Socks With Fishing Boots?
We don't advise wearing socks with fishing boots because they can make your feet sweat and it'll feel swampy if the socks get wet.
What's The Difference Between Boat Shoes and Deck Shoes?
The terms boat shoes and deck shoes are used interchangeably to refer to footwear that is designed to be worn on a boat.
Boat shoes are usually slip-on shoes with non-marking rubber soles and leather or canvas uppers. Deck shoes are similar to boat shoes, but they often have laces and may be made of different materials such as suede.
Final Thoughts
If you're heading out on your first charter fishing trip, follow this guideline to find the best fishing shoe to wear on your trip.
Doesn't hurt to ask other anglers what they use and make your own decision based on their input and your needs.
There is no one perfect shoe for fishing, so choose the shoe that has the features that are most important to you.